Like in many parts of the world, license plates are compulsory for driving in the state of Alaska. If you're a car buyer looking to purchase a second-hand vehicle, it is especially imperative that the license plate of the vehicle you are buying has been duly registered in the state of Alaska as it enables you to conduct a quick Alaska license plate lookup on the car before handing over your money to the car dealer.
VinFreeCheck makes this search hassle-free by providing you with a quick, easy-to-use, and free Alaska license plate lookup. This search gets you a copy of the vehicle's specifications, market value, as well as vehicle history report.
For seamless secondhand vehicle purchase, you need all the information about the specs and history of the vehicle you want to buy. You simply need to insert the license plate number in the text box and all the information you need to make an informed decision will pop up!
Add a header to begin generating the table of contents
Where Do I Find My Alaska Plate Number?
Cars in Alaska have plates attached to the back and front dashboards of the vehicles. On top of the plates is the boldly written ALASKA, and underneath it is the plate number. If you don't have access to your car, you can equally find your plate number on the certificate of vehicle title issued by the Alaska DMV.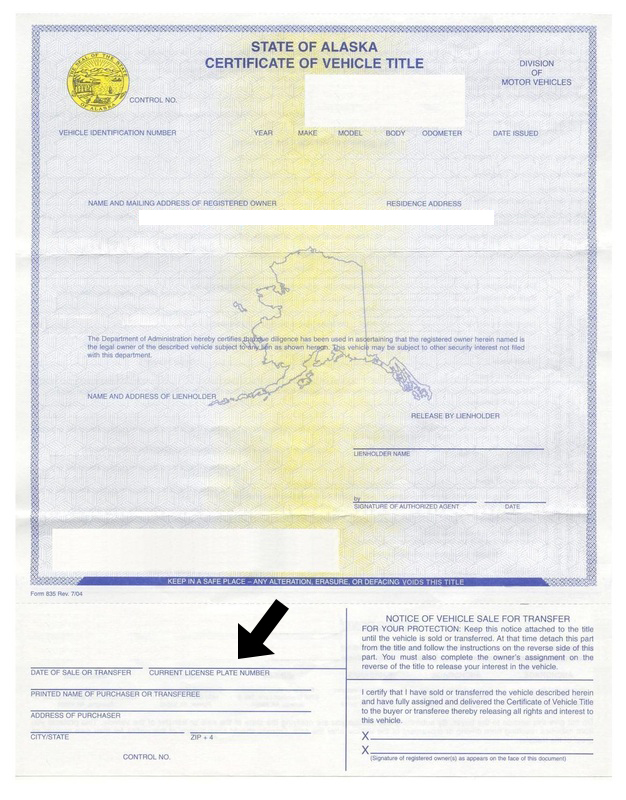 How Do I Get A License Plate in the State of Alaska?
The Alaska license plate can be issued by any Alaska DMV office near you. On the other hand, you can visit the official Alaska DMV website. You will be required to fill in the application form to order a new license plate. It is relevant to point out that to receive a license plate, you'll need to first register your vehicle with the Alaska DMV.
If you live in Alaska, upon purchasing the vehicle, you are expected to apply for a license plate within 30 days. In the meantime, to legally drive a car, you need a temporary license plate. If you establish that you applied for residency in Alaska, you must complete the title and registration process within 10 days.
Visitors/non-residents are allowed to drive their vehicles within 60 days using an out-of-state vehicle registration, after which, they are required to get the Alaskan License plate.
To apply for title and registration, you need to present the following documents;
Completed title & registration application form 812
Proof of VIN inspection
Copy of title
Power of attorney (where applicable)
Payment of all required fees
What Are the Different Types of Plates?
Standard: While Alaska has numerous options of license plates to choose from, the most commonly used license plates include the yellow painted license plates with ALASKA boldly written on it and the mountain license plates with white mountains and a blue sky imprinted on them.
Causes: There are about nine special cause plates you can obtain through the DMV. A few of them are; Alaska Children's Trust, Blood Bank of Alaska, Breast Cancer Awareness, Choose life, etc. You must pay both a supporting causes fee and the standard registration fee to get any of these plates.
Disability: The three disability license plates are; disabled with parking privileges, disabled veterans with parking privileges, and disabled veterans without parking privileges.
Fraternity orders: These are license plates for members of fraternities such as; the Freemasons, Lions club, etc.
Military: This is to acknowledge militants who have served or currently serve. They include; Air force, Army, Navy, Marines, and Coast Guard.
Specialty: For people who want to showcase or show support for organizations, occupations, or even ideologies. For example, special plates for custom collectors, antique cars, Farm vehicle collectors, Amateur Radio, etc.
College: License plates to show support for Alaska's Universities; The University of Alaska Anchorage, University of Alaska Fairbanks, University of Alaska Southeast, Prince William Sound Community College.
What is in the License Plate Lookup Report?
A license plate lookup provides you with relevant data on the vehicle you intend to purchase or have already purchased. With this report, you are privy to information such as;
Accidents records: This tells you if the car has been involved in an accident or suffered damage. The Alaska Department of Transportation and Public Facilities reported 21,635 Auto, Truck & Bus vehicles were involved in crashes. In 2017, the Fatality Analysis Reporting System (FARS) stated that Alaska experienced 79 fatalities in 75 crashes.
Lien records: Gives you information on whether your car is being used in a lease, as a rental car unit, or if it is under a loan.
Previous owners: You can learn about whether the vehicle has had any previous owner/how many owners it has had.
Flood records: If the car has ever been damaged by natural disasters such as this, it will let you know. According to the National Flood Insurance Program (NFID), about 90% of all US natural disasters involve flooding.
Junk/salvage title check: This tells you if the car has been damaged and is therefore considered a 'total loss' by an insurance company.
Odometer record: Informs you if the odometer has ever been tampered with.
Vehicle specification: Gives you details like; the vehicle's VIN, its make, model, and the year it was manufactured, plus tells you if the VIN is valid.
Market value: This makes you aware of what price to offer to the seller/put in as payment for the vehicle. It helps you know if you are overpaying.
Why Should You Get the Report?
A license plate report helps you make the right decisions in the car-buying process. It aids you in deciding whether or not to purchase a car. In the scenario where you discover that a car you intend to buy has been damaged before or has a recurring malfunction, you can then make a decision to either not go ahead with buying it, or buy it at a lower/discounted price, given that it may incur a considerable amount of cost on maintenance/repairs going forward.
Drawing from the latter, it gives you an estimate of the actual market value of the car. This means you wouldn't be spending more than you should, as you buy the car according to its true worth at that particular time.
Motor vehicle crashes in Alaska have been on the rise since the 2000s. According to a report by Alaska Injury claims, in 2009 alone, more than 12,890 car accidents occurred in the state, resulting in property damage, physical injuries, and even fatalities. In 2014, the Alaska Department of Transportation reported that 7,473 cars were damaged due to motor vehicle accidents. These statistics show that car buyers need to be on the lookout for car damages, malfunctions, etc., that may reveal themselves subsequently.
Generally, you do not want any surprises when using the vehicle. VinFreeCheck gives you comprehensive and up-to-date information on any vehicle (with a registered license plate) in seconds. This means you can equally look up the record of a car that looks suspicious as it's possible that you might be looking at a stolen vehicle. Statista revealed that in 2020, the motor vehicle theft rate in Alaska per 100,000 inhabitants totaled 269.3. According to a report by the Anchorage District Attorney's Office, the top 5 most stolen vehicles in Alaska in 2015 were Chevrolet Pickup, Ford Pickup (full size), GMC Pickup (full size), Honda Civic, and Honda Accord.
If you find a vehicle to be suspicious, carry out a quick look up on it. VinFreeCheck guarantees you 100% reliable data taken from officially registered sources such as NMVTIS. This lookup is legal as the data provided does not carry any personal information about the vehicle's owner, following the limitation by the DPPA (Drivers Privacy Protection Act) on the public release of personally identifiable information. Go ahead and run a quick search on that vehicle!
State Based Informational Guides
We have compiled a list of state specific guides for you. Feel free to check them out.
You will always need to carry out different types of paperwork — whenever you purchase a car — so that you can title your car under your name and drive it legally on the road. So, whenever you are going...
If you have just purchased a motorcycle, the next thing that you will need to do, is to register it. In order to legally drive a motorcycle on public roads in any state, you need to get your motorcycle registered....