How do I sign into my account and query reports?
You can find the detailed guide on how to find your password to login and query your report: here.

If you would like to login to your account, you can do it here.
If you have forgotten/lost your password, you can reset them here.
If you still additional help, please contact us.
I can't find my account login information
Once you place an order, you should received an email containing your account credentials. Should you not receive any email in your inbox, please check your spam or junk folder.
If you have forgotten/lost your password, you can reset them here.
If you still additional help, please contact us.
Will VinFreeCheck bill me automatically?
No. VinFreeCheck.com does not bill you automatically. You need to buy the vehicle report credits manually before you can run any reports. All transactions are strictly one-time-payment.
I entered the wrong email during checkout
Don't worry, just contact us with your valid email, we will find your account and update the account email manually for you.
I have purchase multiple reports during checkout, where can I view my remaining credits?
View your report credits by visiting the "My Account" page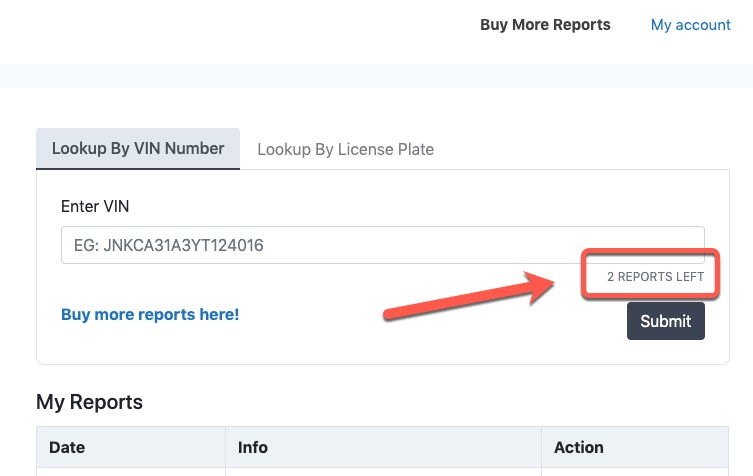 How do I download my report pdf?
You have to login to your account, click view report and then you click "Save As PDF" in the report page.

Will my report credits expire?
You unused report credit will expire 1 year from the purchase date.
Where does your vehicle data come from?
Our vehicle history information compiled from multiple sources including state DMV's, police records, NMVTIS, fire and insurance records, proprietary sources, and public data sources.
Can I see owner names or lien holder information on my VinFreeCheck report?
We do not provide owner names or lien holder information because it is against our data suppliers' privacy policies. It is also illegal in many states to do so.
What does Lien Status means in my report?
VinFreeCheck will show if there is a lien, levy, or loan against a vehicle at the time of the report. However, we do not have anymore data such as: name, owner, how much is still being owed.
You will need to speak with the seller of the vehicle, or with the company that has the lien against the car, for more details.
Is up-to-date past owner information included in VinFreeCheck Reports?
No. It is illegal to provide or display a previous owner's name because of federal privacy laws.
How do I access my previously run reports?
To access previously run reports, simply log in with your email address and password. From there, click on your VIN number of choice to access it's report.
How Do I Register?
Your account is automatically active when you purchase a report.