Are you buying a used motorcycle? Run a FREE motorcycle VIN check!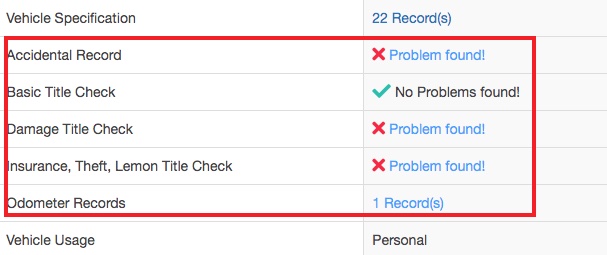 Damage Title Brands Check
In our example, we ran a simple VIN check on a 2015 Kawasaki Z1000 (JKAZRCG13FA006160). You will find out that this motorcycle was involved in a major collision or accident in the past. Our report also check your motorcycle VIN against the fire, flood, junk and crash test records.  Whenever you see a deal that is too good to be true, make sure you run a vin check before purchasing it.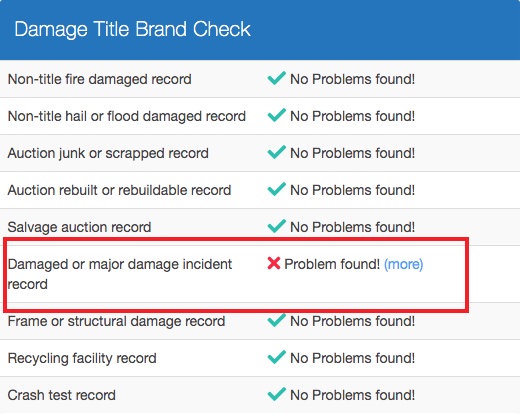 Detailed Vehicle History Records
With our extensive data partnership, not only are we able to provide the mileage information in our historical motorcycle records, but we also show the location and date when the motorcycle was involved in an accident/collision.
Continuing with our example, the 2015 Kawasaki Z1000 was involved in an accident at Deerfield Beach, Florida. The report also indicates that the motorcycle damage was not minor but rather extensive. With this information, you won't be fooled ff the used motorcycle seller told you that "it was just a scratch."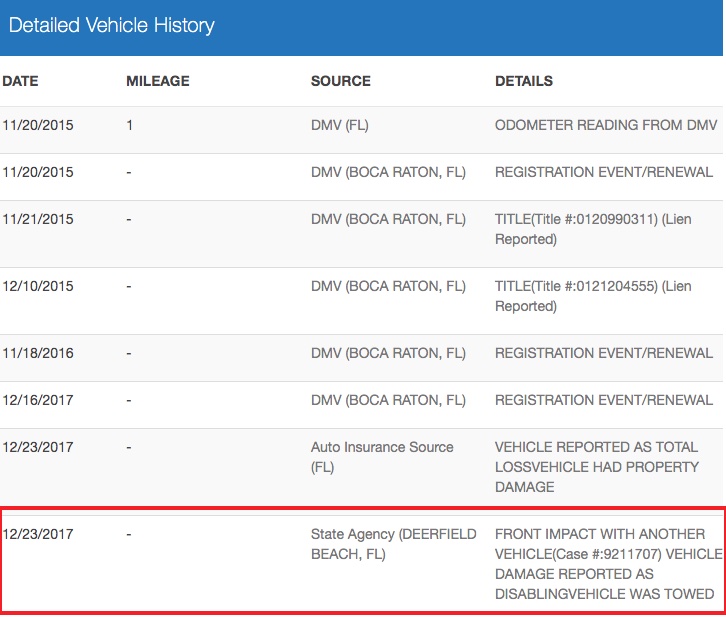 Where to find my Motorcycle VIN Number?
Vehicle Identification Number or VIN is a sequence of 17 characters containing numbers and alphabets. Encoded in the VIN number is information about your motorcycle including the manufacturer, mode year and where it was made. It also serves to uniquely identify your motorcycle so that DMV's nationwide can keep an accurate history.
Typically, motorcycle vin will be located near the steering head of the motorcycle on a metal plate, either printed or engraved. Once you obtain those 17 digits, you can check the information on your vin for free at VinFreeCheck.
Locate Your Motorcycle VIN Number

Every motorcycle manufacturer display the VIN on different locations. The vast majority of motorcycles we came across display the VIN and frame number on the right side of the head stock tube.

Learn More
What else is in VinFreeCheck's Free Motorcycle VIN Report?

We decode your VIN, and provides you the most accurate Vehicle Specification Information.

We check your VIN against our own Canada and United States Salvage Title database. You can find out whether you Vehicle came with a Salvaged title or clean title

Motorcycle Collision Check
We check your motorcycle against our flooded damage, and accidental damage database that collects data from 50 states of United States

VinFreeCheck scans all the car listing sites across North America to give you the most accurate pricing, preventing you from overpaying for a vehicle.
We have ran more than 100,000 FREE VIN Reports
These are what people saying about us

"Looking for a Motorcycle and didn't know where to begin. Vin Free Check real time market pricing saved me from overpaying, Thanks guys :)"
-Jane Malady
"The salvage and title checking are real! It may not be as comprehensive as the CarFax or AutoCheck Reports..But hey! it's free - i will always check it with VFC before buying an actual report"
-John Dakova
State Based Informational Guides
We have compiled a list of state specific guides for you. Feel free to check them out.
If you have just purchased a motorcycle, the next thing that you will need to do, is to register it. In order to legally drive a motorcycle on public roads in any state, you need to get your motorcycle registered....
Motorcycle VIN Checker by Make: