Salvage Vehicle Records in our database
How does the Salvage Title Check Works?
Each year, millions of vehicles in the United States are deemed salvage. Over the last five years, the number of vehicles with salvage title on the market has increased nationwide by more than 50 percent. Many of these vehicles are often rebuilt and sold by sellers who fail to disclose the necessary salvage information.
VinFreeCheck helps consumers in protecting themselves from unknowingly buying salvage vehicles. We aim to provide information on salvage vehicles, vehicles damaged by hail, flood or fire, vehicles with mileage discrepancies or odometer rollback, and vehicles from the gray market.
While we provide information on damaged vehicles, we do not guarantee that the vehicles have a salvage title. VinFreeCheck discloses information on any recorded damage, in order to help you make an informed decision.
Look at what's inside VinFreeCheck's free salvage VIN report
Basic VIN Title Check
VinFreeCheck checks your VIN against all standard title checks such as: Fire brand, flood brand, junk brand, lemon brand and salvage brand for FREE. We may not be able to provide specific details on a standard title brand problem, but you may very well want to purchase a NMVTIS report to find out more.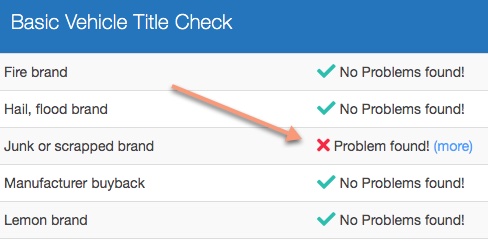 Damage Title Brands Check
Sometime a vehicle listed in the marketplace with an attractive price tag may be used in a vehicle testing facility prior. You will never find out about it unless you purchase a vehicle report from AutoCheck or CarFax, and if you are unlucky, you may experience multiple breakdowns on the road. Now, with a simple check, you could hire a mechanic to inspect the vehicle's frame and engine before purchasing such a car. If you are lucky, you may score a reliable car at a cheap price!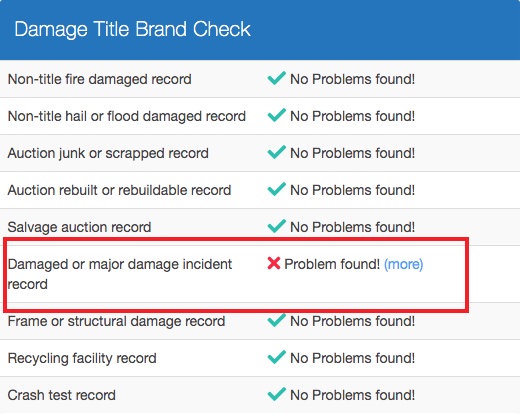 Additional Insurances/Loan Title Checks
VinFreeCheck also checks your VIN against third party database to find out if your vehicle had insurance issues, loan repayment, repossession records, and theft records. Don't let the seller sell you a car without him clearing the loan/lien that the bank has on the vehicle first. Otherwise, the bank may repossess your newly bought car.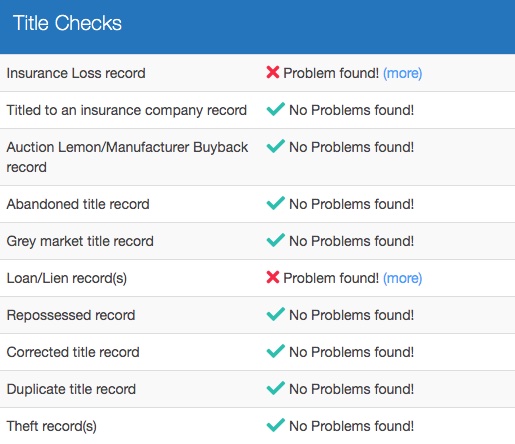 A salvage title is a vehicle title branding that indicates whether the vehicle has been damaged or deemed a total loss by an insurance company.
While the criteria for determining salvage title varies from state to state, it should be considered a red flag. Generally, damaged vehicles with uneconomical repair costs will be deemed salvage. In some states, a stolen or unrecovered vehicle may also be deemed salvage.

Click here to learn how to check for salvage title

If we have salvage records for a vehicle, we will provide you with the following information: