You can now do a free license plate lookup with a valid US license plate number and get a free vehicle history report. It is an excellent option if you couldn't find your vehicle's VIN number, or your vehicle does not have a VIN number. We understand that a VIN number is 17 characters long, while your plate number is about 5-7 characters long.  Or, you prefer to use your plate number because it's shorter.
We combined our free VIN report with our reverse plate lookup tool. Now, you can use our free license plate check tool and find out all the information about your vehicle in seconds. You do not have to queue up at your local DMV to obtain vehicle history records about your vehicle. Or, even trying to set up an appointment your local police station to get such report.
What information is provided in our free license plate lookup report?
First things first, let's take a look at what our report contains. This useful style of report takes an in-depth look at the history of a second-hand vehicle and can be done either with a VIN number check or a license plate search.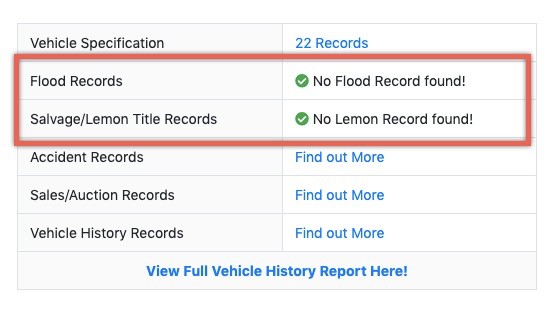 Generally speaking, the reports will contain a wealth of useful information. Our license plate lookup report contains;
A salvage & junk title check, this part of the record check whether the car was sold as insurance junk/salvage before;
Lien Record & Vehicle Usage, find out if your car is under a loan and whether it's used in a lease or being used as a rental car unit;
Vehicle collision history checks, this section will let you know whether the vehicle was involved in an accident;
Real time, accurate market pricing, find out if you are overpaying for that particular vehicle you have in mind;
Odometer records, find out if your vehicle's odometer was tampered with or not;
Detailed Inspection, Title & Service History, will let you be aware of the state of the vehicle.
Of course, our report does include an additional 22 brand titles check, and other great features in assisting you in purchasing the right vehicle.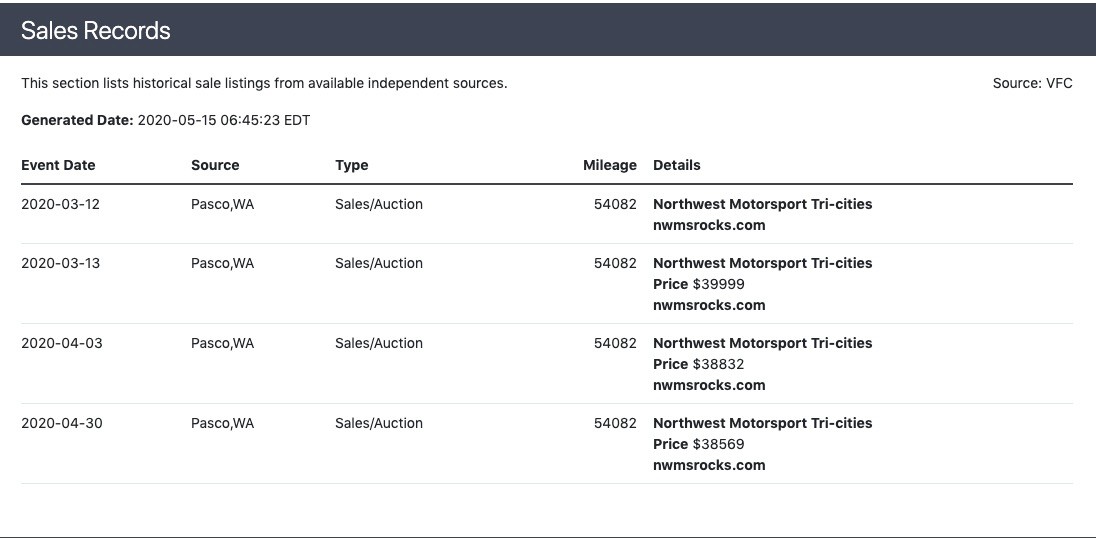 Where to find my plate number?
Generally, you can easily your plate number easily by looking at the issued license plate attached to your car. However, there are instances you need to lookup car license plates without having access to the car physically, you can look it up at the car's certificate of the title.
Depending on which state you are on, New Hampshire's Certificate of Title display your plate number as the title number. However, other states' title might have a dedicated field that show the license plate information. If in doubt, check with your local dmv.
Why doing a reverse license plate search is so important?
One of the main reasons that they're so important to get is that they can help you avoid paying too much for a vehicle. Having a detailed understanding of how the market pricing is currently looking is vital for being able to understand what you should be paying, and avoid getting ripped off. Additionally, understanding the history of a vehicle can give you a lot of leverage when trying to make a deal while purchasing.
Another benefit that you'll find when getting a vehicle history report is that it can help you identify any legal or criminal issues that your vehicle may have been associated with. This is a common point that many people overlook when purchasing second hand vehicles, so having this in your report is very important.
Something else that's great about doing a plate number lookup to get a vehicle history report put together is that it can provide you with a much more in-depth level of knowledge about your chosen vehicle. Of course, you could purchase a vehicle without knowing the specification and history of it- but quite frankly, why would you want to?
Where do these data come from?
We rely on multiple sources to compile our license plate report. Many of our sources come from governmental entities such as the National Insurance Crime Bureau (NICB), National Highway Traffic Safety Administration (NHTSA) and the National Motor Vehicle Title Information System (NMVTIS). We also regularly check the car auction inventories to track various vehicle's condition.
Is it Legal for me do a reverse license plate search?
Yes, we are in compliant with the Driver's Privacy Protection Act (DPPA), as we do not disclose information about the vehicle's owner personal details. Our license plate lookup does a reverse lookup to obtain the VIN number and query the vehicle history reports for it. Nothing in our report is personably identifiable to a particular individual.
Additionally, the Freedom of Information Act (FOIA) allows any individual the right to access to information collected by the government. There's no reason for you not to give our auto license plate lookup tool a try. It's totally legal and FREE!
State Based Informational Guides
We have compiled a list of state specific guides for you. Feel free to check them out.
You will always need to carry out different types of paperwork — whenever you purchase a car — so that you can title your car under your name and drive it legally on the road. So, whenever you are going...
If you have just purchased a motorcycle, the next thing that you will need to do, is to register it. In order to legally drive a motorcycle on public roads in any state, you need to get your motorcycle registered....