Vehicle registration is a mandatory requirement for all vehicle owners in the USA, regardless of the state. Different states have different guidelines when it comes to motor vehicle registration. In Florida, all residents owning vehicles are required to register the vehicles under the https://www.flhsmv.gov/. Once registered, the resident will be issued with license plates.
Proof of ownership is required when making an application for a Florida license plate. The Florida certificate of title is the proof of ownership you need when making a vehicle registration. Once the license plate is issued, one also gets a regular validation sticker for the rear license plate.
Add a header to begin generating the table of contents
Where Can I Find My Plate Number?
You can either look it up via your plate attached to your vehicle. Alternatively, you can look it up in your vehicle registration card.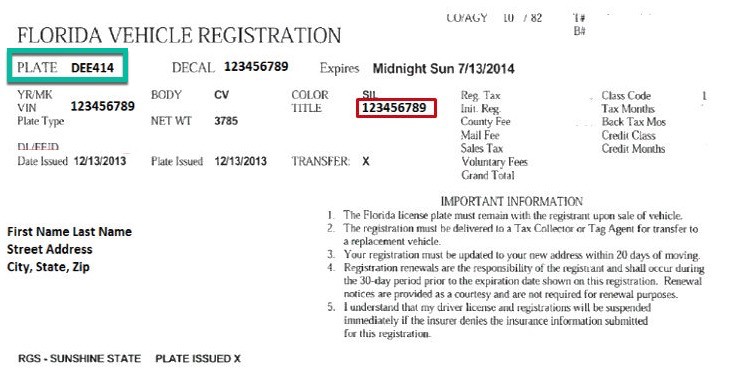 Getting Your License Plate In Florida
You get your license plate by registering your motor vehicle via the titling process in Florida. For out of state vehicles, owners are required to register the vehicle within ten days after moving to Florida.
If you are buying a vehicle from a dealership, the seller handles the titling and registration process. On the other hand, when purchasing a vehicle from a private seller, you must visit the DHSMV website for titling and registering your motor vehicle in your name.
Before buying a used car in Florida, be sure to perform a background check. VinFreeCheck.com offers free license plate lookup services for accident and salvage history reports on vehicles.
Types of License Plates Available in Florida
As a resident of Florida, you can choose to apply for a standard license plate or a special category license plate. Special license plate categories include:
Collegiate license plates
Military license plates
Wildlife and environmental department license plates.
Sports license plates
Commercial vehicle license plates
Disability license plates
Legislative/diplomatic license plates
Front end licenses for emergency personnel
Governmental license plates
You can get all your license plates from the local county office. It costs $28 to apply for these licenses. You can mail your completed form to the Division of Motor Vehicles, including the money order. The address is available on the form.
For personalized license plates, you need to submit your application to the license plate agency. They will vet the application and can either approve or deny the request. To increase your chances of getting your specialized license plate request approved, you can first perform a free license plate lookup from the Florida DMV website to check the availability.
Standard license plates in Florida
These are the most basic types of license plates you can apply for in Florida. There are three types of standard license plates in Florida. They include the 'Sunshine State' category, the 'In God We Trust' category, and the 'County name' category, available for some counties.
Transferring license plates in Florida
If you register a new vehicle in your name, you can transfer license plates from an old car to a new one. It is against the law to give or transfer license plates to another individual. According to Florida statutes, registered license plates and the registration certification should remain in the name they were issued under for their validity period. However, personalized license plates can be gifted to other people.
Losing your License Plate in Florida
When your license plate validity sticker gets lost or damaged, you are required to apply for a replacement. It is against the law to drive a vehicle without a validity sticker or a number plate. There is no charge for replacing lost plates or validity stickers, provided you report the incidence to the authorities.
You must submit your application for a lost validation sticker or license plate to the local licensing agency or the county tax collection office for it to be processed.
State Based Informational Guides
We have compiled a list of state specific guides for you. Feel free to check them out.
If you have just purchased a motorcycle, the next thing that you will need to do, is to register it. In order to legally drive a motorcycle on public roads in any state, you need to get your motorcycle registered....
You will always need to carry out different types of paperwork — whenever you purchase a car — so that you can title your car under your name and drive it legally on the road. So, whenever you are going...