Are you thinking of purchasing a vehicle in Georgia? One of the most important steps you can take when buying a used car in Georgia is to run a free license plate lookup. VinFreeCheck.com offers a free online resource to run license plate lookups. You will be connected to a database of all registered vehicles in Georgia. You will also gain access to vehicle records for the car you are interested in. This way, you will know the history of the car you want to buy, including salvage reports, previous owners' reports, and the correct odometer reading.
Add a header to begin generating the table of contents
Where can I find my plate number?
You can either look it up via your plate attached to your vehicle. Alternatively, you can look it up in your vehicle registration card.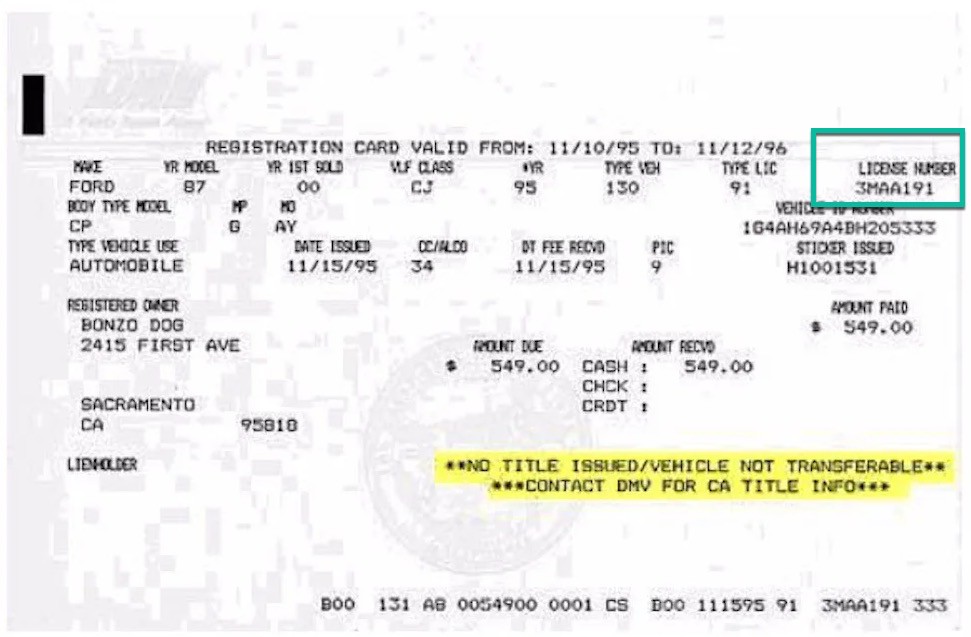 License plate registration in Georgia
To be able to drive a vehicle legally in Georgia, it needs to be registered under the Georgia department of revenue (DOR). After the purchase or transfer of a vehicle, the owner has up to 30 days to register and obtain a license plate number for the vehicle. You also need to transfer a license plate from an old car to the new one within the 30 days grace period. For the transfer of license plates to be allowed, both vehicles should belong to the same license plate category.
For lost or stolen license plates, you are required to report to the authorities before applying for replacements. You can apply for the replacement license plates from any country vehicle registration office.
Types of license plates in Georgia
There are three categories of license plates in Georgia. They are:
Vanity license plates
The standard state license plate
Specialized license plates
Vanity plates in Georgia
These are customized license plates that include unique numbers and letters with special meaning to the owner. They cost more than the standard state-owned license plates. Also referred to as Special Prestige License Plates, there are specific regulations you must follow when applying for these special category plates.
A license plate can only have up to 7 characters, which include spacing
You cannot choose numbers similar to an already existing license plate
You cannot use foul signs or language on your vanity plates
You cannot use misleading plate names
Your plates should not violate copyright
Special category license plates in Georgia
When residing in Georgia, you can also choose to go for specialized license plates. There are numerous categories to choose from.
Organizational or special cause plates - issued to people who support charities, or NGOs
Collegiate license plates – issued to show support for your favorite or former college or university.
Alternative fuel plates
Antique license plates – for owners of classic cars
Military plates – for army veterans or people in service.
For some of these special category plates, you will need special documentation to be able to apply for the category.
Applying for a license plate in Georgia
To be able to obtain a license plate for your car in Georgia, you are required to visit a Tag office in Georgia to make an application. Documents you need to register your vehicle include:
A valid driver's license or identification document
Updated insurance cover for the vehicle
A completed MV-1 form for vehicle titling
Payment for license plate application and taxes
Once you register your car, you will be issued with a license plate. You are also required to renew the vehicle tags each year.
Renewing your license plates in Georgia
When you register your vehicle, you are also issued with a validation sticker with your license plates. This sticker is placed on the bottom right corner of your license plate. It includes an expiry date for your license plates. Once expired, you will be required to present the sticker at the local Tag office for renewal.
You can renew your license online, in person, or via mail. Once the approval goes through, you will receive new license plate for your car.
State Based Informational Guides
We have compiled a list of state specific guides for you. Feel free to check them out.
If you have just purchased a motorcycle, the next thing that you will need to do, is to register it. In order to legally drive a motorcycle on public roads in any state, you need to get your motorcycle registered....
You will always need to carry out different types of paperwork — whenever you purchase a car — so that you can title your car under your name and drive it legally on the road. So, whenever you are going...