Moving to Idaho, the Gem State? Bear in mind that the Idaho Transporation Department handles all vehicle titling, registration, and license plate issuance via its Division of Motor Vehicles (DMV). If you own a car, you'll need to register and title it within 90 days of moving.
If you're getting a used car in Idaho, make sure to get a license plate lookup first. You only need to key in the vehicle's license plate number in the search field, press the Check License plate button, and you'll receive a comprehensive report of the car's usage history. This is particularly important when you intend to buy a second-hand car from someone. Having all the information you need about the car you're keen on acquiring is always essential.
Add a header to begin generating the table of contents
Knowing Where Your License Plate Numbers Is
Both front and rear plates are required to be displayed in Idaho. If you're not with your vehicle at this time, you can find the license plate number on your car-related documents, such as the renewal postcard or registration card/certificate.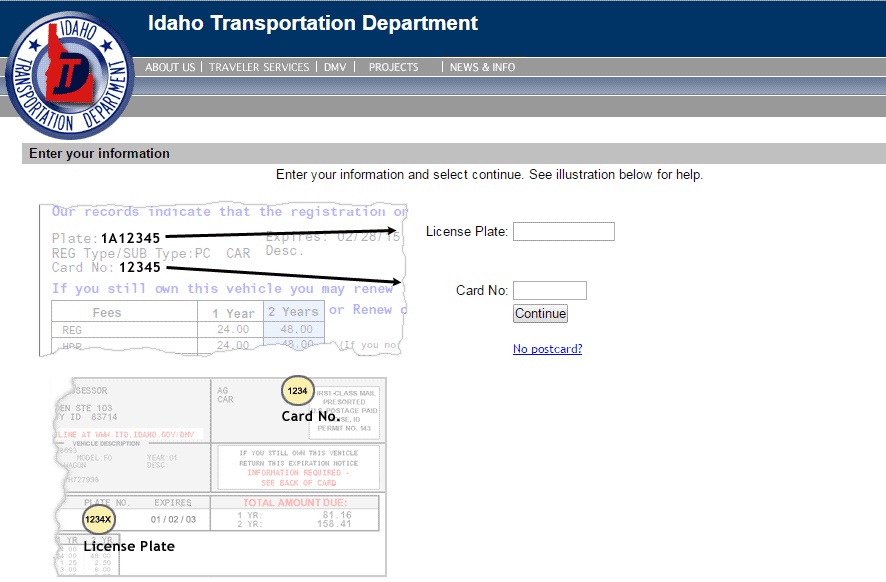 How Do I Get License Plates in Idaho?
First, make sure you've completed the titling and registration process. The vehicle also needs to undergo a VIN inspection beforehand.
You also need to furnish the following:
Current title and registration
Bill of sale, if applicable
Odometer disclosure, if applicable
Lienholder details, if applicable
Proof of identification
Payment of all applicable fees and taxes
If you bought a new car from a licensed dealer in the state, that dealer will prepare a titling application and file it on your behalf.
Be sure to also have auto insurance once you get a car. If you don't have any coverage for two consecutive months, you'll be given a warning. If you still don't get coverage within 30 days, you can have your vehicle registration suspended.
Idaho residents currently in another state (temporarily) can request for their request titles and registrations via mail.
For additional information, contact the local county assessor's motor vehicle office or visit the DMV's website.
Available Plate Designs in Idaho
Standard: The default plate is the Scenic Idaho plate first introduced in 2008.
Personalized: Personalized plates allow for up to six or seven alphanumeric characters in a combination of your choice, depending on the plate design you choose. Like any other personalized plate in other states, you can't include combinations that are vulgar, obscene, or in poor taste.
Disabled plates: Persons with disabilities will need to get medical certification for their (temporary or permanent) disability by a licensed medical professional when applying for these plates.
Persons with disabilities can apply for a placard or a plate. Temporary placards are only valid for a period of one to six months.
Military plates: These are issued to former serving, or active duty, members of any US military outfit. Plates are also available for those who are medal recipients (i.e., Purple Heart).
Special plates: This refers to unique plates for organizations, charitable groups, and so forth. These organizations or groups may have a unique style or design of plates, and the criteria for this style may vary from state to state. Available designs include:
Collegiate plates
Conservation/wildlife plates
Sports teams/events
Government programs
Awareness programs
Information Provided by the Lookup Report
Market value: Helps you determine the true worth or market value of the car if you plan on buying it. You'll find out if you're being overcharged or undercharged in a deal.
Vehicle specifications: Obtain detailed information about the vehicle's overall attributes, such as its engine and transmission type, and whether it might be a four-wheel drive.
Previous owners: Gives you details about previous owners the vehicle has had, and the duration of ownership for each owner. This information gives you a general idea of how a vehicle was used by each owner.
Odometer records: Sellers might alter odometer readings to make buyers think the vehicle has been driven for less than it was. The report provides accurate information about the car's odometer readings, allowing you to look out for dodgy or inconsistent records. Odometer fraud is also a federal offense, so be sure to report any odometer fraud you encounter.
Lien records: Notifies you if the used car has been used in a lease, as collateral for a debt, as a rental car unit, etc. A car dealership is legally obligated to clear off existing liens before selling the car to you, but in the case that they don't, this report will let you know.
Accident records: Lists any reported accidents that the car was involved in. There could be underlying faults with the car owing to unresolved issues caused by prior accidents. You may be able to find out if a car is still roadworthy or not.
Flood records: This notifies you of any damages to the car caused by flooding. Floods can severely damage crucial components in a car. Sometimes, these faults may have been left unaddressed, either because it's a potential scam or otherwise. With a license plate lookup, you can find out what might be the case.
Branded title check: This tells you if the car might have been branded for various reasons, such as if it was written off as a total loss. Specific brands can indicate if a car is still considered roadworthy or otherwise. Be mindful of these, as some branded cars might require significant expenses over a long time just to maintain it in a working condition.
What do you Gain from a License Plate Lookup?
The best way to prevent yourself from falling victim to a scam is to have a license plate lookup done. With the report in hand, you have a powerful tool to help you make wise car-buying decisions. If a seller attempts to sell a faulty vehicle but doesn't tell you that it is, the report will tell you what faults are plaguing the car.
Note that lookups aren't restricted to vehicles you own or plan to buy. See a suspicious vehicle loitering around your neighborhood? You can look up its plate number and see if it might be a stolen vehicle. Cloned VINs are also a significant concern since any car being sold could be using a VIN which belongs to a completely different vehicle. Having the report, in conjunction with an independent vehicle check, can give you greater security from fraudulent sale attempts.
VinFreeCheck's license plate lookup provides users such as yourself with extensive, verifiable information from reputable sources like the National Insurance Crime Bureau (NICB) and the National Motor Vehicle Title Information System (NMVTIS). We make sure that all data you receive is the most recent based on how regularly the source databases are updated.
Am I Allowed to Look Up License Plates?
Yes, you can! VinFreeCheck complies with the Driver's Privacy Protection Act (DPPA) which prohibits the disclosure of any private information of any car owner. Only relevant information pertaining to the car' use will be shared. On top of that, the Freedom of Information Act (FOIA) allows individuals to access information collected by the government.
Every piece of information you receive from our reports are 100% reliable data taken from officially registered sources like NMVTIS. Go ahead and run a free check on that vehicle you're keen on!
State Based Informational Guides
We have compiled a list of state specific guides for you. Feel free to check them out.
If you have just purchased a motorcycle, the next thing that you will need to do, is to register it. In order to legally drive a motorcycle on public roads in any state, you need to get your motorcycle registered....
You will always need to carry out different types of paperwork — whenever you purchase a car — so that you can title your car under your name and drive it legally on the road. So, whenever you are going...