There are numerous reasons for looking up license plates online. One of the most common reasons why people look up license plates online is to get history reports of vehicles. When buying a new car, some sellers do not disclose the complete history of the vehicle.
Getting a history report of a vehicle online will give you access to information about the previous owners, the number and types of accidents it has been involved in, and also whether the car was used to personal or commercial purposes. You can perform a free license plate search on VinFreeCheck.com to get the complete history of vehicles in Illinois.
Also, if you are thinking of getting a vanity plate for your vehicle, you may perform a license plate check to find out if your plate is available or taken by someone else.
Add a header to begin generating the table of contents
Where can I find my plate number?
You can either look it up via your plate attached to your vehicle. Alternatively, you can look it up in your vehicle registration card.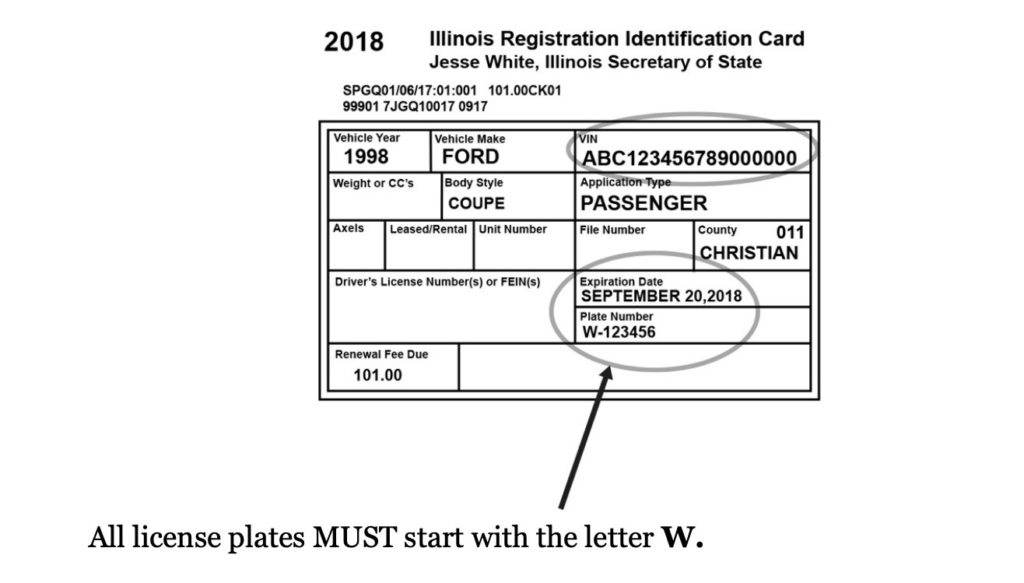 Registering a Vehicle in Illinois
After purchasing a vehicle in Illinois, or moving to Illinois, you have up to 30 days to register the car in this state. Once registered, a temporary permit is issued as you wait for your license plates. This temporary permit can be used to drive in Illinois for 90 days, or until the time the license plates are issued.
The license plates in Illinois are issued under the Secretary of State (S0S). The standard plates are made up of three letters and four numbers. Each car should display two license plates; one on the front and one for the rear.
With the license plates, you also get validity stickers. These stickers can be placed on the rear license plate. If lost or damaged, the sticker can be replaced at a cost. You can also get license plate replacements at an extra cost.
Types of license plates you can apply for in Illinois
When registering a vehicle in Illinois, there is a variety of license plate types you can choose from. The standard plates issued in Illinois come in white and blue, characterized by a Lincoln image with dark red letters.
If you prefer not to use the standard plates, you can apply for special category license plates. People living with disabilities can apply for special placards and license plates. This allows them to park in designated zones throughout Illinois.
In general, Illinois has up to eleven license plate types. They include:
License plates for persons with disabilities
Standard license plates
Antique license plates
Specialty license plates
Pan-Hellenic series license plates
Collegiate license plates
Military license plates
First responders license plates
Professional sports license plates
Sporting series license plates
RV license plates
The state of Illinois requires you to first register and title your vehicle under the standard license plate category before you can apply for personalized plates. It is against the law to use customized license plates on vehicle leases, vehicles in a trust or business vehicles.
Titling your vehicle in Illinois
You can do your Illinois vehicle titling online. Once you complete the application process, you can submit the application over the counter or via mail to the SOS (Secretary of State) office. All the data you present in the documents should be accurate for the SOS offices to approve. If you purchased your vehicles out of state, you will need to submit your RUT-25 tax form.
If you want to replace a lost o damaged cat title, you will wait up to 30 days to get your duplicate. In case you use the wrong details when titling your vehicle, you can request to have the information corrected. You will need to provide a signed Illinois Certificate of Title to authenticate that you are the owner of the vehicle.  
State Based Informational Guides
We have compiled a list of state specific guides for you. Feel free to check them out.
If you have just purchased a motorcycle, the next thing that you will need to do, is to register it. In order to legally drive a motorcycle on public roads in any state, you need to get your motorcycle registered....
You will always need to carry out different types of paperwork — whenever you purchase a car — so that you can title your car under your name and drive it legally on the road. So, whenever you are going...