In Iowa, vehicle titling and registrations are overseen by the state Department of Transportation via its Motor Vehicle Division (MVD). The county treasurers are responsible for processing all vehicle titling and registrations needed by residents in the state.
While titling and registration are straightforward tasks, buying isn't as easy as that. If you're thinking about buying a used car, it also gets complicated fast - especially when there's a chance you could be scammed into purchasing a faulty car that'll cost you in the thousands to get into working condition.
With VinFreeCheck, you'll be able to use our free license plate lookup search to get detailed and up-to-date information on a used car you find. Just enter your license plate number in the search box, choose the state the vehicle was registered in, and you'll get the results in no time!
Add a header to begin generating the table of contents
Where is My Iowa License Plate Number?
Iowa requires both front and rear plates to be displayed on vehicles (rear plates only for motorcycles and trailers). Some documents, such as the registration receipt, also denote the license plate number of the car, if you're not currently with it at the moment.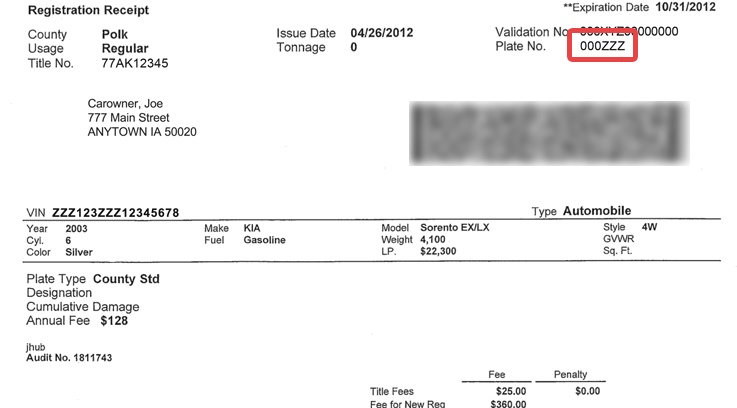 How to Get a License Plate in Iowa
You'll first need to title and register your car before applying for license plates. If you're moving to Iowa from another state, you'll need to complete the titling and registration within 30 days of establishing residency.
You'll also need to present the following items at the county treasurer's office:
Certificate of title
Completed and signed application form for an Iowa certificate of title and/or registration
Manufacturer's Statement of Origin (MSO) for new vehicles
Bill of sale or purchase agreement
Odometer disclosure
Damage disclosure, if applicable
Cancellation of Security Interest (form 411168), if applicable
Payment of all relevant fees
You can visit the MVD site to make an online application for new plates. You'll usually receive your new plates within 3-6 weeks after completing the titling and registration process.
Available License Plate Designs
Standard: These use the regular "City and Country Reboot" design as voted in the 2017 Iowa State Fair.
Personalized: Personalized plates can have up to seven alphanumeric characters, but must have at least two characters. Certain terms and conditions do apply, such as no usage of special characters, and no "profane, obscene or inflammatory" combinations, or "those contrary to public policy."
Personalized plates have a $25 initial fee and a $5 annual registration fee "at the time of renewal."
Disabled: Qualified persons with disabilities, with an accompanying letter of certification from a licensed medical practitioner (either in Iowa or any "contiguous state" such as Minnesota), can apply for these plates.
Military: These are issued to active-duty or retired military personnel of any US military branch. Available plates include recipients of commendations, such as the Legion of Merit.
Specialty: These plates exist for people who want to identify with or show support to certain organizations, groups, interests, and charities. Plate options include:
Collegiate plates
Organization/association plates
Environment and conservation plates
Antique plates
Volunteer organizations/professions
Awareness programs
Sports teams/events
What is Inside the License Plate Lookup Report?
Various useful records are available for your perusal when you get a lookup report.
Market value: The estimated or actual market value of the car. Having this on hand enables you to determine if a seller may be selling that vehicle for more than its actual market value.
Previous owners: Find out the number of previous owners the vehicle has had and how long they've had it in their possession. It doesn't disclose any personal or sensitive information. It does, however, give you a sense of how they used the car before selling it to the subsequent owner(s).
Accident records: Find out if the car was involved in any road accidents. Some cars that were in an accident may not have had extensive maintenance performed to keep it roadworthy. You should always be cautious if you see such records; get an independent check done to look for potential problems.
Flood records: Floods can cause certain mechanical faults that can be missed without a thorough inspection. With the report, you'll find out if a car has been in any floods and if any maintenance was done to keep it in working condition, or otherwise.
Junk/salvage title check: If a car has sustained major damage in either an accident or flood, it might be written off as a 'total loss' by an insurance company. This record will notify you if that may be the case. Most times, the total costs to maintain or restore the car are far too expensive owing to the severity of damage it's sustained.
Lien records: Provides information on whether the car has been used in a lease, as collateral for a debt, as a rental car unit, etc. A car dealership (or previous owner) is legally obligated to repay any existing liens before selling the car. If they don't, you may end up becoming liable to repay the remaining amount.
Odometer records: Determine how far the vehicle has been driven. In many cases, fraudulent parties will alter odometer records to falsely claim the vehicle has been driven far less than it actually has. As odometer tampering is considered a federal offense, you should report the seller immediately to the relevant authorities.
In accordance with the Driver's Privacy Protection Act (DPPA), all personal information pertaining to drivers will not be revealed in a lookup report. Only approved associations, organizations, or people can obtain this information. Be aware of fake websites that claim to provide every single facet of a car's previous drivers, as they may be fraudulent websites.
Why License Plate Lookups are Important
According to the National Insurance Crime Bureau (NICB) "Hot Wheels" report for 2020, here are the top 10 most commonly stolen vehicles in Iowa.
Chevrolet Pick-Up (Full Size)
Ford Pick-Up (Full Size)
Chevrolet Impala
Chevrolet Malibu
Dodge Pick-Up (Full Size)
Jeep Cherokee/Grand Cherokee
GMC Pick-Up (Full Size)
Ford Fusion
Toyota Camry
Honda Civic
Given how auto theft is still prevalent, despite Iowa's lower theft rate in comparison to other states, a license plate lookup is key to protecting yourself from buying a stolen vehicle. You'll be able to see all the information you need to know about a car that's on sale, especially key data that might indicate it was stolen or is potentially unsafe to drive. Unscrupulous parties stand to gain in the thousands when consumers fail to take necessary precautions before buying a car.
Even if you're provided a free vehicle history report from the seller, it may be a forged copy to instill a false sense of security. If something doesn't add up, or even if you don't notice anything amiss, it still doesn't hurt to independently acquire a vehicle history report of your own to compare with the seller's one. You might just spot some red flags from the extra time spent researching. Better yet, you might just dodge a bullet if the vehicle being sold isn't the one that's advertised!
With our sources coming from reputable databases such as the National Insurance Crime Bureau (NICB) and the National Motor Vehicle Title Information System (NMVTIS), to name a few, you can rest assured that the report you get is accurate, up-to-date and dependable when you're looking to buy a used car. Get a lookup done today!
State Based Informational Guides
We have compiled a list of state specific guides for you. Feel free to check them out.
If you have just purchased a motorcycle, the next thing that you will need to do, is to register it. In order to legally drive a motorcycle on public roads in any state, you need to get your motorcycle registered....
You will always need to carry out different types of paperwork — whenever you purchase a car — so that you can title your car under your name and drive it legally on the road. So, whenever you are going...