The Kansas Department of Revenue has a Division of Vehicles (DOV) that oversees "law relating to vehicle license plates and certificates of title, motor vehicle dealer licensing, and driver licensing control." County treasurers helps the DOV process all vehicle registrations, "tags and renewals" as well as vehicle titles and personalized plate applications.
New to the Sunflower State? You have a 90-day period to title and register your car once you've established residency in the state. You'll also need to undergo a VIN inspection conducted by the Kansas Highway Patrol; there's a $20 inspection fee you'll also need to pay. Once you find out which inspection station you need to go to, contact them early and find out what methods of payment they accept.
Looking to buy a used car in Kansas? Our free online license plate lookup tool will get you a free VIN report as well as complete information about a vehicle, whether it's yours or a used car on sale. All you need to do is key in the license plate number into the text field, select the state the car was registered in, and click the "Check License Plate" button. Within a few moments, you'll have access to all the information you need!
Add a header to begin generating the table of contents
Where Do I Find Kansas License Plate Numbers?
Kansas only requires rear plates to be displayed on the car. If you're not currently with your vehicle, you can always find the license plate number on important documents such as the registration application receipt (seen below).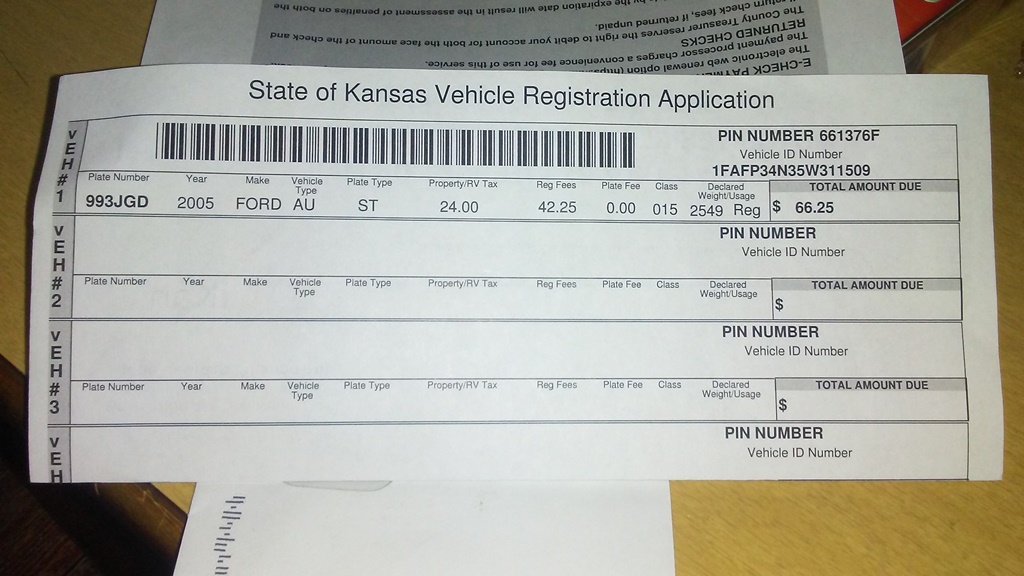 Obtaining a License Plate in Kansas
Any resident of Kansas will need to title and register their car at their local county treasurer's office before they can get a license plate for it. Vehicle registrations need to be done within 60 days from the date of purchase.
Items you may need to furnish at the county treasurer's office include:
Completed vehicle title
Proof of auto insurance
Motor Vehicle Examination Certificate (MVE-1) for out-of-state vehicles/purchases
Lien release, if applicable
Sales tax receipt for dealership purchases
"Property tax must be paid at the time of registration unless applying for a temporary plate"
You can get a 60-day temporary permit from the county treasurer's office while you wait for your permanent plates. You'll need to furnish proof of auto insurance, the car's title, bill of sale (if applicable) and a payment of $13.
Kansas also has an e-title system. If your title is an e-title, and you need the 60-day permit, you'll need to furnish the Electronic Title Sales Agreement, Form TR-39A, and Seller's Current Registration Receipt.
License Plates Available in Kansas
Standard plates: These use the standard design introduced in 2018. All plates use the "123 ABC" format.
Personalized plates: These plates allow up to 7 alphanumeric characters to be printed, including spaces. They are "issued for 5 year cycles." Disabled Personalized plates are also available for qualifying persons.
Much like in other states, there are stipulations for what you can print on a personalized plate. For example, no "profane, vulgar, lewd or indecent meaning[s] or connotation[s]" can be used.
Military/Veteran plates: These are eligible to active duty, or former serving, members of any US armed force, as well as recipients of any combat decorations (such as the Medal of Honor).
Disabled plates: According to state law, only residents "certified by a Healing Arts Licensed professional [with a disability] may be issued a disabled placard or license plate." Certification needs to be written on the Certification of Disability for Disabled Parking Placard and/or Plate form.
Distinctive plates: These refer to unique plates for organizations, charitable causes, and so forth. These organizations or groups may have a unique style or design of plates, and the criteria for this style may vary from state to state.
Plate designs include:
Collegiate plates
Antique vehicle plates
Amateur radio operator
Emergency Medical Services
Conservation plates
Patriotic plates
Awareness plates (e.g., Breast Cancer Research and Outreach)
Special event plates (e.g., Special Olympics)
The Dangers of Automotive Fraud and How to Protect Yourself
Potential car buyers are commonly tricked into believing the safety of a purchasing agreement by using fake documents or images that appear genuine in nature. Scammers are constantly finding new ways to deceive buyers into parting with their cash without realizing that they've been conned in the first place. A common strategy is to disguise the vehicle being sold with false information borrowed from other cars of the same model. The scammers will offer various sources to prove a deal's legitimacy to allay any doubts the buyer might have.
With online deals becoming more widespread, it does get harder to distinguish what's real and what isn't when you can't see it in person. To better protect oneself from such fraudulent schemes, performing a license plate lookup will provide you a detailed report on the vehicle's actual characteristics. The report will offer peace of mind when you're considering a car to buy, especially when the report reveals many problematic facets that the seller didn't disclose to you. You can do a lot more with this information at hand.
VinFreeCheck's license plate lookup provides users like yourself with extensive, verifiable information from reputable sources like the National Insurance Crime Bureau (NICB) and the National Motor Vehicle Title Information System (NMVTIS). All information you receive is the most recent data available, based on how regularly the source databases are updated.
What Can I Get from the Report?
The report provides a comprehensive list of many factors that will help the customers to a great deal.
A license plate lookup provides you with everything you need to know about a specific car. You'll be able to learn more about the car's:
Previous owners: Provides information on how many owners a vehicle has had, as well as a general idea for how it was used by each owner. No personal data is given out in the report, in accordance with the law.
Vehicle specifications: Determine a car's transmission type, engine capacity and other technical/mechanical aspects that you might want to know.
Market value: This helps you find out what the actual market value of the car is on the market. You'll be able to tell if you're being under- or overcharged in a deal.
Flood records: Find out if the car was involved in a flood. Flood waters can permanently damage various components in a car, especially the engine. Sometimes, these faults may have been left unaddressed, whether due to malicious intent or otherwise. With a license plate lookup, you can find out more about the car's state.
Accident records: Provides records of past accidents that the car might have been involved in. It's possible that there may be lingering issues that were not fixed since a prior accident. Alongside an independent safety inspection, you might be able to find these issues before you purchase the car.
Junk/salvage title check: If a car is severely damaged in an accident or has been scrapped for parts, an insurance company might write it off as a 'total loss.' It would mean repairing the car will be very costly, on top of it being in no condition to operate on the road.
Odometer records: Odometer fraud remains a major issue in used car buying. Sellers may falsely report lower odometer readings, indicating a car has been driven less than it actually has. The lookup report provides accurate records about a car's odometer readings, allowing you to spot any inconsistent records.
Lien records: Provides information on whether the car has been used in a lease, as collateral for a debt, as a rental car unit, etc. A car dealership is legally required to clear off existing liens before selling the car to you, but if there are any left, this report will bring them to light.
The Legality of License Plate Lookups
License plate lookups are legal, in accordance with the Freedom of Information Act (FOIA) that grants individuals the right to access information collected by the government. VinFreeCheck also complies with the Driver's Privacy Protection Act (DPPA), whereby we don't reveal any personal/private information of previous or current car owners. Only the relevant information about the car's use and condition will be shared.
There are no restrictions to how many lookup reports you'd like to run to help you with your used car search. All the information you need is freely available from our services, so don't be shy!

State Based Informational Guides
We have compiled a list of state specific guides for you. Feel free to check them out.
If you have just purchased a motorcycle, the next thing that you will need to do, is to register it. In order to legally drive a motorcycle on public roads in any state, you need to get your motorcycle registered....
You will always need to carry out different types of paperwork — whenever you purchase a car — so that you can title your car under your name and drive it legally on the road. So, whenever you are going...