Kentucky's Transportation Cabinet (KYTC) oversees all vehicle titling and registration, as well as issuing license plates, through its Division of Motor Vehicle Licensing. In 2020, Kentucky recorded a total of 100,787 crashes, a reduction of 23.9 percent from the previous year. However, the number of fatalities for 2020 rose by 6.6% to 780 from 732.
If you're thinking of buying a used car in Kentucky, make sure to get a license plate lookup done first. You can easily have all the information related to any car you're keen on. With some shady sellers looking to make a quick buck, they may attempt to sell you a faulty car, perhaps heavily damaged in some prior accident, while making it look like its in good condition. The lookup report gives you much needed insurance to protect yourself from such fraudulent schemes.
If you can't remember your car's VIN number, you can also use this tool to help you recall its full 17 character sequence.
Add a header to begin generating the table of contents
Where is the Kentucky License Plate Number?
All Kentucky plates are mounted on the rear, with the license plate number either embossed or printed on the plate. If you aren't currently with your vehicle, you can also find the license plate number on other vehicle-related documentation, such as the certificate of registration.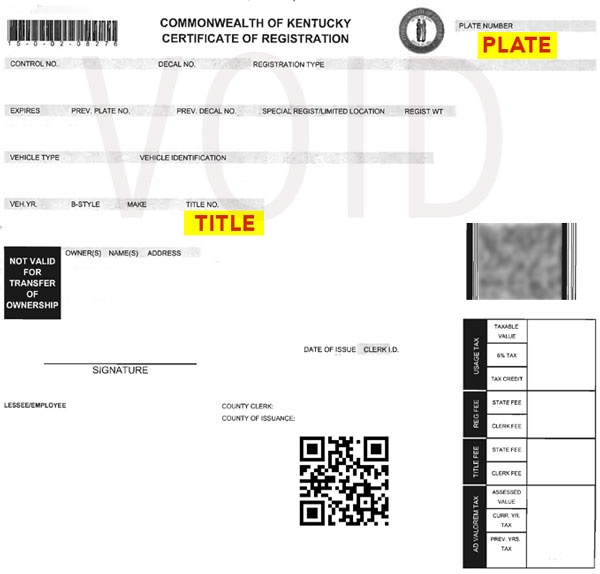 Getting a License Plate in Kentucky
If you're moving to Kentucky from another state, you'll need to convert your out-of-state license at the KYTC Driver Licensing Regional office. If you're bringing in a car from your home state, it'll also need to undergo a Sheriff's inspection.
For titling and registration, you'll need to bring the following items to the Office of the County Clerk:
Proof of identification
Proof of Kentucky insurance (issue date within 45 days)
Completed application form
Bill of sale (if applicable)
Payment of all relevant fees
Motor insurance is mandatory in the state. According to state law, "an owner who fails to maintain insurance on his vehicle shall have his vehicle registration revoked."
Registration renewals can be done either in person at the Office of the County Clerk, or via the KYTC's online service. Once your vehicle is titled and registered, you can order permanent plates from the Office of the County Clerk.
Kentucky License Plate Variants
Standard: These use the Bluegrass State (or Team Kentucky) plate introduced in 2020. All plates use the "123 ABC" standard format.
Personalized: These use either standard, motorcycle, military, or special plates. They can contain up to six alphanumeric characters "in addition to a space or dash." For motorcycle plates, however, you can have up to five alphanumeric characters. Personalized plates are unique, and only one unique combination can only appear on one plate at any time.
Much like other states, personalized plates must abide by state law and cannot contain any vulgar, insulting or derogatory meanings.
Military: Military plates are currently, or formerly, serving members of the US military. Special plates are also available for medal recipients. Plates for disabled veterans are also available.
Disabled: These plates are issued to persons who "lost the use of one or both legs, one or both arms or who is blind or whose ability to walk is impaired," as certified by a licensed medical professional.
Specialty: These plates exist for people who want to identify with or show support to certain organizations, groups, interests, and charities. Plate designs include:
Collegiate plates
Conservation/wildlife plates
Awareness plates (e.g., Breast Cancer)
Organization/association plates (e.g., Keeneland Association)
State services (e.g., Firefighter)
Sports plates (e.g., Ryder Cup)
The Benefits of a Lookup Report
With the economy being what it is, buying a used car is a big deal. However, scammers are still going to be a danger to unwary consumers. They will do everything they can to trick consumers like yourself into buying stolen vehicles, hiding various details like its overall mileage to deceive would-be buyers. Unsuspecting buyers might find themselves in hot water once the purchase is made, while the scammers make their getaway.
Getting the vehicle history report provides you with plenty of benefits when it comes to car buying.
Having the data related to vehicle's past use will help to strike a good deal with the seller/dealer. They won't be able to hide anything from you, while you get the best value for the car.
The report also contains the current market price of the vehicle. You'll be able to tell if you might be getting ripped off.
Accident and flood records will paint a picture of the car's overall condition. You'll be able to decide if the car is worth the price, or if it will become a cash sink for constant maintenance to get it running.
You might be able to determine that a car is using a cloned VIN. Cloned VINs are basically VINs that belong to a totally different car than the one being advertised. This is a sure sign of automotive fraud and should be reported if you encounter one.
The peace of mind and security the report offers you as a buyer can't be understated. As such, you should always conduct a license plate lookup before agreeing to any purchasing deal.
Since the free license plate lookup tool has been merged with the VIN check report, the amount of information you can get from this report has become more detailed.
Damage/ accident reports
Vehicles can get damaged, be it small dents and bumps, or even significant damage caused by an accident. The license plate lookup provides details of any damage or accidents a car may have been involved in, painting a picture as to its maintenance and current condition, among other things.
Vehicle specifications

Informs you of the vehicle's make, year of manufacture, its transmission type and more. Having adequate information about the car you intend to buy can be particularly useful.
Previous owner records

The reports highlight the number of past owners the vehicle may have had, and a general overview of how the vehicle was used.
Branded title
You will have access to the information stating whether the car has a salvage title and if the car is safe enough to drive. These are usually assigned by a state agency or an insurance company in specific cases; salvage titles, for example, indicate if a vehicle was deemed as salvage due to heavy damage that led to its being written off as a total loss. It gives you an idea of whether a car is still roadworthy or not.
Inspection records

Many types of inspections need to be done concerning a car to ensure that it meets various pollution control goals and safety checks. You'll be able to see all inspections the car previously went through and whether it passed or failed certain criteria.
Lien records
This tells you if the car you plan to buy has been used as collateral for a loan, or as a rental car unit. An existing lien that's not been resolved can lead to problems down the line, as you'll have to take up the repayment of the lien, even if it wasn't yours in the first place.
Odometer records
Odometer tampering is a federal offense, as it involves changing the odometer readings to trick buyers into thinking a car was driven for less than it actually has. The report shows you the actual odometer readings, allowing you to find out if the odometer was tampered or not.
Where Does this Data Come From?
Multiple trusted resources are used to retrieve the information in every report. We source our data from reliable databases such as the National Motor Vehicle Title Information System (NMVTIS), the National Highway Traffic Safety Administration (NHTSA), and the National Insurance Crime Bureau (NICB).
All information you can acquire from lookup reports are legal. The information complies with the Driver's Privacy Protection Act (DPPA), in which we do not disclose any personal information regarding the owners of a vehicle. Under the Freedom of Information Act (FOIA), you also have a right to access to information collected by the government, so long as it doesn't breach the privacy of individuals.
State Based Informational Guides
We have compiled a list of state specific guides for you. Feel free to check them out.
You will always need to carry out different types of paperwork — whenever you purchase a car — so that you can title your car under your name and drive it legally on the road. So, whenever you are going...
If you have just purchased a motorcycle, the next thing that you will need to do, is to register it. In order to legally drive a motorcycle on public roads in any state, you need to get your motorcycle registered....