The excitement that often accompanies purchasing the car of your choice is normal and quite valid. However, you may want to slow down and carry out a thorough license plate search on that vehicle before handing out your money to the dealer.
As a Maine resident looking to purchase a second-hand vehicle, a Maine license plate lookup will reveal details about the vehicle's odometer readings, its accident records, the vehicle specifications, and so on. These are significant vehicle records that will be important to your future vehicle purchase. A study from the NHTSA estimates that 452,000 used cars with false odometer readings are sold each year in the US.
You can ward off the risk of carrying on unwarranted vehicle malfunctions by conducting a free Maine license plate search using our license plate lookup tool, VinFreeCheck. With VinFreeCheck, you are guaranteed detailed and up-to-date information on the vehicle of choice in a split second. Input your license plate number in the search box, choose the state the vehicle was registered in, and the results will be displayed.
Add a header to begin generating the table of contents
Where Is My Maine License Plate Number Found?
You can find your license plate at the front and rear of the vehicle. The license plate of trailers and motorcycles are affixed only to the back of the car. Against the reflective white surface of the plate is a mix of letters and numbers - these characters represent your license plate number. You can find this information on the vehicle's registration certificate issued by the Maine BMV. If doubts arise, visit any nearby Maine BMV office.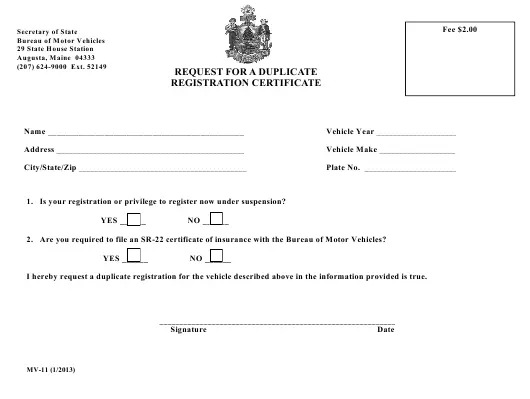 How Do I Get A License Plate in Maine?
In Maine, a license plate is only obtainable when the vehicle's registration has been finalized. To get your vehicle registered, you must go through the following procedures:
Pay the excise tax at your local municipal office. If the vehicle you are registering is brand new, you'll be required to present the manufacturer's recommended retail price label.
Provide the following documents:

Bill of sale agreement from the dealer
Blue title application (only necessary if the vehicle's model year is 1995 or newer)
Proof of Insurance (ID card, binder, or policy)
White and yellow copy of registration application
Excise tax receipt obtained from the municipal office

Proceed to your local municipal office with all relevant documents. Not all local town offices participate in the registration program. If yours doesn't, you may visit any nearby BMV branch
Choose a license plate preference, and pay the appropriate fee for the plate. You can request a license plate in person or via mail.
You must first make a license plate request through the ME BMV website. Once done, you can mail the above documents to Maine 1300 29 State House Station Augusta, ME 43333. Note that upon purchasing a vehicle, every vehicle owner in Maine must apply for a license plate within 30 days.
In the meantime, you'll need to obtain temporary plates to drive legally. These plates are valid for 14 days and can be obtained from the BMV or the dealership where the vehicle was bought.
What Are the Different Types of Plates?
General Issue Plate: The Chickadee plate is the standard license plate preference when registering your vehicle at the Maine BMV. These plates are typically issued in differing classifications. These include Antique, Commercial, Disability, Special Equipment, and Combination.
Personalized Plate: These plates give the car owner the autonomy to design their license plates to their liking. However, there are guidelines to be followed;
Must consist of 7 characters (with at least one letter)
You may use letters, numbers, and spaces
No vulgar or offensive writing (the government has a right to ban your plate)
The writing cannot be associated with a public institution
You can not use an already existing and registered license plate number
You'd be required to pay $25 to order a personalized plate.
Specialized Plate: These plates exist for people who want to identify with or show support to certain organizations, groups, interests, and charities. You can choose to show support for any of the following:
Breast Cancer Awareness
University of Maine
Lobster Specialized
Ex-Prisoner of War
Maine Agriculturalist
Antique
Classic Car
Maine Black Bear
War Veterans
Support Animal Welfare
What is in the License Plate Lookup Report?
A license plate lookup provides you with relevant data on the vehicle you intend to purchase or have already purchased. Information you will be able to access includes:
Accident Report: This record informs you of whether the car has ever been involved in any accidents. If the accident was major, you might want to carry out a proper check on every area of the vehicle. You might find possible damage that could affect the vehicle's performance. If so, you would do well not to purchase the vehicle.
Previous Owners: As a buyer, you may want to know the vehicle's previous owners and the duration in which they owned the vehicle for. The report can give you up-to-date information for both of those queries.
Flood Records: Informs you of any history of damage from floods. If you find the vehicle was damaged by floods, you need to find out how much potential damage the vehicle may have undergone and what repairs were made to restore its condition.
Market Value: Many buyers have been swindled considerable amounts because they were ignorant about the true worth of the vehicle being purchased. A license plate report will reveal the actual market price of the vehicle you're looking at.
Vehicle Specification: Provides you with all the information you need about the vehicle's make, year of manufacture, its model and VIN. You need to have adequate information about the car you intend to buy before going ahead to make a deposit.
Lien Records: As the trend of selling out vehicles with an existing lien increases, car buyers need to be extra careful when shopping around for a vehicle. Use VinFreeCheck to find out if the car you intend to buy has been used as collateral for a loan, or as a rental car unit.
Odometer Record: Odometer fraud is becoming increasingly popular, but this can in fact be avoided with a quick license plate search. This report informs you if the odometer of the vehicle has ever been tampered with. Odometer tampering is done as a means to deceive buyers into thinking the vehicle has been used for less than it actually has.
Why Should You Get the Report?
Vehicle fraud cases are on the rise in the US. Buyers underestimate the value of doing a license plate check for the vehicle they are interested in. The report gives you a rundown of the facts and data that conveys the vehicle's performance rating, market value and so much more.
Having adequate information about the vehicle's accident records, flood records, as well as its specifications helps you make smart decisions and avoid getting swindled. If you found out the vehicle was previously damaged or has a permanent fault, your next line of action may either be to withdraw from the purchase or bargain for a more reasonable price. Wilfully deciding on the latter entails that you are liable to future repairs, rather than be caught off guard about said issues.
A license plate lookup could also come in handy in the event of a hit and run, or suspected motor vehicle theft. Currently, Maine is experiencing an upsurge in motor vehicle theft. According to a report by the Maine State Police, motor vehicle thefts increased 18.4%, with 857 vehicles reported stolen and 724 vehicles stolen in 2019.
VinFreeCheck offers you a free and reliable license plate lookup service. The data given is obtained from valid sources such as the National Motor Vehicle Title Information System (NMVTIS) and The National Insurance Crime Bureau (NICB).
Is It Legal To Lookup A License Plate?
Yes, it is. We do not give out the private information of the vehicle owner, abiding by the Driver's Privacy Protection Act's (DPPA) restrictions on disclosing the private information of a car owner. Moreover, the Freedom of Information Act (FOIA) grants individuals the right to access information collected by the government. Our data is also compiled from valid public sources such as the NMVTIS and NICB. 
State Based Informational Guides
We have compiled a list of state specific guides for you. Feel free to check them out.
If you have just purchased a motorcycle, the next thing that you will need to do, is to register it. In order to legally drive a motorcycle on public roads in any state, you need to get your motorcycle registered....
You will always need to carry out different types of paperwork — whenever you purchase a car — so that you can title your car under your name and drive it legally on the road. So, whenever you are going...