Once you purchase a car in Michigan, you are required by law to register it. The Michigan Secretary of State handles all titling, registration and license plate applications.
Thinking of buying a used car? Be mindful that the secondhand car you're looking at isn't in bad condition. When it comes to online purchases, you need to make sure you're not walking into a scam. If you aren't careful, you might end up with a car that constantly breaks down and spends more time in a garage than on the road.
You should perform a license plate lookup online to ensure you get a good deal on a second-hand car in Michigan. VinFreeCheck is a free online resource that allows you to run a license plate lookup. With our free license plate lookup, you can get details on any vehicle in Michigan. The report tells you if the car was written off for various complications, the number of previous owners its had, and even accurate odometer readings.
Add a header to begin generating the table of contents
Where Can I Find My Plate Number?
You can either look it up via your rear plate attached to your vehicle. Alternatively, you can look it up on your vehicle registration card or recreation passport.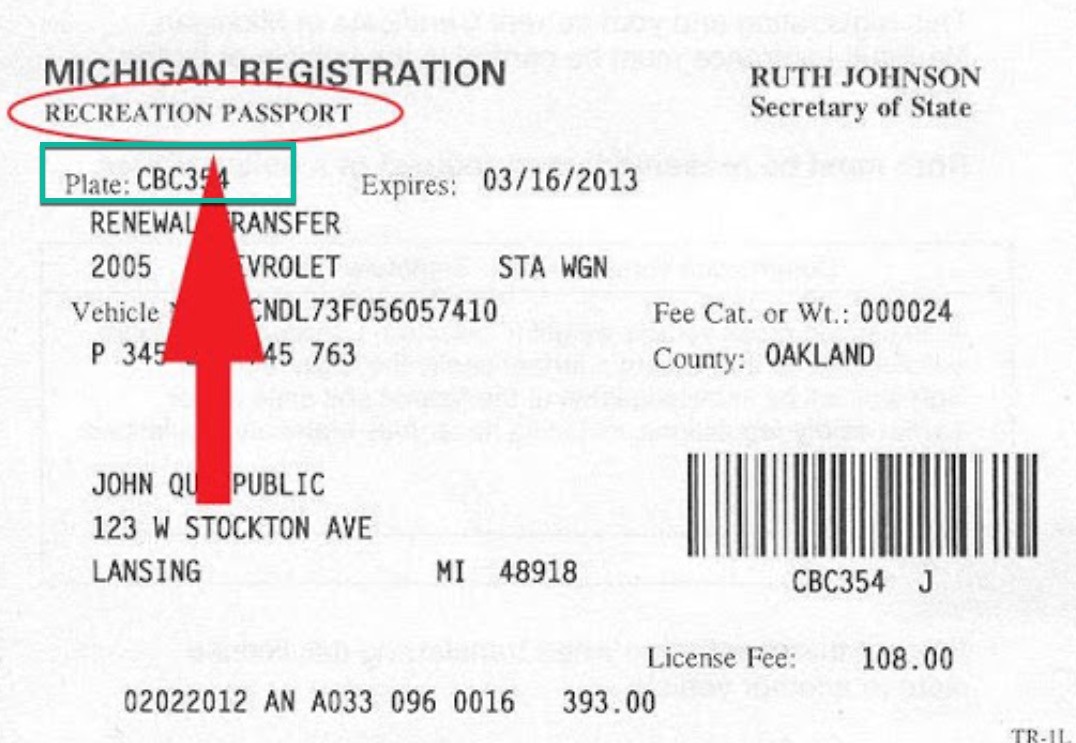 Registering a Vehicle in Michigan
Once you buy a vehicle in Michigan or move to Michigan with an out of state vehicle, you have up to 15 days to register it. Motor vehicle registration can be done from the secretary of state office in your area. Until you complete the vehicle registration process, be sure to have the assigned title and proof of insurance at all times.
You may need to furnish the following items:
Original vehicle title with accurate odometer reading or mileage statement
Proof of Michigan No-Fault insurance
Proof of identification
Payment of all relevant fees
If you bought a new car from a dealership, they will help you complete the procedures on your behalf. They'll also provide a 15-day temporary registration sticker placed on your car's rear window.
There are 30-day and 60-day temporary plates available for "short-term use of your vehicle."
Further information can be found on their website. 
Types of License Plates in Michigan
Standard plates: These are 7 characters in length, with a standardized AAA 0000 format. They use the one of four plate designs, including the Pure Michigan design.
Personalized plates: These allow a person to have up to 7 alphanumeric characters in length; symbols are not allowed, while the letter 'O' will be substituted with the digit zero (0). Additionally, you can't use any combinations that are vulgar or offensive in nature.
Military plates: These are issued to active-duty or retired military personnel of any US military branch. Available plates include those for participants of prior military campaigns, as well as recipients of medals and honors such as the Medal of Honor.
Disabled plates: These are issued to persons with disabilities and whose condition has been certified by a licensed medical professional. The plate doesn't qualify for free parking; for that, you'll need a disability parking placard with a yellow free-parking sticker.
Specialty plates: These plates exist for people who want to identify with or show support to certain organizations, groups, interests, and charities. Plate options include:
Collegiate plates
Organization/association plates
Environment and conservation plates
Antique/collector plates
Volunteer organizations/professions
Awareness programs
Sports teams/events
You can find all available designs on their website.
Looking Inside a License Plate Lookup Report
A license plate lookup provides you with relevant data on the vehicle you intend to purchase or have already purchased. You'll be able to review the following information:
Accident reports: Lists any accidents the car may have been involved in at any time. If it was a significant accident, you should have an independent check performed on the vehicle. You might find damage that wasn't repaired which could affect the vehicle's performance.
Previous owners: Get some information on the vehicle's previous owners and the duration in which they owned the vehicle for. The report can give you up-to-date information for both of those queries, but doesn't disclose any private or personal information of these owners.
Market value: The license plate report will reveal the actual market price of the vehicle you're looking at. You'll be able to find out if you're being under- or overcharged for a used car.
Vehicle specifications: Provides you with all the information you need about the vehicle's make, year of manufacture, its model and more. Having all the relevant information at hand will help you with making a more informed decision.
Flood records: Informs you of any history of damage from floods. If you find the vehicle was damaged by floods, you need to find out how much potential damage the vehicle may have undergone and what repairs were made to restore its condition.
Lien Records: Provides information on whether the car has been used in a lease, as collateral for a debt, as a rental car unit, etc. There have been cases where cars with an existing lien were sold to unknowing buyers. These buyers end up having to repay the lien, even if it wasn't their fault.
Odometer records: The report will provide detailed odometer records of a vehicle, allowing you to look for signs of odometer tampering. This fraudulent activity deceives buyers into thinking the vehicle has been driven for less than it actually has.
Junk/salvage title check: If a car is severely damaged in an accident or has been scrapped for parts, an insurance company might write it off as a 'total loss.' It would mean repairing the car will be very costly, on top of it being in no condition to operate on the road.
The Importance of Getting a Lookup Report
Automotive fraud and motor vehicle theft are still significant crimes that occur on a daily basis. Given how many used car-buying deals now happen online, it's difficult to verify the actual condition of the car, and you'll never know if it was stolen to begin with. The vehicle lookup report provides you with a comprehensive list of data that you need about that car, allowing you to make smart decisions while shopping for a used car.
Most used car dealers will provide a free vehicle history report to interest consumers to any of their available used cars. While it's convenient, some shady dealers might use this as an opportunity to give away false reports and lull potential buyers into a false sense of security. In the end, they may end up buying a very problematic lemon vehicle, costing them significantly over time.
A license plate lookup could also come in handy in the event of a hit and run, or even for suspected motor vehicle thefts. All it takes is a quick check and you'll be able to notify the authorities about suspected automotive criminals trying to make money off of others' misery.
VinFreeCheck offers you a free and reliable license plate lookup service with data directly taken from reliable and trustworthy sources. Our databases are linked to the National Motor Vehicle Title Information System (NMVTIS) and the National Insurance Crime Bureau (NICB) to ensure you receive the latest updates for the vehicle you're looking at.
Am I Getting Verified Information in the Report?
We only source all relevant information from reputable sources such as government agencies. We make sure that you receive the latest information on a car, based on how often the source databases are updated.
Additionally, we comply with the Driver's Privacy Protection Act's (DPPA), where we don't disclose private or personal information of any car owners. Only details on how a car is used and its current condition will be shared. Meanwhile, the Freedom of Information Act (FOIA) grants individuals the right to access information collected by the government.
State Based Informational Guides
We have compiled a list of state specific guides for you. Feel free to check them out.
You will always need to carry out different types of paperwork — whenever you purchase a car — so that you can title your car under your name and drive it legally on the road. So, whenever you are going...
If you have just purchased a motorcycle, the next thing that you will need to do, is to register it. In order to legally drive a motorcycle on public roads in any state, you need to get your motorcycle registered....