Michigan is a state of people who are crazy about cars. Because of this, some unscrupulous dealers buy old cars, repair them and resell them for a hefty sum. Most second-hand cars are in bad condition with rusted metals, and some are severely damaged by rust. If you are not careful, you might end up with a useless car that will spend more time at a garage than on the roads.
You should perform a license plate lookup online to ensure you get a good deal on a second-hand car in Michigan. VinFreeCheck is a free online resource that allows you to run a license plate lookup. With the free license plate lookup, you can get details on any vehicle in Michigan. The report tells you if the car was a write-off, the number of previous owners, and even the accurate odometer reading.
Once you purchase a car in Michigan, you are required by law to register it.
Add a header to begin generating the table of contents
Where can I find my plate number?
You can either look it up via your plate attached to your vehicle. Alternatively, you can look it up in your vehicle registration card, or your recreation passport.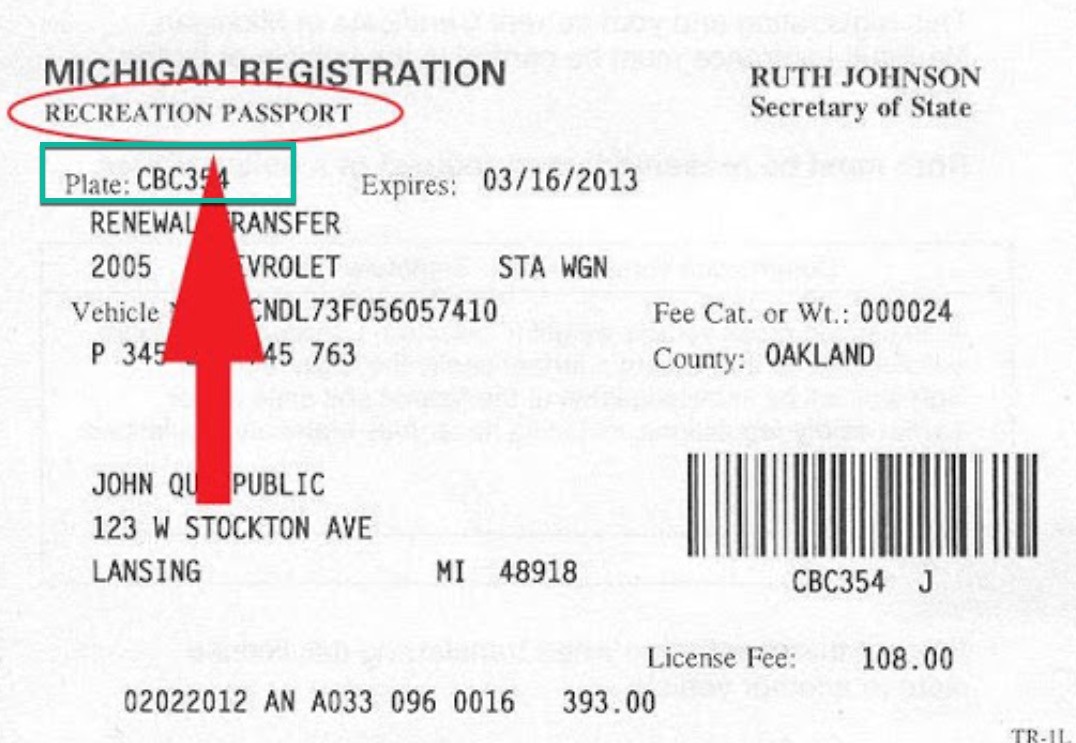 Registering a Vehicle in Michigan
Once you buy a vehicle in Michigan or move to Michigan with an out of state vehicle, you have up to 15 days to register it. Motor vehicle registration can be done from the secretary of state office in your area. For anyone seeking to stay in Michigan temporarily, car registration is required for the temporary stay. You can either register for a 30 days temporary permit or a 60 days temporary permit.
Generally, license plates in Michigan are characterized by three letters and four numbers. Unlike most states, Michigan only issues one license plate for each vehicle. You do not need a front and rear license plate.  
Types of license plates in Michigan
In Michigan, you can apply for seven different license plate categories.
Standard state-issued license plates
Fundraising license plates
Historical license plates
Personalized license plates
Veteran/military license plates
Special organization license plates
Collectors license plates
Each category has some requirements for applicants. Be sure to read through the requirements for the type you are interested in to ensure you meet the criteria.
Vehicle Titling Process in Michigan
After becoming a new car owner, you are required by Michigan state law to title it within two weeks. The owner is expected to appear before the secretary of state officials in person when titling a vehicle. For co-owned cars, all owners must be present for the titling process.
When going to title the vehicle, ensure you take all the required paperwork with you to avoid delays. You should also have the fees and taxes as are necessary for the titling process. A 6% use tax is charged for the titling process. Ensure you apply for a vehicle titling in good time to avoid paying penalties for late titling.
If you want to title your vehicle before the deadline, you can access instant titling services from selected government offices around Michigan. Titling replacements can be done in person or online. The title is delivered two weeks after an application.
License plates transfer In Michigan
The Secretary of State reserves the right to grant or reject license plate transfer requests. To be able to get a transfer request granted, you are required to file a transfer request by filling out a transfer form. You will need to produce your current registration, the title of the vehicle set to receive the plates, and the payment fees. If the transfer involves two different car types, a fee may apply.
You can transfer license plates to:
A new car under the same registration name
To a vehicle owned and registered under a family member
If you sell your vehicle and no longer need the license plates, you will be required to surrender them to the secretary of state office in Michigan.
State Based Informational Guides
We have compiled a list of state specific guides for you. Feel free to check them out.
If you have just purchased a motorcycle, the next thing that you will need to do, is to register it. In order to legally drive a motorcycle on public roads in any state, you need to get your motorcycle registered....
You will always need to carry out different types of paperwork — whenever you purchase a car — so that you can title your car under your name and drive it legally on the road. So, whenever you are going...