Vehicle registrations, titling, and license plate applications are all handled by the Missouri Department of Revenue via its Motor Vehicle and Driver Licensing Division (MyDMV).
In 2021, two people were charged with selling numerous vehicles with altered odometer readings in the state. Odometer fraud is a serious crime, and though this case was resolved, it's still possible that other fraudulent attempts have yet to be brought to justice.
Using VinFreeCheck's free lookup service, you can input a car's license plate number, pick the state where the vehicle was registered, and then have the report's details displayed in a moment: its odometer records, technical specifications, accident records, and more.
Add a header to begin generating the table of contents
Where Do I Find My Missouri Plate Number?
Like most states, you'll find your vehicle's license plate on the front and rear of a vehicle. Alternatively, you can get this information from your vehicle registration receipt, or other sources such as the car's insurance documentation.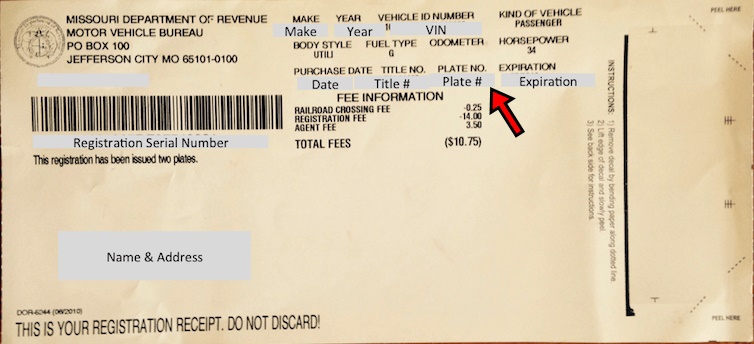 How to Apply for Missouri License Plates
If you're a Missourian, you have 30 days from the date of purchasing a vehicle to complete the registration process and also pay the relevant fees. If you fail to do so, you need to pay a $25 penalty on the 31st day. This penalty increases by $25 every 30 days that you're late, with the maximum penalty being $200.
You'll also need to submit the following items to the nearest Department of Revenue office:
A completed application form
Vehicle certificate of title
Proof of vehicle ownership
An odometer disclosure statement
A notarized lien release form, if applicable
A safety inspection
Proof of identification
Payment of all relevant fees (including a state sales tax of 4.225 percent and the local sales tax; use their sales tax calculator)
Additional documentation where needed
New residents also have 30 days to title their vehicle after becoming a state resident. New residents may also need to furnish additional documentation if they own an out-of-state vehicle prior to moving (among other things).
For renewals, you have the option of renewing plates by phone (call the hotline at 573-751-1957); via online services; by mail; or at any nearby license office. Renewals for out-of-state residents are also available.
While waiting for your license plates, you can apply for a temporary permit to use in the meantime. 30-day and 60-day permits are available, the latter only from qualified dealers for "specific sale conditions." You'll also need to bring along some documentation, including a safety inspection report, and pay a $5 permit fee and $6 processing fee.
Additional details are available on their helpful website.
What License Plates are Available?
Missouri license plates also include color-coded year tabs with the expiration year of the registration. Plates follow the format "AA1A1A," where A represents any alphabet and 1 represents any number from 0 to 9. For plates that use all-number combinations, there must be one letter character.
Standard plates: These plates use the Bicentennial design introduced in 2019 to celebrate 200 years of statehood in 2021.
Personalized plates: Personalized plates can be used on standard plates and certain specialty plates. Reservations for personalized plates can be made online. There are specific stipulations to a personalized plate, such as the character length with or without an emblem/logo, as well as regulations against the use of vulgar language or profanities.
Veteran plates: These are issued to former serving, or active duty, members of any US military outfit. Plates are also available for service in any previous conflicts (i.e., the Korean War) as well as medal recipients (i.e., Purple Heart).
Disabled plates: Persons with disabilities, or "the custodial parent or guardian of a permanently disabled minor," may apply for disabled plates. Disabled veterans are eligible to receive one free set of Disabled Veteran plates.
Special plates: This refers to unique plates for organizations, charitable groups, and so forth. These organizations or groups may have a unique style or design of plates, and the criteria for this style may vary from state to state.
Special plates that are available include:
Amateur radio operator plates
Custom/historic plates
Collegiate plates
Conservation Heritage plates
Organ Donor plates
Patriotic themed plates
Some of these plates may have additional fees and/or contribution fees that you need to pay. Contribution fees have a minimum payment, but you can increase it if you so desire.
What Can I Find in the License Plate Lookup Report?
A license plate lookup provides you with everything you need to know about a specific car. You'll be able to learn more about the car's:
Previous owners: Provides information on how many owners a vehicle has had, as well as a general idea for how it was used by each owner.
Vehicle specifications: Find out everything you need to know about the car, from its transmission type, engine capacity and various technical/mechanical aspects, among other things.
Market value: Worried that you're being overcharged or undercharged for the car in question? You'll be able to find out the actual market value of the car's model on the market.
Accident records: Provides records of past accidents that the car might have been involved in. It's possible that there may be lingering issues that were not fixed since a prior accident. Alongside an independent safety inspection, you might be able to find these issues before you purchase the car.
Junk/salvage title check: If a car is severely damaged in an accident or has been scrapped for parts, an insurance company might write it off as a 'total loss.' It would mean repairing the car will be very costly, on top of it being in no condition to operate on the road.
Odometer records: As we mentioned, odometer fraud is a major issue in used car buying. Sellers may falsely report lower odometer readings, indicating a car has been driven less than it actually has. The lookup report provides accurate records about a car's odometer readings, allowing you to spot any inconsistent records.
Lien records: Provides information on whether the car has been used in a lease, as collateral for a debt, as a rental car unit, etc. A car dealership is legally required to clear off existing liens before selling the car to you, but if there are any left, this report will bring them to light.
Flood records: Find out if the car was involved in a flood. Flood waters can permanently damage various components in a car, especially the engine. Sometimes, these faults may have been left unaddressed, whether due to malicious intent or otherwise. With a license plate lookup, you can find out more about the car's state.
Why Should I Get the Report Anyway?
When looking for a used car on the after market, how do you know if you're actually getting scammed for a deal? With odometer fraud happening behind the scenes, you'll never know whether the used car you've been looking for might be problematic. Having the vehicle history report provides you a much-needed safeguard from automotive fraud schemes. It'll save you a great deal of money and the associated stresses.
You can look up cars you're interested in, or any vehicle you encounter that might be suspicious, or even out of curiosity to look up a random car you spotted on the road. Beyond these, the primary purpose of the report is to educate potential buyers about what it really is outside what the dealer's told you. The report might just reveal that its odometer records have been tampered with, which means you narrowly dodged a bullet if you chose to look it up first.
VinFreeCheck's license plate lookup provides users like yourself with extensive, verifiable information from reputable sources like the National Insurance Crime Bureau (NICB) and the National Motor Vehicle Title Information System (NMVTIS). We also ensure that the information you receive is the most recent based on how regularly the source databases are updated.
Are There Caveats to Looking Up a License Plate?
You can be assured that VinFreeCheck complies with the Driver's Privacy Protection Act (DPPA). We do not disclose any personal/private information of any previous or current car owners. Only the relevant information that doesn't reveal a person's identity or background will be shared, mainly pertaining to the car's use or condition. Moreover, the Freedom of Information Act (FOIA) grants individuals the right to access information collected by the government.
There are no restrictions to how many lookup reports you'd like to run to help you with your used car search. All the information you need is freely available from our services, so don't be shy!
State Based Informational Guides
We have compiled a list of state specific guides for you. Feel free to check them out.
You will always need to carry out different types of paperwork — whenever you purchase a car — so that you can title your car under your name and drive it legally on the road. So, whenever you are going...
If you have just purchased a motorcycle, the next thing that you will need to do, is to register it. In order to legally drive a motorcycle on public roads in any state, you need to get your motorcycle registered....