Looking to buy a car in Nebraska? All vehicle titling and registration processes, as well as the issuance of license plates, are handled by the state's Department of Motor Vehicles (DMV). Any vehicle that has yet to be titled and registered must do so within 30 days upon the vehicle's purchase. As of 2019, the state has registered 2,399,518 vehicles.
When browsing around for a used car, performing a license plate lookup will help you shed light on the vehicle's overall history records - from its odometer readings to any accidents it was involved in, and so on. These are significant vehicle records that will be important to your future vehicle purchase, especially when it comes to protecting yourself from automotive fraud.
With our free lookup service, you can conduct a license plate search for Nebraska-registered cars. Here at VinFreeCheck, we guarantee detailed and up-to-date information on the vehicle you're searching for within moments. Key in your license plate number in the search box, choose the state the vehicle was registered in, and the results will be displayed.
Add a header to begin generating the table of contents
Locating your Nebraska License Plate Number
Like most states, Nebraska requires two plates to be mounted: one on the front, and one on the rear (with some exceptions, such as motorcycles only requiring one). If you're not with the vehicle, you can find the plate number on the vehicle's registration certificate issued by the state DMV, or on other documents such as the vehicle's motor insurance.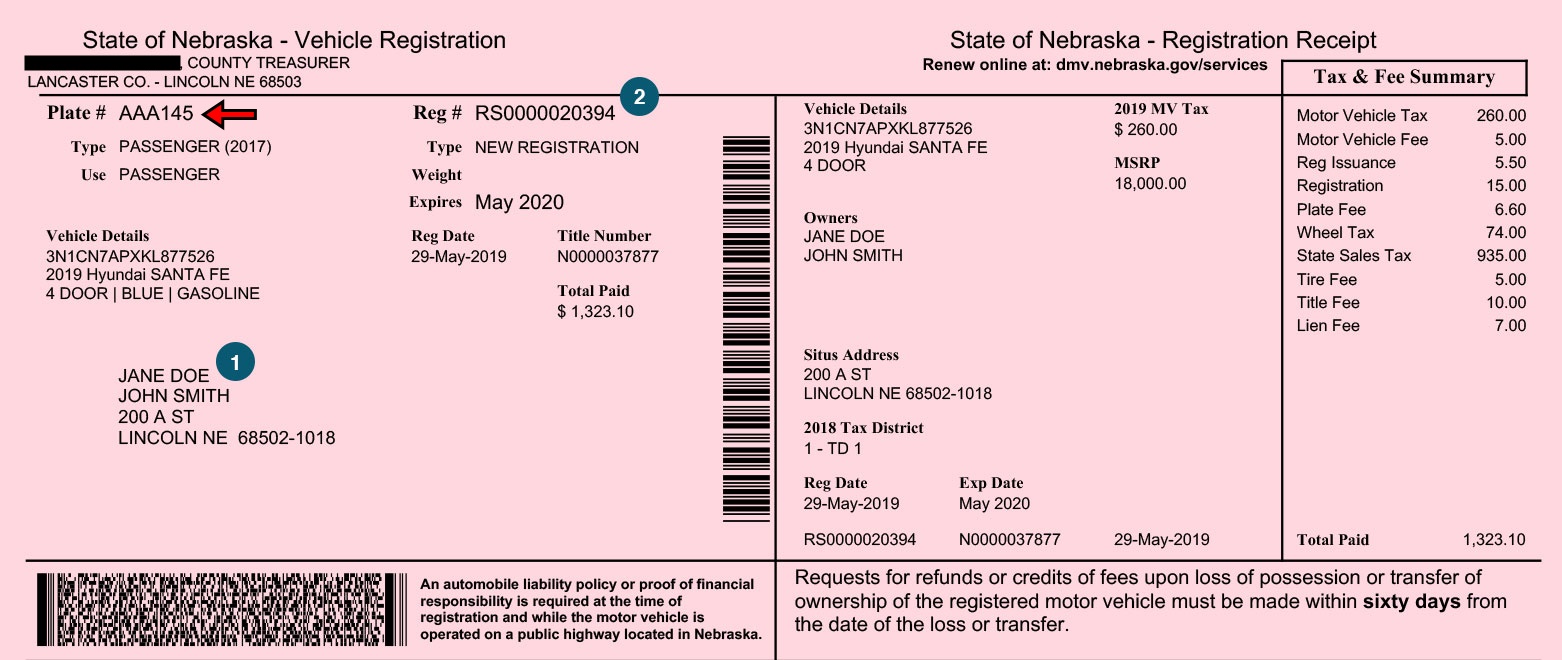 How Do I Obtain A License Plate in Nebraska?
Once you complete a vehicle's titling and registration processes, you can proceed to apply for a license plate. For titling, you're required to bring the following to the county treasurer's office:
A completed Application for Certificate of Title, signed by all relevant parties (for married couples, either person can sign for both)
Manufacturer's Statement of Origin (MSO)
The out-of-state title, if you're moving to Nebraska from another state
Proof of Financial Responsibility (Insurance)
Proof that sales or excise tax has been paid
Payment of all relevant fees
First time registrations can be done in person or via mail. Once everything is in order, you'll receive your registration certificate, license plates and validation tabs.
Non-residents who bought a car in Nebraska may be issued a temporary 30-day plate so that they can operate the vehicle and return to their home state. This only applies to non-residents who're not staying in Nebraska and are only buying a car in the state. However, the DMV makes no clear stipulations on how a resident can operate their car in the state if they've not received their plates.
Renewals can be performed through the DMV's online service. Additional information can be obtained by contacting them through the relevant channels.
License Plates Available in Nebraska
Standard plate: These are the default plates drivers are typically issued. 2023 will introduce a new plate design. Standard plates use the following format: ABC 123.
Message plate: These are basically personalized plates, allowing you to have up to seven characters to create a custom message for your license plate number. Only alphanumeric characters are allowed, and no vulgar or offensive messages can be used. You can check the availability of your desired message here.
Lancaster, Douglas, and Sarpy county are eligible to apply for county message plates if they want to "retain their regular county issued plate in place of the alpha/numeric plates."
Disability plate: These are issued to persons "medically certified as permanently handicapped or disabled." There are also temporary and permanent handicapped parking permits available.
Military plate: These are available for currently, or formerly, serving members of the US military. Special plates are also available for medal recipients or participation in prior military campaigns.
Specialty plate: These plates exist for people who want to identify with or show support to certain organizations, groups, interests, and charities. Plate designs include:
Prostate Cancer Awareness
Down Syndrome Awareness
Amateur Radio
Native American
Wildlife Conservation
Support Our Troops
Corn Growers Association
Collegiate plates
What Do I Get in a License Plate Lookup Report?
The license plate lookup tells you all you need to know about the vehicle you're interested in. Some of the information you can access includes:
Accident Report: This record informs you of any accidents the car was involved in. If it was a major incident, a thorough independent check might be needed to look for any possible damage or other faults that was not repaired. You'll be able to determine if the car is roadworthy or otherwise.
Market Value: The actual market price of the vehicle. You may find that you're either under- or overpaying for the vehicle; the latter means you may be getting scammed.
Vehicle Specifications: Informs you of the vehicle's make, year of manufacture, its transmission type and more. Having adequate information about the car you intend to buy can be particularly useful.
Previous Owners: As a buyer, you may want to know some details of the previous owners' usage of the vehicle, as well as how long they've owned it. No personal information is distributed as per requirements by law.
Flood Records: Informs you of any flood damage the car may have received. Floods can potentially cause numerous problems in a car and, if left unattended, can prove dangerous to future buyers. With the report, you'll be able to tell if the car was in a flood and whether any repairs were made to it after its recovery from floodwaters.
Lien Records: Determines if the car you intend to buy has been used as collateral for a loan, or as a rental car unit. An existing lien that's not been resolved can lead to problems down the line, as you'll have to take up the repayment of the lien, even if it wasn't yours in the first place.
Odometer Record: Odometer fraud is becoming increasingly popular, but this can in fact be avoided with a quick license plate search. This report informs you if the odometer of the vehicle has ever been tampered with. Odometer tampering is done as a means to deceive buyers into thinking the vehicle has been used for less than it actually has.
Why is the Vehicle History Report So Crucial?
Vehicle fraud cases are not getting any lower. When buyers don't know what to look for in a car, they may end up buying a lemon that's only going to cost them thousands of dollars more every year due to unsolvable issues. The vehicle history report gives you a total rundown of a vehicle's overall condition, performance, market value and so much more.
Having adequate information about the vehicle's accident records, flood records, as well as its specifications helps you make smart decisions before buying, while also becoming more aware of common fraud tactics. Wilfully opting to "go in blind" is only going to put a dent in your finances for years to come, or until you decide it's no longer worth keeping the faulty car. It's always better to protect yourself from any fraudulent attempts at selling you a problematic used car.
Nebraska's DMV requires odometer certification any time a vehicle is sold and ownership is transferred to the buyer. While this is a way to help address odometer fraud, scammers are finding more creative ways to deceive buyers. As scammer tactics change over time, you'll also need to be aware of any potential red flags that might crop up in a deal; keen awareness might just be what it takes to spot a shady offer.
With VinFreeCheck, you can conduct a free and reliable license plate lookup service in a matter of moments. All data is obtained from trusted sources such as the National Motor Vehicle Title Information System (NMVTIS) and the National Insurance Crime Bureau (NICB).
Can I Really Look Up Any License Plate?
Yes, you can. The important thing is that we do not disclose any personal information of the vehicle's prior owner(s), in accordance to the Driver's Privacy Protection Act (DPPA). No identifiers to the person's identity will be revealed while you conduct a lookup. The Freedom of Information Act (FOIA) also grants individuals the right to access information collected by the government. As mentioned earlier, our data is also compiled from valid reliable sources such as the NMVTIS and NICB.
Now's a good time as any to look up that used car you've been eyeing these past few months. Key in its license plate number in the text box, pick the state it was registered in, hit the "Check License plate" button and voila! You'll get the results in a flash!
State Based Informational Guides
We have compiled a list of state specific guides for you. Feel free to check them out.
You will always need to carry out different types of paperwork — whenever you purchase a car — so that you can title your car under your name and drive it legally on the road. So, whenever you are going...
If you have just purchased a motorcycle, the next thing that you will need to do, is to register it. In order to legally drive a motorcycle on public roads in any state, you need to get your motorcycle registered....