The Nevada Department of Motor Vehicles (DMV) handles all vehicle titling and registrations, as well as license plate applications from its offices all over the state.
As part of efforts to protect people from vehicle fraud, the National Highway Traffic Safety Administration (NHTSA) has mandated an odometer disclosure since 2021. Any vehicle that is a 2011 model or newer must have its current mileage indicated in the Odometer Reading section of the vehicle's title once it's sold. However, vehicles that are a 2010 model or older are exempt.
For the latter case, you can use VinFreeCheck to conduct a quick license plate lookup search. All you need is to key in the car's license plate number, and choose which state the vehicle was registered in. You'll promptly receive every important piece of information on the vehicle, including its history report, odometer records, technical specifications, and more.
Add a header to begin generating the table of contents
Where Do I Find My Nevada Plate Number?
Like most states, you'll find your vehicle's license plate on the front and rear of a vehicle. Alternatively, you can get this information from the vehicle's certificate of title, or other important documents such as its insurance information.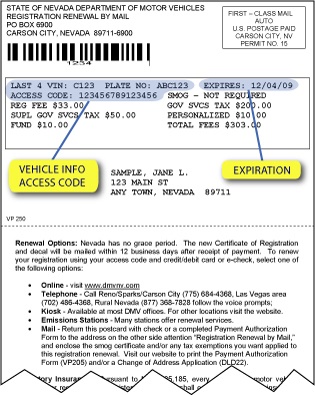 How to Obtain a Nevada License Plate
For new residents of Nevada, you have a period of 30 days since establishing residency to register your vehicle and apply for a driver's license. You'll also need to acquire an Evidence of Insurance Card as well as a vehicle inspection report (if applicable).
If you've only just bought a car after finalizing your residency, you'll need to register the car within 30 days from the date you purchased it. For purchases from an eligible dealer, you can complete the registration process online. Otherwise, you'll need to do it at the nearest DMV office.
You'll also need to bring along the relevant documents:
A completed application form
Proof of identification
Proof of vehicle ownership
Electronic Dealer Report of Sale (EDRS)
Current odometer readings
Emissions Vehicle Inspection Report (if applicable)
Vehicle's current certificate of title (if applicable)
Manufacturer's Certificate of Origin
Payment of all relevant fees
A vehicle identification number (VIN) inspection may also be needed in some cases.
The DMV states that you can drive "a recently-purchased vehicle without a movement permit for three days after the date of purchase." You can obtain a movement permit via online services or at the nearest DMV office; the permit only costs $1; other types of permits may also be purchased. There are also 30-day "drive away" permits for vehicles being driven out of state to a specific destination.
You may also register by mail, if needed. Send all the required documents and fees to the DVS' address.
If you're moving to Minnesota from another state, you have a grace period of 60 days to register your vehicle. If your registration expires before then, you'll need to obtain the registration "at the time of expiration." Otherwise, if your current registration expires or if you had to surrender your plates, you'll need to complete registration immediately.
Available License Plates in Nevada
Plate combinations are six characters long and follow an "123 ABC" format (without the quotation marks).
Registration decals indicating the expiration date must be placed on the "upper right-hand corner of the rear plate."
Standard plates: These plates use the Home Means Nevada design introduced in late 2016.
Personalized plates: Personalized plates use the standard plate, with up to 7 characters printed. When applying for a plate, you must include a reason for why you chose your preferred combination. You aren't allowed to use any vulgar language or profanities. You also can't apply for a combination that had been in use within the past 18 months.
Veteran plates: These are issued to former serving, or active duty, members of any US military outfit, as well as their family members. Plates are also available for those who lost their lives in any while on active duty, former prisoners of war, as well as medal recipients (i.e., the Congressional Medal of Honor).
Disabled plates: Persons with disabilities may apply for disabled plates. They require a "licensed physician, advanced practice registered nurse or physician assistant" to certify their condition on the application form. Disabled plates are only available for those with a permanent disability; temporary or moderate conditions may apply for placards instead.
Note that placards are usable on any vehicle but only by the disabled individual.
Special plates: This refers to unique plates for organizations, charitable groups, and so forth. These organizations or groups may have a unique style or design of plates, and the criteria for this style may vary from state to state. Currently available include:
Circa 1982 replica plates
Collegiate plates
Classic vehicle plates (20 years or older)
Firefighter plates
Amateur radio
Charitable causes
Local attractions
Conservation plates
Some of these plates may have additional fees and/or contribution fees that you need to pay. Contribution fees have a minimum payment, but you can increase it if you so desire.
Discontinued plates: Plates that are no longer issued by the state can still be reused. The original owner of the plate must continually register the plate to a vehicle or "allow it to expire for less than 30 days." It's only transferable between vehicles and not persons.
What Do I Get from the Lookup Report?
A license plate lookup provides you with everything you need to know about a specific car. Information you will be able to access includes:
Market value: Helps you determine the true worth or market value of the car if you plan on buying it. You'll find out if you're being overcharged or undercharged in a deal.
Previous owners: Gives you details about previous owners the vehicle has had, and the duration of ownership for each owner. This information gives you a general idea of how a vehicle was used by each owner.
Vehicle specifications: Obtain detailed information about the vehicle's overall attributes, such as its engine and transmission type, and whether it might be a four-wheel drive.
Odometer records: Provides detailed information about the car's odometer readings, allowing you to find out if they may have been purposely tampered with. Odometer fraud is a federal offense and thus, you should immediately report any odometer fraud you might encounter.
Lien records: Provides information on whether the car has been used in a lease, as collateral for a debt, as a rental car unit, etc. A car dealership is legally required to clear off existing liens before selling the car to you, but in the case that they do not, this report will let you know.
Accident records: Lists any reported accidents that the car was involved in. There could be underlying faults with the car owing to unresolved issues caused by prior accidents. Consider getting an independent vehicle check done to ascertain the car's actual condition.
Junk/salvage title check: This tells you if the car was written off as a 'total loss' by an insurance company. It might mean that the cost to repair the car far exceeds reasonable amounts, making it very costly to maintain in relatively good condition for the foreseeable future.
Flood records: Provides details of any floods that the car had been caught in. Floods can permanently damage various components in a car. If these are left unaddressed, whether due to malicious intent or otherwise, it could cause you serious issues after you purchase the vehicle. With a license plate lookup, you can find out if that is the case.
Why Should I Care About a Lookup Report?
Automotive fraud can lead to a wide variety of issues in future, particularly if the car has underlying issues left unattended. It could potentially cost a person their life! As such, having a resource such as a lookup report gives you everything you need to know about a specific car. If a seller intentionally fails to declare the car's overall condition before selling it to you, a license plate report prevents you from becoming the owner of a problematic car that will cost you tens of thousands over the years.
Vehicle lookups aren't restricted to vehicles you plan on buying. You can use the lookup service to check suspicious cars you notice on the road, or out of curiosity of what's under the hood of a parked car you chanced upon.
Another method scammers use to cheat used car buyers is to use cloned VINs. Basically, the scammer takes the VIN from a car in good condition and uses it to mask the VIN of a faulty lemon they're looking to sell. Without the report, you wouldn't know that you're not buying the good car; you might not even have a way to determine what the car you're buying is beyond what was advertised. As such, the lookup report is your golden ticket to keep you safe from fraudulent sellers.
VinFreeCheck's license plate lookup provides users such as yourself with extensive, verifiable information from reputable sources like the National Insurance Crime Bureau (NICB) and the National Motor Vehicle Title Information System (NMVTIS). We also ensure that the information you receive is the most recent, based on how regularly the source databases are updated.
What's Stopping Me from Looking Up a License Plate?
Any lookups you perform will comply with the Driver's Privacy Protection Act (DPPA) that prevents the disclosure of any private information of any car owner. Only relevant information that doesn't reveal a person's identity or background will be shared. Moreover, the Freedom of Information Act (FOIA) grants individuals the right to access information collected by the government.
As stated earlier, all of the information you receive from our reports are 100% reliable data taken from officially registered sources such as NMVTIS. So go on and look up that used car you've been eyeing lately!
State Based Informational Guides
We have compiled a list of state specific guides for you. Feel free to check them out.
You will always need to carry out different types of paperwork — whenever you purchase a car — so that you can title your car under your name and drive it legally on the road. So, whenever you are going...
If you have just purchased a motorcycle, the next thing that you will need to do, is to register it. In order to legally drive a motorcycle on public roads in any state, you need to get your motorcycle registered....