Looking to buy a car in New Hampshire? If you do buy one, you'll need to register it with the New Hampshire Division of Motor Vehicles (DMV) first to be able to drive it on state roads. Once you've registered, you'll receive a registration certificate and the license plates for your vehicle.
If you've not bought one yet, consider using VinFreeCheck's services. We can help you conduct a license plate lookup for any particular New Hampshire license plate number. You'll be provided the vehicle's specifications, market value, as well as a complete history report, including its overall gas mileage.
Add a header to begin generating the table of contents
Where Is My New Hampshire License Plate Number
New Hampshire is a two-plate state for most vehicles (rear plates only for bikes, trailers and trucks). As such, your license plates can be found mounted on the front and back of your car. The license plate number is seven digits long, written in big, bold fonts, and is clearly visible.
You can also find the license plate number written on your registration certificate. The second option is handy if you're not currently with your vehicle.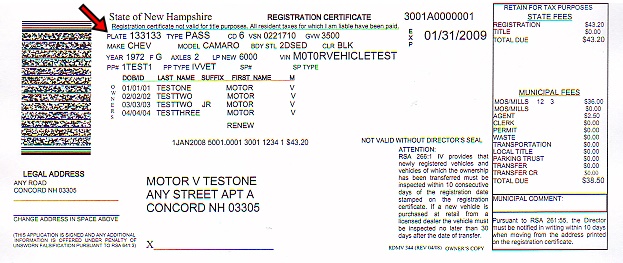 Getting a License Plate in New Hampshire
For residents of New Hampshire, there are some differences to how one can obtain license plates for their car. You'll receive a temporary license plate that's valid for 20 days in order to complete the registration process.
If you're buying from a New Hampshire dealership, they will issue the temporary plate for you. If it's from a private sale, you'll need to procure a temporary plate from the town clerk's office.
If you're not a New Hampshire resident but are buying a car from the state, you'll need a 20-day in-transit temporary plate to drive the car back to your home state.
Documents you may need to submit for the registration process include:
proof of identity
the vehicle title
the bill of sale, if applicable
title application from a New Hampshire lien-holder, if applicable
proof of residency in the state
Fees also vary depending on certain situations. You can refer to the DMV page for more information.
New residents to the state have 60 days to register their vehicle and obtain their driver's license. You may also need to provide additional documentation, such as the vehicle title, and pay registration fees where required.
There are a few number of license plates available for use, including:
Standard Plates
Decal Plates
Vanity Plates
Veteran Plates
Specialty Plates (i.e., conservation or state parks plates)
License Plate Types for New Hampshire
Standard plates use the "Old Man of the Mountain" design.
Decal plates are similar to the standard plates, but have a 3"x3" blank square on the left side of the plate. You can place a special decal issued by any 501(c)(3) organization authorized by the state; these decals can be purchased from their respective organizations for a small sum.
Vanity plates are "personalized registration plate composed entirely of alpha characters, alpha numerical characters or a combination of symbols and alpha numerical characters." You'll need to pay specific fees depending on the choice of plate, and must abide by the state's rules on what can and can't be printed on the vanity plate.
Veteran Plates are issued to vehicles owned by veterans of US military service, as well as those who served in a military service of "any nation allied with the United States during World War II" (where proof is provided).
Specialty Plates offered by the state include the Conservation plate (with a moose on the left of the plate); the State Parks plate (with the State Parks logo on the left side); and the Conservation Parks plate. The last two plates allow entry into most New Hampshire state parks.
Why is the License Plate Lookup Important?
A license plate lookup provides you with relevant data on the vehicle you intend to purchase or have already purchased. The report obtained from a lookup gives you many important advantages:
Get in-depth specifications: want to know more about the car's specifications? The vehicle history report shows you everything you need to know about it.
Identify actual market value: you'll be able to tell how much the car is actually worth, and whether you're being overcharged or otherwise for it.
Prevents odometer fraud: Some dealers may tamper with the odometer readings to give the false impression that a car hasn't clocked in many miles than it actually has. This is considered a felony; if you suspect odometer fraud, contact the relevant authorities immediately.
Detect potential issues: Some dealers may purposely withhold accident records or flood damage inflicted on a car. You'll be able to spot these with a report in hand, preventing you from taking on costly maintenance fees down the road.
Salvage/junk title checks: Some cars might actually have a salvage or junk title, or various other types of brands that indicate it's not fit for driving or requires significant repairs (or worse). With the report in hand, you can protect yourself from such shady tactics.
Identify previous owners: you'll get comprehensive information on the number of owners the vehicle has had and each person's duration of ownership. You can get an idea of how the car was used by each of its previous owners.
Getting a vehicle history report is an essential tool to protect you from the stress and hassle of car-buying scams. You also ensure that you don't lose thousands of dollars to a fraudulent transaction.
Where Does the Data Come From?
All information on vehicles you search here is taken from trusted parties and government sites, such as the National Motor Vehicle Title Information System (NMVTIS), the National Highway Traffic Safety Administration (NHTSA), and the National Insurance Crime Bureau (NICB).
All this information obtained is legal and in line with the Driver's Privacy Protection Act (DPPA). All our reports do not disclose any private information regarding the (previous) owners of the vehicle you're looking up. Nothing in our report is traceable to any particular individuals.
What Else Can I Do With the Report?
Vehicle look-ups aren't just restricted to vehicles you own or are looking to buy. You can even perform a license plate lookup on a suspicious vehicle you might find while on the road, or purely out of curiosity to see what a particular car is all about.
Under the Freedom of Information Act (FOIA), you have every right to access to information collected by the government, so long as it doesn't breach the privacy of individuals. There's no need to hesitate: just look up a license plate number for FREE with our service!
State Based Informational Guides
We have compiled a list of state specific guides for you. Feel free to check them out.
You will always need to carry out different types of paperwork — whenever you purchase a car — so that you can title your car under your name and drive it legally on the road. So, whenever you are going...
If you have just purchased a motorcycle, the next thing that you will need to do, is to register it. In order to legally drive a motorcycle on public roads in any state, you need to get your motorcycle registered....