Vehicle registrations, titling, and license plate applications within New Mexico are handled by the Motor Vehicle Division (MVD) under the jurisdiction of the state's Taxation and Revenue Department. It's also one of the few states that only requires rear plates to be displayed.
Thinking of buying a used car in New Mexico? Consider VinFreeCheck's free lookup service, where you can input a car's license plate number, pick the state where the vehicle was registered, and then have the report's details displayed in no time: its odometer records, technical specifications, accident records, and more.
Add a header to begin generating the table of contents
Where is the New Mexico License Plate Number?
You'll find your vehicle's license plate mounted on the rear of the vehicle. Alternatively, you can get this information from your vehicle registration receipt or other sources, such as the car's insurance documentation or renewal slip.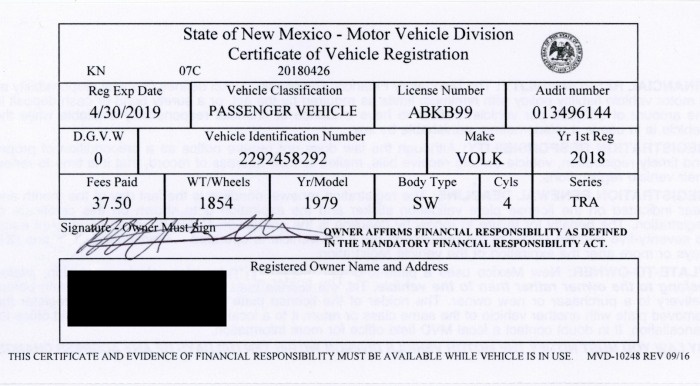 Getting New Mexico License Plates
If you're moving to the state, you have 30 days from the date of establishing residency to register a vehicle. If you own a car of your own and are bringing it to the state, you'll need to undergo a VIN inspection at the nearest MVD field office. Note that some may require setting an appointment beforehand, while other offices may not provide this service. You may also have the inspection done at any state-approved partner office.
You'll also need to submit the following items to the nearest MVD field office (all first-time registrations must be done in person):
A completed application form
Original Manufacturer's Certificate of Origin (MCO)
Original/certified Purchase Agreement or Dealer's Invoice 
An odometer statement
Proof of insurance (Minimum auto liability insurance)
Proof of identification
Payment of all relevant fees (including a state sales tax of 4.225 percent and the local sales tax; use their sales tax calculator)
Additional documentation where needed
A vehicle is usually titled and registered at the same time. If you need to get the certificate of title without a vehicle registration, simply follow the steps outlined on the MVD website.
If you're registering a used vehicle, you'll also need these items:
Vehicle certificate of title
Completed Application for Vehicle Title and Registration form
Completed Certificate of Title Bill of Sale (including Assignment of Title section on the back)
Bill of sale (if applicable)
Lienholder details (if applicable)
Odometer disclosure statement (signed by both buyer and seller)
Payment of all relevant fees
Additional documentation where needed
Emissions testing may also be needed for "vehicles registered or commuting in Bernalillo County."
You'll receive your new license plates through the mail once all documents and payment of fees are processed.
What License Plates are Available?
Standard New Mexico license plates come in three flavors: the Centennial plate, a traditional yellow plate (with red lettering), and the Chile plate. No fees or special applications are needed. For renewals, these plates are validated by sticker placed at the bottom right corner of the plate.
The previous balloon plate design is no longer offered, but is still valid.
Vanity plates: Vanity, or prestige, plates can be used on all three standard plates. Reservations for personalized plates can be made online and come with free shipping.
There are specific stipulations to a personalized plate. For the centennial plate, you can have up to 8 alphanumeric characters printed on it. Yellow plates may have up to 7 characters, while Chile plates may have up to 6. Characters can also include any combination of letters and numbers, as long as they aren't offensive, obscene, or misleading.
Veteran plates: These are issued to former serving, or active duty, members of any US military outfit and their family members. There are also veteran-designation decals available to active duty/former/veteran members for a variety of reasons, such as medal recipients, distinguished military service in any past military campaign, etc.
Disabled plates: Persons with "a significant mobility limitation" may apply for disabled plates. A licensed physician must certify the person's condition on the application form before submission. No fees are required to apply for one.
Special plates: This refers to unique plates for organizations, charitable groups, and so forth. These organizations or groups may have a unique style or design of plates, and the criteria for this style may vary from state to state.
Special plates that are available include:
Las Cruces plates (for citizens of the city of Las Cruces)
Vintage/historical plates
Collegiate plates
Autism Awareness
Wildlife Artwork
Boy Scouts Centennial
Firefighter plates
Patriotic plates
Some of these plates may have additional fees that you need to pay, which go to various organizations or for the provision of services, and so forth.
What's Inside a License Plate Lookup Report?
A license plate lookup gives you all the information you need about a specific car. You'll be able to learn more about the car's:
Previous owners: Shows how many owners a vehicle has had in its lifespan, as well as a general outline of how it was used by each owner.
Vehicle specifications: Lists all the specifications of the car, from its transmission and engine type, to its cargo space, tech features and more.
Market value: Determine the car's actual market value of the car's model on the market. This allows you to make sure you're not being overcharged for a used car.
Accident records: Provides records of past accidents that the car might have been involved in. Lingering mechanical or technical issues may have been missed since a previous accident. Alongside an independent safety inspection, you might be able to spot these issues before you purchase the car.
Junk/salvage title check: If a car is severely damaged in an accident or has been scrapped for parts, an insurance company might write it off as a 'total loss.' It would mean repairing the car will be very costly, on top of it being in no condition to operate on the road.
Odometer records: Odometer fraud continues to be a major concern in used car buying. Sellers might falsely indicate that a car has been driven less than it actually has, which can lead to potential issues down the road. The lookup report provides accurate records about a car's odometer readings, allowing you to spot any inconsistent records.
Lien records: Provides information on whether the car has been used in a lease, as collateral for a debt, as a rental car unit, etc. A car dealership is legally required to clear off existing liens before selling the car to you, but if there are any left, this report will bring them to light.
Flood records: Find out if the car was involved in a flood. Flood waters can permanently damage various components in a car, especially the engine. Sometimes, these faults may have been left unaddressed, whether due to malicious intent or otherwise. With a license plate lookup, you can find out more about the car's state.
What's the Deal with the Report?
According to the state's 2020 edition of its Traffic Crash Annual Report, there were 36,555 traffic crashes reported on "public roadways" involving 85,742 people and 63,276 motorized vehicles; a total of 398 casualties were recorded.
It's entirely plausible that many damaged vehicles may have been refurbished and put up for sale, but many of these might still have underlying faults left unaddressed. To the unsuspecting buyer, you might not know if the used car you've been looking at might have various problems crop up in time. Having a vehicle history report will protect you from such instances, as you'll be well-informed of whatever issues might have been left unresolved.
The report's importance can't be understated, since it gives you all the relevant information of a particular car - allowing you to tell if you're being duped into buying a fake/lemon vehicle. The report might just reveal that a prior accident caused numerous mechanical faults - all of which were never properly taken care of since it was written off as a total loss. It could mean the difference between avoiding a costly expense for a problematic vehicle, or losing your peace of mind from making such a purchase.
VinFreeCheck's license plate lookup provides users like yourself with extensive, verifiable information from reputable sources like the National Insurance Crime Bureau (NICB) and the National Motor Vehicle Title Information System (NMVTIS). Every information you receive comes from the most recent data from these databases.
Why Would I Look Up a License Plate?
The advantages of having a vehicle lookup performed outweigh the cost of not having one - and then walking into a fraudulent deal none the wiser. Plus, VinFreeCheck complies with the Driver's Privacy Protection Act (DPPA), where any and all personal/private information of any previous or current car owners is never disclosed. Only relevant information unrelated to a person's identity or background will be shared, such as its overall use and current condition. Moreover, the Freedom of Information Act (FOIA) grants individuals the right to access information collected by the government.
There are no restrictions to how many lookup reports you'd like to run to help you with your used car search. You can even use it to check the details of a suspicious vehicle you see on the road. All the information you need is freely available from our services, so don't be shy!
State Based Informational Guides
We have compiled a list of state specific guides for you. Feel free to check them out.
If you have just purchased a motorcycle, the next thing that you will need to do, is to register it. In order to legally drive a motorcycle on public roads in any state, you need to get your motorcycle registered....
You will always need to carry out different types of paperwork — whenever you purchase a car — so that you can title your car under your name and drive it legally on the road. So, whenever you are going...