At VinFreeCheck, we offer free license plate lookup for your new york vehicles. You can use our tool to perform flood damage check and salvage/lemon check for free. To get started, just input your plate number and select the state to NY to get a free report. Of course, we have additional detailed vehicle history for a small fee.
If you decide that having a car in New York will serve your needs better than using cab service, you need to know everything there is about vehicle license plate application and registration. To be able to drive a car in New York, the car must be registered with the New York Department of Motor Vehicles. A standard license plate in New York contains three letters and four numbers.
Add a header to begin generating the table of contents
Where can I find my plate number?
You can either look it up via your plate attached to your vehicle. Alternatively, you can look it up in your New York Vehicle Document of Registration.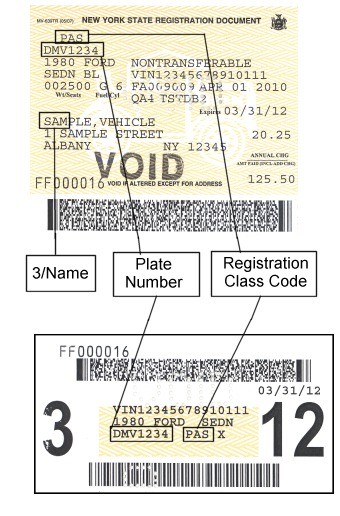 Applying for a license plate in New York
For you to register and drive your car in New York, you are required to have valid car insurance. Driving a vehicle without valid insurance can result in the suspension of the driver's license and vehicle registration.
If you just moved to New York, you will need to register your vehicle with the Department of Vehicle Registration within 30 days. For out of state cars, the owner also needs to register the vehicles in New York within the same time frame.    
Should you lose or damage your current license plates, you can get a free replacement.
Types of license plates available in New York
As a New York resident, there are several types of license plate categories to choose from. They include standard license plates, disability license plates, and specialty license plates. You can further choose to customize your plate with a special number. To customize your plates, you need to submit a special request following the DMV guidelines.
It is also possible to get temporary license plates in New York. This type of license is required for newly purchased vehicles. This temporary permit allows you to drive the vehicle as your permanent vehicle registration is processed. Temporary license plates are valid for not more than 30 days and are non-renewable.
Personalized license plates in New York
The DMV reserves the right to approve or reject applications for personalized license plates. There are specific guidelines you must follow when applying for personalized plates.
The guidelines include:
The specialized license plate cannot contain more than eight characters for vehicles and six characters for motorcycles.
It must include one letter that meets the arrangement criteria. This information is available on the DMV website.
It must not include profanity or inappropriate suggestions
The specialized number needs to be available for use.
Specialty license plates in New York
There are several different specialty license plates you can apply for in New York:
Collegiate and alumni license plates – these are issued to individuals who want to show support for their university or college. Some common colleges that use plates to show support include West Point, Albany University, and Notre Dame.
License plates for special causes – you can apply for this type of license plate to pledge your support for a particular charity or non-profit. Part of the funds you pay to get these special license plates goes towards a charity or non-profit of your choice.
Military license plates – these are special license plates used to honor people who served in the military. These plates are issued based on an individual's serving capacity, experience, or awards. 
Sports license plates – you can show your support for a sports team by getting sports branded license plate.
Classic cars license plate – these are issued to owners of vehicles that are more than 25 years old.
License plate renewal in New York
When you apply for a license plate in New York, you are also issued with a sticker that shows the validity of the plates. You can renew the plates before the expiry date to avoid paying penalty fees in case you are late for renewal and also to avoid not being able to drive your car as you wait for the renewal to be approved.
You can transfer your license plates to any other car you own. For this to be possible, you have to apply for plates transfer from the Department of Vehicle Registration.
State Based Informational Guides
We have compiled a list of state specific guides for you. Feel free to check them out.
If you have just purchased a motorcycle, the next thing that you will need to do, is to register it. In order to legally drive a motorcycle on public roads in any state, you need to get your motorcycle registered....
You will always need to carry out different types of paperwork — whenever you purchase a car — so that you can title your car under your name and drive it legally on the road. So, whenever you are going...