All vehicle titling and registrations in the state of Oklahoma are handled by the Oklahoma Tax Commission (OTC) at their main office or tag agencies across the state. as well as license plate applications from its offices all over the state.
2021 saw a significant number of crashes within Oklahoma, totaling 66,074. Within that number, there were a total of 762 fatalities; 1% of fatal crashes were due to a reported unsafe vehicle. If you're looking to buy a used car, but are worried about the possibility of buying a faulty one, consider using our free lookup service to help protect yourself from such a scenario.
Simply key in the car's license plate number and select the vehicle's registration state. You'll promptly receive all the important information about the vehicle, including its history report, odometer records, technical specifications, and more.
Add a header to begin generating the table of contents
Finding Your Oklahoma License Plate
Oklahoma is one of the few states where you only need to display a license plate at the rear of the vehicle. Alternatively, you can get this information from the vehicle's Title Receipt and Certificate of Registration, or other important documents such as its insurance information.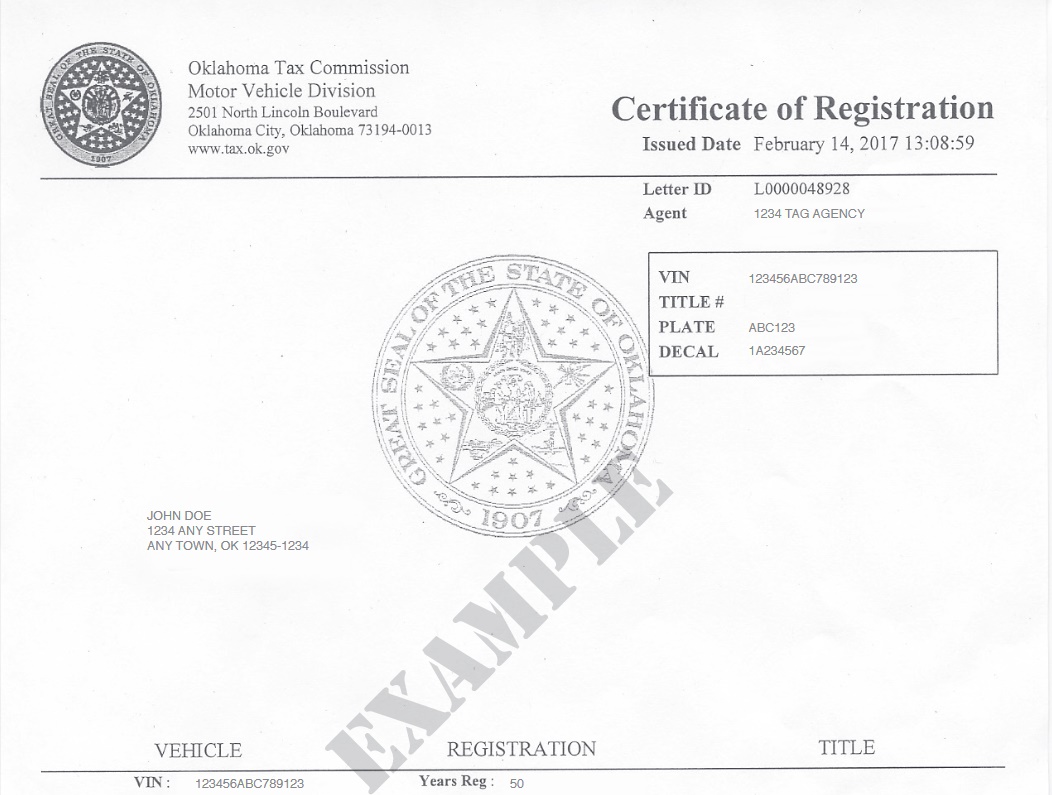 Getting an Oklahoma License Plate
For new residents, you have a period of 30 days after establishing residency to title and register your vehicle. You'll also need to purchase a valid Oklahoma car insurance policy. New titling and registrations can be done at any of the nearest tax agent offices.
You'll also need to bring along the relevant documents:
A completed Application for Oklahoma Certificate of Title for a Vehicle form
Proof of identification
Proof of vehicle ownership
Out-of-state title (for new residents), or current title (for used cars)
Manufacturer's Statement of Origin (MSO) for new vehicles
Current odometer readings (for vehicles nine years old or less)
License plate of the vehicle being purchased (if applicable)
Lien information (if applicable)
Payment of all relevant fees
A vehicle identification number (VIN)  and odometer inspection may also be needed in some cases.
After some time, you'll receive your new license plate. The license plate is registered to the vehicle's owner, so if you change cars, you'll also need to transfer the plate to the new car.
Only new cars purchased from a local dealership will receive temporary paper tags, providing the bearer a period of 30 days to complete the titling and registration process.
What License Plates Can I Apply for in Oklahoma?
Plate combinations are six characters long and follow a "123 ABC" format (without quotation marks).
Standard plates: These plates use a modified 2017 plate initially issued from 2017 to March 2022.
Personalized plates: Personalized plates come in six different colors, with up to 7 characters printed (subject to terms and conditions). You can apply for one via the OTC's official website.
Veteran plates: These are issued to former serving, or active duty, members of any US military outfit, as well as their family members. Plates are also available for those who lost their lives in any while on active duty, former prisoners of war, as well as medal recipients (i.e., the Congressional Medal of Honor).
Disabled plates: Persons with disabilities may apply for disabled plates. You may only apply for disabled plates if you have a 5-year disability placard, which can be obtained from Service Oklahoma.
Specialty plates: This refers to unique plates for organizations, charitable groups, and so forth. These organizations or groups may have a unique style or design of plates, and the criteria for this style may vary from state to state. Currently available include:
Collegiate plates
Tribal plates (for Native Americans)
Firefighter plates
Amateur radio
Charitable causes
Local attractions
Conservation plates
Antique/classic car plates
Some of these plates may have additional fees and/or contribution fees that you need to pay. Contribution fees have a minimum payment, but you can increase it if you so desire.
What Do I Get from the Lookup Report?
A license plate lookup provides you with everything you need to know about a specific car. Information you will be able to access includes:
Vehicle specifications: Everything you need to know about what's in the car, such as its engine and transmission type, can be found here.
Market value: Ascertain the actual price or market value of the car. With this, you'll know if you're being overcharged or undercharged in a deal.
Previous owners: Gives you details about previous owners the vehicle has had, and the duration of ownership for each owner. This information gives you a general idea of how a vehicle was used by each owner.
Odometer records: Provides detailed information about the car's odometer readings throughout its use. Odometer fraud is a federal offense that affects many used car buyers; report any suspected cases of odometer tampering you may encounter.
Lien records: Tells you if a car was used in a lease, as collateral for a debt, as a rental car unit, etc. A car dealership is legally required to clear off existing liens before selling the car to you. If they don't, you'll be able to tell from the report.
Accident records: Lists any reported accidents that the car was involved in. There could be underlying faults with the car owing to unresolved issues caused by prior accidents. Consider getting an independent vehicle check done to ascertain the car's actual condition.
Flood records: If a car was caught in a flood, flood waters can end up severely damaging a car's components. If it isn't repaired promptly, it could cause various issues that could jeopardize a driver's life. With a license plate lookup, you can find out if that is the case.
Junk/salvage title check: Details if a car was written off as a 'total loss' by an insurance company. It might mean repairing the car is not worth the time and cost owing to the amount of work needed to make it roadworthy.
The Real Deal to a Lookup Report
Automotive fraud can happen to anyone and take various forms. Cars that might have been involved in an accident, or have faulty components, can be sold under the pretense of being in good condition. And given the ease and popularity of online car-buying, it makes it much easier for a scammer to trick a buyer into paying tens of thousands of dollars for a defective vehicle.
Vehicle lookups should be every potential buyer's first line of defense while shopping for a used car. With how easily scammers can dress up a deal and make it seem like the catch of a lifetime, having foreknowledge about the car can save you a great deal of money and peace of mind.
It still can be tricky to spot fake deals from the slew of genuine ones, especially if you can't see the car in person. And even if you can see the car, you can still be duped into thinking it's the one you're planning to buy. With the lookup report in your hands, you'll be better informed about what the car is like, and you can even ask follow-up questions to ascertain the vehicle's true condition. If you can also have an independent check performed on the car, then all the better!
VinFreeCheck's license plate lookup provides up-to-date information from reputable sources like the National Insurance Crime Bureau (NICB) and the National Motor Vehicle Title Information System (NMVTIS). We also ensure that the information you receive is the most recent based on how regularly the source databases are updated.
Can I Really Look Up a License Plate?
Yes, you can! Our service complies with the Driver's Privacy Protection Act (DPPA), which prevents the disclosure of any private/personal information of any car owner. Only relevant information that doesn't reveal a person's identity or background will be shared. Moreover, the Freedom of Information Act (FOIA) grants individuals the right to access information collected by the government.
As stated earlier, every bit of information you receive from our reports are only sourced from officially registered databases like NMVTIS. Don't hesitate: go on and look up that used car you've been eyeing today!
State Based Informational Guides
We have compiled a list of state specific guides for you. Feel free to check them out.
If you have just purchased a motorcycle, the next thing that you will need to do, is to register it. In order to legally drive a motorcycle on public roads in any state, you need to get your motorcycle registered....
You will always need to carry out different types of paperwork — whenever you purchase a car — so that you can title your car under your name and drive it legally on the road. So, whenever you are going...