The Oregon Department of Transportation provides vehicle titling and registration services, as well as the provision of license plates, via its Driver & Motor Vehicle Services (DMV) division. All vehicles must be titled and registered to the owner so they may legally use the car within the state.
Portland, Oregon, continues to see a rise in vehicle thefts, with figures going above 10,000 in 2022. Even as volunteers work hard to find many of these stolen vehicles before they're scrapped, most stolen vehicles are never successfully recovered. With the risk of buying a stolen car seemingly high, VinFreeCheck provides you with a quick license plate lookup tool to help you protect yourself.
All you need to do is key in the car's license plate number, and pick the state where the vehicle was registered. You'll almost immediately receive the information you need, from the vehicle's accident records, odometer readings, technical specifications, and more.
Add a header to begin generating the table of contents
Where is My Oregon License Plate Number?
Much like other states, the vehicle license plate is mounted on the front and rear of a vehicle. If you're not with your vehicle at the current time, you can obtain the plate number from the vehicle's certificate of title, or from other important documents such as its insurance documents.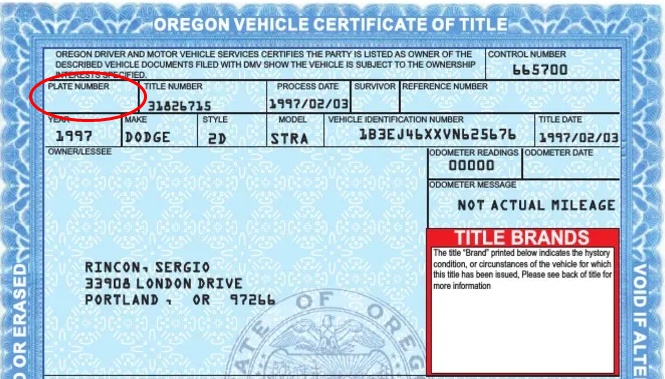 How to Apply for an Oregon Plate
You can either mail in the required documents, along with the payment of fees, to the DMV office, or bring them with you  to the DMV in-person. You'll need:
A completed application form
Original certificate of title, or certificate of origin for new vehicles
Proof of identification
Proof of car insurance
Odometer disclosure, if required
Lien documentation, if applicable
Bill(s) of sale if purchasing from a previous owner
Use Tax Certificate for out-of-state dealer purchases, or for out-of-state vehicles brought in if you're not a resident of Oregon

Out-of-state/foreign titles may also need to undergo a VIN inspection

For certain areas, a Department of Environmental Quality (DEQ) emissions test may be required
Payment of all relevant fees
If you're mailing in, send the documents and fees to the following address:
Oregon DMV
1905 Lana Ave NE
Salem OR 97314
For passenger vehicles, you may alternatively complete the registration process via the DMV's online service. Meanwhile, renewals can be done via the DMV's online service; in some cases, a DEQ emissions test may also be needed beforehand. Note that online renewals are only available for plates that expired less than a year ago.
If you plan to renew by mail, send the renewal application form, all required documents, and relevant fees to:
DMV Services 
Attn: Renewal
1905 Lana Ave NE
Salem OR 97314
What License Plates are Available?
Plate combinations are six characters long following a "123 ABC" format
Standard plates: These plates use the standard tree plate originally introduced in 2004.
Personalized plates: Personalized plates require you to fill up a Custom Plate applicaiton form. Conditions to applying for one include:
A maximum of up to six characters and "one extra space or hyphen"
No special characters or punctuation marks (such as the exclamation mark [!])
At least one letter/number must be present
You can't use a "123 ABC" or "ABC 123" format
You can't use combinations that may be offensive, derogatory, and/or illegal
You may choose from 10 different plate designs
Veteran plates: These are issued to former serving, or active duty, members of any US military outfit. Plates are also available for service in any previous conflicts (i.e., the Vietnam War) as well as medal recipients (i.e., Silver Star).
Disabled plates: Oregon only has Disabled Veteran plates available. Applying for one requires proof of "a service-
connected disability," as well as a completed application form. Note that plate holders will still require Disabled Person Parking Permits from the state.
Special plates: This refers to unique plates for organizations, charitable groups, and so forth. These organizations or groups may have a unique style or design of plates, and the criteria for this style may vary from state to state.
Special plates that are available include:
Antique/special interest vehicle plates
Amateur (HAM) radio operator
Collegiate plates
Cultural plates
Non-Commissioned Officers Association
Pacific Wonderland
Some of these plates may have additional fees and/or contribution fees that you need to pay. Contribution fees have a minimum payment, but you can increase it if you so desire.
What Can I Find in the License Plate Lookup Report?
A license plate lookup provides you with everything you need to know about a specific car. Information you will be able to access includes:
Market value: Helps you determine the true worth or market value of the car if you plan on buying it. You'll find out if you're being overcharged or undercharged in a deal.
Previous owners: Gives you details about previous owners the vehicle has had, and the duration of ownership for each owner. This information gives you a general idea of how a vehicle was used by each owner.
Vehicle specifications: Obtain detailed information about the vehicle's overall attributes, such as its engine and transmission type, and whether it might be a four-wheel drive.
Accident records: If a car was involved in any accidents, the vehicle history report will show you these records. Knowing this allows you to prepare for potential damage that's left unresolved since its prior accidents. You may want to order an independent check to determine if a car is still roadworthy or otherwise.
Junk/salvage title check: This tells you if the car has suffered significant damage that it's written off as a 'total loss' by an insurance company. It might mean that the cost to repair the car far exceeds reasonable amounts, leading to long-term expenses just to keep the car in working condition.
Flood records: Floods can cause significant damage to a car's internal components. Sometimes, these faults may have been left unaddressed, whether due to malicious intent or otherwise. With a license plate lookup, you can find out if a car was involved in a flood and whether there's potential damage that needs to be fixed.
Odometer records: Shares the used car's odometer readings, allowing you to look out for dodgy or inconsistent odometer records. Odometer fraud is also a federal offense, as scammers will fool potential buyers into thinking that the car has been driven for less than it actually has. Immediately report any odometer fraud you might encounter.
Lien records: Provides information on whether the car has been used in a lease, as collateral for a debt, as a rental car unit, etc. A car dealership is legally required to clear off existing liens before selling the car to you, but in the case that they do not, this report will let you know.
Why the Vehicle History Report is Important to You
Portland alone has seen a significant rise in automotive theft over the years, with many incidents occurring between 6pm to midnight, a time when most people would be in bed. With how alarmingly frequent these crimes have occurred, it becomes just as important to be on the look out for stolen vehicles when you're looking for a used car to own.
Auto thieves may attempt to sell stolen cars by chopping them up and putting them together, or by using cloned VINs to deceive buyers into purchasing a totally different vehicle. With a vehicle history report, you'll be able to find out about a car's overall condition, including any faulty components it might have. You'll be able to protect yourself from automotive fraud and safeguard your finances and peace of mind. In fact, both the report and an independent vehicle check can provide you with the leverage you need to make smart used car purchases.
Vehicle look-ups aren't restricted to vehicles personally owned, either. If you happen curiosity to see a car you're not familiar with, you can look up its license plate number. Your search might net you interesting results, or even find out it's a recently stolen vehicle.
VinFreeCheck's license plate lookup provides users such as yourself with extensive, verifiable information from reputable sources like the National Insurance Crime Bureau (NICB) and the National Motor Vehicle Title Information System (NMVTIS). All the information you receive is the most recent data available, based on how regularly the source databases are updated.
Are There Restrictions to License Plate Lookups?
VinFreeCheck complies with the Driver's Privacy Protection Act (DPPA) which prevents the disclosure of any private information of any car owner. Only relevant information that doesn't reveal a person's identity or background will be shared. As such, you won't be restricted to how many lookups you'd like to perform, as no sensitive data will be leaked. Additionally, the Freedom of Information Act (FOIA) grants individuals the right to access information collected by the government. Any and all information you find in our reports are 100% reliable data taken from officially registered sources like NMVTIS, so there's nothing to worry about!
State Based Informational Guides
We have compiled a list of state specific guides for you. Feel free to check them out.
If you have just purchased a motorcycle, the next thing that you will need to do, is to register it. In order to legally drive a motorcycle on public roads in any state, you need to get your motorcycle registered....
You will always need to carry out different types of paperwork — whenever you purchase a car — so that you can title your car under your name and drive it legally on the road. So, whenever you are going...