Much like other states, all vehicles within Rhode Island must be registered with the Rhode Island Department of Motor Vehicles (DMV). Newcomers will need to apply for a new title and registration for your vehicle within 30 days of moving to Rhode Island.
If you're planning to buy a car within the state, you'll need to submit specific documents to the DMV, depending on how you purchased the vehicle. If you've bought a car from a dealership, the dealership will submit the necessary documents to the DMV on your behalf. In the event that they don't, you'll have to do this yourself.
Consider VinFreeCheck's license plate check tool to help you look up a car's specificatons and other useful information of its overall use. We provide accurate, up-to-date details on everything you need to know about the car you're considering.
Click here now to get your license plate lookup report!
Add a header to begin generating the table of contents
Where to Find Your Rhode Island License Plate Number
Except for motorcycles, trailers, semi-trailers, in-transit vehicles, transporters, bailee vehicles, or dealer vehicles, Rhode Island requires all vehicles to display their plates on the front and rear of the vehicle.
If you aren't with your vehicle at the moment, you can check the vehicle registration card or any documents related to the vehicle.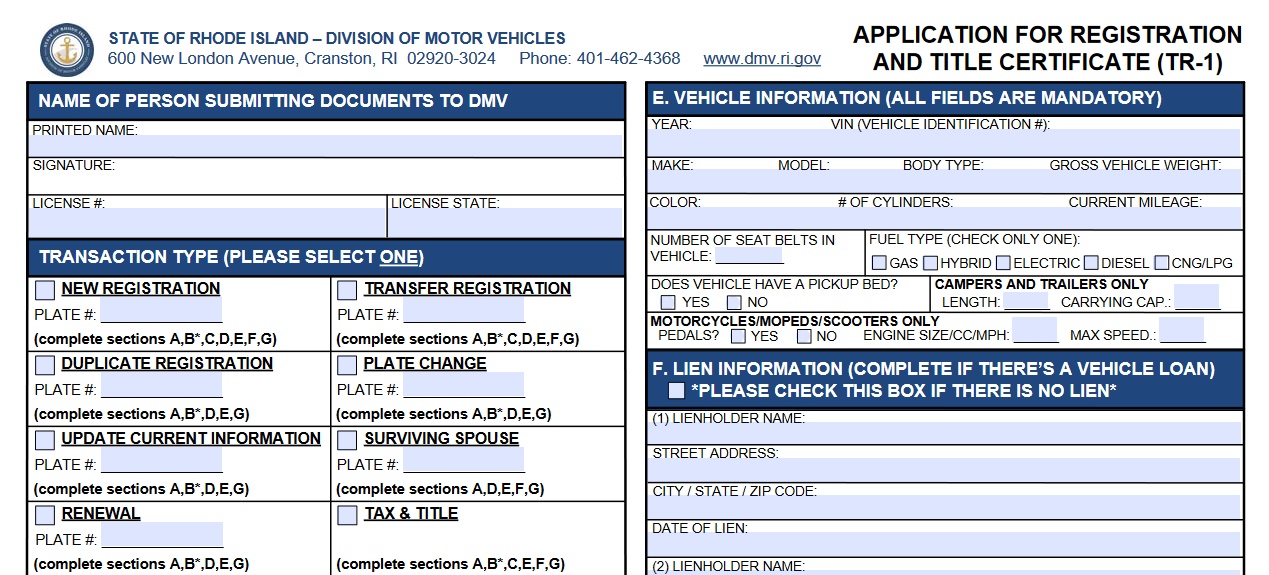 How Do I Apply for a Rhode Island License Plate?
Requirements for the registration process include:
Completed Application of Registration TR-1 form
Dealer Sales Tax form
Bill of Sale
Your driver's license or identification documents
Proof of valid insurance (insurance is mandatory in Rhode Island; the insurance provider must also be licensed to do business in the state)
Other documentation that may be required depends on the manner in which you purchased your car. If, for example, you bought it from an out-of-state dealership, you might also have to submit a Rhode Island Use Tax form.
For new residents, you'll need to have a vehicle inspection done within 5 days of being registered.
There are also registration fees you'll need to pay as well. More details can be found on the DMV's website.
What License Plates Are There in Rhode Island?
The standard passenger plate is the Wave plate, although there is also a Sailboat plate available.
Rhode Island used a six-digit, fully numeric format until the plate 399 999; new plates now follow a five character alphanumeric format (AB 123).
Other available plates include:
Preferred Plates: these are only available by requesting through the Office of the Governor, and are not under the DMV's purview. They have a specific license plate number format.
Vanity Plates: these plates can be obtained in either the Wave, Sailboat or Antique (only for antique vehicles) design. You can use a "combination of two to six letters or up to six letters and numbers." Do note that fees for vanity plates are higher than a standard passenger plate.
Electric Hybrid plates: These plates are specifically for vehicles "powered in whole or in part by a storage battery." They are designated as either Electric (E) or Hybrid (X) when registered.
Charity Plates: these plates are issued for various charitable causes and/or organizations
Firefighter/Veteran Plates
If you're swapping your current plates for new ones, you can request a plate change with the DMV. Make sure to fill up their TR-1 form.
What Do You Get from the Lookup Report?
When you obtain our license plate lookup report, you'll get the following details:
Vehicle Accident Records: Learn if a car was previously involved in any accidents. This report helps you be aware of the significance of damage that a car has previously suffered, and if any steps were taken to repair said damage.
Salvage Titles: A vehicle with a salvage title means that the vehicle was damaged, and is considered a total loss by the insurance company that paid out the claim. In most cases, the cost of repairing the damaged vehicle exceeded its total value
Salvage vehicles are no longer considered roadworthy because of the significance of the damage it received, or simply because repairing it is just not worth it. You could still potentially leverage this information to get a better deal, but you really have to know what you're doing.
Lien Records: A lien is a notice attached to a property, indicating it has been bought through a loan. If you were to purchase and take up the vehicle's title, you might end up taking on the unpaid debt. If the lien goes unpaid, a third party can legally repossess the vehicle from you. You don't want to end up in that situation!
Market value: Gives you accurate and up-to-date market value of the vehicle you're looking at. With this, you can find out if the dealer is overcharging you.
Odometer readings: Lists the odometer records of the vehicle. It may help give you an indication that it may have been tampered with. Dealers may change the readings in order to scam buyers into thinking the vehicle has been driven for less than it was. This is considered a federal offense.
Service History: You can get a complete service history of the vehicle, with records of each time the car was serviced following the manufacturer's schedule: annual oil and filter changes, safety inspections, and more.
You'll also find out which parts were replaced and why. Having the vehicle's service history can help you predict potential car difficulties down the road.
There are various other useful pieces of information you can learn with the report in your hands.
Is a License Plate Lookup Report That Important?
All the information you obtain from the report can protect you from the potential dangers of car-buying. It also gives you leverage to negotiate a better deal on a specific vehicle. You'll be able to sidestep potential legal or insurance problems in the future, since you can clearly see all the relevant records a car has.
Odometer fraud is one of the many major areas of concern. According to NHTSA estimates, more than 450,000 vehicles are sold annually with false odometer readings. Don't let yourself be a victim and lose money and sleep over a scam!
All information you receive from our reports come from various reliable sources, such as the National Insurance Crime Bureau (NICB), the National Highway Traffic Safety Administration (NHTSA), and the National Motor Vehicle Title Information System (NMVTIS). Rest assured that our report will be accurate and comprehensive to give you the peace of mind you deserve when looking for the car of your dreams.
Is It Legal To Lookup A License Plate?
Our site conforms with the Driver's Privacy Protection Act (DPPA)'s restriction on disclosing private information of a car owner. We do not disclose any personal information of the vehicle's current or previous owners, only the specifications and current condition of the vehicle itself.
We also abide by the Freedom of Information Act (FOIA), which grants individuals the right to access information collected by the government. We also frequently check car auction inventories to track a vehicle's condition.
Besides having a lookup report handy, it also helps to be on the look out for potential red flags. One of the simplest is a dealer's refusal to provide you with a vehicle history report for a car you're interested in. Generally, dealers will give one as a reassurance measure to show that they're not hiding anything. If a dealer makes active attempts to not furnish a report, you should consider looking elsewhere.
It does help to scrutinize the report they give you as well, just in case. Look out for possible signs of tampering, especially with its odometer readings. You can also take the vehicle to an independent mechanic to conduct a thorough check of the vehicle's overall condition. This is a small price to pay for long-term reassurance when you decide to buy a car.
If you suspect the possibility of fraud, you can contact the state Department of Human Services' Fraud Unit at (401) 574-8175. You can also anonymously complete a fraud allegation form at the following link.
State Based Informational Guides
We have compiled a list of state specific guides for you. Feel free to check them out.
If you have just purchased a motorcycle, the next thing that you will need to do, is to register it. In order to legally drive a motorcycle on public roads in any state, you need to get your motorcycle registered....
You will always need to carry out different types of paperwork — whenever you purchase a car — so that you can title your car under your name and drive it legally on the road. So, whenever you are going...