Thinking of moving to Tennessee, the Volunteer State? The state's Department of Revenue oversees all vehicle registration and license plate applications via its Vehicle Services Division. You'll need to visit the local county clerk's office to complete the titling and registration processes.
If you plan to buy an affordable used car once you've moved in, perform a license plate lookup and get a vehicle history report. You'll find everything you need to know about it, from odometer readings and accident records to technical specifications and more.
Use our free license plate lookup tool to get up-to-date information on the vehicle of choice in a split second. Type your license plate number in the search field, choose the state the vehicle was registered in, and the results will be displayed in a few moments.
Add a header to begin generating the table of contents
Finding your Tennessee License Plate Number
Tennessee is one of the few states where rear license plates only need to be displayed. If you aren't currently with your car, you can refer to any documentation related to your registration, such as the certificate of vehicle registration.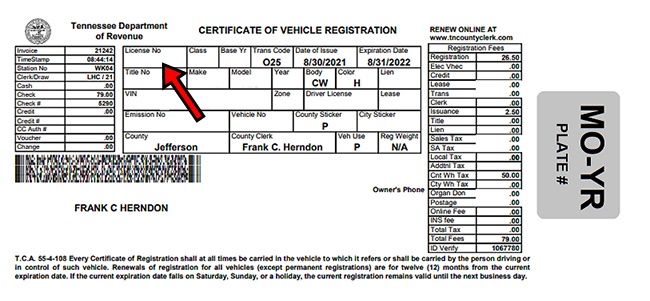 How Do I Get a Tennessee License Plate?
Both processes can be done at the county clerk's office. You'll need to provide the following during the registration process:
Proof of identification and residency
Most current out-of-state registration
Out-of-state title, if applicable
Lienholder information, if applicable
The name and address of the company "where you are sending car payments," if applicable
For current residents, you need to furnish the following to the county clerk's office:
Proof of identification and residency
Manufacturer's Statement of Origin (MSO)
New vehicle invoice, if applicable
A valid certificate of title for used cars
Odometer disclosure statement
Payment of all relevant fees
Temporary tags are only available to "vehicle owners experiencing title problems."
Tennessee also requires that all drivers must have an "auto liability insurance policy." Not having one or any other form of financial responsibility can lead to hefty fines or even imprisonment.
Additional information can be found on the Tennessee Department of Revenue's official website.
What License Plates Can You Apply For?
Standard plates: These are 7 characters in length, with the general format being AAA 0000. The bottom of the plate will indicate the county the car was registered in.
Vanity plates: These are personalized plates that are up to 7 alphanumeric characters in length. Depending on the plate design, the character length may differ. Additionally, you can't use special characters or any combinations that are vulgar or offensive in nature.
Military plates: These are issued to active-duty or retired military personnel of any US military branch. Available plates include recipients of medals and honors such as the Medal of Honor.
Disabled plates: These plates are only issued to persons who:
are confined to a wheelchair.
walk with difficulty or uncertainty.
have 20/200 vision or worse with corrective lenses.
are the parent or legal guardian of a person who is permanently disabled and incapable of operating a motor vehicle
Temporary disabled placards are also available for those with a temporary disability. These placards are valid for up to six months.
Specialty plates: These plates exist for people who want to identify with or show support to certain organizations, groups, interests, and charities. Plate options include:
Collegiate plates
Organization/association plates
Environment and conservation plates
Antique plates
Volunteer organizations/professions
Awareness programs
Sports teams/events
You can view all the associated fees for these plates here.
What Do You Get from the License Plate Lookup Report?
A license plate lookup provides you with relevant data on the vehicle you intend to purchase or have already purchased. You'll be able to review the following information:
Accident reports: Lists any accidents the car may have been involved in at any time. If it was a significant accident, you should have an independent check performed on the vehicle. You might find damage that wasn't repaired which could affect the vehicle's performance.
Previous owners: Get some information on the vehicle's previous owners and the duration in which they owned the vehicle for. The report can give you up-to-date information for both of those queries, but doesn't disclose any private or personal information of these owners.
Market value: The license plate report will reveal the actual market price of the vehicle you're looking at. You'll be able to find out if you're being under- or overcharged for a used car.
Vehicle specifications: Provides you with all the information you need about the vehicle's make, year of manufacture, its model and more. Having all the relevant information at hand will help you with making a more informed decision.
Flood records: Informs you of any history of damage from floods. If you find the vehicle was damaged by floods, you need to find out how much potential damage the vehicle may have undergone and what repairs were made to restore its condition.
Lien Records: Provides information on whether the car has been used in a lease, as collateral for a debt, as a rental car unit, etc. There have been cases where cars with an existing lien were sold to unknowing buyers. These buyers end up having to repay the lien, even if it wasn't their fault.
Odometer records: The report will provide detailed odometer records of a vehicle, allowing you to look for signs of odometer tampering. This fraudulent activity deceives buyers into thinking the vehicle has been driven for less than it actually has.
Junk/salvage title check: If a car is severely damaged in an accident or has been scrapped for parts, an insurance company might write it off as a 'total loss.' It would mean repairing the car will be very costly, on top of it being in no condition to operate on the road.
What's the Big Deal with the Lookup Report?
Automotive fraud and motor vehicle theft are still significant crimes that occur on a daily basis. Consumers need to be aware of the possibility that a used car deal could be a scam in disguise, especially if it's too good to be true. The vehicle lookup report provides you with a comprehensive list of data pertaining to its use and condition. Knowing this beforehand ensures you make smart decisions when looking for a used car to buy.
Most used car dealers will provide a free vehicle history report to interest consumers to any of their available used cars. While it's convenient, some shady dealers might use this as an opportunity to give away false reports and lull potential buyers into a false sense of security. In the end, they may end up buying a very problematic lemon vehicle, costing them significantly over time.
A license plate lookup could also come in handy in the event of a hit and run, or even for suspected motor vehicle thefts. All it takes is a quick check and you'll be able to notify the authorities about suspected automotive criminals trying to make money off of others' misery.
VinFreeCheck offers you a free and reliable license plate lookup service with data directly taken from reliable and trustworthy sources. Our databases are linked to the National Motor Vehicle Title Information System (NMVTIS) and the National Insurance Crime Bureau (NICB) to ensure you receive the latest updates for the vehicle you're looking at.
Am I Allowed to Lookup License Plates Freely?
Yes, you can. VinFreeCheck is in compliance to the Driver's Privacy Protection Act's (DPPA); the act prevents any unlawful disclosure of private or personal information of any car owners. Only details on how a car is used and its current condition will be shared. Additionally, the Freedom of Information Act (FOIA) grants individuals the right to access information collected by the government.
With all data sourced from NMVTIS and many other reputable sources, you can confidently run a lookup check on that used car you've been keen on purchasing.
State Based Informational Guides
We have compiled a list of state specific guides for you. Feel free to check them out.
If you have just purchased a motorcycle, the next thing that you will need to do, is to register it. In order to legally drive a motorcycle on public roads in any state, you need to get your motorcycle registered....
You will always need to carry out different types of paperwork — whenever you purchase a car — so that you can title your car under your name and drive it legally on the road. So, whenever you are going...