With an online License Plate lookup, you can easily have all the information related to your car at your disposal. It can also come in handy when you want to know your VIN number, but it is not easy to remember all the 17 characters in the right sequence.
This online free Washington License Plate lookup tool will get you a free VIN report as well as complete information about the vehicle. There is no need to wait in queues at the DMV office to get the records containing the history of your vehicle. Within few moments, without any charges, you can have access to all the information.
Add a header to begin generating the table of contents
Where to find my Washington plate number?
Generally, you can easily your plate number easily by looking at the issued license plate attached to your car. However, there are instances you need to lookup car license plates without having access to the car physically, you can look it up at you car's Washington certificate of the title.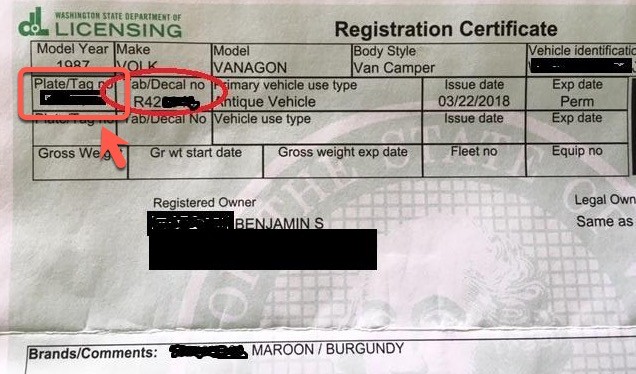 Types of Vehicle License Plates You Can Get in Washington State
As a Washington State resident, there are different types of license plates you can apply for. You can choose to go for the standard state issue plates, or get specialized plates. Some of the special category plates you can choose to apply for include:
Collegiate license plates – For Universities and colleges
Specially designed license plates - For organizations and institutions
Military license plates – for ex-military or those still in service
Personalized license plates. –They contain maximum of seven characters
Special Interest license plates – For supporting a specific cause
What is in the License Plate Lookup report?
Since the free license plate lookup tool has been merged with the VIN check report, the amount of information you can get from this report has become more detailed.
Damage/ accident reports
Vehicles can get damaged when used regularly, and then get easily repaired. But it is difficult to know whether the damage/ accident was major or minor. This confusion gets cleared with the repair shop record provided by the License Plate lookup.
Registration issues
If you face problems with getting the car registered, then the report will probably have the reason why the state authorities are not approving the car and making it legal to drive on the road.
Vehicle Usage history
The records will also mention the times the car was re-sold. Whether it was for personal use or put into commercial use. Such detailed information on ownership of the car will not be available in any other way.
Branded title Check
You will have access to the information stating whether the car has a salvage title and if the car is safe enough to drive. These reports by the state agency and the insurance company will make your buying decision clearer.
Last car inspection
Many types of inspections need to be done concerning a car to ensure that it meets various pollution control goals, safety checks and is safe for the driver and passengers put forth by the government. If such inspection goals are not met, then the car will fail the inspection.
Check if the vehicle has stolen records
Knowing this status is important because if on inspection the car is found to be as "currently stolen," that means the dealer/ seller is not the real owner. By doing a quick License Plate lookup, you can access robbing records. The next step is to report them to the police.
Where does all this data come from, and is legal to have access to it?
Multiple trusted resources are used to retrieve all the reports. Some of them are the National Motor Vehicle Title Information System (NMVTIS), the National Highway Traffic Safety Administration (NHTSA), and the National Insurance Crime Bureau (NICB).
Yes, all this information is legal. The information complies with the Driver's Privacy Protection Act (DPPA). The reports do not disclose any information regarding the owners of the vehicle.
State Based Informational Guides
We have compiled a list of state specific guides for you. Feel free to check them out.
You will always need to carry out different types of paperwork — whenever you purchase a car — so that you can title your car under your name and drive it legally on the road. So, whenever you are going...
If you have just purchased a motorcycle, the next thing that you will need to do, is to register it. In order to legally drive a motorcycle on public roads in any state, you need to get your motorcycle registered....