If you're looking to buy a used vehicle in West Virginia, you should always make a point to prioritize your safety before making any purchase. A thorough check of a used car's records can help protect you from potential fraud, which could mean costly maintenance bills over time - or worse.
In its 2020 annual report, the West Virginia Division of Motor Vehicles (DMV) reported a total of 34,056 crashes in 2019, with 206 fatalities and 906 serious injuries reported. While the number of crashes caused by faulty components wasn't listed, you'd do well to be alert to possible faults in the car of your choice.
Using VinFreeCheck, you can quickly perform a license plate lookup for any particular West Virginian license plate number. The search provides you the vehicle's specifications, market value, as well as its complete history report, including its overall gas mileage.
Any lookups can only be performed on vehicles titled and registered with the West Virginia DMV.
Add a header to begin generating the table of contents
Where Is My West Virginia Plate Number?
West Virginia requires all cars to have plates attached to the back only. If you don't currently have your car nearby, you can also find its license plate number near the top of your DMV-issued registration card.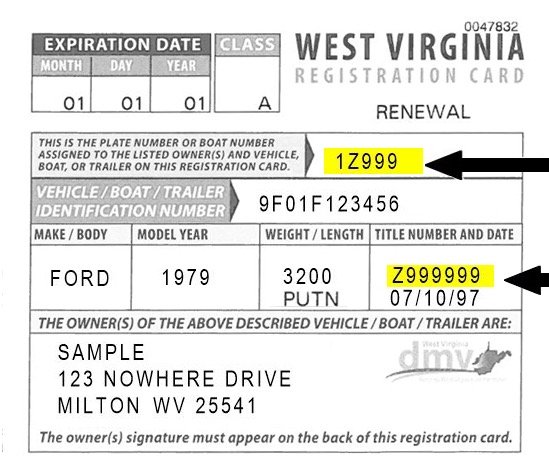 How Do I Apply for a West Virginia License Plate?
You can register your vehicle at any West Virginia DMV branch near you. If you're buying from a local dealership, the dealership will complete the registration and titling on your behalf. You'll just need to get copies of the relevant paperwork.
If, however, you purchase from an out-of-state dealer, the application must also include an invoice reflecting the purchase price.
New residents of West Virginia have 30 days to title and register their vehicles after establishing residency in the state. You'll need to present the following documents:
Out-of-state registration and title
Proof that you are now a resident of West Virginia
Certificate of Title for a Motor Vehicle application form
Proof of the car's insurance policy
Payment of all required fees
Once your car is titled and registered, you'll receive a license plate and registration card, where the latter must be kept together with the car's insurance policy in the vehicle at all times.
Renewals may be done either at any DMV branch, by mail, or by using their online services.
If your plate is lost or stolen, you cannot reuse the same license plate number. You also need to lodge a report with the state police immediately.
West Virginia also mandates a vehicle inspection every 12 months. Any time an inspection is passed, a sticker must be displayed on the inside of the windshield until the next inspection. For new residents, you have have 10 days from the date of titling your vehicle to conduct a vehicle inspection.
What License Plate Types are Available?
Standard: The common standard license plate uses a white background (or an alternate Scenic plate) with navy blue characters. For all plates, an expiration sticker must be displayed to show the plate's validity.
Standard plates have a maximum character limit of 6.
Personalized: These plates are restricted to Class A vehicles, defined as "passenger cars and trucks with a gross weight of 10,000 pounds or less." Depending on the type of plate, character limits vary. For example, personalized standard plates have a character limit of 8. Personalized motorcycle plates, on the other hand, have a limit of 6.
Obscene or offensive requests are strictly prohibited. It must also not not conflict with a regular series license number. Symbols, punctuation marks, and numbers 1 to 2000 are also not allowed.
Disability: There are disability placards and plates available. You can apply for either if you have a qualifying disability or are providing transportation for someone with a qualifying disability.
Military veterans with a verified service-related disability may also apply for a disabled veteran plate.
Specialty: These are license plates that showcase or show support for various organizations, commemorative events, interests, military service and more.
You can find a list of available specialty plates on the state DMV website.
What Do You Get from a License Plate Lookup?
A license plate lookup provides you with relevant data on the vehicle you plan on purchasing. You'll be able to see various details such as:
Accident records: This tells you if the car has been involved in an accident or suffered damage. Having this information can help you check for potential damage at specific areas of the car, thereby making sure there aren't any mechanical or technical issues that remain unaddressed.
Previous owners: You can learn about whether the vehicle has had any previous owner(s) and how many times it was purchased.
Flood records: If the car has ever been damaged by natural disasters such as this, it will let you know. According to the National Flood Insurance Program (NFID), about 90% of all US natural disasters involve flooding.
Junk/Salvage title check: A salvage title  indicates that the vehicle has been damaged and is considered a loss by the insurance company that paid the damaged vehicle's claim. A junk title means that the vehicle is no longer roadworthy. Either of these indicate that purchasing the car is not worth the long-term investment of constant maintenance and repair work.
Odometer records: The National Highway Traffic Safety Administration (NHTSA) estimates that more than 450,000 vehicles are sold with falsified odometer readings annually. With the report, you'll be able to see if the dealership has altered the odometer readings to give a false impression of the car's mileage.
You can report cases of odometer fraud to the relevant authorities.
Vehicle specifications: Provides details such as the vehicle's VIN, its make, model, and the year it was manufactured, and whether or not the VIN remains valid.
Market value: This confirms the vehicle's current market value, making sure that you won't be overpaying for a car whose price has been raised significantly.
Lien records: Provides information on whether the car has been used in a lease, as collateral for a debt, as a rental car unit, etc. A car dealership is legally required to clear off existing liens before selling it off, but in if they don't do so, this report will let you know.
Why Should You Get the Report?
A license plate report helps you make the right decisions about whether or not you should purchase a particular car. If you discover that the car you're eyeing has suffered serious damage in the past or has a recurring malfunction, you can then opt to exit the deal or buy it at a lower/discounted price, considering the overall losses from maintenance/repairs going forward.
Vehicle shopping is a serious affair, requiring buyers to look for any damage or signs of malfunctions and other issues that could reveal themselves in time. After all, no one likes unpleasant surprises. It thus pays to be well informed at all times, so be sure to keep doing your own research to protect yourself from fraud better.
VinFreeCheck gives you comprehensive and up-to-date, and reliable information on any vehicle (with a registered license plate) in a matter of seconds. All information is sourced from verifiable sources such as NMVTIS.
VinFreeCheck strictly complies with the Driver's Privacy Protection Act (DPPA). We do not disclose any personal information of the vehicle's current or previous owners. Our license plate lookup only does a reverse lookup to obtain the VIN number and query the vehicle's history reports.
Moreover, the Freedom of Information Act (FOIA) gives anyone permission to access information collected by the government. Our service is completely legal and free!
State Based Informational Guides
We have compiled a list of state specific guides for you. Feel free to check them out.
If you have just purchased a motorcycle, the next thing that you will need to do, is to register it. In order to legally drive a motorcycle on public roads in any state, you need to get your motorcycle registered....
You will always need to carry out different types of paperwork — whenever you purchase a car — so that you can title your car under your name and drive it legally on the road. So, whenever you are going...