The handling of all vehicle titles and license plate registrations is performed by the Motor Vehicle Services under the Wyoming Department of Transportation (WYDOT).
Unlike many states, Wyoming requires all drivers to register their vehicles and standard license plates with their respective county treasurer, including new residents. All processes and fees must be performed/paid in person at the county treasurer's office.
Buyers should note that WYDOT will check with the National Motor Vehicle Titling Information System (NMVTIS) database whenever it issues a title. If there might be any brands associated with that title, even if the original doesn't have any, these brands will be recorded onto the new title.
If you're worried about that happening, you should get a vehicle history report beforehand. Get one from VinFreeCheck, where you'll receive detailed and up-to-date information on the vehicle you're looking at. Enter your license plate number in the search box, choose the state the vehicle was registered in, and display the results.
Add a header to begin generating the table of contents
Where Is My Wyoming License Plate Number Found?
You can find your license plate mounted on the front and rear of the vehicle. The exceptions to this rule are antique and custom vehicles, as well as vehicles that didn't originally have a front plate bracket. If you aren't with your vehicle, you can refer to official documents pertaining to the vehicle's registration, such as its registration card/certificate, as well as the renewal slip.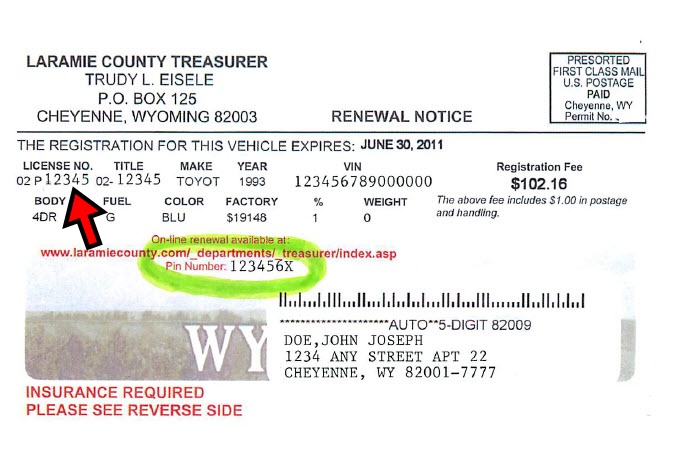 How Do I Get A License Plate in Wyoming?
Since counties administered all vehicle registrations, some processes and requirements may differ from county to county. You may require:
Proof of identification
A copy of the vehicle title (or the title number)
Current registration from your previous state (if applicable)
Proof of insurance
The vehicle identification number (VIN), for vehicles that are being financed
A copy of the dealer invoice, for purchases at a dealership
The lease agreement (if applicable)
New residents have 30 days to complete the registration process. They may also need to submit other documents such as their out of state registrations.
Fees also differ from county to county. There is, however, an additional state fee that's based on the type of vehicle being registered. Passenger vehicles, for example, have a $30 state fee.
What Types of License Plates are Available?
The typical license plate format comprises a one or two digit county prefix code, from 1 to 23, representing the counties of Wyoming state. It designates which county the vehicle was registered in.
Standard Plate: These plates feature the Bucking Horse and Rider image separating the county code from the five-digit license plate number.
Prestige Plate: These personalized plates feature a custom license plate number. They must be 5 letters long, and can be a combination of "5 letters, numbers, and spaces." Some restrictions include:
No symbols are allowed
No combination of "entirely numbers unless the first digit is a zero (0)"
No combination "with more than three (3) W's or M's" (such as WMWW)
No use of obscene, vulgar or inappropriate language, slang, abbreviations, etc.
Pioneer Plate: These plates are issued to vehicles that are 25 years or older, and owners who have resided in Wyoming for more than a year. These are only issued for "organized antique car club activities, parades, exhibitions, tours and other related activities."
Veteran Plate: These are issued to former members of any US military branch (e.g., US Air Force).
Specialty Plates: There are also a variety of special plates for various organizations, occupations, and so forth. These include:
Radio Amateur
University of Wyoming (also available to non-UW alumni)
Firefighter
Embossed Plates
Gold Star Plates
Tribal Plates
Wildlife Conservation
What is in the License Plate Lookup Report?
A license plate lookup provides you with relevant data on the vehicle you intend to purchase or have already purchased. Information you will be able to access includes:
Accident Report: You'll find out if the car was involved in any major or minor accidents throughout its use. You might determine that the car has suffered significant damage that could affect its overall road-worthiness.
Previous Owners: Be provided with some info on the vehicle's previous owners and how long they owned the vehicle. The report does not reveal any personal records of these past owners, in compliance with US laws.
Flood Records: Find out if the car had suffered damage from floods. Knowing this is important to protect you from buying a faulty car. You can also identify any damage the vehicle may have undergone and what repairs were made (or not) to restore its condition.
Lemon Records: "Lemon" is a term used to describe a defective vehicle. You'll be able to find out if the car has any technical/mechanical defects that have (or have not) been addressed. These defects can potentially be life-threatening if not taken care of. Manufacturer's recalls are one such sign of defective components in a car.
Market Value: Get the actual market price of the vehicle you're looking at in real time. That way, you'll know if you're under- or overpaying for it.
Vehicle Specifications: Provides you with all the information you need about the vehicle's make, year of manufacture, engine specs, vehicle trim, and more. You might be able to identify various changes made to the vehicle since its initial purchase.
Lien Records: Determine if the car you intend to buy has been used as collateral for a loan, or as a rental car unit. In some cases, the lien may not have been repaid in full. If you bought a vehicle that had a lien, you might end up taking responsibility for paying that lien - even if it was someone else's fault for defaulting.
Odometer Readings: Odometer fraud is where buyers are tricked into thinking the vehicle has been used for less than it actually has. It's considered a federal crime, so if you find that the odometer readings have been tampered with, you can report the seller to the authorities.
Why Should You Get the Report?
While the theft of motor vehicles and motor vehicle parts has seen a reduction so far this year, one must still take extra precautions when going about their car buying journey.
A vehicle history report is your golden ticket to keeping yourself safe when looking for a car to buy, especially used ones. With the report in hand, you'd be less likely to fall victim to automotive fraud, as you can spot potential red flags that might be hidden away from buyers. Inconsistencies in odometer readings, for example, can be spotted if you scrutinize the report's details. That way, you'll find out that a car's odometer has been tampered, and you can report the seller to the authorities.
You can also use the report as a tool for leveraging a better deal for the car you're looking at. Knowing its actual market value, or the fact that it's gone through a major accident and is in need of some thorough repairs, can allow you to negotiate to your benefit. Of course, you'll need to know that you can afford to make such a deal, considering the additional costs of restoring the car to working condition.
With VinFreeCheck, you'll get all the data you need from reliable sources such as the National Motor Vehicle Title Information System (NMVTIS), the National Highway Traffic Safety Administration (NHTSA), and the National Insurance Crime Bureau (NICB).
Is It Legal To Lookup A License Plate?
Yes, it is. Our site abides by the Driver's Privacy Protection Act's (DPPA) restrictions on disclosing the private information of a car owner. As such, whatever information you look up will not be traced back to the previous owners, nor will it reveal anything pertaining to their private lives.
Additionally, the Freedom of Information Act (FOIA) grants individuals the right to access information collected by the government. All of this is also in line with other federal laws that protect consumers from automotive fraud.
State Based Informational Guides
We have compiled a list of state specific guides for you. Feel free to check them out.
If you have just purchased a motorcycle, the next thing that you will need to do, is to register it. In order to legally drive a motorcycle on public roads in any state, you need to get your motorcycle registered....
You will always need to carry out different types of paperwork — whenever you purchase a car — so that you can title your car under your name and drive it legally on the road. So, whenever you are going...