Last Updated on September 7, 2022 by Calvyn Ee
With fuel prices being what they are these days, getting the most out of your car's gas mileage is becoming increasingly important for many people. Hybrid cars are popular thanks to performance innovations for electric motors and plug-in options. Many automakers have produced various hybrid models that cater to all drivers, from enthusiasts to ordinary folks.
If you're looking to save a lot more down the road, you can always look to a fuel-efficient used car as your daily driver. The thought of a used car might seem odd to you, but you might be able to find a reliable and economical option for sale somewhere. Sure, they don't all have the latest and greatest in tech, but you'll be happy with the best gas mileage in used cars that money can buy.
Criteria for Review
Fuel Economy
Fuel efficiency is measured in miles per gallon, or mpg for short. The higher the car's mpg rating, the better its fuel efficiency. Mpg ratings can be inconsistent due to various factors, so getting an accurate reading is challenging. The U.S. Environmental Protection Agency (EPA) handles the certification of all mpg ratings, so they will run a set of standardized tests to determine the official mpg rating of a car.
You can find the mpg ratings of various cars on the market via the EPA's dedicated website.
Appearance
Even if you're saving up on fuel, you can still get a stylish-looking car that looks good inside and outside. First impressions do matter, after all.
Features
Comfortable, pretty interiors, top-notch infotainment and electronics, and essential safety features are all a must on any car.
Performance
Not all cars sacrifice performance power with fuel efficiency in mind. Our selection gives you an assortment of drive qualities, from speedy runners to relaxed daily drivers.
The Best Gas Mileage in Used Cars: 5 of our Picks
2018 Hyundai Ioniq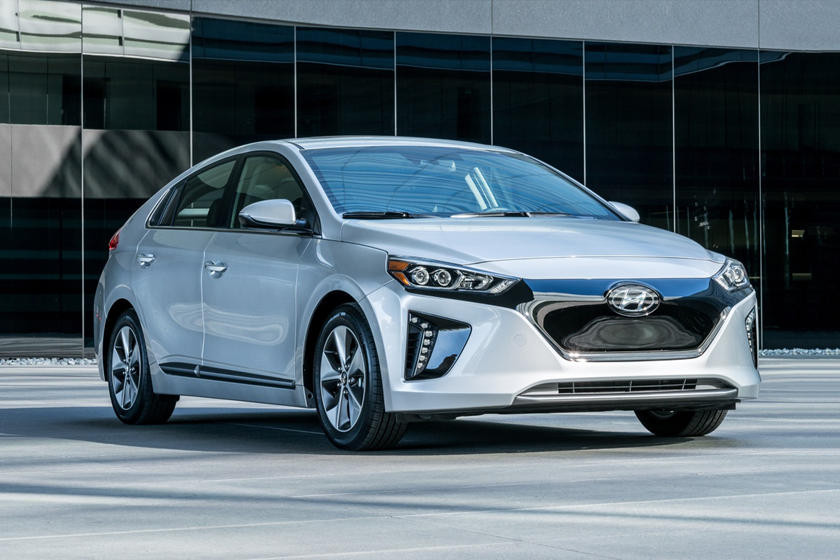 What We Liked
Good fuel economy
Decent-sized cargo area
Various standard features
What We Disliked
Pretty boring, performance-wise
Ratings based on the standard 2018 Hyundai Ioniq, 1.6L Automatic
City: 55 mpg
Highway: 54 mpg
Combined: 55 mpg
All things considered, the Hyundai Ioniq is a decent competitor to the Toyota Prius. It might not be a radical game changer like the Prius, but the Ioniq offers a decent price point, stylish design choices, and a pleasant ride experience. Standard hybrid Ioniqs come with a 1.6L engine with a 32-kilowatt electric motor, which offers a combined 139hp of power. You won't be revving it up down the roads, but you can definitely enjoy pretty smooth sailing and conventional handling qualities on a regular drive around town.
The standard Ioniq offers a good mpg rating of 55 combined, which isn't too shabby amid the sea of hybrids available these days. Most owners attest to the Ioniq's fuel economy, with some of them happily reporting figures above 55 mpg in some (overly optimistic, one might think) reviews. If you're lucky to snag the Ioniq Blue, you'll see fuel economy going up to 58 mpg combined, contrasting that to the 2018 Prius' own 56 mpg!
Review
Fuel Economy
Appearance
Features
Performance
2018 Toyota Camry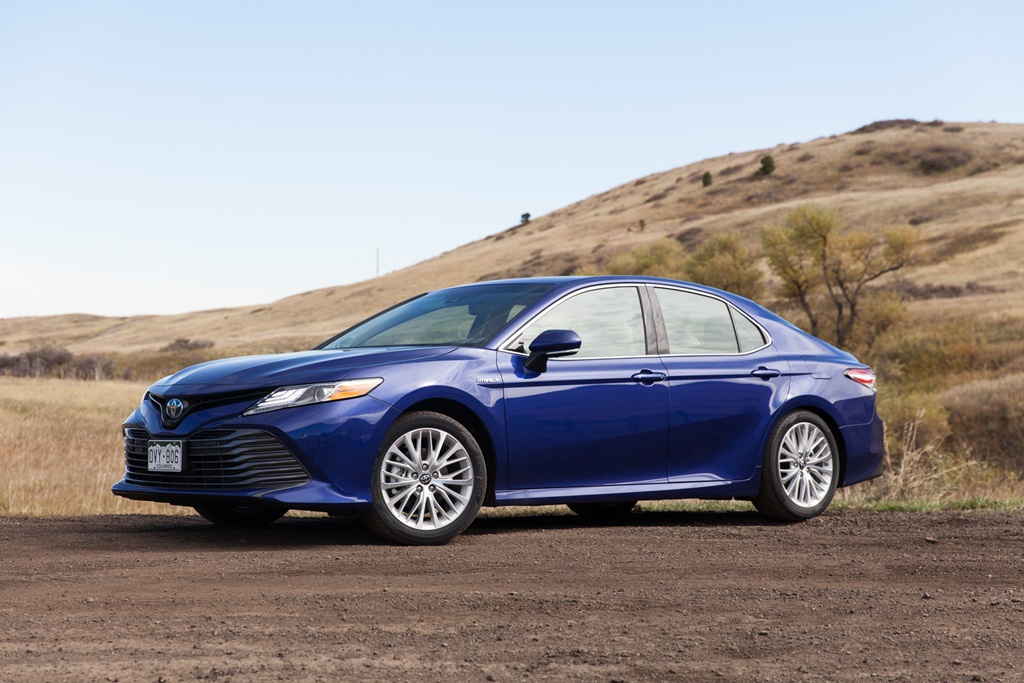 What We Liked
Decent fuel economy
Spacious interiors
Lots of standard features
What We Disliked
Very sensitive driving aids
Ratings based on the standard 2018 Toyota Camry, 2.5L Automatic
City: 29 mpg
Highway: 41 mpg
Combined: 34 mpg
A popular choice for its great reliability, the Toyota Camry consistently delivers on fuel economy without losing its classy charm. With the standard 2.5L four-cylinder engine, paired with an eight-speed automatic and delivering 203hp and 184 lb-ft of torque, the Camry delivers a surprisingly punchy yet pleasant ride overall. You'll go from 0 to 60 in a notable 7.9 seconds. Wherever you go in your Camry, you can expect a satisfying driving experience on almost any type of road. At the same time, its cozy interior offers ample cabin room, comfortable seats, and sufficient storage for a long-haul road trip.
On top of its well-known standard driving aids, the Camry delivers a decent 34 mpg combined rating despite not being a hybrid car. The Camry hybrids obviously deliver a higher combined mpg rating, but 34 mpg is still a good figure to achieve. In fact, some tests have found that the Camry can still easily provide up to 40 or more mpg without needing to be too conservative about driving. All these elements make for an excellent all-around performer well-loved by many Americans.
Review
Fuel Economy
Appearance
Features
Performance
2017 Chevrolet Cruze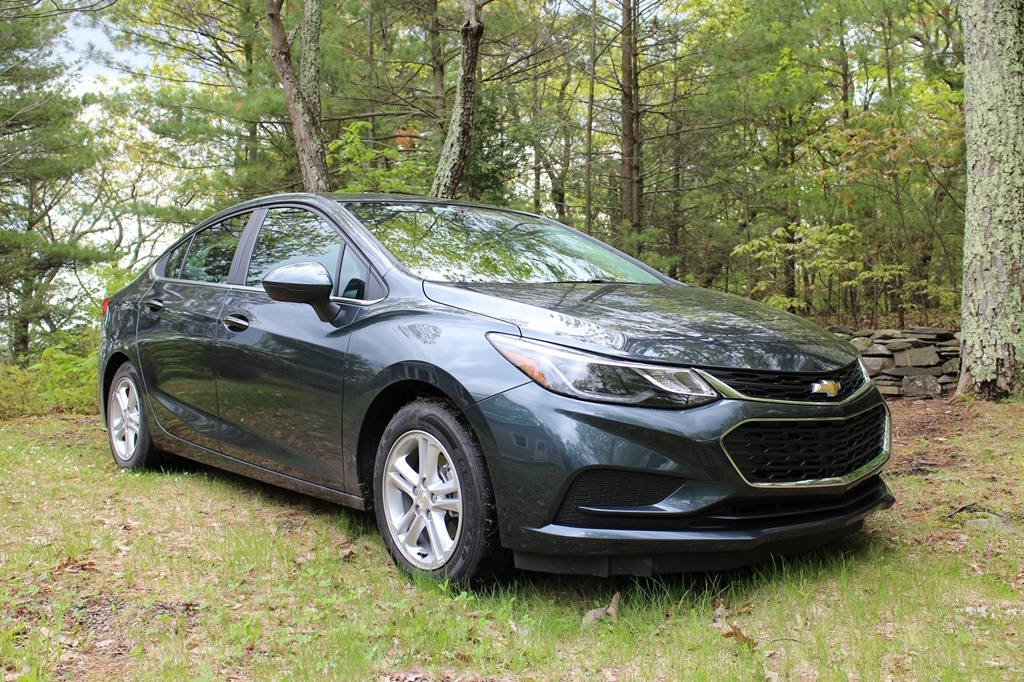 What We Liked
Surprisingly fuel efficient
Very comfy
Looks trendy
What We Disliked
Only 4-star safety rating
Ratings based on the standard 2017 Chevrolet Cruze, 1.6L 9-speed Automatic
City: 31 mpg
Highway: 47 mpg
Combined: 37 mpg
If you're looking for something American-made and isn't a hybrid, the Chevy Cruze turbo-diesel variant might be worth looking into. Unlike the standard trim with its 153hp turbocharged 1.4L four-cylinder, the turbo-diesel variant offers a turbocharged 1.6L inline-four that puts out 137hp and 240 lb-ft of torque. It might seem less beefy than the base trim, but you'll be shocked to find that the turbo-diesel Cruze has a highway mpg rating of 47 in contrast to the base trim's 39 mpg. Some test runs have found that, in some cases, you could exceed the 47 mpg rating and easily hit the 50s!
Fuel economy aside, you're still getting a sleek, feature-packed car for a good price. It handles itself rather well on the move, boasting smooth downshifts and a quiet presence even on long journeys. The lighter engine helps reduce the car's weight by 300 pounds, lending a hand to its braking and road-holding capabilities. Acceleration probably won't excite you as much. Still, everything else – including its upscale-looking cabin design, high-quality build, and a decent set of features – comes together to make the Cruze a competitive option worth buying.
Review
Fuel Economy
Appearance
Features
Performance
2019 Honda Insight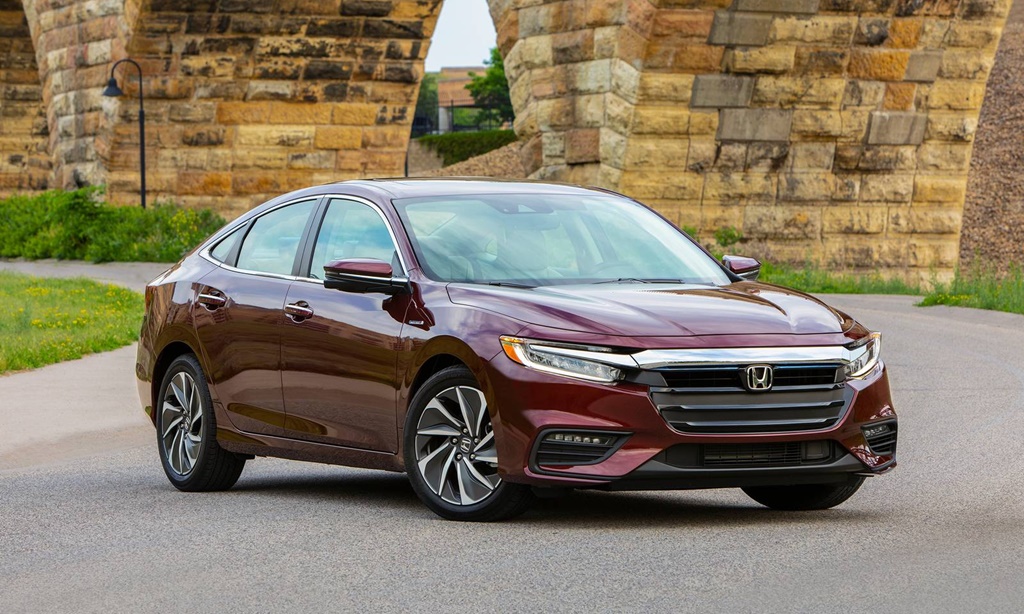 What We Liked
Notable fuel economy
Sharp, modern looks
Great value
What We Disliked
Noisy cabin while driving
Ratings based on the standard 2019 Honda Insight, 1.5L Automatic
City: 55 mpg
Highway: 49 mpg
Combined: 52 mpg
Honda's 2019 Insight is another astounding contender, most notably for its above-40 mpg combined rating. While the 52 combined mpg rating from the EPA does seem rather ambitious, the Insight's ability to hit 46 mpg from regular use is already impressive enough to save you plenty from refueling. The engine is a 1.5L inline-4 mated with an electric motor, producing an output of 151 hp and 197 lb-feet of torque; it goes from 0 to 60 in a decent 8.1 seconds, an average time for cars of its class. Still, for a hybrid to handle like a regular gasoline car is not something you can understate. You'll be confidently wheeling it around with notable precision thanks to its underlying similarities to the well-received Civic.
The Insight presents itself as a tame yet mature design, combining the best aspects of Honda's automobile innovations into a spirited machine. The smooth transitions between hybrid modes make the ride much more enjoyable. Though you'll have to bear with the noisy cabin when you're on the move, you can still enjoy a robust ride while seated in snug yet firm seats and a good amount of headroom, legroom, and storage space in the boot. What's not to love?
Review
Fuel Economy
Appearance
Features
Performance
2018 Lexus ES 300h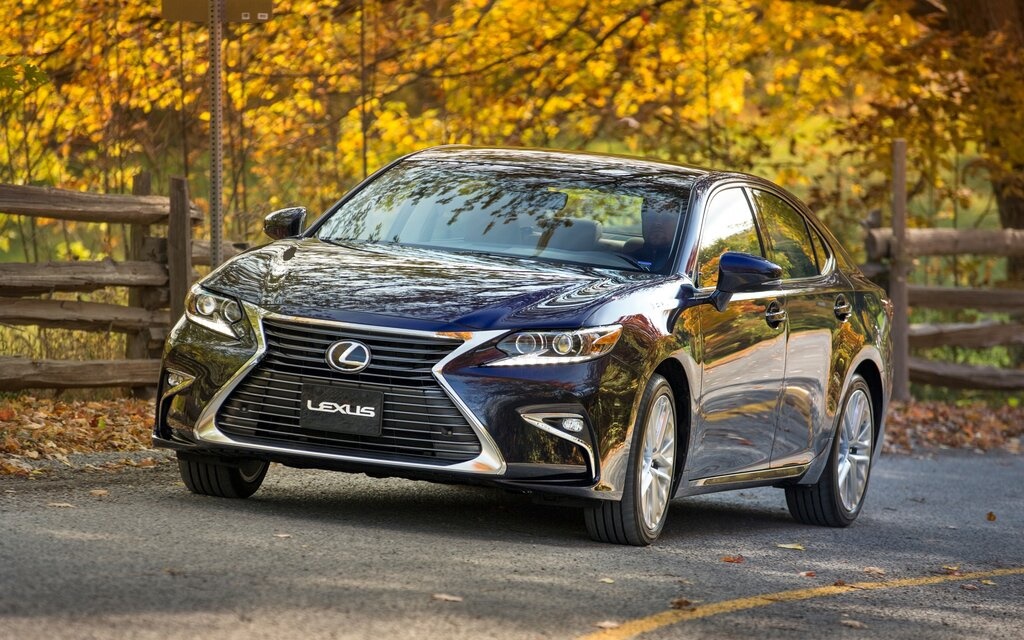 What We Liked
Good fuel economy
Luxurious interior offerings
Roomy, comfy cabin
Ratings based on the standard 2018 Lexus ES 300h, 2.5L Automatic
City: 40 mpg
Highway: 39 mpg
Combined: 40 mpg
For those who want to ride in exquisite style, a used Lexus ES 300h is a great and affordable pick. You'll be pleased with its luxuriant interior styling with the added benefit of a smooth drive experience for everyone on board. It comes equipped with a 2.5L four-cylinder engine and an electric motor that deliver a combined 200hp. You'll be cruising from 0 to 60 in a respectable 7.8 seconds – just a little faster than the Honda Insight. More importantly, you'll be cruising in quiet, pleasing comfort thanks to the cushy seats and a host of useful interior features. The rather confusing infotainment system could be better, however.
Higher trims do come with far more premium goodies to offer, so being able to snag one at a low price would surely be a huge boon. On top of that, you also benefit from Lexus' top-notch reliability; many owners agree it's a fun, relaxing vehicle to drive around for various reasons. Add on to its noteworthy fuel efficiency of 40 mpg and above, and you'll be hard-pressed not to turn down an offer on a used ES 300h.
Review
Fuel Economy
Appearance
Features
Performance
Saving: On Fuel Economy and Fraud
Everyone's looking to save more on fuel consumption. Buying a fuel-efficient car, even a used one, can be just what you need to save a couple of extra dollars per month on fuel costs alone. The U.S. Environmental Protection Agency's fuel economy reference site can give you some useful pointers, but your mileage may still vary (no pun intended). Various car reviewers will also factor fuel economy in their ratings; some even test a car's EPA rating against their standards to see how accurate the rating is. These could be helpful when you're researching a fuel-efficient used car for your needs.
Be sure that you also take steps to protect yourself from automotive fraud. Unscrupulous sellers can offer a deal you couldn't possibly refuse, but that's usually considered a major red flag. If something seems too good to be true, it probably is. Get a hold of the car's VIN and use it to perform a vehicle history report for additional checking. You might find that the car in question might be a lemon or stolen long ago. It's always important to keep yourself safe at all times.