Last Updated on July 24, 2023 by Calvyn Ee
Not long ago, used car prices saw an upsurge of 49 percent compared to prices back in June 2020, owing to a scarcity of newer cars for sale. With the direction of sales having turned on its head with the introduction of many new car models, used car prices are now seeing a marked reduction – a good time as any to snag a used car for a highly affordable price. It's not often that an opportunity like this appears to everyone's benefit.
While the price reduction is beneficial, some used cars may still be a ways above your budget, especially if you look at their mileage and general condition. Still, with patience and a keen eye, you might be able to snag a good used car for a low price. In fact, we're here to help you snag one! Here we have our list of the best used cars under 5000 that you can afford.
Our Review Criteria
Reliability
A reliable used car means it can take you from place to place with little trouble. As such, we only considered well-rated cars rated by previous owners and considerations from reputable sources such as JD Power.
Performance
We prioritize cars that offer a good balance of speed and handling so that you can get the most out of their overall engineering.
Appearance
Even years after their introduction, many used cars still maintain their trademark looks while bringing a certain retro factor to them.
Features
We focused on the important features every car needs, from safety tech to cargo space and more.
Going Through Our Picks for Best Used Cars Under 5000
2009-2013 Honda Fit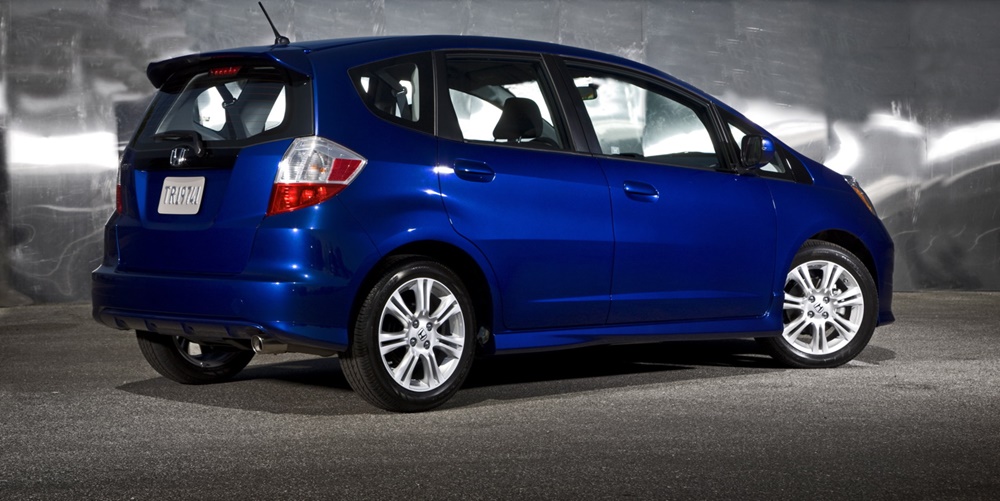 What We Liked
Handles fairly well
Good fuel economy
Good use of interior space
This subcompact hatchback is well-regarded for its impressive reliability. You'll easily see previous model year Fits zooming around the city owing to its status as a decent daily driver for couples or small families. It doesn't offer thrilling rides on straight roads, nor is it particularly quiet when you're on the move, but you're not buying the Fit for either of those reasons. One of its core strengths is how it maximizes interior space to provide a comfy seating arrangement for passengers while also having sufficient room for storing luggage or groceries. As befitting a Honda, it's also packed with useful safety tech and rated well with the National Highway Traffic Safety Administration (NHTSA) and the Insurance Institute for Highway Safety (IIHS). For a subcompact car, the Fit is a surprisingly versatile vehicle; it goes to show you can't judge a car from its overall size.
Review
Reliability
Performance
Appearance
Features
2006-2008 Acura TSX
What We Liked
Sporty look and feel
Very reliable with proper care
Handles like a champ
Since Acura is part of Honda's luxury division, having a top-of-the-line luxury sedan for under 5k seems like a good bet. With the Acura TSX, you'd be right! Sharing several similarities with Honda's ever-popular Accord model, the sleek first-generation TSX is an agile vehicle that handles itself impressively well even today. With a potent four-cylinder engine under its hood, the TSX's less-than-sporty aesthetic belies its formidable driving prowess, even if the ride quality can be a bit of a mixed bag. The interior space is rather small-ish but still comfy enough to accommodate four people; trunk space could also be a bit more generous (13.2 cubic feet). If you're lucky, you might be able to snag a TSX equipped with the optional manual transmission, helping to offer a little more zest when zooming along the highway.
Review
Reliability
Performance
Appearance
Features
2003-2008 Pontiac Vibe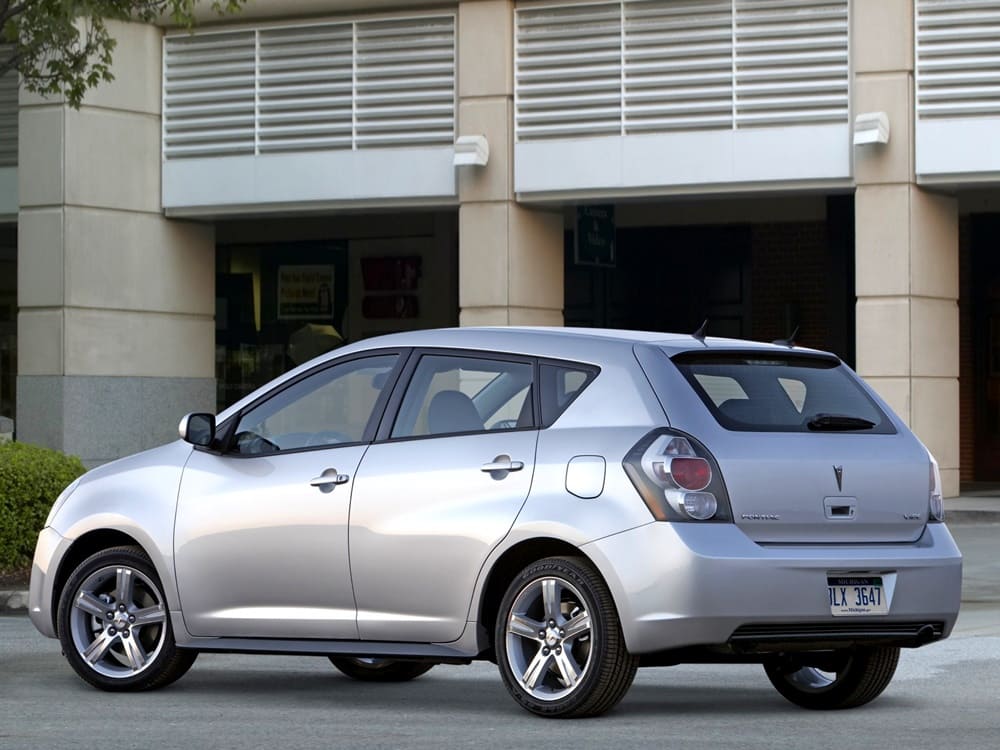 What We Liked
Great interior room
Toyota reliability
Impressive fuel economy
What We Disliked
Some missing safety features
Based on the well-liked Toyota Matrix, the Pontiac Vibe was a joint venture between General Motors and Toyota. While it has aged somewhat, the Vibe combines the form and function of a compact wagon, minivan, and sedan: its engineering takes advantage of this great mixture, with a small size that makes it easy to park in tight spaces, good maneuverability, as well as a comfortable ride from start to finish. 29 mpg combined is a fairly decent fuel economy rating, making for an economical drive for all your commuting needs. You also enjoy a good amount of passenger room on top of the spacious cargo space that goes up to 54 cubic feet with the rear seats folded. Safety features are lacking on base models, so be on the lookout for Vibes with the included safety options, such as stability control and antilock brakes.
Review
Reliability
Performance
Appearance
Features
1998-2011 Lincoln Town Car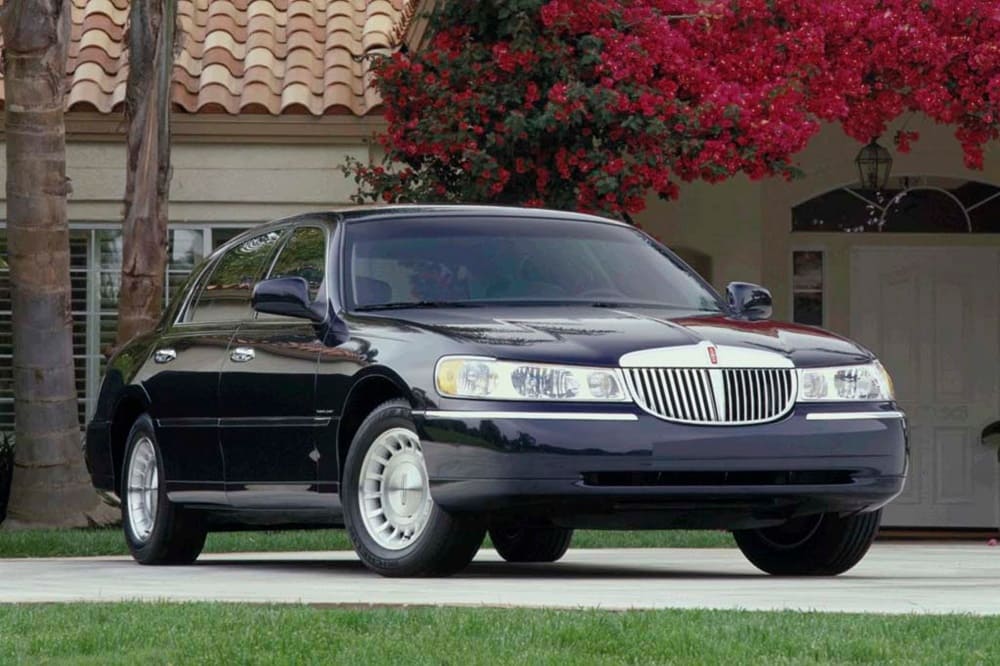 What We Liked
Huge interior
Very durable
Capable engine
Widely known as a tough, reliable full-size car, the Lincoln Town Car happens to share some mechanical bits with the equally durable Ford Crown Victoria. The third-generation Lincoln Town Car had a facelift that gave it sleek contours and some much-needed upgrades. The engine now made over 200hp and more than 280 lb-ft of torque, depending on the model year; it's not the greatest engine, with below-average acceleration and speed and poor fuel economy. If anything, you're buying a Lincoln Town Car for its sheer amount of space: up to five passengers can sit comfortably in its rather cavernous cabin, with plenty of legroom for the taller folks. Cargo space is also mighty generous owing to the Town Car's supremely long length, offering 21 cubic feet to stow your luggage and more. The large size does put a damper on overall maneuverability, though, as it'll be too big to squeeze into tight spots.
Review
Reliability
Performance
Appearance
Features
2009 Scion tC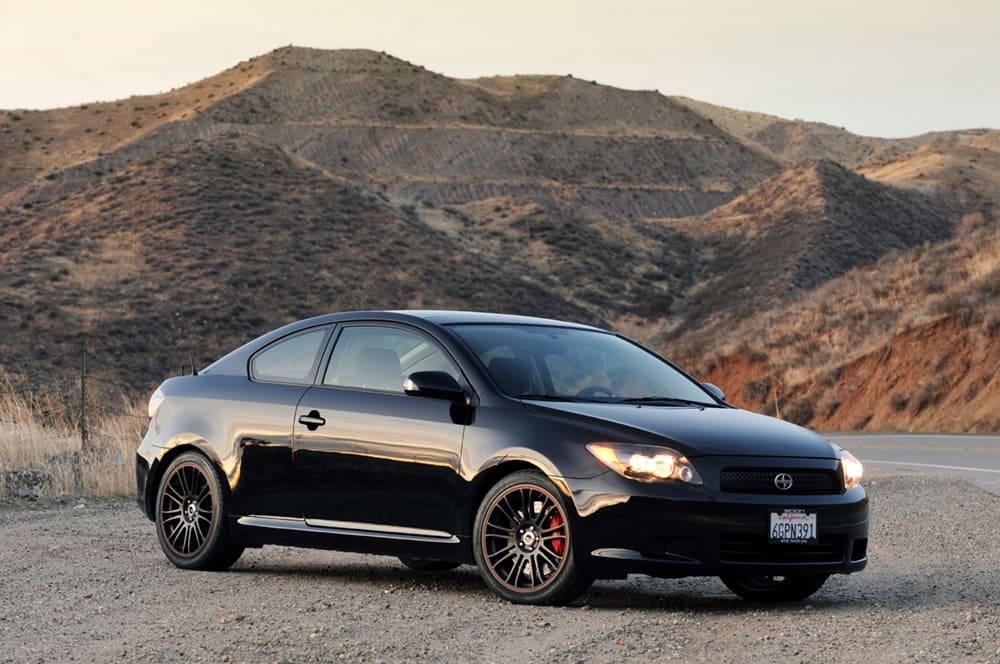 What We Liked
Great standard equipment
Great daily driver
Roomy cabin
This stylish hatchback coupe may have been discontinued after Scion was shut down, but you can still snag one from the used car market. Boasting great engineering specs and a potent 2.4L four-cylinder engine under the hood, the tC is a decently sporty speedster that provides an exhilarating ride. Acceleration isn't much, but the overall feel of driving is splendid, helped out by Scion's well-tuned suspension, grippy tires, and strong brakes, among other things. Inside, there's a fair amount of legroom for rear passengers and split seatbacks for comfy reclining, though headroom might be a little on the low side. As for cargo space, you can fit in 35 cubic feet of stuff with the rear seats folded. An extra bonus is the crisp Pioneer audio system, making for a musical journey for everyone inside. The tC was built as an affordable but premium-feeling car for those wanting a little zest in their drive, and it surely delivers even today.
Review
Reliability
Performance
Appearance
Features
2002-2010 Toyota Camry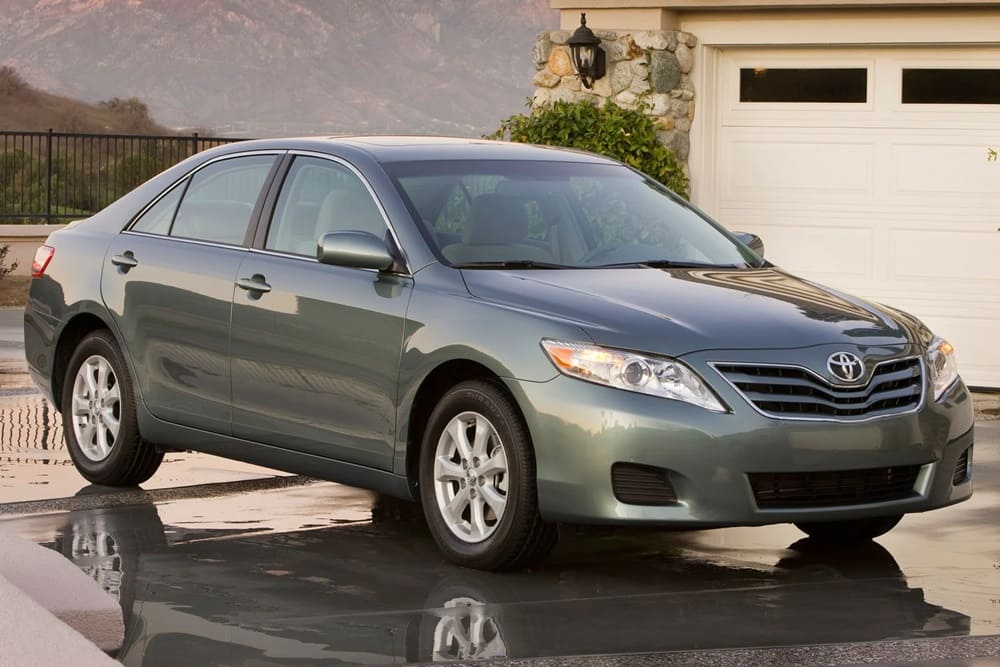 What We Liked
Top marks in safety
Good fuel economy
Cozy cabin
You can't go wrong with a classic like the Camry, one of America's favorite vehicles for its top-notch reliability. Featuring an array of standard features, the Camry sports a very fuel-efficient engine and a decent drive quality, leading to quiet but pleasant drives on city streets or even on the highway. Even if you picked the V-6 over the base four-cylinder, you'll enjoy a burst of speed and agility with little sacrifice to fuel economy. While it won't get you to places quickly, sure, it will take you places – and with peace of mind, too. Also, the cabin offers decently padded seats and a fair amount of cabin room, giving passengers sufficient leg and headroom. A lot of key safety tech is also standard, which is always good. Its popularity makes it fairly easy to find spare parts when needed, making long-term reliability a big selling point going in its favor. For 5k and reassurance that it'll last a very long time, the Camry is a solid choice for a used car.
Review
Reliability
Performance
Appearance
Features
2007 Audi A4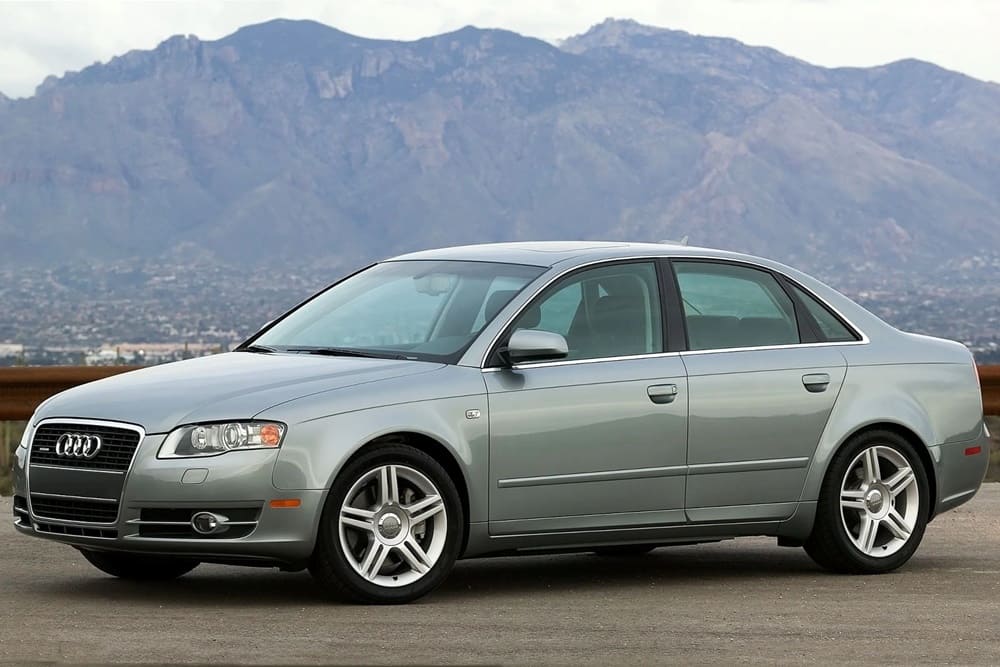 What We Liked
Excellent handling
Premium look and feel
Great safety offerings
Audi's A4 is a well-liked car that's been around since the mid-90s. It's available as a sedan, convertible, or wagon with two engine configurations: the 2.0T with a 2.0L turbocharged inline-four that's a little light on low-end torque and the 3.2 with a solid 3.2L V-6 making 255 hp and 243 lb-ft of torque. The 2.0T is a safe bet for decent performance and fuel economy, while the 3.2 is a good choice if you want something a little peppier. Regardless of your choice, the A4 delivers a fun drive with its agility and impressively confident handling characteristics, enhanced by the popular Quattro all-wheel drive system. In terms of safety, the A4 also rates well and comes with a suite of standard safety tech for your ease of mind. As with any Audi, the interior is furnished with premium materials, though the seats might be a little firm for some; your mileage may vary. Ultimately, the A4 is a great pick if you want to make strides in a sporty, luxury car – and for under 5k, too!
Review
Reliability
Performance
Appearance
Features
2010-2012 Mazda 3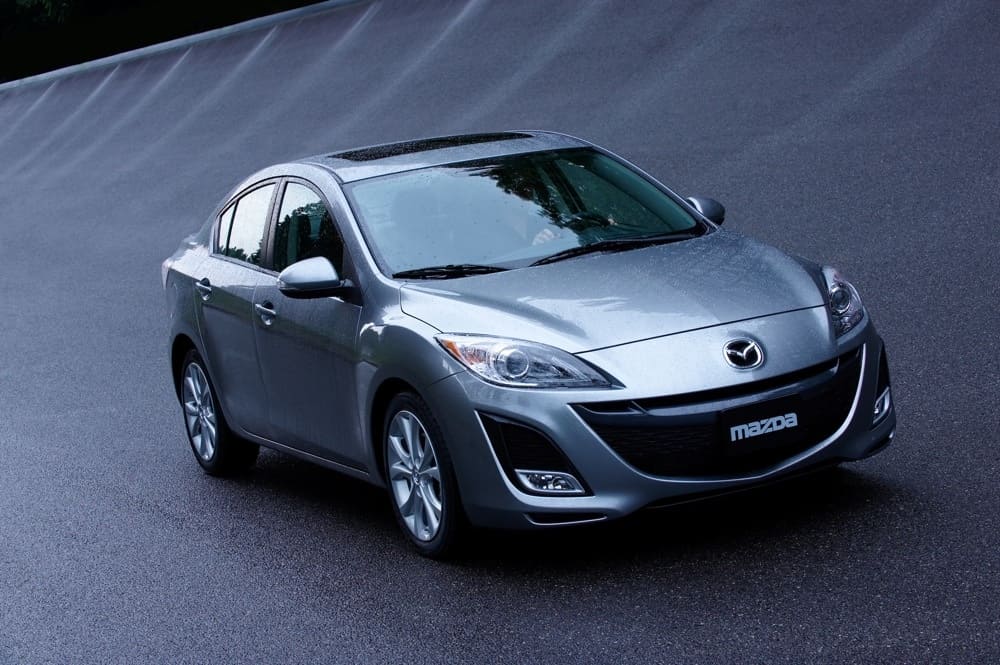 What We Liked
Athletic traits
Luxuriant experience
Good fuel economy
A step up from the original bestseller, the Mazda 3 returns with a retuned suspension and high-strength steel in its chassis to improve its ride quality. While there are occasions where it still feels firm, the Mazda 3 delivers a polished, athletic performance, helped by all the modifications made from the original release. You'll feel more confident taking corners and turns while behind the wheel. On top of its great driving characteristics, the interior continues to deliver a highly premium feel: quality upholstery, lots of passenger space, decent cargo room (especially for the hatchback version), and a host of useful features and safety aids. It's not hard to think you've snagged a top-of-the-line luxury car and paid the associated bill. The control scheme might take a while to get used to, but at least the controls are easy to reach. Like the Audi A4, the Mazda 3 is yet another fine choice for owning your own luxury-quality car below 5k.
Review
Reliability
Performance
Appearance
Features
Getting Your Hands on a Used Car
Buying a used car is not straightforward, especially if you've never bought one. It's easy to think that it seems easy, but it goes beyond visiting a used car dealership and picking the car you want. With automotive fraud still a prevalent concern, what guarantee do you have that you're not being played for a fool? It's easy for scammers to come up with a false vehicle history report and then give it to you free of charge, and you would be none the wiser to their schemes.
With a vehicle history report in your hands, you'll have a much-needed insurance policy for picking the right used car for you. Here at VinFreeCheck, our free license plate lookup system easily provides you with a comprehensive report on a used car's particulars, all within a matter of moments. You might find that the used car that's had you hooked actually uses a completely different VIN; the actual car whose VIN you were given is an entirely different vehicle! With how easily scammers can fool potential buyers, you should never let your guard down!