Last Updated on November 15, 2022 by Calvyn Ee
V-6 and V-8 engines get a lot of attention due to the sheer horsepower they bring to any car that houses either engine. That's not to say that 4-cylinder engines aren't good enough to meet any enthusiastic driver's requirements; many 4-cylinder engines are just as capable of delivering strong, athletic ride qualities and horsepower that goes above the 300 mark. Popular automakers like Porsche, Alfa Romeo, and BMW are no slouches in the 4-cylinder department.
Besides, having an engine like a V-6 or a V-8 means you'll need to pay more to get one. Why not settle for something within your price range but remains a potent engine selection? Here are our picks of the best cars with 4-cylinder engines that will satisfy your speedy needs.
What We're Looking For
Performance
4-cylinder engines are competitive enough to offer an exhilarating drive even if they're nowhere as powerful as a V-6 or a V-8. When they take their Alfa Romeo Giulia out for a spin, you won't hear anyone complain.
Reliability
Not only are 4-cylinder cars fast, but they also need to be reliable. We refer to JD Power and other reputable sources to determine what makes a good 4-cylinder car.
Appearance
Combining great interior touches and bold exterior styling can make any car a real looker.
Features
Whether it's a host of top-notch safety features, high-tech infotainment systems, or decent cargo space, 4-cylinder cars have many fun features for any driver.
Reviewing Our Picks of the Best 4-Cylinder Cars
2022 Honda Civic Si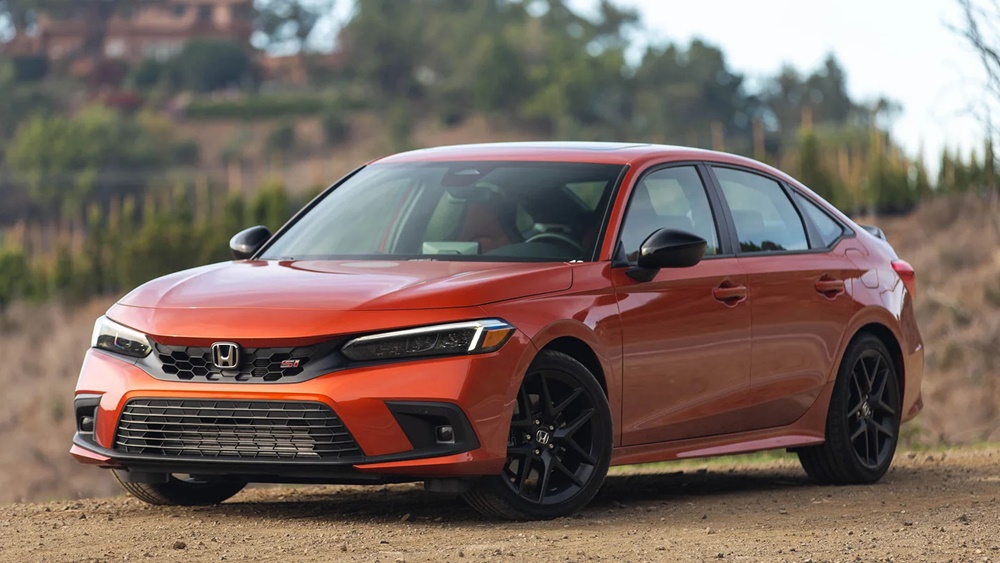 What We Liked
Excellent handling
Decent fuel economy
Highly configurable
The Honda Civic Si is an affordable option that squeezes in a modest but capable 4-cylinder engine. With the price of the equally performance-oriented Civic Type R going up, the Civic Si is a great alternative for those looking for a zoomer while on a budget. The engine is a 1.5L turbocharged inline-4, packing 200hp and 192 lb-ft of torque between 1,800 to 5,000 RPM, while paired to a six-speed manual. It's 5hp less than the previous model, but it makes up for that drop with earlier torque delivery and peak horsepower going up to 6,000 RPM. Coupled with a limited-slip differential sending power to the front wheels, a firmer suspension, and a rev-matching capability for smoother shifts, you have a formula for a very slick, composed ride with impressive handling on the road. Even when turning corners, the Civic Si delivers a thrilling experience. Some might find the engine a little lackluster, but despite the smaller engine characteristics, the overall engineering all comes together to leave a strong impression.
While it still shares some of the base Civic's caveats, like how easy it is for external noise to fill the cabin, the Civic Si remains a decent feature-filled car in line with Honda's reputable reliability. It comes with the Honda Sensing suite of driver-assistive and safety technologies, including forward collision warning, adaptive cruise control, lane departure warning, and even a new rear seat warning. Speaking of seats, the Civic Si has a good amount of room for passengers, while front seats offer good padding and support for comfort. The stiffer suspension affects overall comfort levels, but it manages to smooth out most bumps on the road, which is a small blessing. Meanwhile, the trunk holds a generous 14.4 cubic feet, losing out mostly to hatchbacks, but it gets the job done. For something below $30k in price, the Honda Civic Si provides a well-performing sports sedan that hits all the right notes for even hardcore enthusiasts.
Review
Performance
Reliability
Appearance
Features
2022 Audi S3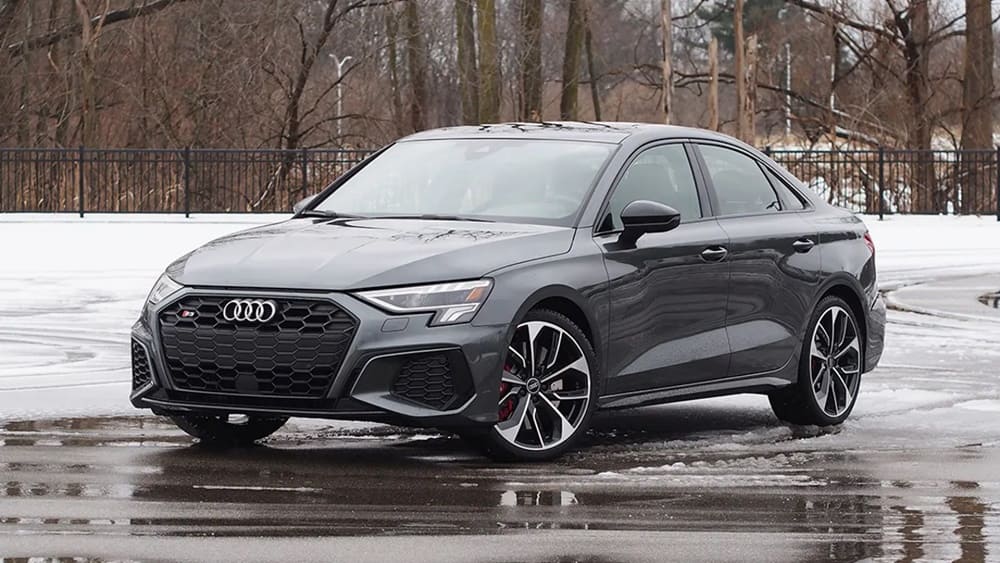 What We Liked
Potent engine
Stylish design
Very comfortable
The luxurious Audi S3 is a compact sedan flush with both performance power in its 2.0L four-cylinder engine that makes 306hp and 295 lb-ft of torque, 18 hp and 15 lb-ft higher than the previous model. Audi has a good reputation for making classy cars with great overall handling; this one is no exception, a far more capable road runner than its A3 cousin. In terms of straight-line acceleration, the S3 goes from 0 to 60 in under 5 seconds, marking a significant upgrade in terms of agility. The engine doesn't hesitate, allowing drivers to put it through its paces, whether breezing down a twisting road or hustling it downtown. To make it more attractive, Audi's stellar Quattro all-wheel drive system is standard on the S3, giving the overall ride with a smooth-shifting, seven-speed automatic transmission, a finely tuned suspension, strong brakes, and excellent steering (though you might find the steering wheel a little heavy).
With such a great engine under the hood, what about the interior? As befitting an Audi, even an entry-level model (can you believe that the S6 is considered an entry-level Audi?), comfort and style are all priorities. You can expect sportier, comfortable seats with great padding; rear passengers may be a little snug, especially taller passengers. Meanwhile, cargo space is a measly 10.3 cubic feet, but you can fold the rear seats for more room if needed. The control scheme is clean and well thought out, while the infotainment system works like a charm and comes with Apple CarPlay and Android Auto. If you enjoy music on your rides, consider the optional Bang & Olufsen audio system for its crisp sounds. Lastly, many key safety features are standard, but some techs are locked behind an optional paywall; it might be worth the investment. But for one of Audi's more affordable lineups, the S3 is a brilliant powerhouse in its own right, giving rivals a run for their money.
Review
Performance
Reliability
Appearance
Features
2022 Ford Mustang EcoBoost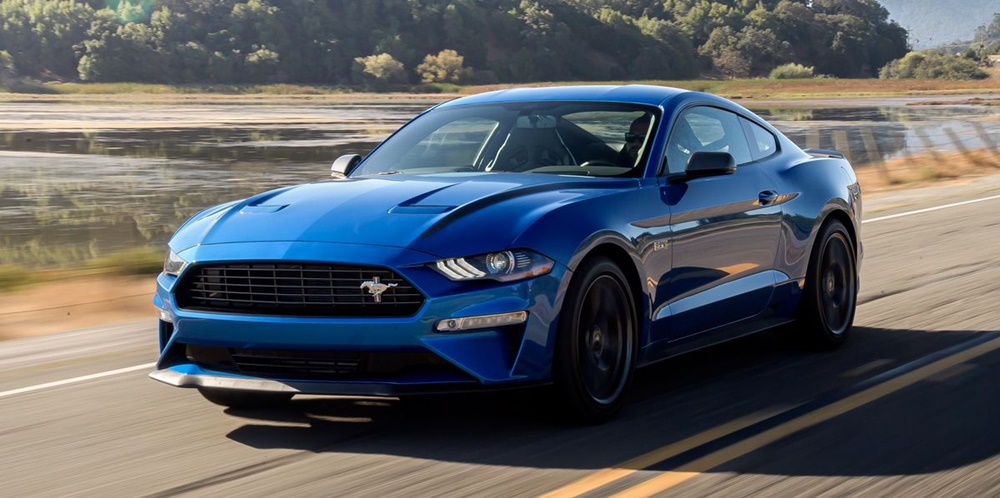 What We Liked
Great agility and handling
Timeless design
Strong performance packages
The Ford Mustang's reputation is well placed as one of the most prominent muscle cars of all time. The Mustang epitomizes the pinnacle of sports car engineering, thanks to its iconic design and powerful engine lineup. The EcoBoost is no exception, even if it might not be as booming as its more powerful variants. With a 2.3L turbocharged, four-cylinder engine delivering 310 hp and 350 lb-ft of torque, you'll hit the 60mph mark in 6 seconds or so with the six-speed manual (slightly under 6 with the 10-speed automatic). It's nowhere as exhilarating as going from 0 to 60 in 4 seconds or so, but what the EcoBoost lacks in raw power, it makes up with adroit handling, especially with turns, and better long-term fuel economy. All this for $30k seems like a dream, but it's true. However, if you want more than that, opt for the High-Performance and Handling packages: you'll get a retuned engine that delivers 330hp, 19″ wheels, Brembo brakes, and a leather-wrapped steering wheel, among many other things. There are so many goodies you can get to upgrade your performance significantly.
The one gripe is that the interior isn't all that impressive. The rear seats will be a little cramped for most adult passengers, while the base seats aren't all that comfy unless you opt for the EcoBoost Premium and get the power adjustments and leather upholstery. Meanwhile, the control layout is solid, while the infotainment system is basic but highly functional and easy to use (which is always a plus point). Standard safety features are equally impressive, featuring automatic emergency braking, active lane control, blind-spot monitors, and automatic high beams – all of which do a fine job at keeping you safe on the road. Lastly, storage is understandably a little lacking: cargo space in the trunk is 13.5 cubic feet of cargo space, while small item storage is average but somewhat helped by the large center-console bin. Compared to beefier, more expensive rivals, the Ford Mustang EcoBoost is a formidable choice for speed, good road mannerisms, and serviceable fuel economy.
Review
Performance
Reliability
Appearance
Features
2022 Porsche 718 Boxster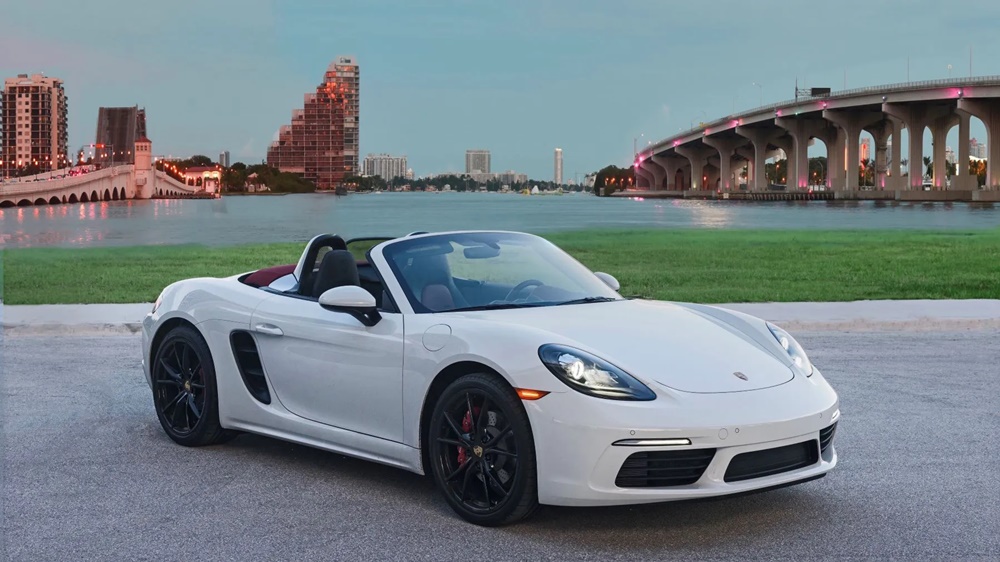 What We Liked
Powerful 4-cylinder options
Amazing handling
Premium feel
Want something more elegant for cruising at high speeds? You can't go wrong with a Porsche, and the Boxster model has two 4-cylinder options worth your time. The base engine is a 2.0L turbo-4 rated at 300 hp and 280 lb-ft of torque, sprinting the car to 60 at just below the 5-second mark. For some folks, the base engine's nowhere compared to the 6-cylinder it used to mount (an optional flat-six boasting more power is available); enthusiasts may go as far as to suggest the engine lacks that sonorous thrum the old engine made. If you want something more potent, there's the optional 2.5L turbo-4 found on the S models, which makes 394hp; it does help add to the thrill of driving a Porsche. On top of the engines, you can opt for the standard six-speed manual or a seven-speed automatic, which does offer smoother gear shifts. Whatever choice you make, the base Boxster still offers a joyous ride from start to finish: it steers like a champ, tackles corners like it was nothing, and with adaptive dampers and the optional torque-vectoring rear differential, enjoys even better handling characteristics with great feedback to boot. It's no wonder why Porsches are (almost) every collector's dream car.
It's not a Porsche if it doesn't also exude classiness with its interiors. Do note that the Boxster is suitable for only two people, so don't expect hitchhikers. Seats are spacious and comfortable enough for any driver (and front passenger); leather upholstery is standard, though posh options are also available if you're keen on a more premium feel. Interior touches are also splendid, even if there are some plastics here and there; alternatively, you can cover up some areas with leather or other materials, depending on your budget. As befitting a two-seater, cargo space is paltry at only 9.7 cubic feet – the Audi S3 definitely looks better in comparison. Some safety features are present, such as airbags and rear parking sensors. Unfortunately, key features like automatic emergency braking are locked behind an optional package (which kind of sucks). Still, a Porsche is a Porsche, a thing of beauty that comes at a price. And if you can afford that price, it's a hell of a fine roadster.
Review
Reliability
Performance
Appearance
Features
2022 BMW 3-series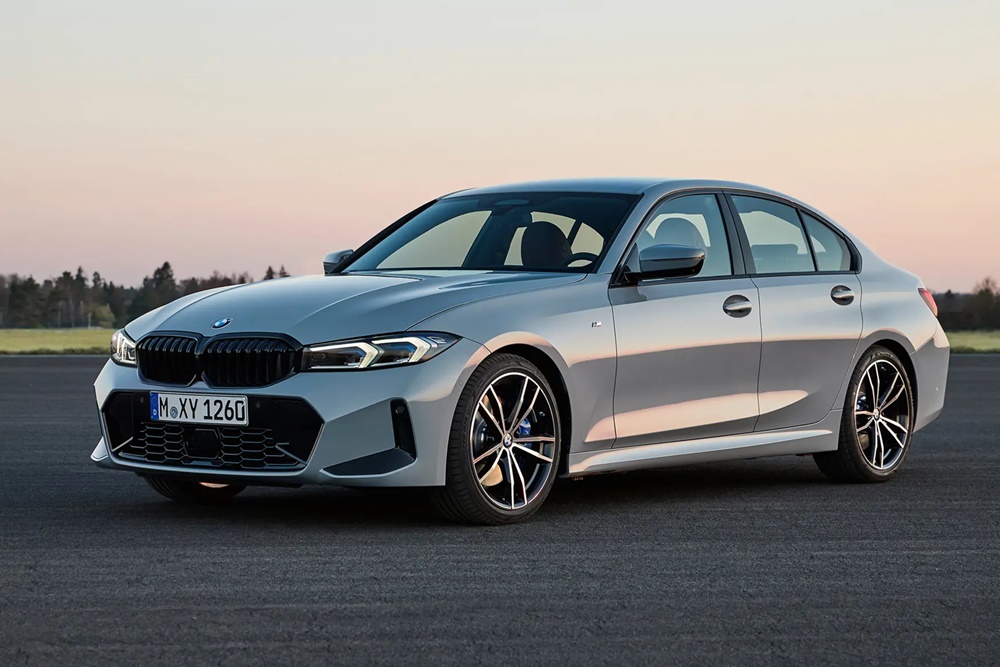 What We Liked
Distinctive BMW style
Strong powertrains
Highly configurable
What We Disliked
Tech features are lacking
BMW offers several excellent deluxe-looking cars in the 3-series lineup, but we'll focus on the 4-cylinder 330i and 330e models. The 330i mounts a 2.0L turbocharged inline-4 that produces 255 hp and 294 lb-ft of torque and is paired with an eight-speed automatic. This engine allows the 330i to cruise to 60 in under 6 seconds, outpacing previous generations by a wide margin. As for the 330e, you're getting a plug-in hybrid powertrain – a 2.0L turbo-4 paired with a 111hp electric motor, cumulatively making 288 hp and 310 lb-ft of torque. Thanks to this arrangement, you're getting 23 miles of electric driving and decent fuel economy, and the Xtraboost function helps add some power to your drive. The 3-series' handling has always been a class leader, so much so that the engineers didn't think they needed to improve on it. As such, both these models offer smooth gear changes, effortless handling on highways or in the city, and confident brakes and pedals. The 330i might be the ideal choice if you're all about speed; the 330e can be rather iffy when it comes to going full throttle.
BMW spares no expense on the premium feel of its interior, but some odd choices do leave much to be desired. Sure, the seats are well-padded and are very comfortable, with rear seats offering good amounts of head and legroom. The cabin is also nice and quiet when you're moving, and the ride is pleasant enough with the standard suspension (the M Sport package offers a sport-tuned suspension but leads to a rather harsh ride quality). However, you'll end up scratching your head when you get to the tech. For one, the infotainment system is a jumble of menus to navigate, while the button layout isn't easily identifiable by touch alone. On safety, the 3-series has a few features, such as forward-collision warning and automated emergency braking; however, many more are walled off in a paid optional package. Why these aren't made standard, like in many competitor models, is a mystery to us. If you can overlook these gripes, the 3-series is still a brilliant, high-quality car you ought to be driving – even if rival offerings present more overall value in some areas.
Review
Reliability
Performance
Appearance
Features
Getting Your Hands on a 4-Cylinder
As these cars prove, you don't need to splurge tens of thousands for the meanest V-6 or V-8 engines to go fast. Each car offers a variety of special features that make them unique, and even if these might not impress, you still have other cars you can choose from. Moreover, you don't need to spend more on the latest model when a used car of a previous model year can still impress despite its age. Take the Ford Mustang, for example: it's got a long and illustrious history, and Ford enthusiasts do what they can to keep their favorite Mustangs running in optimal condition. You could always get a pointer or two from the fans, or maybe get directions on owning one at a decent price.
Used car shopping can be tricky, though, especially if you're new to it. You'd want to ensure that a potential deal isn't a scam, but you might be deceived easily if you don't know what red flags to look out for. Automotive fraud is still a growing trend, and it could happen to you. Protect yourself by obtaining a detailed vehicle history report, which tells you everything you need to know about a particular car. You might be able to prevent yourself (or even a close friend or loved one) from falling victim to a scam, losing a lot of money and peace of mind. Here at VINFreeCheck, we can help you: use our free VIN or license plate lookup system to get a comprehensive report on a car's particulars.