Last Updated on July 24, 2023 by Calvyn Ee
What do you look for in a sedan? Do you prefer having a roomy cabin, a premium look and feel, and good performance traits? Even as sedans continue to wane in popularity in favor of the extensive utility of SUVs, you'll still find some automakers continue to invest their time and effort to build not only luxuriant cars of an impeccable pedigree but also add numerous elements to make them feel that much better to drive in: be it additional comfort, extra tech features, or even a redesign of a classic look to something more elegant.
Here's our pick of the five best midsize luxury sedans you can get your hands on today, all of them combining form and function in a great package.
What Goes in our Ratings?
Performance
Luxury isn't just about riding in style or going fast in a few seconds. It's also about enjoying a pleasant drive quality from start to finish, helped by well-tuned handling in its engineering.
Appearance
Aesthetics are a significant point in a luxury car's popularity, whether from an automaker's trademark touches or a bolder, modern, or futuristic approach.
Features
Luxury cars always come laden with the best tech they can offer, from much-needed safety features to extra creature comforts.
Reliability
Luxury cars don't just score well for looks, they're also dependable on the road. Our reviews consider feedback from current and previous drivers and ratings from reliable sources like JD Power.
The Best Midsize Luxury Sedans For Your Perusal
2023 Audi A6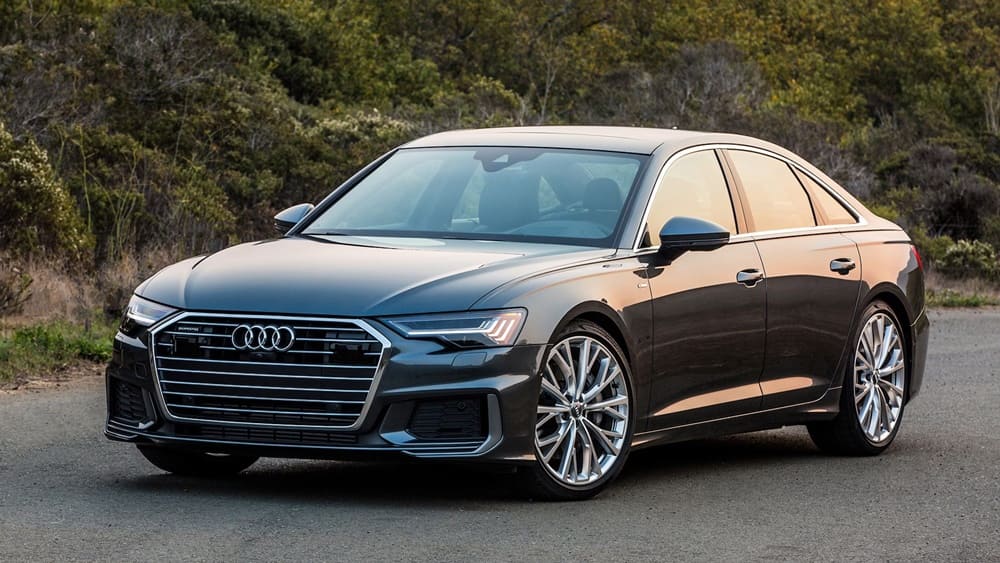 What We Liked
Packed with tech
Posh, comfy cabin
Handles like a champ
Offering a solid balance of power and poshness, the Audi A6 comes in two powertrain flavors. The base model gets a 2.0L turbo-4 with 248hp, while the higher trims get a turbocharged 3.0L V-6 that makes 335hp; both pair to a seven-speed dual-clutch automatic gearbox. In conjunction with standard Quattro all-wheel drive, the A6 makes for a speedy yet refined roadster, hitting 60mph from rest in only 4.8 seconds (for the V-6 version) while offering impressive steering and braking response. It's nowhere as performant as its muscular S6 cousin, but it does a good job of balancing fun and usability. The optional sports suspension might appeal to sporty drivers, but it does create a stiff ride that most might not find enjoyable. Meanwhile, the A6's interior offers superior finishes and design choices, including lavish cabin trappings, posh and comfy seats, and a host of standard tech features, such as automatic emergency braking and lane departure warning; adaptive cruise control is an optional feature worth the money. The included tech in the front might be a little daunting to navigate at first, but the system is fairly intuitive, and you'll quickly be accustomed to it in no time. The A6 also creates a futuristic vibe through the high-tech infotainment system, especially if you take up the available Virtual Cockpit configurable instrument cluster that presents helpful information within your field of view. Overall, the A6 is a well-built luxury vehicle that will surely satisfy your desire for speed and opulence in one fancy package.
Review
Reliability
Performance
Appearance
Features
2023 Genesis G80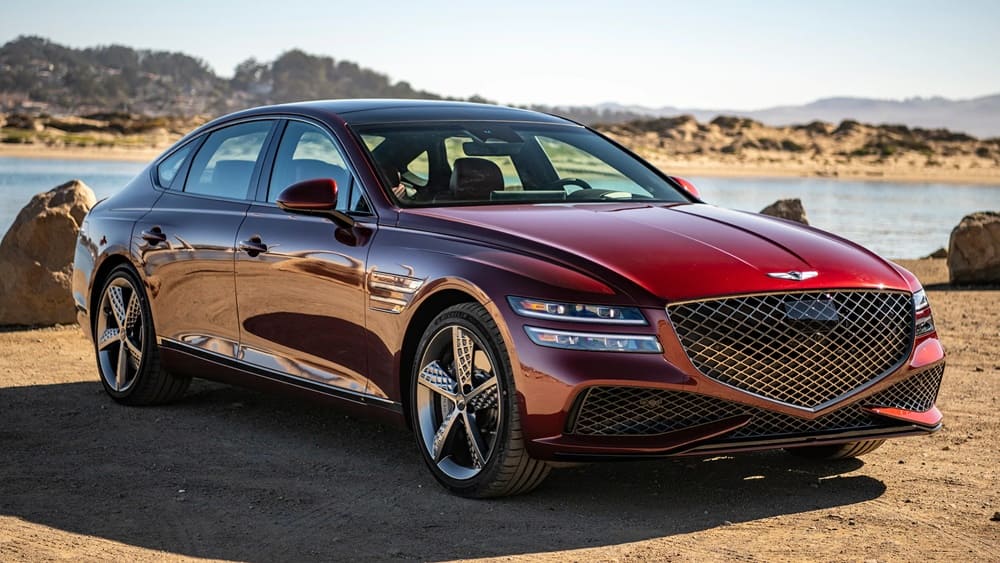 What We Liked
Great handling
Plush interior
Lots of features
Genesis' lineup has always managed to ooze style and substance with minimal effort. The G80 continues that trend, offering a sleek design mixed with excellent performance and handling. Base trims come armed with a 2.5L turbo-4 that puts out 300hp, while higher trims like the G80 Sport come with the 375hp twin-turbo 3.5L V-6 engine. Both engines help the G80 feel like a spry roadster while already boasting top marks with its easy yet accurate steering, well-built suspension, and smooth transmission shifts. It might not be as athletic as some rivals, but the G80 nonetheless delivers when it's going down the street or taking corners. The adaptive suspension (optional on base models) might be to your liking for a stable ride, but it might not be the smoothest of rides. Step into the upscale cabin, and you'll be impressed with how adjustable the driver's seat is, aided by comfy and well-padded seats for all passengers and a plethora of pleasing design touches that emphasize Genesis' luxury branding. Headroom might be tight for taller passengers, but there's a sizeable amount of legroom to work with. It gets a little tight if you squeeze three folks in the back, so take note. Tech features are pretty good, with a 14.5-inch dash-mounted touchscreen that accepts voice commands, but its far placement from the driver takes a stretch to reach it. Safety aids include automatic emergency braking, adaptive cruise control, and blind-spot monitors, to name a few; additional features like a surround-view camera system are also available for certain trims. Considering the G80's somewhat limited rear view, the cameras will be particularly useful. But on the whole, you can't go wrong with this premium sedan and all it has to offer.
Review
Reliability
Performance
Appearance
Features
2023 Lexus ES350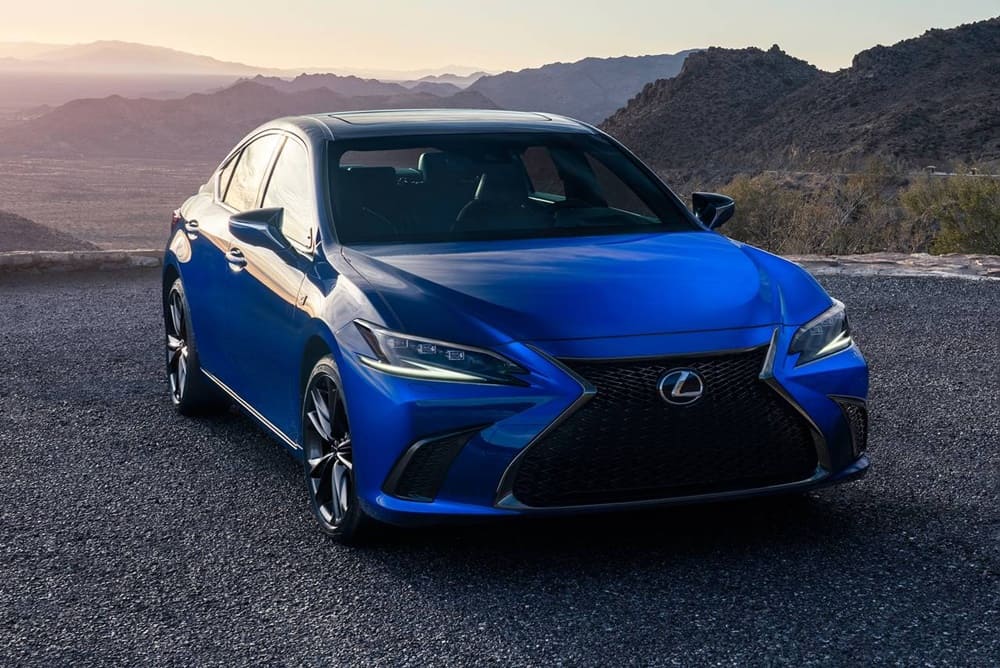 What We Liked
Good ride quality
Comfy interior
Very fuel efficient
The ES lineup has a few models for you to choose from, including the gas-only ES350 that mounts a potent 3.5L V-6 under the hood and is paired with an eight-speed automatic. With 302 hp and 267 lb-ft of torque, it quickly pushes the 3,700lb sedan up to speed, though nowhere as powerfully as rival sedans. Power it might lack, but it bounces back with composed handling and a refined engine. Of particular note is how the ES350 offers a sublime ride quality from start to finish, helped by a front and rear independent suspension system and several drive modes you can choose from to tailor your drives. The ES350 can drive over potholes and bumps, and you wouldn't even notice it; even as you're blazing down the highway, you'll notice how smooth the ride feels. The interior may not be as posh as a Mercedes or a BMW, but it provides supportive seats, quiet rides, and lots of space for child safety seats. Moreover, everything feels very well put together, which is always a plus point. Legroom goes up to 39 inches, which is a decent amount of space, but the rear will comfortably seat two instead of three. Safety techs include automatic emergency braking, adaptive cruise control, and active lane control; additional packages offer a surround-view camera system and head-up display, but you can expect to pay more for those. All in all, the ES350 might just be for drivers who emphasize driving comfort over athleticism.
Review
Reliability
Performance
Appearance
Features
2023 Mercedes-Benz E450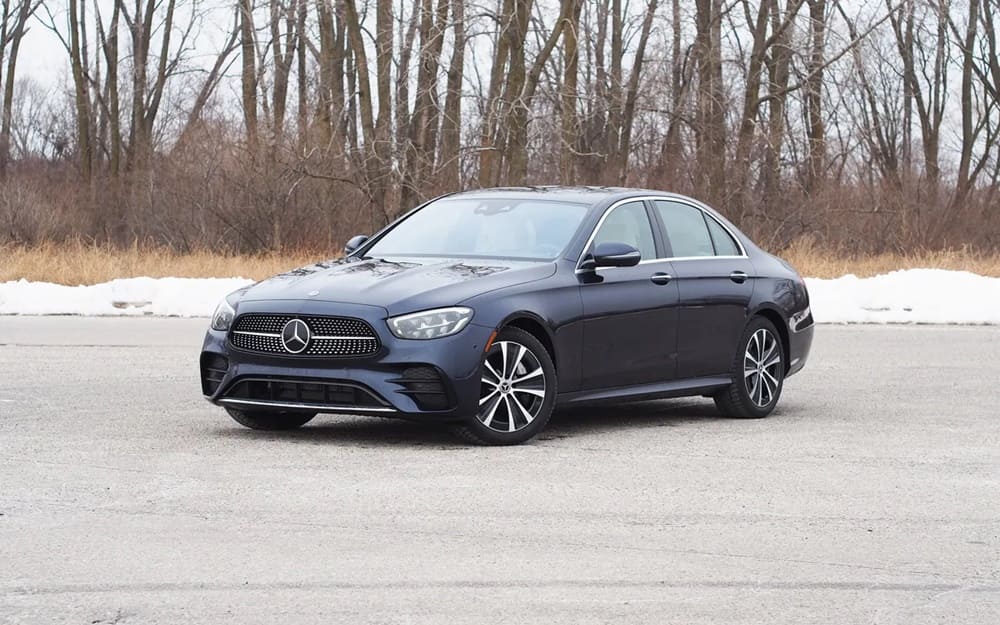 What We Liked
Luxuriant look and feel
Solid performance ratings
Plenty of top-dollar features
What We Disliked
Pricey as you go up the trims
What's interesting about the E-class is how it can be acquired in one of four different styles: a sedan, a coupe, a cabriolet, or a wagon. Naturally, we'll focus on the E450 in sedan configuration, equipped with a potent 3.0L inline turbo-6 and a mild-hybrid motor system that sends 362hp and 369 lb-ft to all four wheels. Despite the presence of the hybrid motor system, the E450 goes fast: 0-60 in only 4.9 seconds is a commendable time. In fact, it even outpaces the cabriolet and wagon versions owing to the extra weight of the latter vehicles. Overall, the E450 steers accurately and does fairly well at taking corners without issues, though braking performance is lacking. The drive-mode selector gives some additional options with how you want your ride to feel, accommodating most drivers' needs. The E450 does come with an optional 4Matic all-wheel drive if that tickles your fancy. On the inside, the E450 excels at delivering a premium experience. You've got firm but comfortable padding, a very quiet cabin, and top-notch climate control systems, to name a few: it pretty much offers everything you'd ever want in a luxury car. While the rear passenger area is spacious enough, the small 13.1 cubic feet trunk will disappoint; at least you can fold the rear seats for more cargo space. The cabin tech also shines, owing to some much-needed upgrades over the previous model, so you can expect smartphone integrations, an intuitive control scheme, and more. As for safety, driver-assist aids include automated emergency braking and blind-spot monitoring, but many others will cost extra. If you're in the market for something elegant and highly functional, the E450 might do the trick.
Review
Reliability
Performance
Appearance
Features
2023 BMW 540i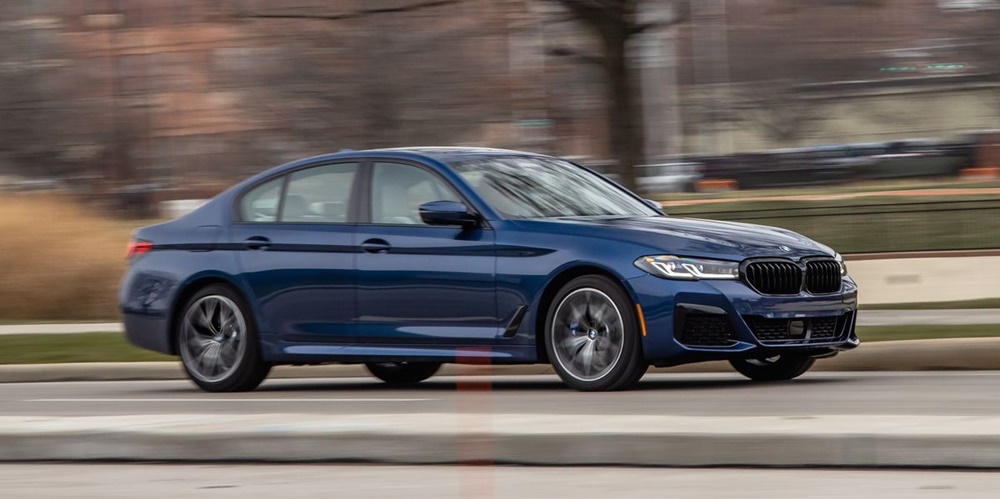 What We Liked
Excellent handling
Stylish, comfy cabin
Decent fuel economy
As part of BMW's refreshed 5-series, the 540i comes equipped with a 3.0L turbocharged inline-6 and a mild-hybrid system. With an output of 335hp and 332 lb-ft of torque, the 540i makes for a stately cruiser, sprinting to 60 from rest in 4.6 seconds or so. You can also choose to go with front-wheel or all-wheel drive (the xDrive, in BMW parlance). The 540i offers a smooth, balanced drive that emphasizes comfort over excitement, which may not appeal to drivers who like to "feel" the road as they go. At the very least, you can be assured that steering is communicative and the suspension does a good job smoothing out bumps and cracks in the road. The eight-speed automatic it comes paired with also gives you fluid shifts and makes the most of the engine's power. Go inside the 540i and indulge in its high-class stylings and creature comforts. From leather and wood trimmings to a spacious cabin with plenty of legroom, there's plenty to like about the interior. Fourteen cubic feet of cargo space is only a smidge better than some of the others on this list; if you had opted for the hybrid 530e, you'd only get ten cubic feet. Many optional goodies are available, tempting you to go with their quality additions of heated seats, 20-way multi-contour front seats, and a Convenience package that adds some high-end safety tech. This includes adaptive cruise control and lane-keeping assist, on top of the standard automatic emergency braking, blind-spot monitoring, and automatic high beams. The infotainment system is a standard 12.3-inch high-resolution central display, providing rich audio for the speakers and an available gesture control feature that might seem gimmicky for some. Nevertheless, the 540i is a strong contender in the luxury car segment.
Review
Reliability
Performance
Appearance
Features
Is "Affordable Luxury" an Oxymoron?
We don't think so, not when you can look out for previous year's luxury cars being sold for a decent price. Not everyone could afford the luxury car of their dreams, after all. But most previous year models will still have several features that new models have. There are still exceptions; some of the outgoing 2022 540i's optional features, such as wireless smartphone charging and remote start, are no longer available compared to the 2021 edition (owing to the chip shortage in 2022). Regardless, many past-year models still share similarities with current-year ones, and you can take advantage of the lower prices on used models and get the most out of their overall value.
Already thinking about getting one quickly? Be sure to get your free vehicle history report from VinFreeCheck, allowing you to get the details for a particular car you're keen on. You might discover that it has a history of unaddressed mechanical failures – so much for a welcome bargain! Be sure to protect yourself from the dangers of automotive fraud before buying a used car. Peace of mind goes a long way when you finally find the car of your dreams in decent condition and at a great deal.