Last Updated on January 29, 2023 by Calvyn Ee
Full-size trucks are great, with their immense size and ability to carry lots of cargo without a hitch. They can also be pretty roomy if you're just carrying passengers. Still, midsize trucks remain popular for their ability to haul decent cargo loads at a much more affordable price. It also helps that midsize trucks are nowhere as fuel-thirsty as some full-size trucks – people are looking at many ways to make the most of every dollar they have.
Are you thinking of getting a midsize truck of your own? Not sure where to start? We've got you covered with this comprehensive list of the best midsize trucks to own – not just for your everyday driving needs, but ones you can enjoy taking out for a ride on the weekends (or whenever you want, really!).
The Keys to Our List of the Best
Reliability
Who doesn't want a pickup truck that lasts a long time with proper care and maintenance? We compared the pickups on our list with what verified sites such as JD Power and consumer reviews from current and previous owners have to say about them.
Performance
We emphasize trucks that give you a refined ride experience from start to finish. Speed is less emphasized than the vehicle's overall handling, braking, and steering performance.
Appearance
Pickup trucks continue to boast that muscled, rugged look, though many other models take a different approach. There's something to appeal to different drivers' tastes.
Features
Various pickup trucks also add quite a few features with great value. Every pickup truck has something of interest, from infotainment systems to driver assistance systems and other conveniences.
What are We Waiting For? The Best Midsize Trucks for Driving Around
2023 Toyota Tacoma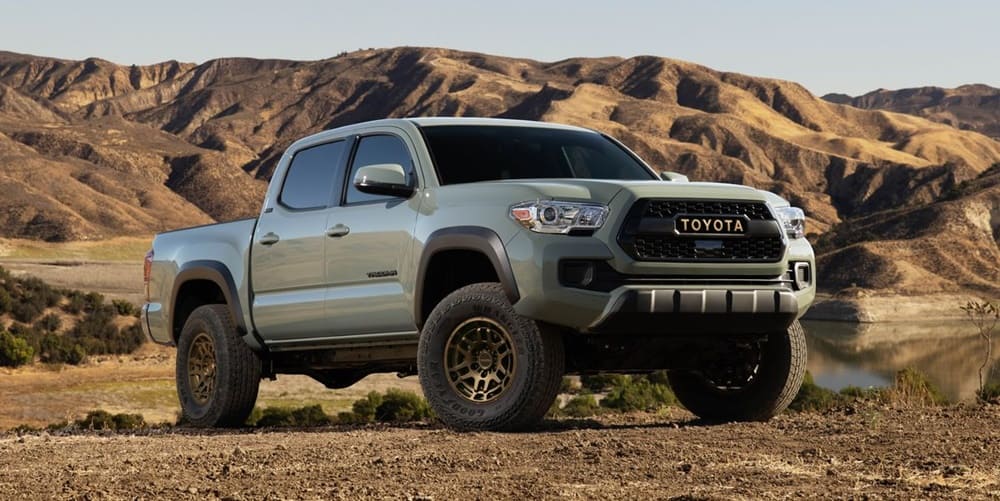 What We Liked
Great off-roading
Standard tech and safety features
Long track record
Previously featured in our best off-road vehicle article, the "Taco" is well-regarded for its off-roading prowess and trademark manufacturer's reliability. The standard 2.7L inline-4 offers 159hp and 180 lb-ft of torque, but you'd best avoid it in favor of the optional 3.5L V6, with its 278hp and 265 lb-ft of torque. Paired with the 6-speed manual, you'll get much better performance notes than the base engine and 6-speed automatic combo. The Tacoma's big tires help smooth the ride from road imperfections, while the vehicle handles fairly well on most road surfaces. However, it's in the off-road category where the Tacoma truly shines. It was engineered to tackle any kind of off-road terrain, and the higher TRD Off-Road and TRD Pro trims are proof of this.
Though it was redesigned in 2016, some of its design cues didn't really receive an update for the 2020s. The base trims are kind of boring in terms of what they have on the inside, and both headroom and legroom will be a problem for backseat passengers. If you opted for the V6, you'd enjoy a fully adjustable 10-way driver's seat, but comfort may still be a mixed bag for some (especially those on the taller side). At least you get a large infotainment screen, with other dashboard features logically placed. And befitting a Toyota, the Tacoma is packed with a host of safety features and other goodies, such as adaptive cruise control, automatic emergency braking with pedestrian detection, and optional built-in navigation. It does also help that it's no slouch with its reasonably decent cargo space and above-average towing capacity. Its base price of $28,485 is a decent pick for something you want to take on an adventure, but rivals offer additional features that might tickle your fancy better.
Review
Reliability
Performance
Appearance
Features
2023 GMC Canyon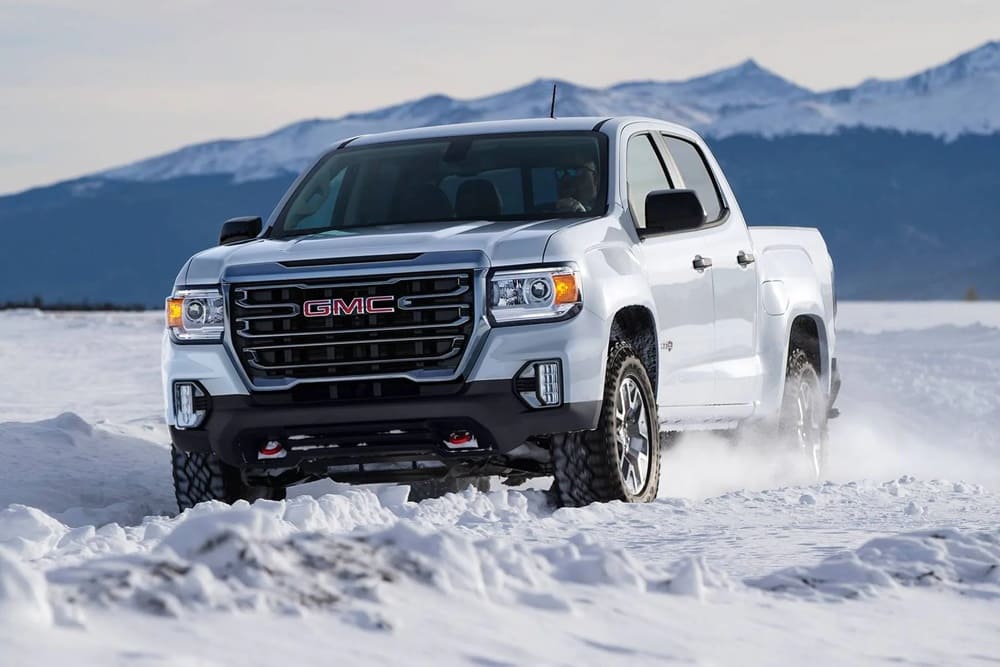 What We Liked
V6 gives a performance boost
Stable ride quality
Decent interior design
The GMC Canyon is a pretty good choice if you want a midsize that packs some of a full-size truck's capabilities. While the standard 2.5L four-cylinder engine does lack the oomph needed to take it out for a few spins, it can be a frugal choice if you're not looking for towing strength. You could pick the 3.6L V-6, paired with an 8-speed automatic, instead for a 308 hp and 275 lb-ft torque engine that beefs up the Canyon substantially. The engine produces a lovely note (if you're into that) and grants the Canyon better acceleration. You can also opt for the 2.8L turbodiesel inline-4 for better towing capabilities and fuel savings, but it does come with a hefty price hike to get it. At the very least, the Canyon provides a nice, stable ride experience aided by its precise handling and braking. Four-wheel drive is also an option, but it does come at a price.
Inside the Canyon, you'll find a very functional interior – a simple yet effective interface, comfy seats with good headroom (legroom in the rear is still lacking), and a user-friendly infotainment system, among other things. You also have a choice of either an extended cab with a 6-foot-2 long bed or the crew cab with the choice of that long bed or a 5-foot-2 short bed. The beds offer good cargo space, though we'd pick the crew cab if you're planning to have passengers aboard, owing to its greater legroom than the extended cab. If you're not planning to splurge, the Elevation Premium package on the Elevation trim is a good option that adds some fine creature comforts, like a heated steering wheel, heated front seats, and leather upholstery. The Canyon's biggest flaw is the lack of driver assistance features and less-than-stellar safety ratings; the lack of emergency braking is also somewhat jarring. You'll need the Driver Alert package to add forward collision alerts and lane departure warnings. Apart from those issues, the Canyon still makes for a good daily driver and the occasional journey down the fast lane. Just be careful at the wheel.
Review
Reliability
Performance
Appearance
Features
2023 Nissan Frontier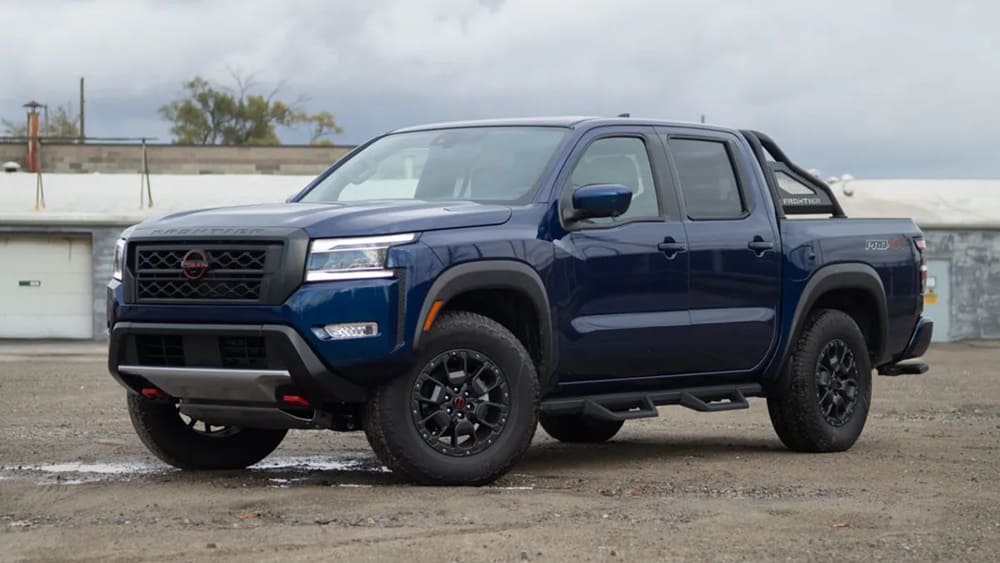 What We Liked
Modern design cues
Hauls and tows like a boss
Handles like a champ
Getting a redesign after almost 17 years might seem a little too late, but that's exactly what Nissan's done to breathe new life into their Frontier. Its bold, modern exterior stylings house a naturally aspirated 3.8-liter V6, delivering 310hp and 281 lb-ft of torque; it pairs to a 9-speed automatic and comes in either rear- or four-wheel drive. If you want to be off-roading, you'll have to look at the pricier Pro-4X model. Still, the Frontier handles itself very well on the move, with the upgraded suspension keeping your drive stable even on dirt roads. Braking is easy to operate in the city, while the transmission keeps shifts nice and smooth, except for the occasional jankiness during downshifts. The steering is a bit of a mixed bag, however, becoming particularly heavy when you're going slow, and it doesn't help that it's not telescoping. You might feel somewhat awkward about properly steering the Frontier, especially if you're a six-footer.
Huge improvements over the older models can be found in the interior. Say goodbye to hard plastics and outdated designs! There's very little noise coming in as you're driving, and the front seats provide ample support even on long drives. Unfortunately, adults in the back seat will feel squashed inside, no matter the cab you pick. Granted, the crew cab is bigger, but not by much. The Frontier's max towing and payload capacity aren't very impressive, either, going at 6,570 lbs and 1,480 lbs, respectively. However, brownie points go to its versatile Utili-Track system for mounting loads onto the bed; it really helps make loading the bed with stuff much more convenient. The Frontier also has automatic emergency braking, but other safety features are locked behind their proprietary Safety Shield 360 option. All in all, though, the Nissan Frontier is a good pick despite its shortcomings, thanks to a much-needed makeover and its sensational driving manners.
Review
Reliability
Performance
Appearance
Features
2023 Chevrolet Colorado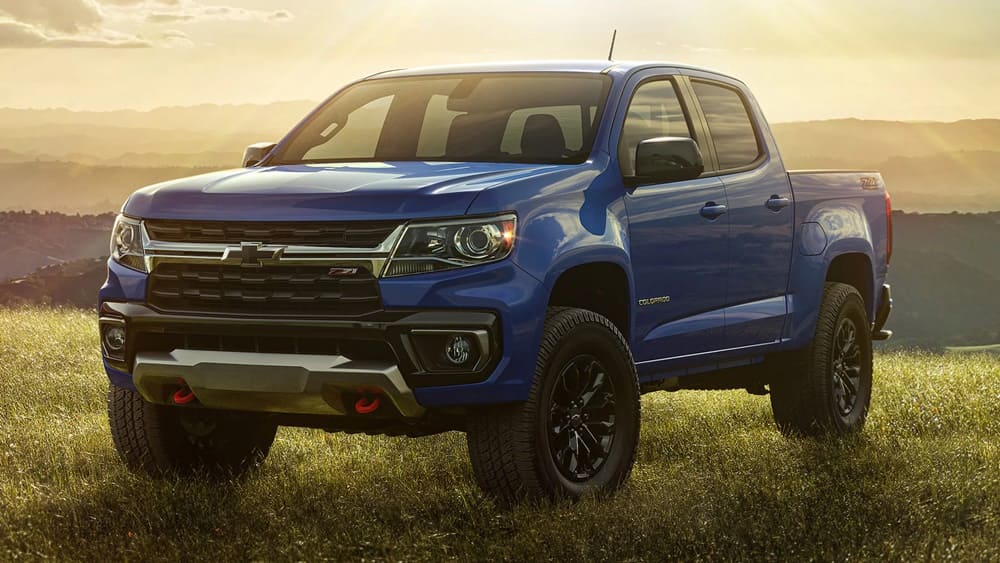 What We Liked
Potent optional engines
Fantastic ride quality
Comfy front seats
While we initially considered the Ford Ranger for this list, the Chevy Colorado's various plus points were greatly favored. Available in rear- and four-wheel drive, the Colorado has several options catering to all drivers. The standard 2.5L four-cylinder engine is best avoided in favor of either the 3.6L V6 that packs 308 hp and 275 lb-ft torque or the turbodiesel 2.8L inline-4 with 181 hp and 369 lb-ft torque. The former emphasizes performance power, while the latter has a leg up on towing capacity (7,700 lbs) and decent fuel economy. Either way, the Colorado lends its maneuverable size to provide a great ride experience through and through. The brakes are responsive, the handling is smooth on nearly any road surface, and off-roading is also on the charts – so long as you remove the low front airdam first. It definitely earns points for its surprising dexterity and refined driving mannerisms.
The front seat offers good room and comfort for you and a passenger, but the rear seats aren't as impressive. Between the 5-foot-2 short bed and crew cab or the 6-foot-2 long bed in either crew or extended cab, you might want to opt for the crew cab if you're looking to bring people along for the ride. Even so, rear seat comfort is not the Colorado's forte. At least the beds are voluminous enough to fit in the 41-cubic-foot short box or the 50-cubic-foot long box – the biggest among the competition. Meanwhile, the controls are laid out in an intuitive manner, so it's not difficult to make use of them. The one glaring weakness of the Colorado is the missing safety tech; automatic emergency braking and blind-spot monitoring are optional, but why should they be when rivals make them part of the standard kit while offering that much more? Nonetheless, the Chevrolet Colorado still provides a decently sized truck that suits any number of purposes thanks to its wide choice of powertrains and configurations.
Review
Reliability
Performance
Appearance
Features
2023 Jeep Gladiator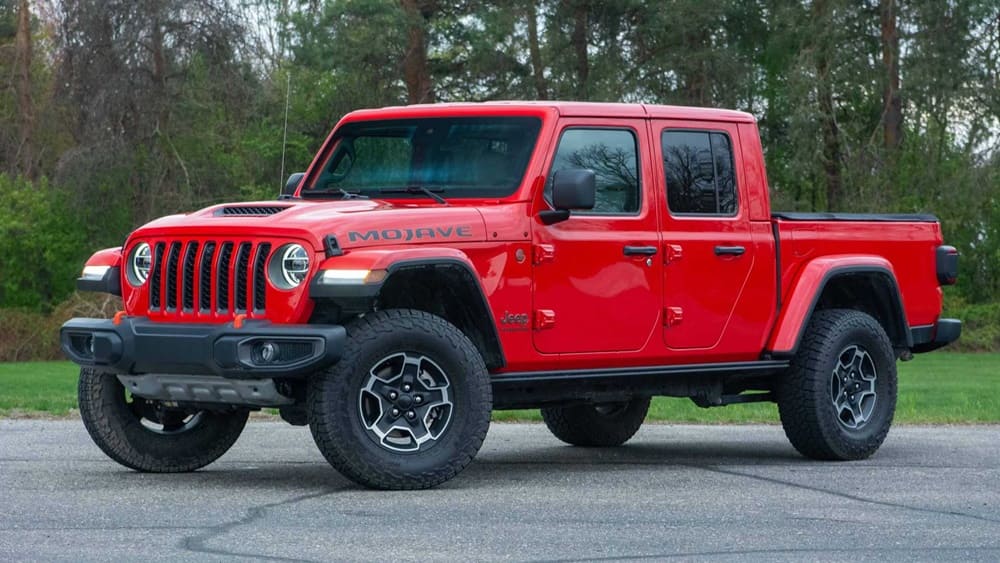 What We Liked
Roomy cabin
Off-road excellence
Lots of customization options
The Jeep Gladiator is the midsize you want for hitting the roads less traveled. It comes with a naturally aspirated 3.6L V6 engine that makes 285 hp and 260 lb-ft of torque (paired either to a 6-speed manual or optional 8-speed automatic). At the same time, you also have the option to go for a 3.0L turbodiesel V-6, putting out 260hp and 442 lb-ft of torque. The V6 is more than sufficient for your needs, but it's not the most exciting engine out there. Pair it with the automatic for good results. The turbodiesel offers a slight improvement to on-road mannerisms, as the Gladiator's set back by imprecise steering and busy feel on uneven surfaces. Off-road, though, the Gladiator shines bright – generous ground clearance, many optional add-ons to improve the off-roading experience, and sharp throttle response are just a few winning points in the Gladiator's book.
Due to its removable doors and roof, wind and road noise are constants in your drives. Meanwhile, the inside of the Gladiator is functional, having decent (though somewhat firm) seats for everyone who wants to go along for the ride. Thanks to the slightly longer wheelbase, rear passengers can enjoy comfortable legroom – but it's still best to keep it to two passengers. Interior storage is also decent, though some may find it rather small for their liking. The only bed available is 5 feet long but provides ample space for cargo with a max payload of up to 1,700 lbs. Towing is another of the Gladiator's strengths; with the right kit, you can easily haul 7,650 lbs with little difficulty. While this does paint a pretty good picture, the lack of standard advanced safety features – locked behind a few paywalls – can stifle one's interest in this pickup. If you can look past those, however, the Gladiator is the kind of vehicle you need to treat your off-roading spells.
Review
Reliability
Performance
Appearance
Features
Truckin' Along with Care
Midsize trucks are good, affordable options when you need a pickup to get around but don't want to spend so much on a full-size truck. The Ford Ranger is another pick you could consider, helped along by its price and Ford quality; just be sure to consider its flaws, too. Even if you're not looking for something so new (owing to the hefty price for particular trims and their features), previous-generation models can give you similar utility at a much lower cost. It still pays to be vigilant, though: if you're planning to get a used car, be on the lookout for possible signs of automotive fraud.
Buying a new car can be frightening for some folks, but searching for the right used car for you is equally, if not more, worrisome. How do you know you're not getting yourself into a scam? An excellent start to protecting yourself (and easing your anxieties) would be to get a hold of the car's VIN. With that in hand, you can use it to check its vehicle history report, giving you access to a lot of information ahead of time. Maybe it was involved in a bad crash that totaled it, or maybe it points to a totally different car. Protecting yourself from financial loss and a lot of stress should always be a priority when buying a car, so make sure you do your homework to be aware of the signs of a scam.