Last Updated on January 29, 2023 by Calvyn Ee
It's no surprise that used car prices are rising these days, with the current economic uncertainty. Doing your homework is especially important when finding a car that suits your needs, but you can't just jump into any deal you find without ensuring you're getting your money's worth. You'd have to ensure the car you want is not only in good condition but is also free from other complications that might need to be addressed in the future. Getting a reliable and affordable car might seem like a dream, but you'd be mistaken to think so.
We've prepared a list of the best used cars under 15000 that you can consider purchasing. We've made sure to pick cars known for their long-term reliability with additional points on other features that make them stand out. These cars will serve you as well as their prior owners.
Our Criteria for this List
Reliability
We looked at the reliability scores of the featured cars as provided by reputable websites such as J.D. Power, among other locations. We also noted consumer reviews to see what current and previous owners have to say about these cars.
Performance
Various cars give you all sorts of drive qualities, from speedy go-getters to relaxed daily drivers. Acceleration and speed aren't just essential factors to consider; how it handles while on the road is equally as important.
Appearance
Car designs have changed over the years, and newer ones possess much more charm than the old boxy cars of yesteryear.
Features
Creature comforts make any car feel much better, from the latest safety features to infotainment options and decent room for passengers and cargo. We'll also take note of the car's fuel economy for additional savings.
Here's Our List of Best Used Cars Under 15000
2017 Toyota Camry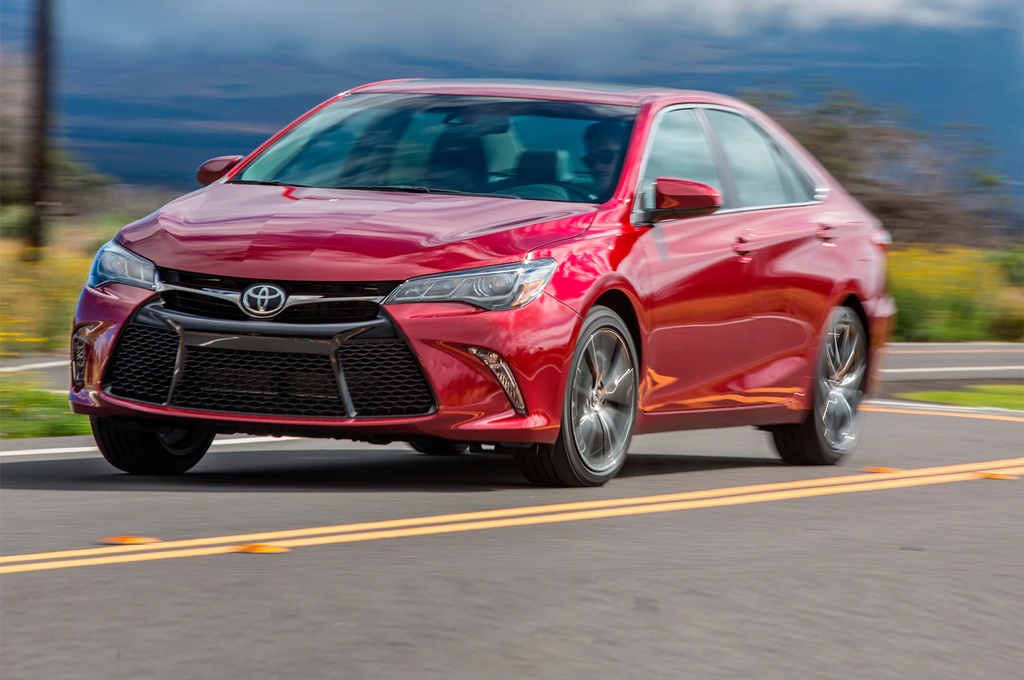 What We Liked
Great interiors
Handles well
Decent fuel economy
What We Disliked
Less than impressive performance
It should hardly be surprising to see a Toyota (or a Honda, for that matter) on our list. The reviews speak for themselves, after all: cars like the Camry are recognized as highly dependable yet stylish in more ways than one. You won't be blazing at high speeds on the highway in a Camry, owing to its 178hp 2.5L four-cylinder engine. Still, if you're getting a Camry, it's not for its speed. The Camry is a well-rounded family sedan with a decently spacious boot, comfortable seats for the driver and passengers, and a suite of standard features that is part and parcel of any Toyota model.
If you're lucky, you might be able to snag a Camry Hybrid for under 15k, which boasts significant fuel savings over the non-hybrid trims. The base Hybrid can net you up to 40 mpg combined, while the higher XLE trim goes up to 38 mpg combined. You'll have to sacrifice a little space to accommodate the battery packs, but it's nothing too substantial. The Camry makes for an excellent daily driver for all your driving essentials, being highly dependable (spare parts are pretty abundant) and well-loved as a car for different types of drivers.
Review
Reliability
Performance
Appearance
Features
2016 Mazda 3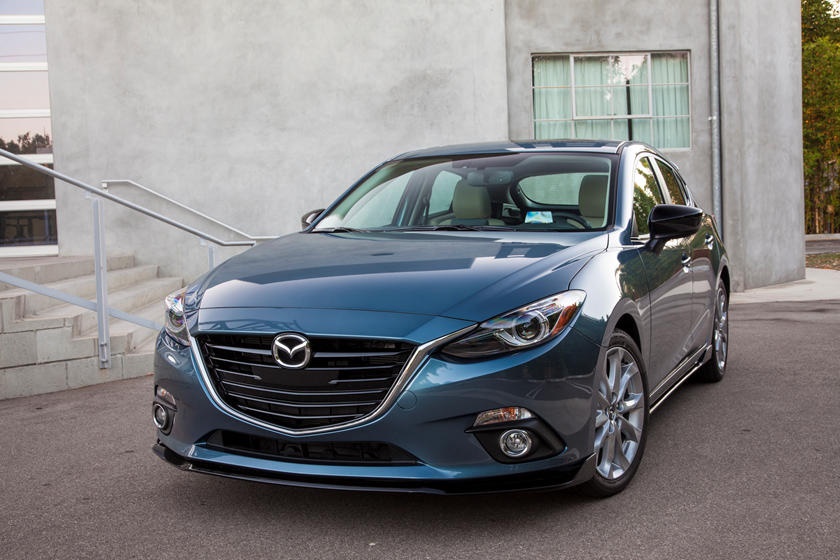 What We Liked
Precise handling
Surprising fuel economy
Top-notch interior
What We Disliked
Wind noise when on the move
The Mazda 3 may sport an aggressive appearance with its sharply defined angles and fierce front design, but once you drive it, you'll find it an elegant machine built for cruising in style. It packs a decent 2.0L four-cylinder engine that produces 155hp and 150 lb-ft of torque; the premium 3s trim has a 2.5L four-cylinder generating 184 hp and 185 lb-ft of torque. Whichever you choose, you're in for a good time behind the wheel. The 2.0L might not be the most performant, with a 0-60 time around 8 seconds or so, but you'll enjoy up to 34 mpg combined in fuel economy. Comparing it to other cars in this class, that's pretty good!
On top of that, the Mazda 3 sports a healthy dose of top-tier features, such as its highly praised interior design. The intuitive layout of the dashboard and excellent build quality makes you feel like you're riding in an expensive luxury car. A plethora of standard safety features – such as a blind-spot monitoring system – also adds immense value to an already good-looking car. You'd be hard pressed to ignore the Mazda 3's charms, and for 15k, you're signing up for a great deal!
Review
Reliability
Performance
Appearance
Features
2018 Kia Soul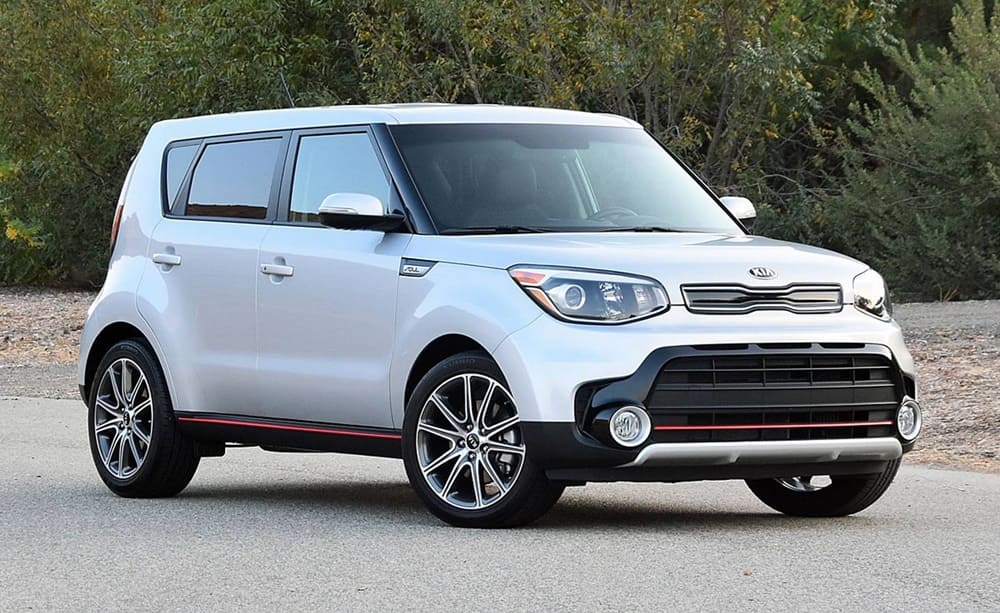 What We Liked
Attractive design
Surprisingly roomy
Highly rated for safety
What We Disliked
Unimpressive fuel economy
The Kia Soul is a classic case of "don't judge a book by its cover." Step inside the cabin, and you might be shocked to find it as comfortable as a regular SUV despite its smaller size. You're getting a wonderful glimpse of how form meets function with how the Soul was designed. Even though the base trim's 1.6L four-cylinder, which makes 131 hp, isn't an impressive engine, it still offers decent handling overall. The mid-range Plus ("+") trim provides a slightly better engine, though many would prefer the peppier Exclaim ("!") trim instead for the turbocharged 1.6L inline-4 that produces 201 hp and 195 lb-ft torque. You can potentially score an Exclaim trim for around 15k if you look hard enough.
It might not excite as much as the Mazda 3, but the Soul still has, well, soul. You'll effortlessly be making long trips without feeling fatigued, despite the somewhat stiff ride it presents. Moreover, comfort is key, and you'll be riding in even better comfort the higher up in trim choice you go. Interior space for passengers and cargo also makes it a point for value-for-money, offering significant headroom over the competition, accompanied by 19 cubic feet of cargo space in the rear (61 cubic feet when the rear seats are folded). The Kia Soul is a good choice if you're looking for something compact but still has plenty of room.
Review
Reliability
Performance
Appearance
Features
2017 Ford Fusion
What We Liked
Excellent ride quality
Stylish exterior
Good safety ratings
With several options to choose from, including a hybrid model with good fuel economy ratings, the Ford Fusion is worthwhile for its overall ride quality. You'll be cruising in style with a host of top-quality interior finishes, build quality, and decent handling despite the lackluster base engine. Entry-level trims come with a 2.5L four-cylinder delivering 175hp, while premium trims have either the better 181hp turbocharged 1.5L four-cylinder or an exciting 245hp turbocharged 2.0L four-cylinder to choose from. On the other hand, the Fusion Hybrid offers a 195hp 2.0L four-cylinder paired to a continuously variable automatic transmission (CVT).
The Ford Fusion is a good pick amidst a sea of other car models that rivals like Toyota and Honda offer. The rear seat space is a little lacking compared to most others in this class, but everything else works as intended. Interior finishes are of excellent build quality, various standard safety tech is available, and the cabin's quietness while you're driving is a genuinely welcome bonus. The hybrid model also gives you a good deal of fuel efficiency compared to the non-hybrid models, with a combined rating of 42 mpg as opposed to the non-hybrid's estimated 25 to 29 mpg, depending on the engine.
Review
Reliability
Performance
Appearance
Features
2016 Subaru Outback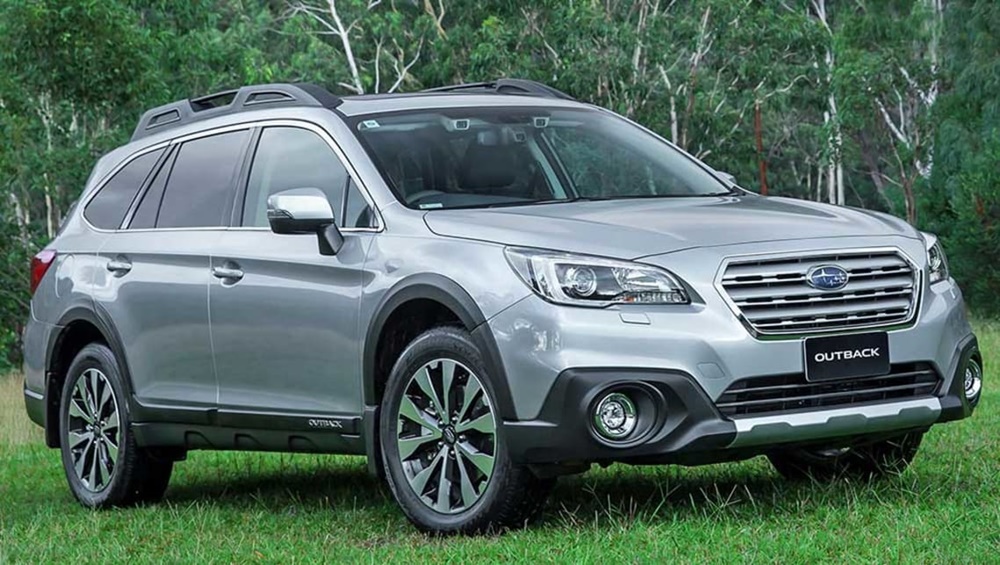 What We Liked
Roomy interior
Good visibility
Surprisingly good handling
The 2016 Subaru Outback is a well-rated station wagon for its numerous upgrades over its previous model year. The 2016 model sports a roomy interior that prioritizes comfort for everyone inside, a Lineartronic continuously variable transmission (CVT) that is considered one of the best transmissions of its time, and top marks in the safety department with its array of safety features and various structural improvements. The base engine is a 175hp 2.5L flat-4, hitting a 0-60 time of about 9 seconds; the 3.6L six-cylinder available on the 3.6R Limited trim offers 256hp and 247 lb-ft of torque, making it a peppier choice over the base engine, but fuel economy does take a dip. Speaking of which, the base engine has a combined rating of 28 mpg, which is pretty good for a station wagon.
It might not be an SUV, but the Outback behaves much like one thanks to an enhanced all-wheel-drive system and new off-road mode based on Subaru's Forester. You'll enjoy nice, quiet drives even on coarse terrain, thanks to precise steering and a well-built suspension system. Add to that the spacious interiors and 35.5 cubic feet of cargo space and its relatively performant behavior on and off the road, and you have a formula for a great pick under 15k.
Review
Reliability
Performance
Appearance
Features
2017 Honda Fit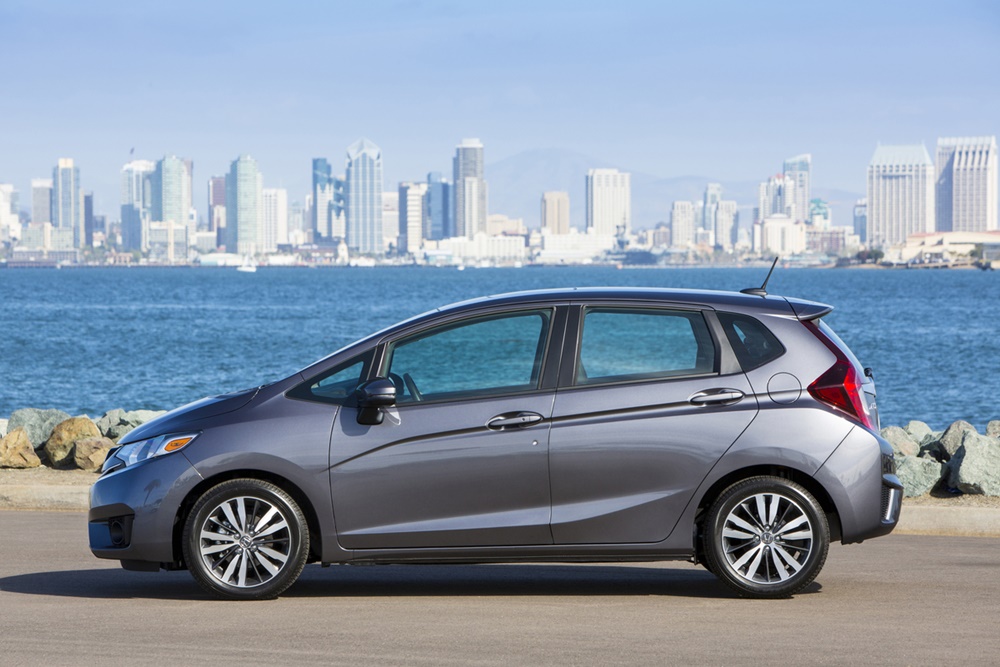 What We Liked
Great fuel economy
Decently spacious interiors
Excellent value-for-money
Much like the Kia Soul, the Honda Fit is another small car that's full of surprises. It draws power from a sophisticated 1.5L inline-4 engine delivering 130hp and hitting 60mph in 8 seconds or so. You can pick either a CVT or six-speed manual transmission, but the manual is a far better choice than the more limiting CVT. While its predecessor put more fun into the drive than this model, you're getting better fuel efficiency and acceleration with this one, which is quite a fair tradeoff. The redesigned suspension helps the Fit stay the course on rough surfaces comfortably. On straight roads, the Fit delivers, but it's a little lacking when it comes to handling corners and turns.
The Fit is considered one of the best non-hybrids in terms of fuel efficiency, with a combined rating of 36 mpg (41 mpg highway) for the CVT version; the six-speed sees 32 mpg combined (37 mpg highway). Meanwhile, on the inside, you get pretty well-padded seats for maximum comfort, with the higher trims offering leather over the decent standard cloth seats. Cargo space is also good once you fold the Magic rear seat, coming up to a whopping 53 cubic feet – not bad for a small car!
Making a Choice
You can't go wrong with this curated selection of used cars, as you'll get great value from their many excellent features. There are various other contenders worth mentioning, including the wide array of highly rated offerings from Toyota, Honda, Hyundai, and Mazda. It's only a matter of checking out what reviews say about these cars, but do be sure to do your homework and know which model years may have faults that were addressed in later editions. Take the Ford Fusion, for example: most recommendations suggest getting those built in 2017 or later, as earlier editions have had recalls due to various issues (such as faulty Takata airbags in the 2006-2012 model years).
Make sure you keep an eye out for warning signs of automotive fraud. Shady sellers can make an offer that's too good to be true, no questions asked. But that does present a problem if you've got questions of your own. Be sure to find out anything you can about the car being sold. Get a hold of the car's VIN and use it to check its vehicle history report. Maybe the car is actually a lemon or is using a cloned VIN. It's always important to keep yourself safe while you're shopping for a used car!