Last Updated on January 30, 2023 by Calvyn Ee
Yes, it is possible to get a sports car for less than $10k, and not just any sports car; one that can deliver the performance and handle you would expect from a bonafide, top-tier sports car.
Today's new sports cars are lovelier to look at and more exciting to listen to than ever before, but they cost a fortune. Thankfully, most sports cars maintain most of their drivability over their lifetime when well maintained. Therefore, you can get serious thrills even from a 15 or 20-year-old sports car. As you would expect, such examples are way cheaper. They may not have the latest technologies and design features, but they will put a grin on your face when you floor their gas pedals.
Criteria Used in this Guide
Here are some of the criteria we used to pick out these sports cars:
Price: You can buy all these sports cars for less than $10k. Their lower-spec models may even be available for less than $5k, depending on their mileage and overall condition. A $10k used car loan with a 6.5% interest rate and a 60-month payment plan will demand car payments of less than $200.
Performance: A sports car is only as good as the performance it offers. This list includes some of the fastest, best-handling, and most thrilling sports cars you can buy at that price point.
Reliability: Reliability is also important to consider when buying used sports cars. This list includes sports cars known to rank highly in the reliability department.
Here are Five of the Best Used Sports Cars Under $10k
Ford Mustang GT (1994-2004)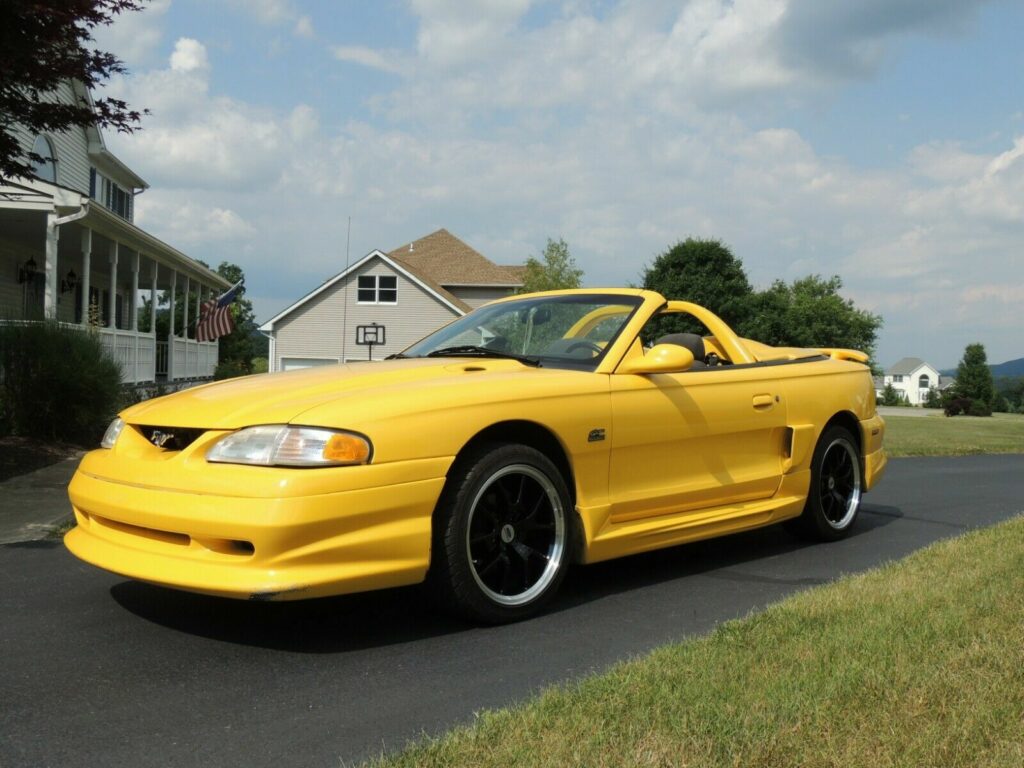 What People Like:
It is fast and executes smoky burnouts in a way that few other sports cars can match. It is also loved for its brutish Mustang look.
What People Dislike:
It has poor fuel economy.
The Mustang is credited with giving rise to the pony car segment, and its 4th-generation (1994-2004) is arguably its most underrated generation. The 4th-generation Mustang is built upon Ford's SN-95/Fox4 Platform, which was designed to be stiffer than prior platforms for enhanced driving engagement.
Like it is today, the 4th-generation Mustang GT, which won the Motor Trend Car of the Year award in 1994, is one of the generation's high-performance variants. It has a sport-tuned suspension system, dual exhausts, 16-inch wheels, and a 3.08:1 rear axle ratio. Under the hood, it may feature a 215-hp 4.94 L small-block V8 engine or a 225-hp 4.6 L SOHC V8. It can sprint from zero to 60 mph in well under 7 seconds, which was plenty quick back then.
The 4th-generation Mustang GT also offers the convenience of a comfortable, 2-person second-row seat and ample trunk room. There are well-kept models with low mileage on the market, and parts are easy to find and affordable. A 2002 Ford Mustang price ranges between $880 and $4,938.
Rating
Price
Performance
Reliability
Subaru Impreza WRX (2002)
What People Like:
It offers great resale value, is thrilling to drive, delivers impressive traction and handling, and has outstanding reliability.
What People Dislike:
It has a cheap-feeling interior.
Subaru Impreza WRX is a performance version of the Impreza compact sedan/hatchback. The WRX in this car's name stands for "World Rally eXperimental", so it can also be regarded as an Impreza-based rally car that has been detuned and optimized for road/street use. True to form, it performs just as well (most times even better) on dirt trails as it does on the tarmac.
The 2002 Subaru Impreza WRX combines the turbocharged, horizontally-opposed, 227-hp 2.0L engine with all-wheel-drive capability, making for a potent street racer that doesn't lose its footing on ice, snow, or mud surfaces. Paired to this engine is a five-speed manual transmission or a four-speed automatic. The Impreza 2.0 WRX accelerates to 62 mph in 5.9 seconds, with a top speed of 144 mph. It is available in either sedan or wagon body styles.
According to Cargurus.com, this car's price ranges between $8,104 and $9,261.
Rating
Price
Performance
Reliability
Porsche Boxster (1996–2004)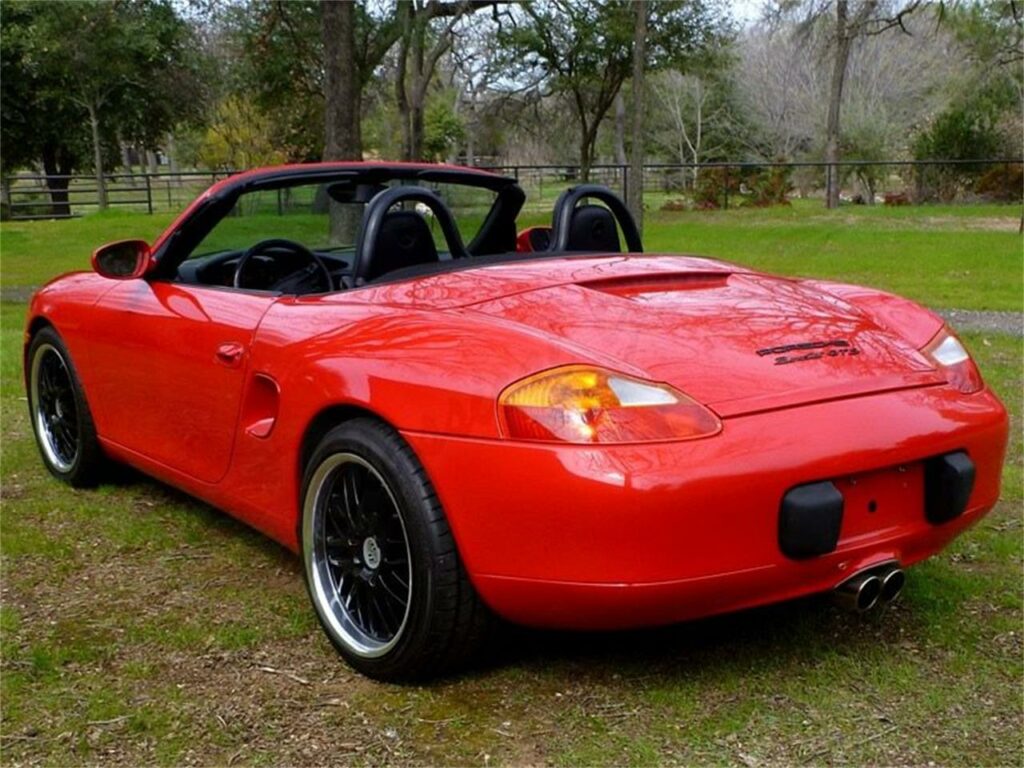 What People Like:
It has Porsche's timeless design language, excellent handling and traction, and a comfortable and sporty interior. It also delivers remarkable performance.
What People Dislike:
It has a plastic rear window.
Porsche introduced the first generation of the Boxster (dubbed the 986) in 1996. This two-seater roadster's open-top fun car concept helped to turn around Porsche's fortunes.
Unlike its predecessors that featured four-cylinder engines and front-engine body layouts, the 986 Boxster has a mid-engine, rear-wheel-drive layout and larger flat-6 powertrains. It also has a petite frame with a low curb weight of below 2,900 pounds. The 986 handles like a true rear-biased sports car and boasts exceptional maneuverability with powerful performance thanks to the above.
The 986 powertrains were Porsche's first water-cooled, mid-mounted engines; they include a 2.5L, 2.7L, or 3.2L flat-6 gas engine that may pair with a five/six-speed manual or a 5-speed automatic (Tiptronic) transmission. The Tiptronic has a manual mode with gear selector levers on the steering wheel.
Edmunds.com says that a 2002 Porsche Boxster can cost you between $3,602 and $10,479.
Rating
Price
Performance
Reliability
Nissan 350Z (2003 – 2004)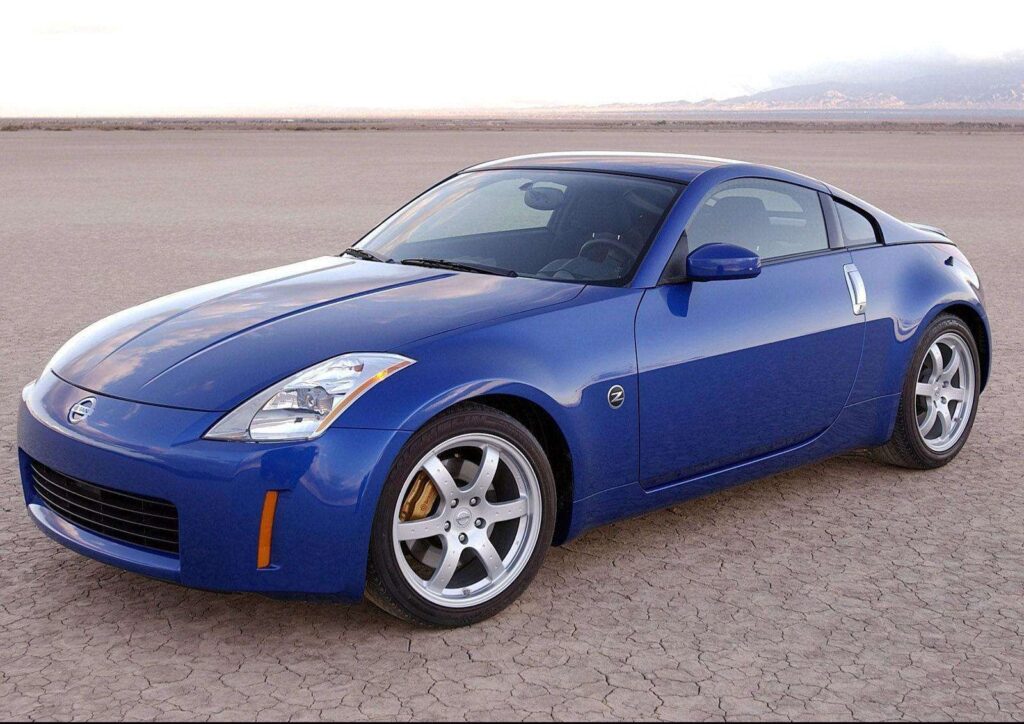 What People Like:
It is fast, has a decent amount of power, and has an iconic design. It also offers impressive handling and traction and has excellent aftermarket support.
What People Dislike:
It has poor rearward visibility.
Nissan launched the 350Z two-seater coupe/roadster in August 2002 as the 2003 model. The car got a rousing welcome from Z fans and motor enthusiasts because of its timeless design and thrilling performance. The Nissan 350Z was meant to compete with the Porsche Boxster at a considerably lower price and has even better value.
The Nissan 350Z is a front mid-engine, rear-wheel-drive sports car. Its 2003-2004 models feature a 3.5-Liter VQ35DE V6 engine that generates 287 hp and 274 lb.-ft of torque. This engine pairs with either a five-speed automatic or six-speed manual transmission. Base and Nismo models are only available with manual transmission. The 350Z Nismo, available only from 2007, has a more powerful 306-hp engine that propels this car from 0 to 60 mph in 5.1 seconds.
The price of a 2004 Nissan 350Z ranges from $2,254 to $8,316.
Rating
Price
Performance
Reliability
Volkswagen Golf GTI Mk6 (2008 – 2011)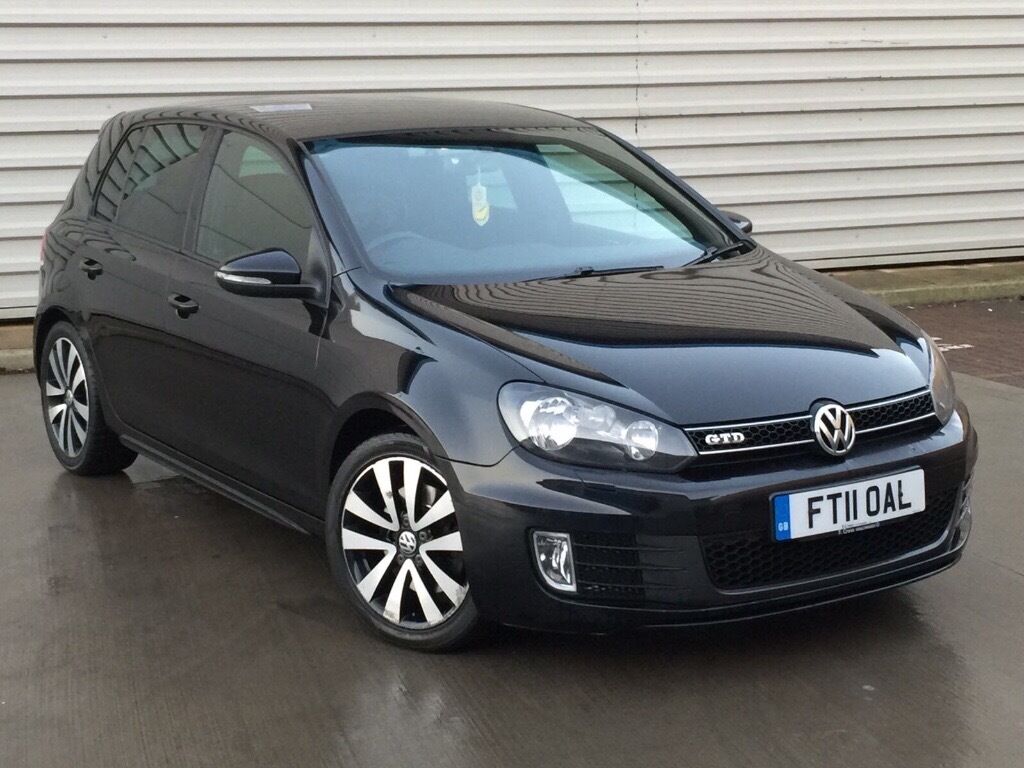 What People Like:
It is fast, reliable, practical, easy to modify, and fun to drive. It also has a comfortable interior with standard bucket seats.
What People Dislike:
Its substantial curb weight reduces its agility.
When many car enthusiasts think of hot hatches (especially those in Europe), they first think of the Golf GTI. It is a capable, well-built sports car you can drive daily. Most GTI owners swear by their cars, claiming they would never change them. The GTI Mk6 has a classy, understated design with a few sport-themed styling cues, and it also has a comfortable and practical interior that seats up to five passengers.
The GTI Mk6 also benefits from a well-sorted chassis that delivers excellent handling and cornering stability. Under its hood, it features a potent 211-hp 2.0-liter turbocharged i-4 engine that pairs with a six-speed manual transmission or a DSG dual-clutch 6-speed transmission. The manual GTI Mk6 can accelerate from 0 to 60 mph in 6.7 seconds. According to Edmunds.com, the price of a 2010 GTI Mk6 ranges between $3,237 and $8,004.
Rating
Price
Performance
Reliability
Buying Used: What to Keep in Mind
These are just a few of the used sports cars you can buy for less than $10k; you are sure to find more with some research. Remember that a pre-owned car's quality greatly depends on the care its former owner gave it. Therefore, make peace with the fact that the used sports car you buy may have worn-out parts or mechanical issues you may need to sort out. Be sure to review the car's service history carefully and get a reputable mechanic to inspect the car before purchase. It is also essential to do a pre-purchase test drive. A VIN check is also imperative when buying any used car because it will help you know whether the car is a salvage or if it has been totaled due to extensive damage from natural disasters, accidents, etc. You can use VinFreeCheck to do that.