Last Updated on July 24, 2023 by Calvyn Ee
It's been reassuring that the average price for a gallon of gasoline now sits at a low price of $3.18; remember when regular unleaded reached as high as $5.02 back in June? Having said that, the growing interest in a variety of hybrid cars, including electric vehicles (EVs) and plug-in hybrids (PHEVs), shows that there are still plenty of good reasons to invest in any of these fuel-efficient vehicles.
Still, that's not to say hybrids aren't the only cars capable of saving you a lot in fuel usage. Various non-hybrid cars offer decent fuel savings in the long run, including well-known popular picks like the Toyota Corolla and Honda Civic. Still, there are plenty of choices out there worth your consideration. Let's dive into our list of cars with great gas mileage that is definitely worth your time and investment.
What We're Looking For
Fuel Economy
Fuel efficiency is measured in miles per gallon (mpg). The higher the car's mpg rating, the better its fuel efficiency. Mpg ratings can be inconsistent due to various factors, so getting an accurate reading is challenging. If you want to determine a specific car model's fuel economy ratings, head to the EPA's dedicated website.
Performance
Just because fuel economy is the main point of this article doesn't mean a car can't also handle itself well on the road.
Appearance
Looks can mean a lot to some drivers, and many fuel-efficient cars still provide pleasing or exciting modern aesthetics.
Features
Standard safety tech, interior design, cabin room, and infotainment – each car has different offerings that cater to different drivers.
Our Picks of Worthwhile Cars with Great Gas Mileage
2023 Chevrolet Spark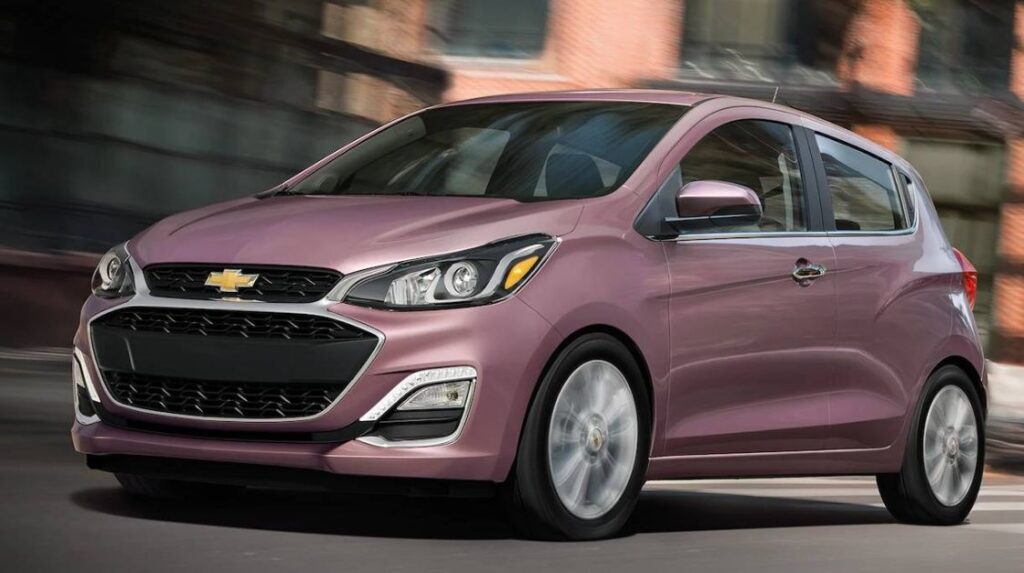 What We Liked
Highly affordable
Good tech features
Decent handling
Ratings based on the standard 2023 model, 1.4L Automatic

City: 30 mpg
Highway: 38 mpg
Combined: 33 mpg
Currently one of the most affordable cars in the United States, the Chevy Spark is a small hatchback that impresses despite its relatively tiny stature. While it may be a spartan vehicle with little to offer in terms of appearance, it still affords a sizable amount of fuel savings without needing overly conservative driving. On top of that, despite the four-cylinder's low horsepower, it performs reasonably well moving about the city and navigating highways: nimble handling, good road grip, and even decent braking. We'd advise taking it for long trips across cities, though. Its small size does help it maneuver through tight spots, but one caveat is that backroom space can be pretty uncomfortable, especially for taller passengers. It also doesn't help that the Spark doesn't smooth out bumps and irregularities on the road, but it somehow manages to minimize road noise coming into the cabin. The infotainment and smartphone integration tech is surprisingly good, so if you like entertainment on your daily drives, the Spark doesn't disappoint. It's a worthy consideration as a daily driver in and around the city or even for your teen kid commuting between college and wherever they're staying.
If you want more fun in your drives, opt for the manual transmission, which cuts down the combined mpg rating to about 29 to 30. Otherwise, stick with the somewhat sluggish CVT.
Review
Fuel Economy
Performance
Appearance
Features
2023 Nissan Versa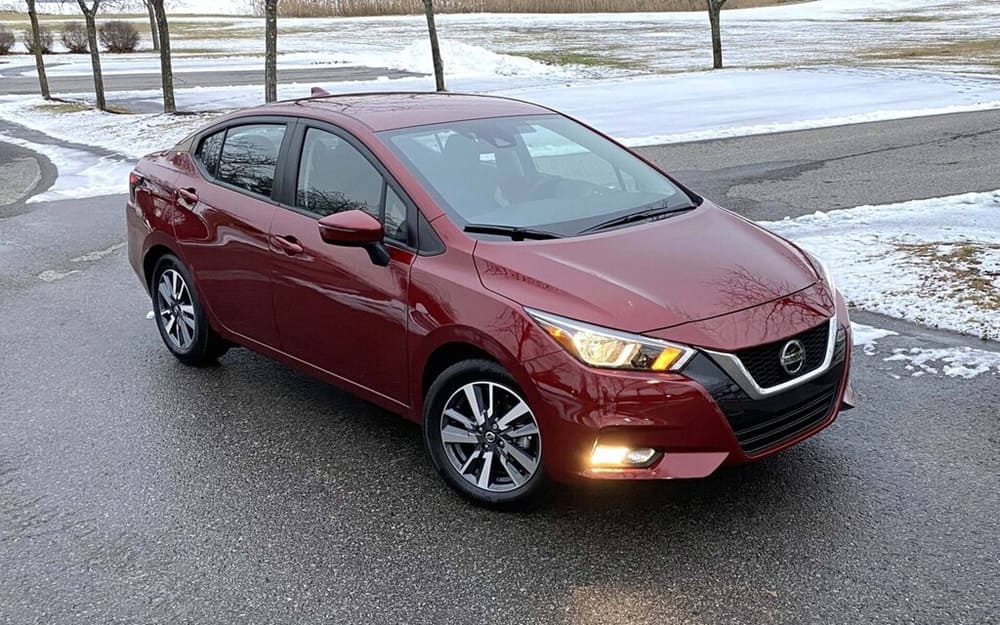 What We Liked
Lots of safety tech
Comfy ride
A good amount of trunk space
Ratings based on the standard 2023 model, 1.6L Automatic

City: 32 mpg
Highway: 40 mpg
Combined: 35 mpg
If you prefer a sedan, you can't go wrong with the Nissan Versa, and its 35 mpg combined fuel efficiency. It's an affordable car, with the base model at around $16k. Still, it squeezes in many valuable features, including a complete suite of safety tech: forward collision warning, lane-departure warning, and automatic high beams, among others. The modest 122hp 1.6L inline-4 is paired to a CVT and delivers accurate handling and confident braking but sorely lacks in the acceleration department. As such, don't expect the Versa to close the distance quickly. If you swap the CVT for a five-speed manual, you can expect some performance gain (excluding the acceleration issue) at the cost of fuel economy slipping to 30 mpg combined; take your pick. Still, the Versa is a comfortable car, with decent headroom and legroom for passengers, although it can quickly get a little cramped in the back if you fit three inside. Cargo space is fairly generous for a car of this size: 15.0 cubic feet is a good space for all sorts of stuff. We recommend the top-tier SV model for various creature comforts, such as automatic climate control, passive hands-free entry, and a leather-wrapped steering wheel. You really can't go wrong with the Nissan Versa.
Review
Fuel Economy
Performance
Appearance
Features
2023 Kia Rio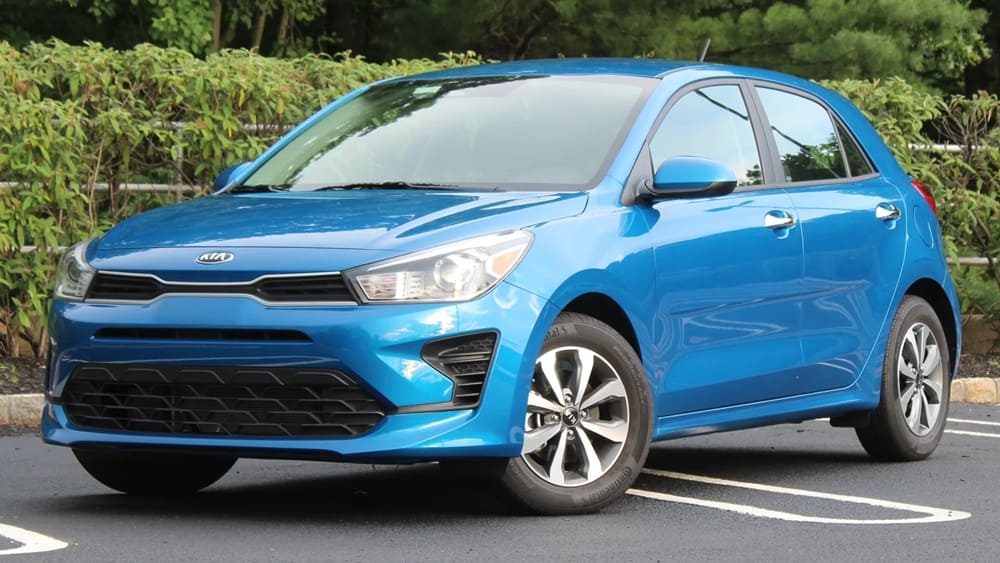 What We Liked
Great warranty coverage
Handles nicely
Good fuel economy
What We Disliked
Missing standard features
Ratings based on the standard 2023 model, 1.6L Automatic

City: 33 mpg
Highway: 41 mpg
Combined: 36 mpg
Kia's subcompact offers a significant amount of capability in its frame, much like the Spark surprises with its utility despite its stature. The Rio might lack power, much like the Spark, owing to a 120hp 1.6L inline-4 paired with a CVT. Still, an economy car like the Rio can deliver solid handling characteristics, and it doesn't disappoint in the same way the previous year's model impressed drivers. It's greatly helped by a well-tuned suspension that absorbs most road inconsistencies, precise steering, and smooth transmission shifts, to name a few. Add to that the 36 mpg combined rating, which can go up to 40 with the right kind of driving, and you have a worthy (though unathletic) vehicle for your daily commutes. The sedan might be a good look, but the hatchback is the better option – especially since the hatchback Rio offers 17.4 cubic feet of trunk space; contrast this to the sedan's measly 13.7 cubes. The Rio is a generally comfortable car, but do expect wind noise to seep in (loudly) and some discomfort over large bumps or deep potholes. The cabin features adequate amounts of legroom and headroom, as well as a clean but spartan interior; the simplicity of it all helps accentuate the Rio's reputation as a modest car for the frugal driver, and we think that's a good trait. Our only issue is the strange lack of standard equipment; we'd expect better from the likes of Kia.
Review
Fuel Economy
Performance
Appearance
Features
2023 Hyundai Elantra
What We Liked
Roomy, snazzy interior
Hybrid option
Generous features
Ratings based on the standard 2023 model, 2.0L Automatic

City: 33 mpg
Highway: 41 mpg
Combined: 36 mpg
The best part about the Elantra is that it also comes in a hybrid form if you want maximum fuel efficiency. But even with the Elantra Hybrid Blue hitting a combined rating of 54 mpg, the standard Elantra's modest 36 mpg is still a good amount of fuel efficiency if you're not aiming for a hybrid (we'd recommend the latter, personally). The standard engine is a humble 147hp 2.0L inline-4 that does its job, but it's nowhere as exciting as what rivals offer. The CVT lags but still offers smooth shifting throughout your drive. And despite the engine's underpowered performance, the ride quality isn't heavily affected. Is it still predictable? Granted, but your passengers won't complain about the comfy ride quality even when the Elantra goes over bumps and other minor changes in the road. The interior combines comfort and aesthetics seamlessly, so you feel like you're driving a luxury car with plenty of room for even taller passengers. However, the seats could definitely use more padding in the base Elantra, while some other interior design choices seem rather lackluster against the futuristic stylings of its layout. Cargo space is a decent 14.2 cubic feet like the previous year's model – nothing to complain about. If you're OK with a non-hybrid car, the Elantra remains a solid pick for its good handling and cabin. Otherwise, consider opting for the Hybrid Blue and its 54 mpg fuel economy on top of everything else the Elantra offers.
Review
Fuel Economy
Performance
Appearance
Features
2023 Honda Insight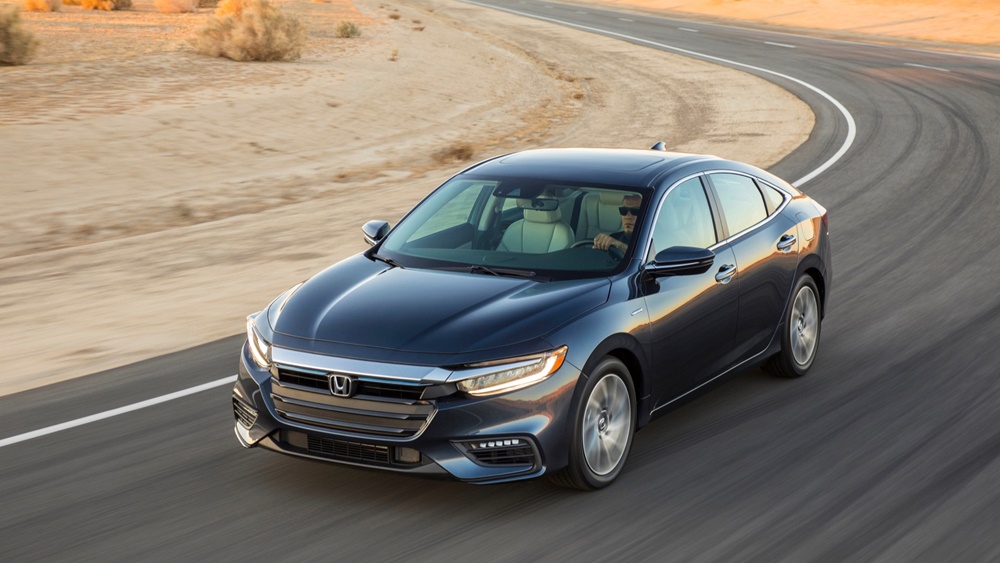 What We Liked
Top-rated for safety
Strong fuel economy
Lots of cabin room
Ratings based on the standard 2023 model, 1.5L Automatic

City: 55 mpg
Highway: 49 mpg
Combined: 52 mpg
Equipped with a 1.5L inline-4 that makes 107hp and paired with a 129hp electric motor, the Honda Insight is yet another of Honda's finest automobiles. Since it originally debuted in 1999, the Insight has gone through various iterations with much success. In its current 151hp form, the 2023 edition wins big with its remarkable 52 mpg combined fuel efficiency, though at the cost of overall performance power. The engine also gets noisy when you push hard on the acceleration. The good thing is that low-end performance is helped out by the extra torque the electric motor provides and a sturdy suspension that smooths road imperfections rather nicely. What it does lack in performance is more than made up for by Honda's sterling reputation for reliability and a plethora of standard features. Even on the base trim, you're getting well-rated safety scores and plenty of driver-assist techs such as an automatic emergency braking system, adaptive cruise system, blind-spot monitors, and rear cross-traffic alert. The cabin is also spacious enough to fit two passengers in the rear, with ample room to relax. Despite there being a battery pack, Honda seamlessly integrated it into the Insight's frame without eating into the trunk so that you can fit up to 15 cubic feet of goods without a hitch. You can't go wrong with this compact hybrid sedan for daily driving.
Review
Fuel Economy
Performance
Appearance
Features
2023 Toyota Prius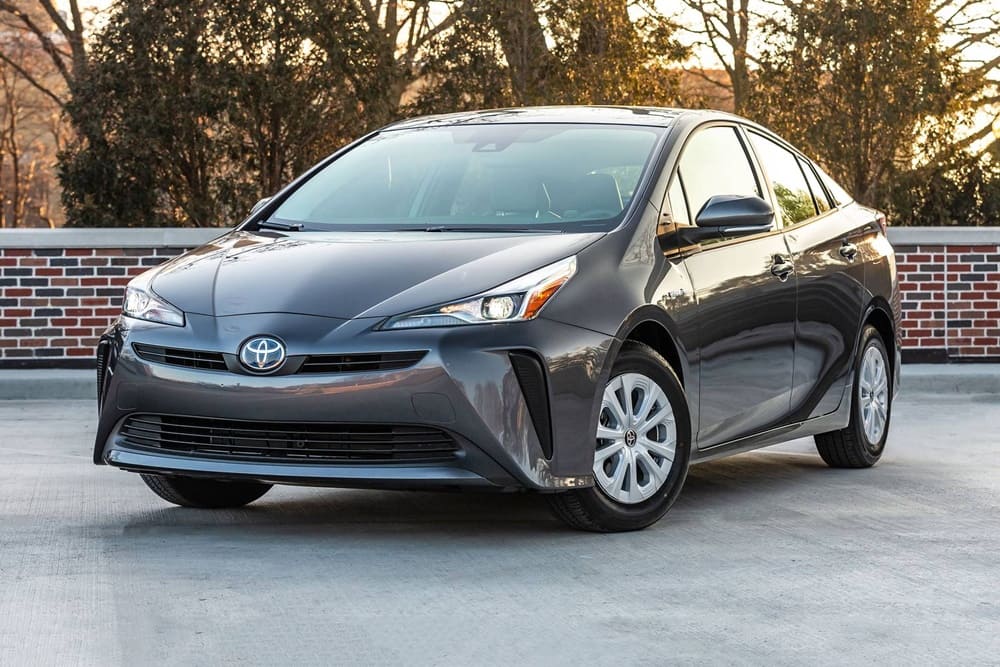 What We Liked
Excellent fuel economy
Comfy interior
Very fuel efficient
Ratings based on the standard 2023 model, 1.8L Automatic

City: 54 mpg
Highway: 50 mpg
Combined: 52 mpg
Being one of the most popular fuel-efficient hybrids, the Prius is a well-liked hatchback with an impressive track record for fuel economy ratings. Though the landscape has significantly changed since it first debuted, the Prius is lacking in some areas. It comes with a 1.8L inline-4 and either a single electric motor for front-wheel drive or two motors for AWD. You're not buying a Prius for a powerful engine (total output is 121hp, after all), so expect middling speeds, uninspired acceleration, and lackadaisical refinement. It does transition nicely from electric to gasoline power, but other than that, it's not even as exciting as the Honda Insight – and that's saying something. The least we can say is that Prius does its job; it's up to you to decide whether it does a truly excellent job. Performance aside, comfort is average for a hatchback: expect low headroom for taller passengers, but average-height folks won't have much of an issue. The seats are nicely padded, and the cabin does well to filter out a good deal of external noise, but it might mean little when the Prius goes over uneven terrain or road bumps; they become much more noticeable. Cargo storage is a surprise, with 27.4 cubic feet behind the rear seats ideal for long hauls. If you're not a stickler for drive quality, then perhaps the Prius' strong fuel economy ratings will woo you over.
Review
Fuel Economy
Performance
Appearance
Features
2023 Hyundai Ioniq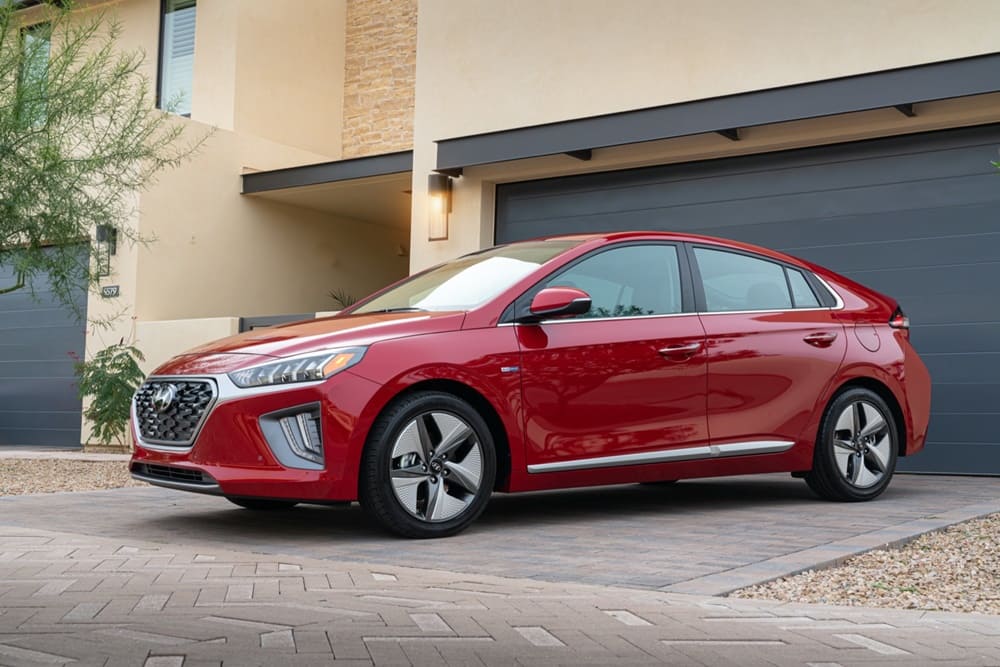 What We Liked
Good safety tech
Comfy interior
Very fuel efficient
Ratings based on the standard 2023 model, 1.6L Automatic

City: 54 mpg
Highway: 57 mpg
Combined: 55 mpg
While the electric version of the Ioniq has since been discontinued, the Ioniq Hybrid remains a good pick for its impressive fuel economy. It sports a 104hp 1.6L inline-4 to a 43hp, 32kW electric motor and a six-speed dual-clutch automatic transmission, which – though nowhere as performant as its peers – offers a decent amount of speed and responsive, though slightly lethargic, acceleration. Nevertheless, it handles itself nicely on the road, taking turns and corners confidently despite occasional leaning. Steering and braking are averages for its class, but it does both well enough that it outshines offerings from other automakers. There are even paddle controls on the steering to control regenerative braking, which might tickle the fancy of EV enthusiasts. Meanwhile, its multi-link rear suspension, low-rolling resistance tires, and relatively quiet cabin help make for pleasant rides for everyone aboard until you begin to work the engine hard. Still, you can snugly fit two people in the back, but the sloped roof does cut into headroom for taller passengers. Fitting three might be possible, but we don't recommend it ourselves. The cargo room is a competitive 26.5 cubic feet, a smidge smaller than the Prius. Apart from those, the control layout is easy to get used to, the infotainment system works great, and it also comes standard with a host of driver assistance techs, such as automatic emergency braking and forward-collision, and lane-departure warning. All in all, the Ioniq might be a classy hybrid pick for your driving needs.
Review
Fuel Economy
Performance
Appearance
Features
Picking Out a Car with Great Gas Mileage
If you opt to go down the used car route, you'd definitely be spoiled for choice. Previous year models for some of these featured cars (and other well-rated ones) can be had for a relatively reasonable price point and offer a good amount of features that make the driving experience as good as that of a new car. The key is ensuring you're getting the most out of your money's worth – but you still need to be mindful of potential deals you might find. Some of them might be too good to be true!
As a safety precaution, always get your hands on a vehicle history report before looking for a good used car to buy. Here at VinFreeCheck, we provide users with a free license plate lookup system to grant them the information they need about a used car they're eyeing. You should always protect yourself and have peace of mind while looking for a great, fuel-efficient used car that meets your needs.