Last Updated on January 29, 2023 by Calvyn Ee
Electric vehicles (EVs) have seen considerable growth in sales, helped in part thanks to the Inflation Reduction Act recently introduced. With EVs assembled in North America qualifying for a $7,500 tax credit and various improvements to EV technology and performance over the years, it's a good time as any to look into a vehicle that is both stylish, elegant, and a fuel saver on the road. Speaking of EVs, perhaps you're thinking of getting one of your own, maybe an electric SUV for just under 30k?
However, hybrid vehicles are still a strong contender, with sales going up 76% to 801,550 vehicles in 2021. Naturally, there are ample reasons why hybrids are still going strong despite the growth in EV sales. And if you're planning to get one for yourself, now is an excellent time to get a good hybrid vehicle. Tech's improving, top marks performance is still possible – there's more to it than when the first hybrids were released years ago.
Perhaps you're looking for a hybrid SUV? Not only are you getting more from your chosen vehicle's fuel economy, but you're also getting a decently sized car, be it a crossover or even a compact SUV, which is also fun for you and the whole family. Here's a list of the cheapest hybrid SUVs you can snag today.
Our Criteria for this List
Fuel Economy
Fuel efficiency is measured in miles per gallon (mpg). The higher the car's mpg rating, the better its fuel efficiency. Mpg ratings can be inconsistent due to various factors, so getting an accurate reading is challenging. The U.S. Environmental Protection Agency (EPA) handles the certification of all mpg ratings, so they will run standardized tests to determine an estimated mpg rating for a car. You can find out more from the EPA's dedicated website.
Performance
Hybrid SUVs have come a long way. You can expect to have a myriad of driving experiences with each model from various automakers. Some may emphasize good fuel economy, while others go for a good balance of that and overall performance.
Appearance
Hybrid SUVs can still look good while giving you excellent fuel efficiency. Look at all the hybrid vehicles available today, and you won't be disappointed. Plus, you won't need to spend thousands on top-of-the-line models that still look good.
Features
Hybrids still provide standard safety tech, various interior design choices, and good room for passengers and cargo – everything you need while on the road!
Reviewing the Cheapest Hybrid SUVs Money Can Buy
2022 Kia Niro Hybrid ($26,595)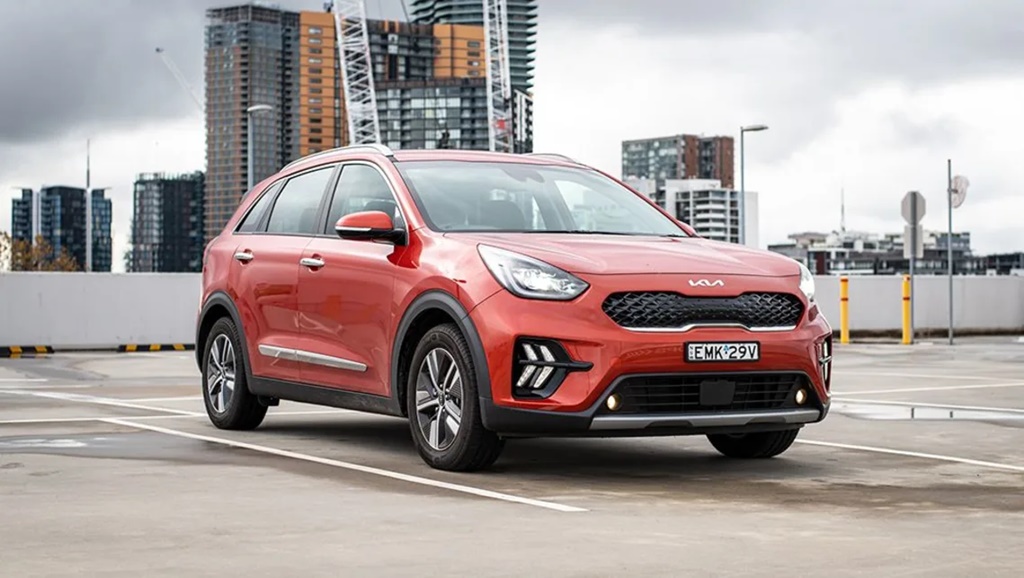 What We Liked
Great fuel economy
Handles well
Good value for money
Ratings based on the standard 2022 Kia Niro FE, 1.6L Automatic
City: 53 mpg
Highway: 48 mpg
Combined: 50 mpg
A hybrid at a reasonable price? That's what you're getting with the Kia Niro Hybrid. You also have three flavors to choose from: the hybrid version, a plug-in hybrid (PHEV), and a fully electric one (the e-Niro). Talk about having options! The hybrid model has a 1.6L four-cylinder engine paired with an electric motor, producing a combined 139hp and 195 lb-ft of torque. It's also paired with a 6-speed dual-clutch automatic transmission. The Niro doesn't offer an exhilarating ride compared to its rivals (0-60 time comes at around 8 seconds), but you do get to enjoy up to 50 mpg combined for fuel efficiency. Thanks to the Niro Hybrid, you'll save a lot down the road!
Despite the low price tag the Niro Hybrid comes with, the base trim is unfortunately not worth looking at. This stems from the base LX trim's strange lack of crash safety features, such as automatic braking, which is considered standard by now. At the very least, the LXS trim is a better option that won't break your budget. You will still get a decent amount of interior room that's both spacious, practical, and comfortable, while cargo space is also pretty generous when the rear seats are folded. The Niro Hybrid makes for an excellent starter choice for hybrid vehicles, but do opt for the LXS trim over the base trim. You'll be getting some additional features without going over 30k.
Review
Fuel Economy
Performance
Appearance
Features
2022 Toyota RAV4 Hybrid ($26,595)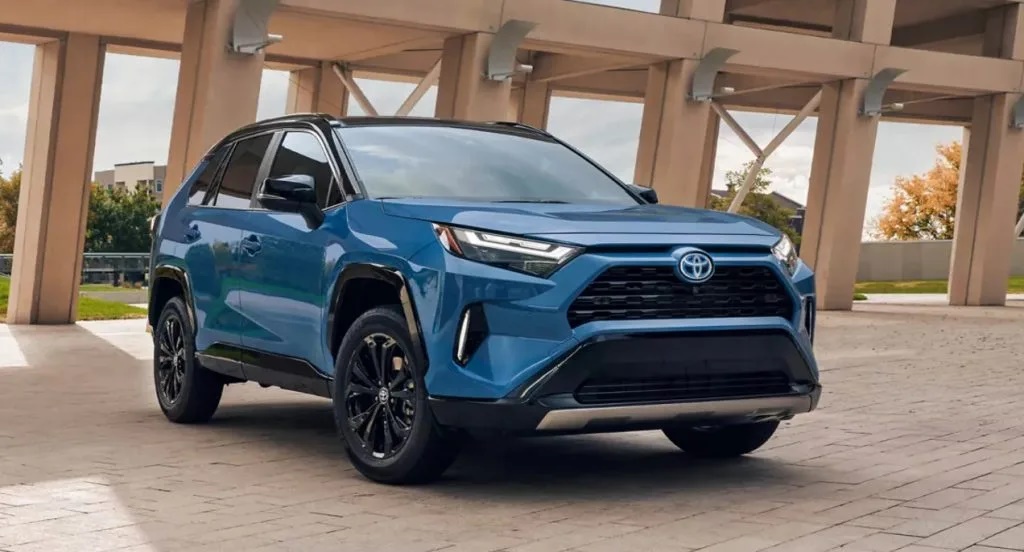 What We Liked
Decently performant
Good ride quality
Lots of standard safety features
Ratings based on the standard 2022 Toyota RAV4 Hybrid AWD, 2.5L Automatic
City: 41 mpg
Highway: 38 mpg
Combined: 40 mpg
Though it doesn't have excellent fuel efficiency ratings as the Niro Hybrid (40 mpg combined is still outstanding, all things considered), the RAV4 Hybrid makes up for this with more room on the inside, better performance gain, and a rugged, modern look. Under its hood is a 2.5L inline-4 engine assisted by two electric motors, delivering 219hp and 176 lb-ft of torque. You can get it to hit 60mph in under 8 seconds, which isn't too bad. When you start driving this hybrid, you'll be amazed by its lively acceleration and handling, though steering, braking, and taking corners might leave you with mixed feelings. At least the vehicle's well-balanced thanks to its sports-tuned suspension.
On the plus side, you'll get nicely finished interior spaces and firm but comfy seats for everyone aboard. You also get a decent amount of small item storage, so that's another plus if you've got things to keep around the car. There's also optional leather upholstery to add some extra touches. You'll have to get used to the loud engine noise when you're gunning for speed; the engine can sound pretty coarse, and the cabin doesn't do an excellent job of keeping the noise out. But apart from these minor gripes, the RAV4 is well worth your investment for a decently sized family SUV that provides some measure of joy to your daily drives.
Review
Fuel Economy
Performance
Appearance
Features
2022 Hyundai Tucson Hybrid ($31,045)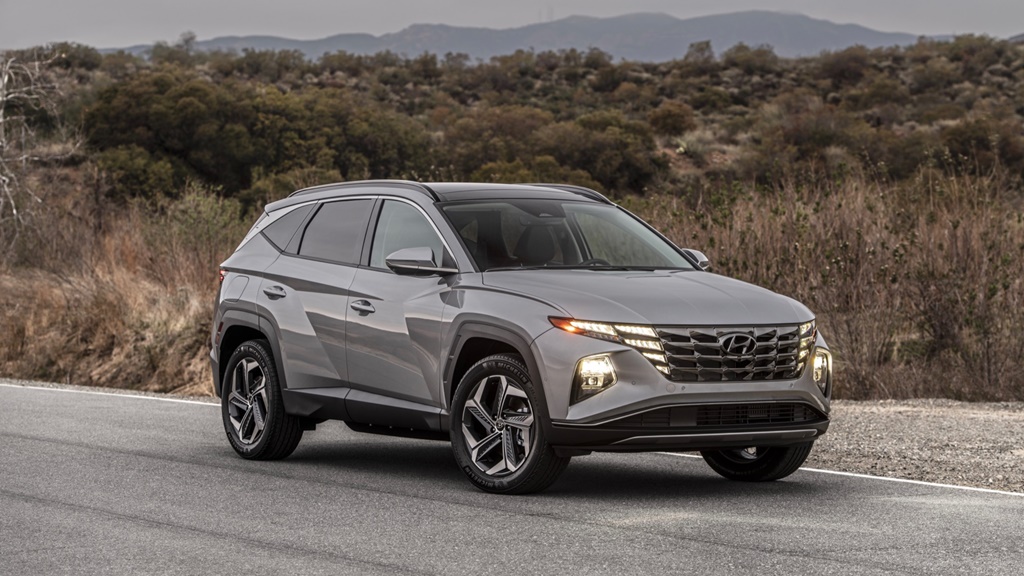 What We Liked
Smooth ride
Lots of useful standard features
Great cabin
What We Disliked
Fuel economy could be better
Ratings based on the standard 2022 Hyundai Tucson Hybrid Blue, 1.6L Automatic
City: 38 mpg
Highway: 38 mpg
Combined: 38 mpg
The Hyundai Tucson Hybrid delivers a premium feel when you take a seat in its premium-looking interior space. You're getting top-notch cabin design that borders on luxuriant, especially as you go up the trim levels. Even so, the base trim offers a great deal of exquisite comfort and style. Under the hood, this hybrid packs a 2.5L naturally aspirated turbo-4 with an electric motor, providing a combined 226hp and 258 lb-ft of torque. It's just a little zippier than the RAV4 Hybrid but offers almost the same (if not better) peppy, enjoyable performance as the RAV4 Hybrid. Braking is a rather hit-or-miss affair, while the suspension does a good job of absorbing heavy bumps along the way.
Fuel economy-wise, it's nowhere as competitive as its rivals at 38 mpg combined. At the very least, you'll be getting the most of the Tucson Hybrid's good handling capabilities. The built-in e-handling system allows the electric motor to help balance the overall handling experience, especially when turning. You can rest assured that the drive will be as pleasant as possible, despite the occasional noise coming from the outside. Moreover, it comes jam-packed with a host of critical standard features such as driver assistance tech, a great infotainment system, excellent safety features, and a comprehensive warranty package that covers five years or up to 60,000 miles. Now that's a deal you don't want to miss out on!
Review
Fuel Economy
Performance
Appearance
Features
2022 Ford Escape Hybrid ($31,680)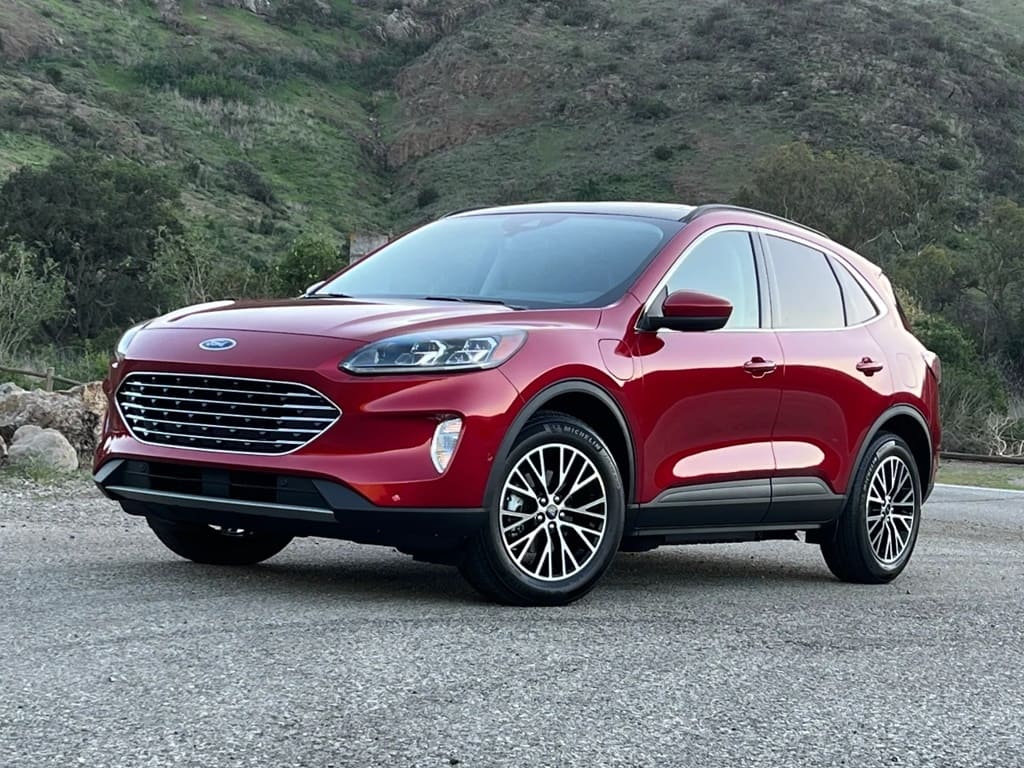 What We Liked
Spacious interiors
Sleek, polished look
Good fuel economy
Ratings based on the standard 2022 Ford Escape FWD HEV, 2.5L Automatic
City: 44 mpg
Highway: 37 mpg
Combined: 41 mpg
This compact SUV has received much praise for its excellent fuel economy without sacrificing too much. The Ford Escape Hybrid mounts a 1.5L turbocharged inline-three (able to operate on two cylinders for more fuel savings) that produces 180hp and 177 lb-feet of torque. Higher trims sport a naturally aspirated 2.5L four-cylinder paired with an electric motor and small battery; output is 200hp with a choice of all-wheel or front-wheel drive. It's not a sluggish car, nor very speedy, but it is economical. You're trading some power for better long-term savings, but you're not losing out entirely. Its overall road manners are well-tuned to the Escape's benefit, though steering may feel a little vague for some.
Look inside, and a clean and comfortable cabin space will greet you. Some things are lacking or missing from prior generations, such as odd or cheap design choices that mar its sleek stylings. While it favors smaller drivers than taller ones (rear passengers do a little better), at least it's functional. Cargo space is also pretty generous, while standard features are the usual stuff you'll find on other SUVs, although some of these are limited to costlier trims. Meanwhile, 41 mpg fuel economy puts it in a good position over several rivals, including the previously mentioned Hyundai Tucson Hybrid. We highly recommend the Ford Escape Hybrid as a well-balanced hybrid SUV that delivers responsive handling and outstanding fuel savings over time.
Review
Fuel Economy
Performance
Appearance
Features
2022 Honda CR-V Hybrid ($32,010)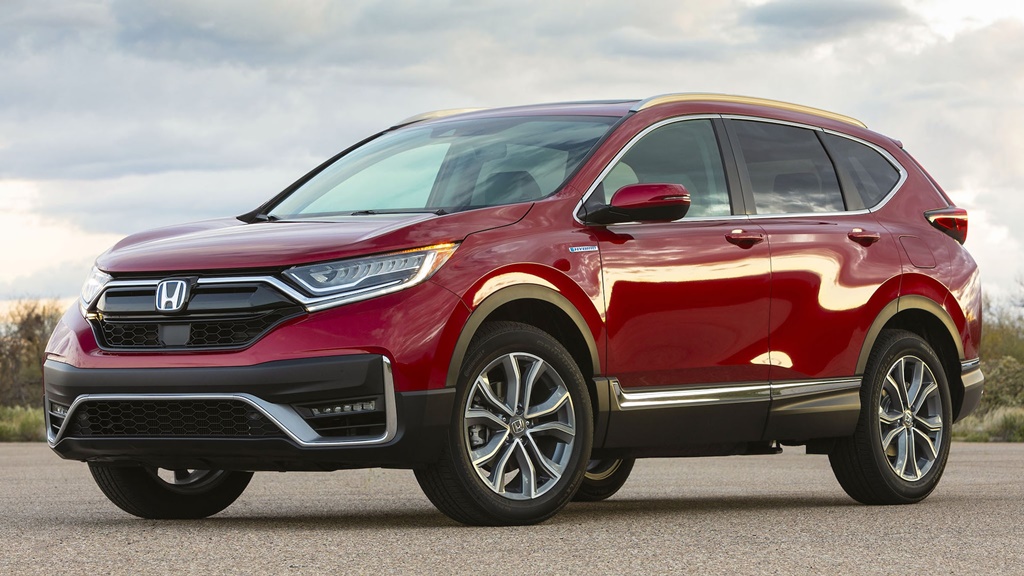 What We Liked
Comfortable drive
Good interior choices
Responsive powertrain
Ratings based on the standard 2022 Ford Escape FWD HEV, 2.5L Automatic
City: 40 mpg
Highway: 35 mpg
Combined: 38 mpg
The CR-V Hybrid is, surprisingly, more refined than the standard CR-V. Helped out by a very smooth powertrain, a 2.0L four-cylinder, and two electric motors with 212hp combined, you'll be taken aback by the seamless transition from electric motors to the gas engine, the quiet drive even as you're zooming on the road, and a confident braking experience. This puts the CR-V Hybrid ahead of its rivals while giving luxury cars two to three times its cost a literal run for their money. Sure, it's not built for going fast (taking between 8 to 9 seconds to hit 60 from rest), but that's not the main reason you're buying a hybrid, anyway. It definitely offers immense value down the line.
Unfortunately, its fuel economy is somewhat stifling. The 38 mpg rating is the same as the Hyundai Tucson Hybrid: again, not shabby, but it definitely could be miles better (no pun intended). Beyond that, it has modestly stylized interiors accentuated by quality materials and accommodating seats. It does feature a good amount of space for small items, but the presence of the hybrid battery eats into the overall rear space. Compared to the non-hybrid model's 75.8 cubic feet of space, the Hybrid only has 68.7 cubic feet, and that's pretty substantial. Hey, at least you still get Honda's suite of reliable standard tech and safety features to give you extra reassurance. Overall, the CR-V Hybrid is still a well-priced choice for your city driving needs or relaxed journeys with friends or family.
Review
Fuel Economy
Performance
Appearance
Features
Made Your Choice Yet?
Hybrid SUVs come in all shapes and sizes and, as such, come with various price points. You can easily pick any hybrid offered by automakers, but most of them (especially the popular models) can exceed the 40k mark. If you're looking for a bargain, used hybrids can offer a host of essential features that you'd like at a much lower cost. Many used models are relatively new, and buying one at a bargain can be a stroke of luck for you. Just be sure to do your homework beforehand to know if a particular hybrid is dependable.
Equally important is to be careful of automotive fraud. Unscrupulous sellers could trick you by offering a deal too good to be true. Make sure to find out everything you can about the car being sold. If your questions only get you stonewalled, you might want to consider that a red flag. Get a hold of the car's VIN and use it to check its vehicle history report. Maybe the car is a lemon or is using a cloned VIN. Protecting yourself from financial loss and a great deal of stress is paramount when buying a car, so ensure you're always looking out for yourself.