Last Updated on March 6, 2023 by Calvyn Ee
With how car prices have been fluctuating lately, now might be a good time to consider buying yourself a car at a much more attainable price. It'll still take a great deal of patience since prices haven't dropped yet, but when it does, you'll be really happy that you waited for that drop!
If what we've said has you planning ahead for that long-awaited purchase, why not browse our list of the best used sports cars under 50k? You definitely won't be disappointed with their unmatched characteristics: outstanding performance, excellent handling, and a chance to live life on the fast lane.
Our Criteria for Selection
Performance
You're here because you want a sports car that goes fast and doesn't hurt your budget. The ones featured in this list will be right up your alley.
Appearance
Many sports cars go all in with great looks, whether they're American-made muscle cars or the fiery sports cars of Porsche.
Features
Sports cars can still add a good deal of valuable features, from high-tech safety aids to great interior design and more.
Reliability
Reliable sports cars can easily satisfy your need for speed for a long time. Our reviews consider feedback from current and previous drivers and ratings from reliable sources like JD Power.
Looking at the Best Used Sports Cars Under 50k
2017 Mazda MX-5 Miata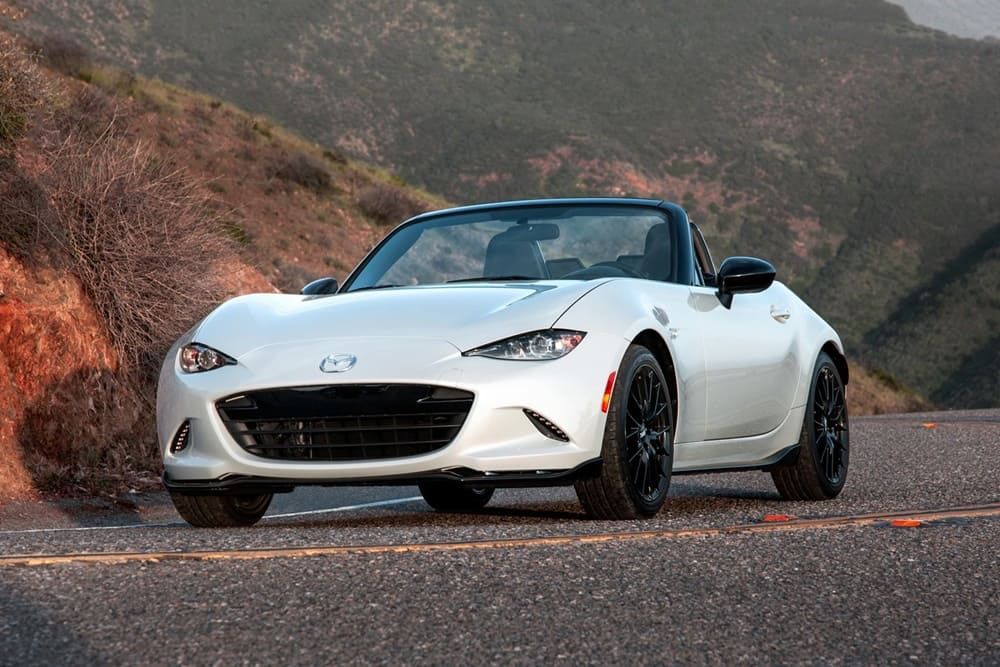 What We Liked
Fast, agile roadster
Exquisite handling
Perky engine
Looking for a sporty cruiser for two? Look no further than the Mazda MX-5 Miata. Sure, it's small enough that you won't get much utility out of it, especially with a tiny trunk that's only 4.59 cubic feet large. But what it lacks due to its diminutive size, it makes up for a fun, performant ride from start to finish. The Miata comes equipped with a 2.0L inline-4 engine that, coupled with its low weight, allows it to race to 60mph from rest in a respectable six seconds. As the rpm gets higher, the Miata delivers a good deal of power coursing through it as you zoom down empty streets or on the race track. The manual transmission offers pleasingly responsive shifts, too, so much so that swapping it for the optional six-speed automatic seems like a crime. The Miata also handles very well even as you take corners, but hit bumpy road conditions, and you're going to feel it in your seat. If you desperately need an injection of a thrilling ride, the Miata effortlessly delivers on the fun factor.
Review
Performance
Appearance
Features
Reliability
2018 Nissan 370Z NISMO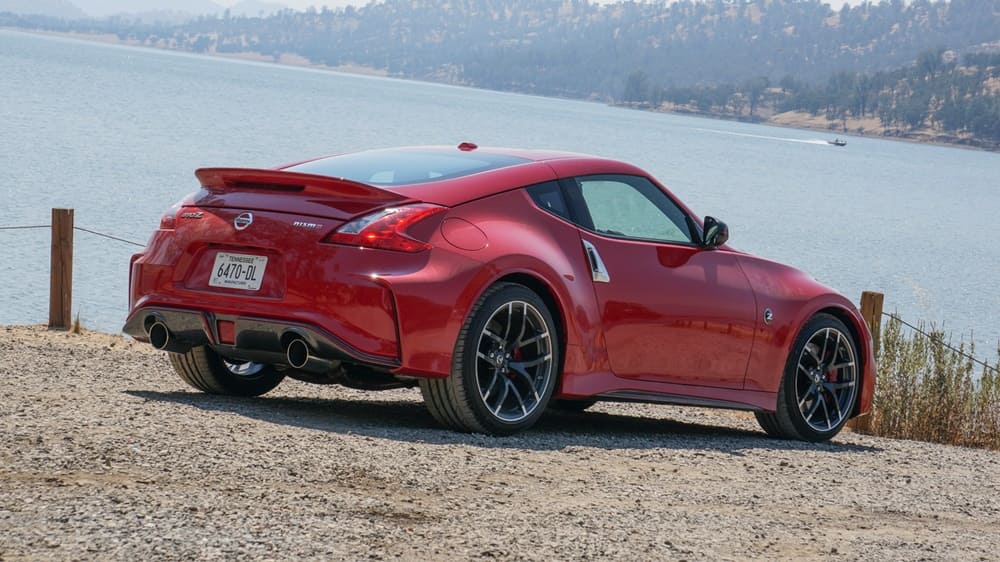 What We Liked
Strong performance
Sporty looks
Great handling
An alternative to the Mazda MX-5 Miata, the Nissan 370Z NISMO is a beefier sports coupe with its VQ V-6 engine that makes 350hp and 270 lb-ft of torque, paired with a six-speed manual. The NISMO trim offers a beefy upgrade to the standard 370Z, and it's evident once you take it for a spin. 4.7 seconds to hit 60mph from 0 is a giant leap in contrast to the Miata's respectable 6-second time. Still, the 370Z NISMO truly delivers a hefty wallop with its agility and specialized suspension setup for a more responsive drive. The heavy steering provides accurate handling as you navigate the roads, but some may find it a little less communicative for their liking. Like the Miata, however, its small size hinders bringing extra luggage for long trips with your partner. Additionally, the 19-inch wheels, while attractive, can get in the way of a comfortable ride, while some controls can feel rather sensitive at times. And it's also starting to show its age with its sparse interior design and lack of tech features. If you can look past these flaws, the 370Z NISMO still provides an excellent ride with its remarkable agility and impressive handling.
Review
Performance
Appearance
Features
Reliability
2020 Subaru BRZ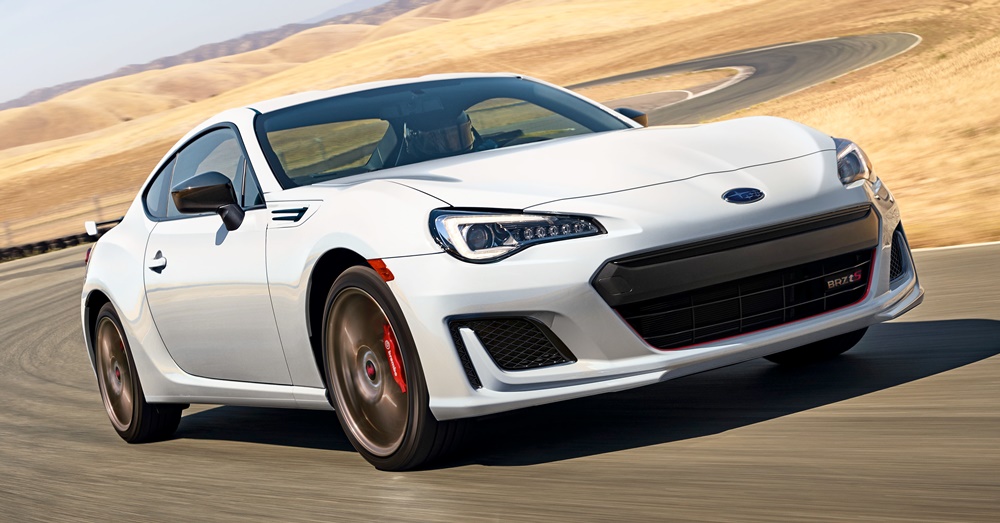 What We Liked
Staunch performance
Slightly roomier cabin
Delightful ride
Subaru's rear-wheel BRZ not only sparks joy in your rides with its impressive 2.0L flat-4 (paired with a six-speed manual or optional automatic) that allows going from 0 to 60 in 6.2 seconds, but it's also a slightly more practical option over the 370Z NISMO and Miata. Is it still small? Admittedly, it is. But it has a roomier cabin and 6.9 cubes of trunk capacity that can get bigger when you fold the rear seats. Outside of its interiors (that wasn't a pun, honest), the tS trim makes for the best choice for speed aficionados with its stiffer suspension, upgraded brakes, 18-inch wheels, and many other bonuses – all of which make for a strong performer on the road and the track. On rough pavement, the tS' ride quality does get very choppy, but it nevertheless shines bright on even surfaces. The BRZ exhibits stellar performance with its stable poise and accurate steering, allowing your inputs to be translated perfectly as it maneuvers to your every action. The manual transmission also shifts very nicely, working in tandem with every part of the car to deliver you an absolutely fun ride. The thrash the engine makes can sound like a cacophony, and it does lack the oomph that larger, more muscular sports cars have, but the BRZ still wins big with its chirpy handling and admirable power delivery.
Review
Performance
Appearance
Features
Reliability
2019 Audi TTS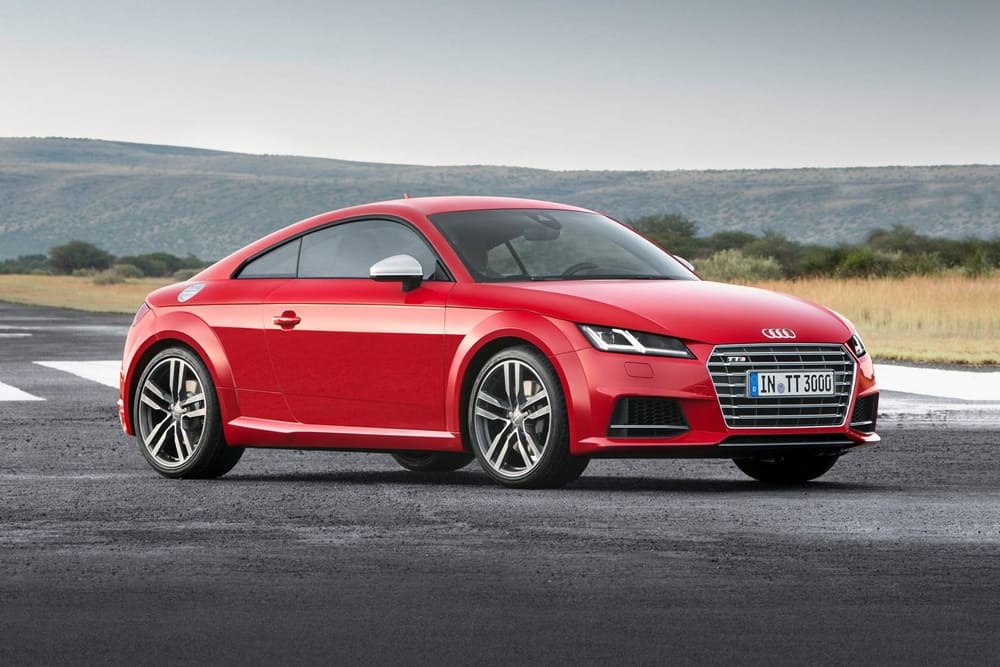 What We Liked
Impressive acceleration
Lots of cargo room
Strong fuel economy
What We Disliked
Overall quality is suspect
The sportier version of Audi's famous TT line, the premium TTS houses a 2.0L turbocharged four-cylinder engine (previously seen in the Volkswagen Golf R) that punches a potent serving of 302hp and 295 lb-feet of torque. Paired with a seven-speed dual-clutch automatic transmission, the TTS is a superb-handling sports coupe that can easily tackle fast corners – and nearly everything else – with the aid of the standard Quattro all-wheel drive system. You'll be able to hit a 0-to-60 time of 4.5 seconds in straight-line acceleration, making it a more competitive option if you want to go faster. The magnetic ride suspension, which dynamically adjusts the suspension's stiffness, also helps with making ride quality feel sublime even as you're rocketing down a bumpy road. It doesn't smooth everything out, of course, but it does help make the ride much more comfortable. As a result of these impressive techs, the TTS is an obvious choice for top-notch rides, satisfying bursts of speed, and plenty of other nifty extras to boot. It's still on the small side with its minimal rear seat space and 12 cubic feet of trunk room, but it's a decently practical pick for two.
Review
Performance
Appearance
Features
Reliability
2021 Ford Mustang GT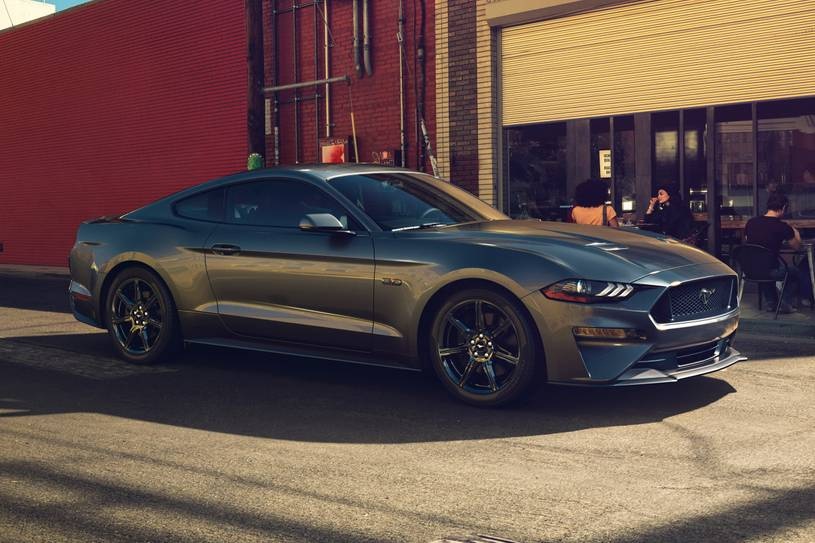 What We Liked
Powerful engine
Fun variable drive modes
Impressive ride quality
What We Disliked
Interior quality could be better
When it comes to muscle cars, the Ford Mustang quickly comes to mind (unless you happen to be a Dodge or Chevy fan). The 2021 edition continues the Mustang's reputation for thrumming power, thanks to its 5.0L "Coyote" V-8 engine that makes 460 hp and 420 lb-ft of torque. With such power, it can speed from 0 to 60 in 4.2 seconds. You can opt for the standard 10-speed automatic or go with a six-speed manual if you enjoy driving with a stick shift. The GT's handling traits are well-balanced with minimal body roll and excellent stability while taking corners or blazing down the path. Add the optional GT Performance package, and you'll get to experience much better ride quality thanks to sportier suspension tuning, stronger Brembo brakes, and adaptive dampers. Variable drive modes also help to fine-tune your driving experience with the GT, but your ride quality is guaranteed to be comfy from start to finish. Plus, one can't help but feel excited when the engine growls as you put the pedal to the metal – and with the optional active exhaust, it really booms. Altogether, the Ford Mustang GT is a powerful machine that provides tremendous performance in a single package.
Review
Performance
Appearance
Features
Reliability
2017 Porsche 718 Boxster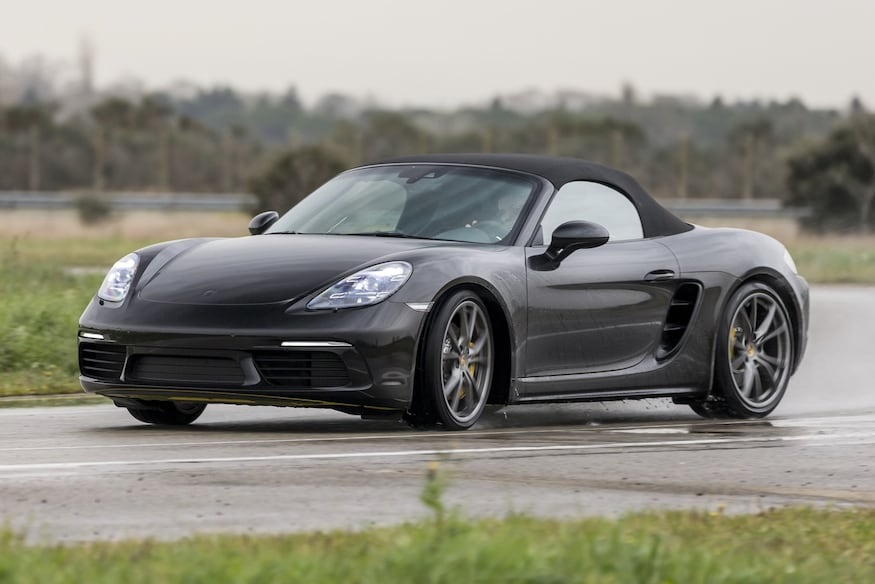 What We Liked
Agile performer
New turbo-4s are mighty
Porsche quality guaranteed
An equally renowned brand, Porsche's Boxster can be bought used for under 50k if you know where to look, and it'll be money well spent. Under the hood, the Boxster sports a 2.0L turbo-4 engine with 300hp and 280 lb-ft of torque, in lieu of Porsche's decision to replace the standard flat-six. If you're lucky enough to snag a Boxster S, you're getting a 2.5L turbo-4 instead, which produces 350hp and 309 lb-ft of torque. Whichever one you choose, the Boxster is no slouch where speed is concerned: the base Boxster goes from 0 to 60 in 4.5 seconds, which is already a splendid score. Those familiar with the previous models will undoubtedly miss the sonorous sound of the flat-six, but if you look past that minor issue, you'll find the Boxster has hardly changed in its handling. If anything, the Boxster feels quicker, helped by the new powertrain and Porsche's quality engineering that tuned the Boxster for more driving pleasure. A six-speed manual comes standard and offers smooth shifting for stick-shift fans; the available seven-speed dual-clutch automatic, on the other hand, is probably one of the best transmissions ever made. As a result, the Boxster is a well-balanced, high-performing sports car that delivers a thrilling zest without sacrificing driver comfort or roadworthiness. To be able to afford one for less than 50k is nothing short of a miracle.
Review
Performance
Appearance
Features
Reliability
2020 Dodge Challenger R/T Scat Pack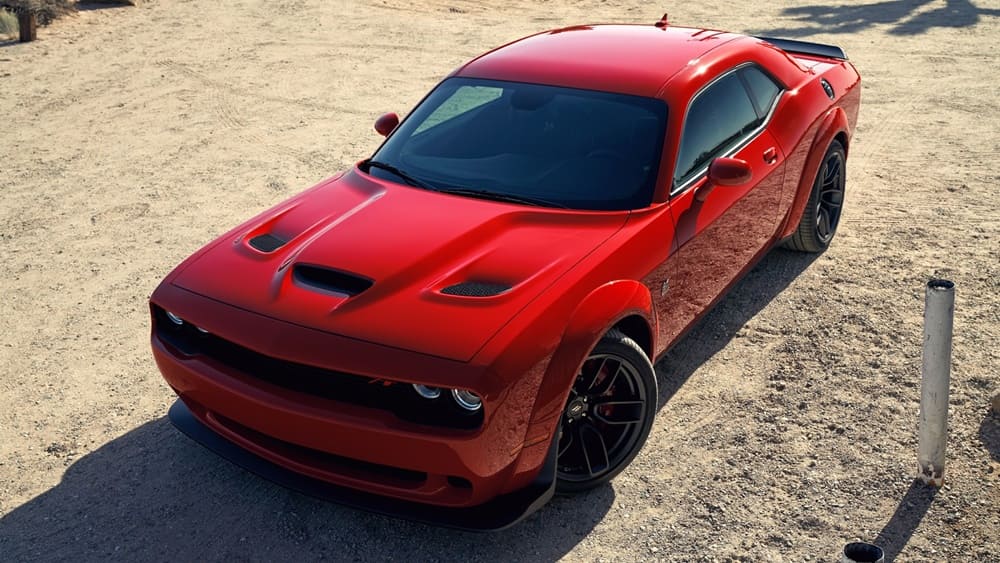 What We Liked
Powerful thrills
Plenty of cabin room
Excellent ride quality
With its trademark 6.4L HEMI V8 delivering 485 hp and 475 lb-ft of torque, the Challenger R/T Scat Pack is an outstanding muscle car to have in lieu of the more powerful Hellcat. For less than 50k, you'll get a loud, hefty racer with straight-line acceleration at a confident 4.9 seconds. An eight-speed automatic transmission is standard and offers responsive shifts, but a six-speed manual is also available. Whatever transmission you decide on, the Challenger really shines as a muscle car, guttural growl notwithstanding. Even with its massive weight, the Challenger's tuning and adaptive dampers help it to take on corners, though nowhere as nimbly as some other sports cars. Its size does hamper its general performance on town or city roads but gets onto an empty strip of pavement or a track, the Challenger rockets itself forward with surprising dexterity. Put it through its paces, and it's pretty obvious this car was made to dominate a drag strip. The ride quality is also impeccable, and with the massive cabin room it offers, you can take three others along to experience an exhilarating drive together. It's hard not to see why folks still love the Challenger, especially the ones with the beefier engines and the loud roars they emanate.
Review
Performance
Appearance
Features
Reliability
Roaring to Buy One?
Before you do, allow us to give some advice: while prices are indeed dropping soon, you're bound to see many lucrative sports car deals at relatively affordable prices. You've probably heard stories of people waiting almost a decade for prices to go down to a level they can afford. Maybe you've been in that situation yourself. But before you hastily agree to a deal you can't refuse, you might want to ensure you're not being conned for it. Did the seller show you photos of the car? Did they give you information about it? Were they apprehensive in revealing more about it, or deflected your queries if you could see it in person?
The last thing you want is to spend tens of thousands on the sports car of your dreams, only to find it suffered significant flood damage when Hurricane Ian hit last year. You might have to foot multiple maintenance bills to keep it running, which will cost you a lot more down the road. Prevent this from happening by getting yourself a vehicle history report. With it, you'll get accurate information about the car you're eyeing, from its technical specifications to odometer readings and records of past accidents or floods in which it was previously involved. You might also find some of the data in the seller's report fails to disclose important aspects, like if the car has a salvage or junk title.