Last Updated on August 14, 2023 by Calvyn Ee
Key Points
Car sales were relatively good in May, especially as inventory levels normalize
The challenges consumers are facing to own a car remain the same: affordability and high interest rates on loans
The overall outlook still looks uncertain, especially with consumer spending still looking precarious
---
The automotive industry is starting to see some positive changes from May, with steadily improving inventory and sales across the board since the previous month. Are we in for a better automotive market for the rest of the year? Time will tell.
Generally Positive Performance
If you look back at auto performance in May, light vehicle sales in the country did go up 19.6 percent year-over-year to a seasonally adjusted annualized rate (SAAR) of 15.0mm. Even as sales are still below trend, the strong sales – the highest since May 2021 – are nonetheless a good sign.
The improving inventory condition saw an increase of 16,000 units at the end of May. This makes the third month that inventories "held around 1.8mm units;" inventories are now up 60 percent year-over-year. New inventory in mid-June was down 49 percent compared to 2019 figures, with days' supply down 39 percent, which is "down 3 days from the end of May." Meanwhile, used inventory was down 20 percent, where used days' supply remained unchanged compared to 2019 but "down 2 days from the end of May."
With inventory improving, we're inclined to believe that sales will steadily improve as the year progresses. As such, automakers will likely have sufficient supply to meet growing demand through the rest of 2023. Used retail inventory is still relatively low compared to figures "over the last five years," but it's no longer in decline.
Consumer Spending Still Good – For Now
The main concern remains with consumer affordability and high interest rates, which is "keeping a lid on the pace of sales," according to Jeremy Robb from Cox Automotive. Fewer low-financing offers are being made compared to 2021, while auto loan rates remain elevated. For average new vehicles, rates are now up to 8.99 percent, an increase of 7 basis points in June (274 basis pts year-over-year). For used, rates have gone up to 13.63 percent, an increase of 12 basis points in June (323 basis pts year-over-year).
The good news was that the Federal Reserve did not hike interest rates this month, which may signal that further hikes may soon come to an end. Consumer sentiment was up 8 percent in June, according to the University of Michigan's latest Surveys of Consumers, with growing optimism thanks to changes through various policy actions to combat inflation, among other things. Though sentiment seems to be back on an upward trend, it's still at historic lows "as income expectations softened;" some respondents still believe that hard times are inbound.
Furthermore, consumers with remaining student loans will need to prepare to repay them again soon, following the recent debt ceiling deal, which ended the three-year-long federal student loan payment pause. Cox Automotive believes this could cause "some secondary impacts to payment streams in the economy" and further reduce consumer spending as they repay their loans.
We expect affordability to remain a central issue for consumers as spending power slowly diminishes. Currently, average transaction prices (ATP) are still high, climbing 2.7 percent year-over-year to $45,779 (based on TrueCar statistics). This equates to an increase of $1,214 per unit year-over-year. Meanwhile, at the end of May, the average listing price of used cars stood at $27,256, the highest since January.
Automakers and dealerships must continue leveraging various incentive schemes to entice potential car buyers. Consumers are still looking to buy, but they're a lot more prudent with where they divert their funds, and incentives might just be the way to get them interested.
Popular brands will also continue to see lower days' supply compared to others; Cox Automotive reports Honda, Subaru, Toyota, and Mazda as being several brands with the lowest used inventory; used luxury vehicles were also very low, most notably Acura, Infiniti, and Lexus inventories. This will impact overall used sales and should drive further new vehicle sales despite their relatively high price points. Again, we highlight the importance of incentives to help promote sales growth for the rest of the year.
The Mixed Outlook Persists
From our previous outlook report, we believe it will still be a mixed bag for the automotive industry. Despite the recent gains in sales and inventory, predictions about consumer spending power are still shaky at best. Spending growth has declined, but many categories have seen either minimal or marked spending growth. This includes vehicles, which also encompasses spending on parts and services.
The unemployment rate went up in May to 3.7 percent from April's record low of 3.4 percent. Though still low, some experts see it as a sign of the labor market slowly but surely softening, which may help make it easier for the Fed to combat inflation and reach its target. On top of other positive economic signs, some are inclined to believe that the rumored recession is still far away.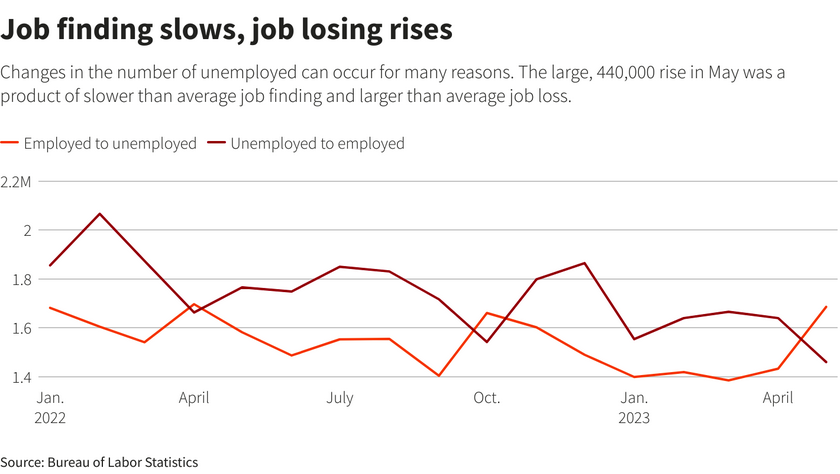 For now, the automotive industry will continue to normalize in terms of overall inventories despite high interest rates and fluctuating consumer spending. As Jonathan Smoke, Chief Economist at Cox Automotive, said in his most recent weekly report:
"I'm optimistic that the worst is behind us. I'm not expecting big changes in demand as rates and prices are still high. But with the prices coming down, especially… in used [vehicles], and [interest] rates stabilizing, employed consumers with strong income gains eventually do find a way to buy new wheels."

Jonathan Smoke, Cox Automotive