Last Updated on January 29, 2023 by Calvyn Ee
All-wheel drive (AWD) vehicles were built for traveling down roads, where the engine delivers power to all four tires simultaneously. While you won't be driving an AWD car to traverse the wilderness, newer AWD systems are becoming more robust and can take on nearly any off-road situation – but even then, it's nowhere as rugged or versatile as a four-wheel drive (4WD) system.
Are you thinking of getting a car for a decent value that offers many useful features? Fret no more, as our article on the best AWD cars in the market will help you decide. We have a list of 5 cars worth your time and investment.
Our Criteria for this List
Performance
Performance, handling, and even braking are just a few important components of an AWD car's ability to take on the road. Whether you're aiming for a well-liked daily driver or something a little more powerful, we've got something for you.
Reliability
A good AWD car will perform well on the road and be less prone to mechanical faults and other issues. We reviewed reliability results from various sources such as JD Power and also consumer reviews from current and previous owners to ascertain the car's overall value.
Appearance
Even if it drives well, it should also look good. From sleek curves to aerodynamic aesthetics, a car's appearance can potentially make or break a purchase.
Features
Things like standard safety tech, unique interior designs, and decent passenger and cargo space add even more value to your purchase.
Let's Look at the Best AWD Cars Up for Sale
2023 Subaru Legacy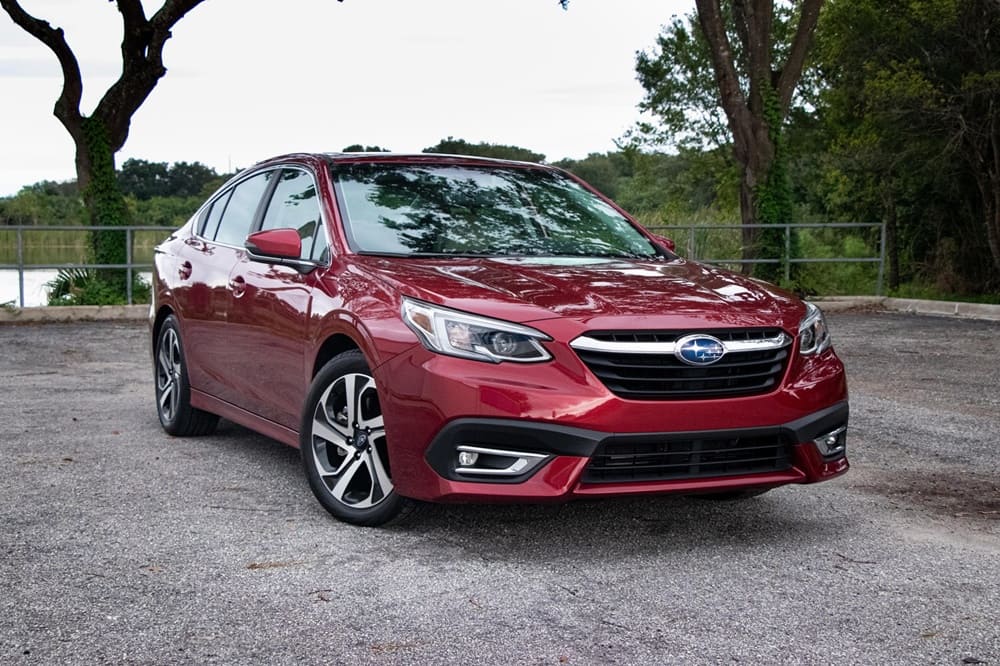 What We Liked
Very stable ride
Lots of standard tech
Good value for money
With all-wheel drive being standard on all models, the Subaru Legacy – while looking rather plain on the outside – has a lot to prove on the inside. The base trims use a 182hp 2.5L flat-4 engine, while the Limited model uses a solid 260hp 2.4-liter turbo-4 that can allow the car to hit 60mph in about 6 seconds. Whichever one you choose, you'll still enjoy a nice, compliant ride with little difficulty in steering, and the CVT it uses is much better than what you'll find on other cars. The all-wheel drive gives the Legacy a stable ride, no matter how bad the roads can get. There's a little bit of awkwardness in braking or slowing down, but other than that, you'll love the driving experience. On top of the excellent safety ratings, you won't have much difficulty navigating with a Subaru Legacy.
Though some drivers may find the exterior sedate, the inside is where it helps the Legacy shine bright. Granted, it might not be a very inspired look, but you're getting better size and comfort than the last generation Legacy. Passenger comfort is also a focal point, so those sitting in the rear won't complain about the cloth upholstery seats (leather is available for the higher trims) or the great choice in materials. You can also find sufficient space in the trunk, even if it might be 15.1 cubic feet only. What helps is that the storage area is big enough to accommodate bulky items. All in all, the Subaru Legacy is well worth its decent price tag: a well-rounded, stable AWD car that can go the distance on almost any road.
Review
Performance
Reliability
Appearance
Features
2023 Kia K5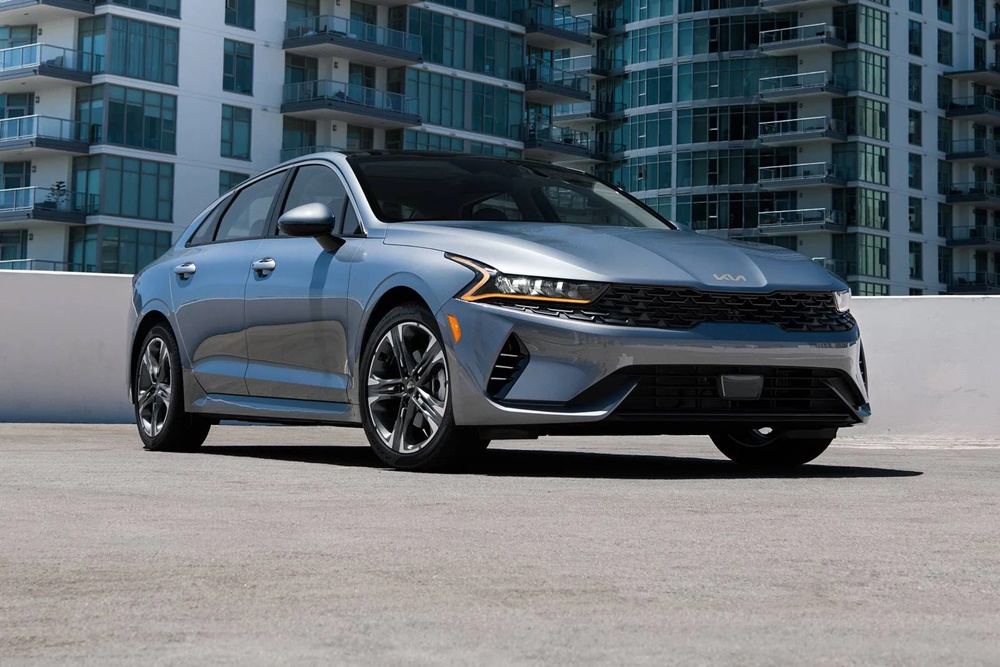 What We Liked
Bold aesthetics
Great features
Quiet drive
For the Kia K5, all-wheel drive is available on all trims except the highest-tier GT model. With a new logo and a bold look, the K5 will surely be a head-turner. Packing a 180hp 1.6-liter turbocharged 4-cylinder paired to an 8-speed automatic, the K5 can hit the 60mph mark in about 7 seconds, exceeding the base Subaru Legacy by about a second. Braking, steering, and driving all meet expectations that make the K5 easy to drive. The 8-speed is also very responsive, enabling you to change gears swiftly. Given the choice, you'd be better off sticking with the 17-inch wheels as opposed to the 18-inch ones; for some reason, going at low speeds with the 18-inch wheels does generate quite a bit of noise. As it is, the 17-inch ones do a good enough job that they merit remaining unchanged.
On the inside, the K5 has a good level of comfort for the driver and passengers, with a very clean look and user-friendly design for the dashboard controls. Passengers can also enjoy a decent amount of headroom and lots of legroom. The driver's seat can feel a little high even when set at the lowest point, but it doesn't interfere too much with your overall comfort. The lower-tier models do have some hard plastics in the interior design, but these can be overlooked since they're not too distracting. Cargo space is also good, with about 16 cubic feet of space, expandable if you lower the rear seats. For the most part, the Kia K5 makes for a competitive consideration even amidst the sea of more popular sedans. You definitely won't regret this purchase.
Review
Performance
Reliability
Appearance
Features
2023 Hyundai Kona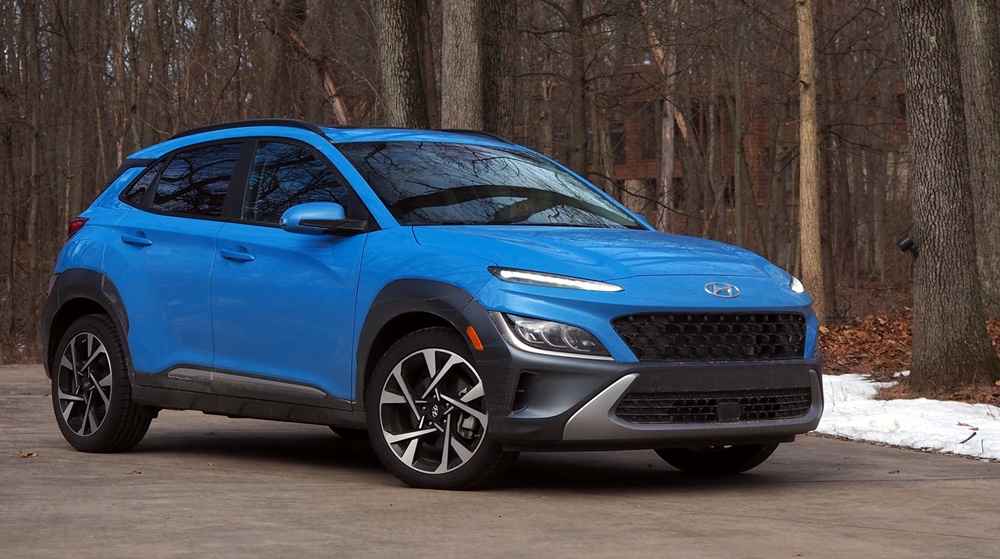 What We Liked
Powerful optional engine
Great handling
Good fuel economy
This compact crossover is a decent value-for-money option, where all-wheel drive is optional on all but the Kona N model. The standard trims have a 147hp four-cylinder engine paired with a six-speed automatic transmission but don't expect much excitement from this. The optional 1.6L turbocharged 4-cylinder did a better job, with 195hp, and paired to a 7-speed dual-clutch automatic. With this optional engine, you can be assured that the Kona delivers fun and perky driving with little difficulty in shifting gears (though it does stumble at lower speeds), a good grip on the roads, and decent handling and braking performance. Its multi-link rear suspension helps to provide additional stability, thus contributing to its pretty remarkable road performance.
It might be a little tricky to fit three people in the rear due to the Kona's compact size. Rear headroom is good, but legroom can get a little tight for those sitting in the back. Comfort is decent despite some occasional ride stiffness; at least you won't have too much road noise coming in as you're on the road. The predominance of hard plastics might seem a bit much for some, but it's a small payoff in return for the Kona's balanced handling. Thanks to the 19.2 cubic feet of room (expandable to 45.8 with the rear seats folded), you can still find generous cargo space for cargo. Despite its minor flaws here and there, the Hyundai Kona is an excellent pick for good AWD performance; if you're upgrading from a sedan, why not also get additional storage space?
Review
Performance
Reliability
Appearance
Features
2023 Subaru Outback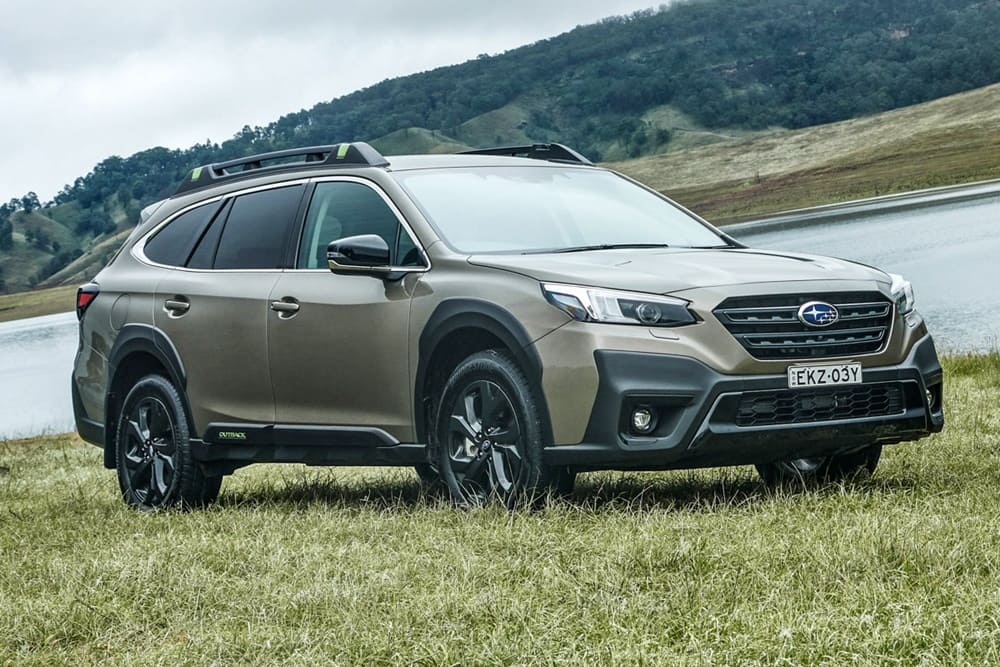 What We Liked
Lots of room inside
Comfortable ride
Decent off-road capability
What We Disliked
Clunky infotainment system
With a choice of either a turbocharged or non-turbo four-cylinder engine, both of which come standard with all-wheel drive, the Subaru Outback is a station wagon that delivers on a lot of fronts. The Outback might just be what you need if there's minor off-roading to be done. The baseline 182hp 2.5L engine is not the most performant engine out there, but opting for the more powerful turbocharged engine could set you back by $6,000 or so, if not more. As long as you manage expectations, the base engine will serve you well enough. Thankfully, the CVT transmission shifts quickly, and the Outback can easily handle both on- and off-road conditions pretty well. A drive mode selector helps when you plan to go off the path, while 9.5 inches of ground clearance and a sturdy suspension ensure you'll have no problems when going on an adventure.
Being a station wagon, the Outback has ample space for passengers and cargo. Its interior design might not be exciting or futuristic, but that's not the main point you're buying an Outback, anyway. The front seats are cozy and supportive; you won't feel tired sitting in them for long periods. There's also a lot of headroom and legroom in the back, so your passengers won't feel cramped in the cabin. If it tickles your fancy, the upper trims add some nice extras, such as heated seats and power-adjustable front seats (manual on standard trims). As for cargo space, how do 32.5 cubic feet sound? Fold down the rear seats, and you'll get double that (75 cubic feet or more). As far as semi-off-road AWD vehicles go, you can't go wrong with the Subaru Outback.
Review
Performance
Reliability
Appearance
Features
2023 Toyota Camry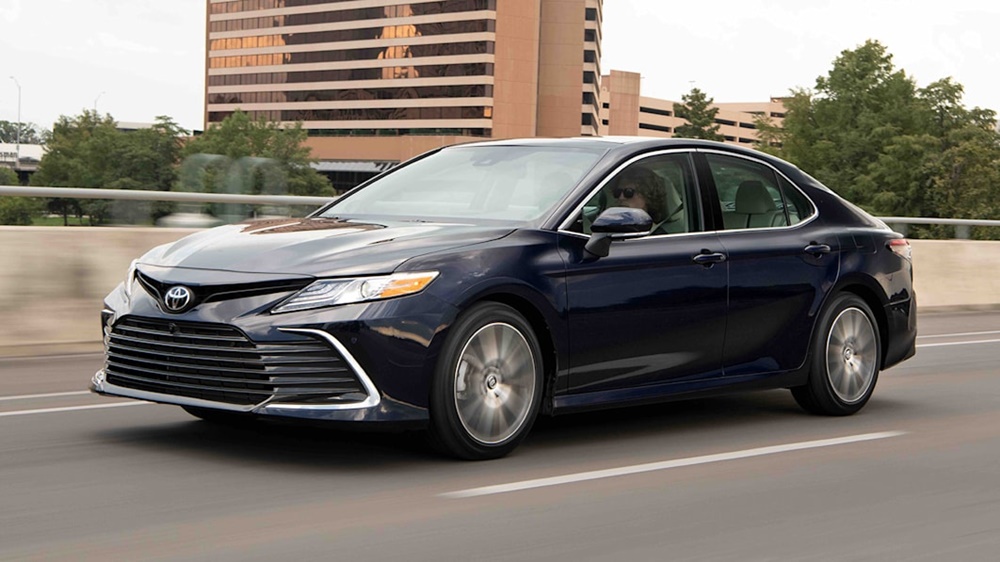 What We Liked
Great fuel economy
Handles well
Good value for money
The ever-reliable Toyota Camry has AWD capability in its base 203-hp inline-4 engine form that's paired with an 8-speed automatic. In all, the Camry is the kind of car you get for daily driving in and around the city, and it does remarkably well in its task. It's definitely not built for zooming down the road, as performance power was traded in favor of better fuel economy ratings (in which it excels, with its combined rating at over 32 mpg). Nevertheless, the Camry holds up well against the competition. You have a nicely balanced steering feel, responsive gear shifting, and relatively zesty on-road mannerisms. Plus, the sporty suspension helps keep it grounded while driving, leading to better handling overall. Braking is also good but gets a little janky at lower speeds.
Higher trims promise more premium interiors, but even the base models, though rather spartan by comparison, are still good enough if you're on a budget. Big, comfy seats, helped by the Camry's stable ride, ensure everyone on board enjoys a peaceful trip (though wind and road noise is, sadly, unavoidable). Moreover, 38 inches of legroom means that even tall folks can have an excellent time sitting in the back seat. The trunk can make up for up to 15.1 cubic feet of stuff, which is fine and dandy for a mid-size sedan. And, as befitting a Toyota, you're getting all the latest safety tech features Toyota can pack into each of its offerings – always a great thing to have for peace of mind. You can't fault the Toyota Camry for being what it is – it does its intended job well, after all.
Review
Performance
Reliability
Appearance
Features
Take Your AWD Pick
This list of the best AWD cars was based on the best value for money you can get from each one. Each of the featured cars has its fair share of pros and cons, so you can decide which one will work best for your driving needs. Moreover, with an MSRP of below 30k for the base models, you won't have to worry so much about your finances to afford a good car. Just ensure that you also keep an eye out for possible red flags in any deals you find; automotive fraud is the last thing you want to fall for, which will cost you a lot of money, time, and effort.
We cannot overstate the importance of keeping yourself safe in your car-buying journey. Always ensure you can acquire the car's VIN, which you can then use to check its vehicle history report. Sometimes, dealers might clone another car's VIN and pretend that they're selling a legitimate, roadworthy vehicle for a decent price point. Protecting yourself from financial loss and a great deal of stress is paramount when buying a car, so be sure to take the necessary steps to shield yourself from potential scams.