Last Updated on July 26, 2019 by Jason Mason
Buying a used vehicle is a great decision in today's economy. If you're shopping at the right place with the right guidance, you're sure to be able to find a wonderful vehicle to suit your needs- without having to sell off your house.
There's a lot to consider when you're buying a used vehicle, though. If you don't do your homework, it can be a lengthy and even a costly experience. That's why it's so important to get the right information on your chosen vehicle before you make any commitments. However, a single vehicle history report does not come cheap. It's even more expensive when you need to run vin checks on multiple vehicles when you are shopping for a car.
We'll be taking a look at ways on how to get free vehicle history reports from the AutoCheck and Carfax.
How to get Free CarFax Report?
This method is actually the only way to get free Carfax report. This method will only show you vehicle history reports that are already queried by the dealers. They may or may not have specific records for your car, but hey, it only takes 2 minutes to test things out. If you are lucky, you saved 30 dollars for a vehicle history report.
Let's say your VIN Number is 5Y2SL63865Z481301.
All you have to do is to change this:
https://www.carfax.com/VehicleHistory/p/Report.cfx?vin=5Y2SL63865Z481301

Free CarFax Report LINK

If you have another VIN Number like WDDUX7GBXGA252846
https://www.carfax.com/VehicleHistory/p/Report.cfx?vin=WDDUX7GBXGA252846

Free CarFax Report LINK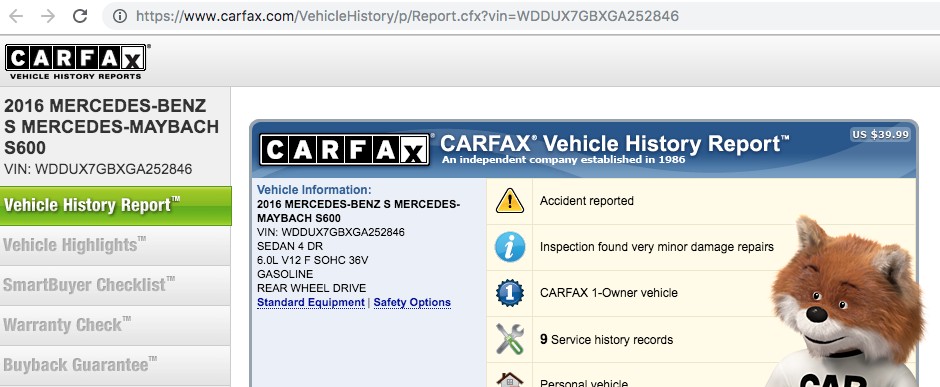 How to get Free AutoCheck Report?
There was a way to get free AutoCheck here few years ago. The trick was to run this query "dealer autocheck inurl:vin" in the google search.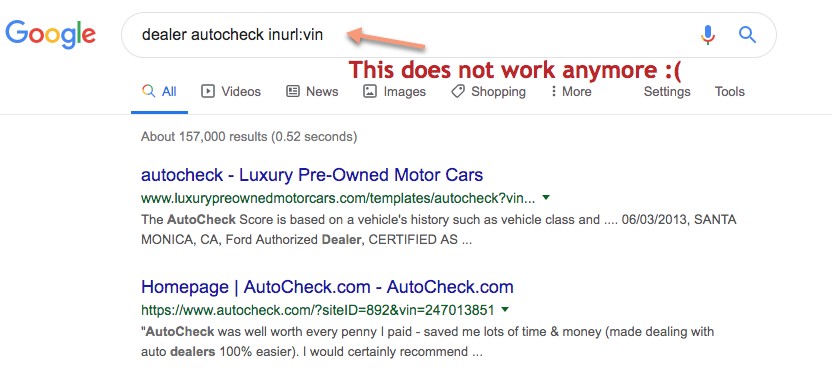 Unfortunately, AutoCheck has fixed the loophole long time ago. The only true way to get a free AutoCheck report is to get them from your dealer.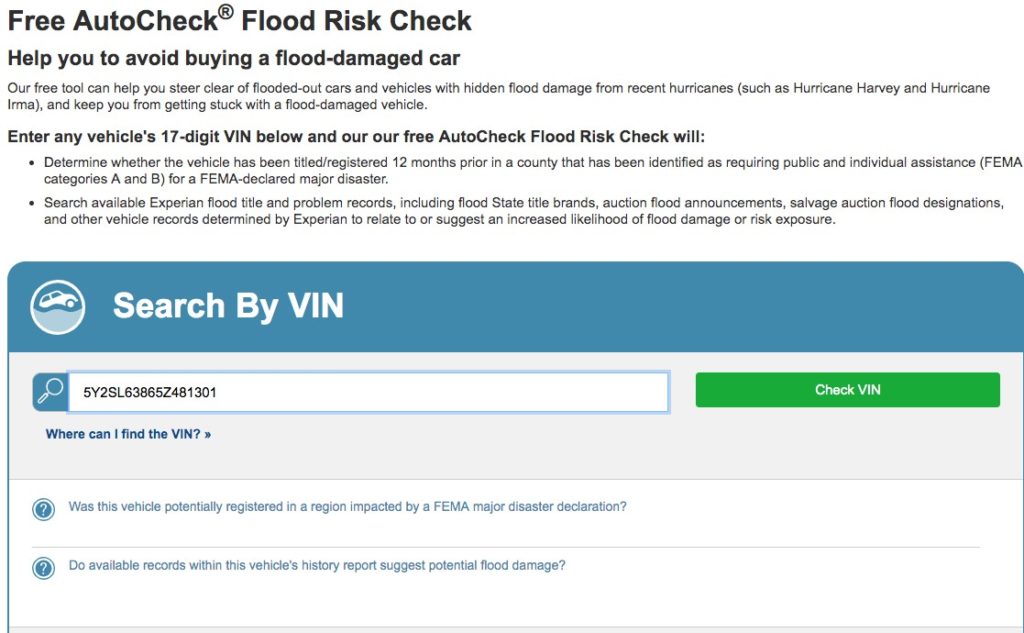 However, you can perform free flood check with AutoCheck here. That's the only free report you can get from AutoCheck. It was an initiative by AutoCheck to give out free reports to prevent consumer from purchasing flooded vehicles. There is a large influx of flooded vehicles due to hurricane Harvey and Barry in the market, and many of the unscrupulous dealers are trying to flip those vehicles as fast as possible with clean titles as the flood reports may not be updated in NMTVIS database yet.
Where can I really get Free Vehicle History Report?
For basic theft check, you can always perform them at NICB. NICB will check your VIN and find out if your vehicle was reported stolen before.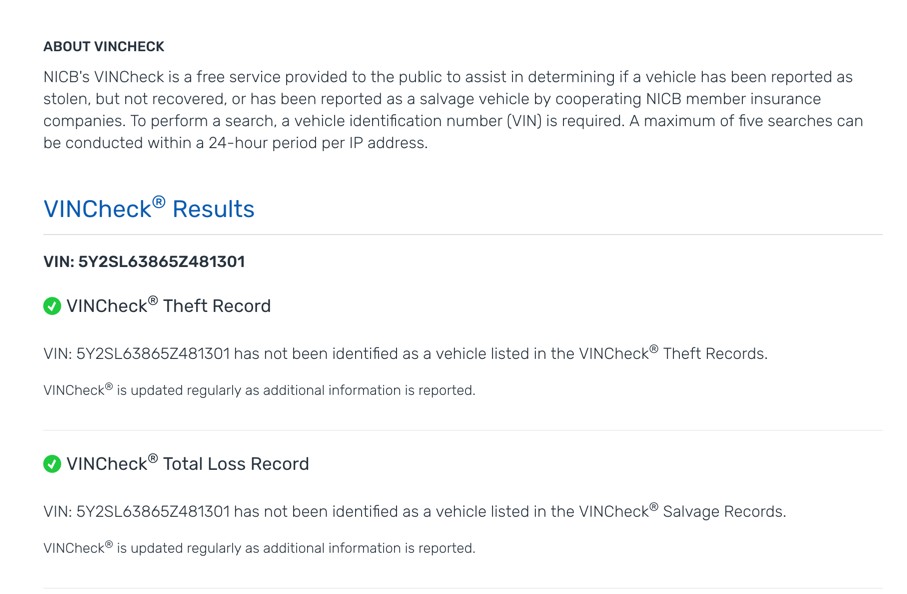 Here at VIN Free Check, we're proud to offer free VIN check to make your second-hand purchasing journey a breeze.
Our reports are created to the highest standard and offer every piece of crucial information that you'll need for this process. Additionally, you'll be pleased to know that our vin report service is entirely free.
VinFreeCheck reports contain:
An accurate vehicle specification
A salvage/junk title check
Vehicle collision history checks
Real time, accurate market pricing
Up to date odometer records
Detailed vehicle history
We've also got a number of great resources available on our site for your perusal.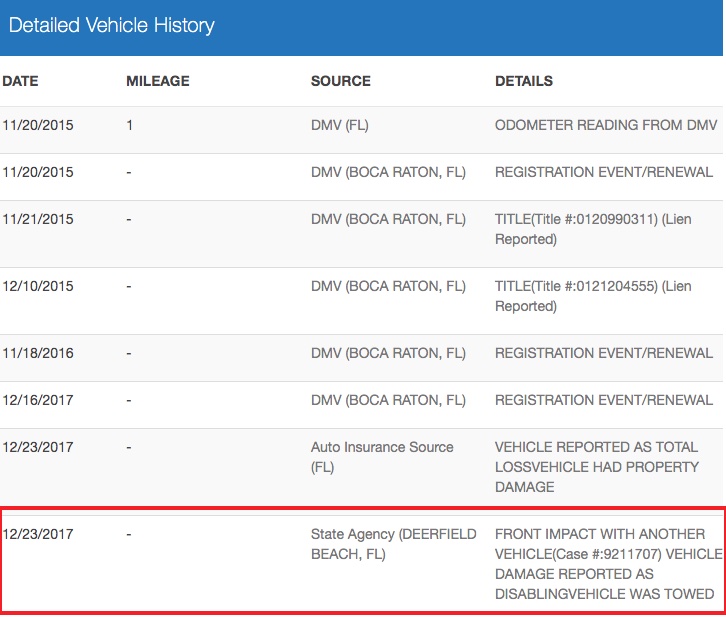 Final thoughts
Overall, vehicle history reports are an absolute essential if you're looking to find a great second hand vehicle. It's great that the industry has now developed to the point where these reports are available online and with such a high level of detail. Whether you're buying a car, a motorcycle or something else entirely, this is a piece of information that you can't afford to miss out. If you're about to purchase a second hand vehicle and want to make sure you're in the best position possible, we'd recommend run your vin check online immediately.