Last Updated on July 24, 2023 by Calvyn Ee
All-wheel drive (AWD) remains a popular feature for the added traction to the car's wheels, making it easier to handle when inclement weather can affect a car's handling on the road. Unsurprisingly, more automakers offer AWD in their cars, including budget-friendly and even luxury sedans.
Thinking of getting one to handle the wintry roads of your city? Or maybe you'd want the better handling that AWD provides for some speedy cruising? You can't go wrong with our list of the five best AWD sedans available today!
How We Rated These AWD Sedans
Performance
All-wheel drive emphasizes handling, whether traveling on slippery, snow-covered roads or taking corners smoothly. A combination of performance factors can make for a confident, stable ride from start to finish.
Appearance
Even sedans can still look and feel as good as how they handle on the roads.
Features
Sedans come packed with valuable features, including high-tech safety aids and efficient cabin room use.
Reliability
Reliable AWD sedans can last a very long time. Our reviews consider feedback from current and previous drivers and ratings from reliable sources like JD Power.
Our List of the Best AWD Sedans of 2023
2023 Nissan Altima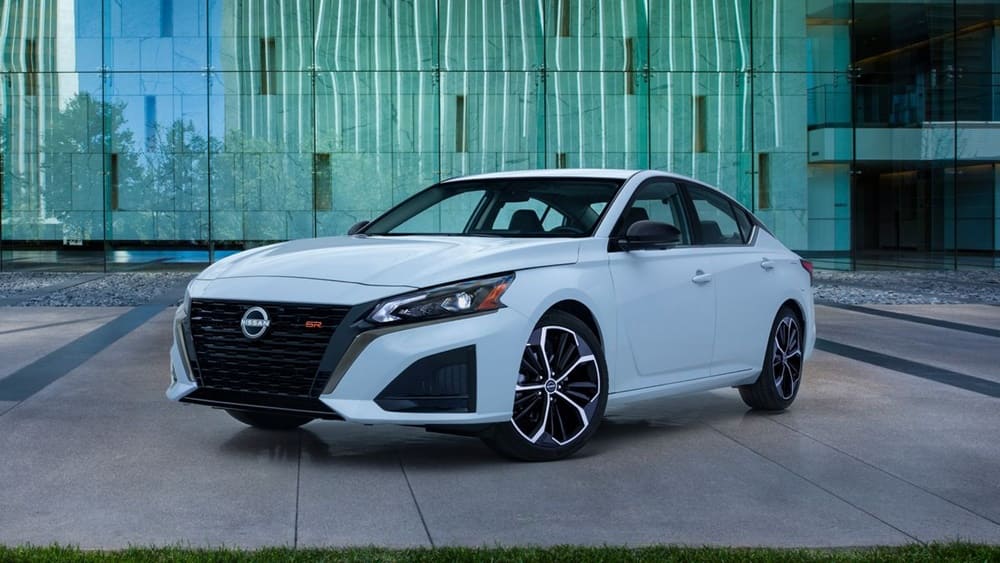 What We Liked
Easy to drive
Spacious cabin
Great fuel economy
Looking for an affordable AWD pick? The Nissan Altima is a practical choice with its low price tag, even with the $1,400 AWD option. The base engine is a 2.5L inline-4 generating 188hp and paired to an automatic CVT; the engine won't excite in the slightest with its modest acceleration and the noisy engine as you step on the gas, but it does admirably well in terms of handling and its 30 mpg combined fuel economy. Steering felt precise though some drivers won't like the lack of heft. On the other hand, the CVT puts fuel efficiency above all else, so while the shifting is relatively smooth and well-tuned, it takes all manner of fun out of the drive. If you're okay with that, the Altima makes for a decent family car. Inside, the Altima goes for a more conservative look (varying between trim levels) that does put comfort over style. Higher trims do add some extra amenities, like leather upholstery. The front bucket seats are decently padded for long drives, while 35.2 inches of legroom ensure that taller passengers in the rear have sufficient comfort. Still, the rear's only ideal for two passengers for maximum comfort. Interior space is also above average, with lots of small item storage and a trunk with 15.4 cubic feet to store your luggage and other large items. Tech-wise, the infotainment system works well, though it's marred by seemingly dated software. The Safety Shield 360 system is a great suite of standard safety aids, including automatic emergency braking with pedestrian detection, rear automatic braking, and even lane departure warning; the ProPilot Assist system on higher trims is also neat with its lane centering and low-speed adaptive cruise control.
Review
Reliability
Performance
Appearance
Features
2023 Audi A4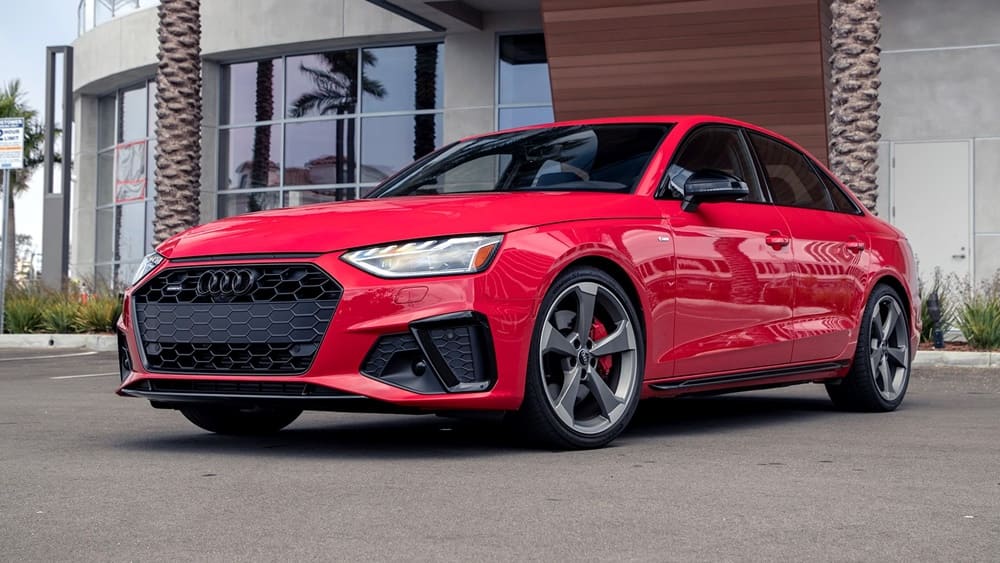 What We Liked
Good performance
Excellent ride quality
Standard all-wheel drive
What We Disliked
Lacking standard safety tech
Want something more stylish? You can't go wrong with Audi's A4 and its standard AWD capability, aided by a 2.0L turbo-4 that makes 201hp on the base 40 engine; go with the 45, and you'll juice it up to 261hp instead. Both pair to a seven-speed automatic and work well hand-in-hand, although the transmission does lack responsiveness. The steering is also quite vague with its precision, but somehow the A4 manages to provide a composed ride from start to finish. The A4 makes for a speedy vehicle that's fun to drive while having a firm but comfy suspension that makes journeys a cozy delight. You'll still have to bear with external noise filtering into the cabin. Speaking of which, while the A4's overall design hasn't changed much (in fact, the exterior does look a tad boring in this day and age), the interior continues to shine. The cabin has a great deal of substance, helped by various premium stylings and touches like leather seats and wooden trimmings. Front and rear seats are well-padded, and 35.7 inches of legroom is welcome for taller folks sitting in the back. The dashboard is clean, and its layout is intuitive, remaining a hallmark of Audi engineering for many years. The 10.1-inch central display screen is a touchscreen that works nicely when you use it. Regarding driver assistance, standard features include automated emergency braking with forward-collision warnings, automatic high beams, and lane-departure warnings. Many other driver safety techs – like adaptive cruise control, lane keep assist, and blind-spot monitoring – are locked behind costly optional packages. We think they should also be standard, in line with what other automakers have done.
Review
Reliability
Performance
Appearance
Features
2023 Subaru Legacy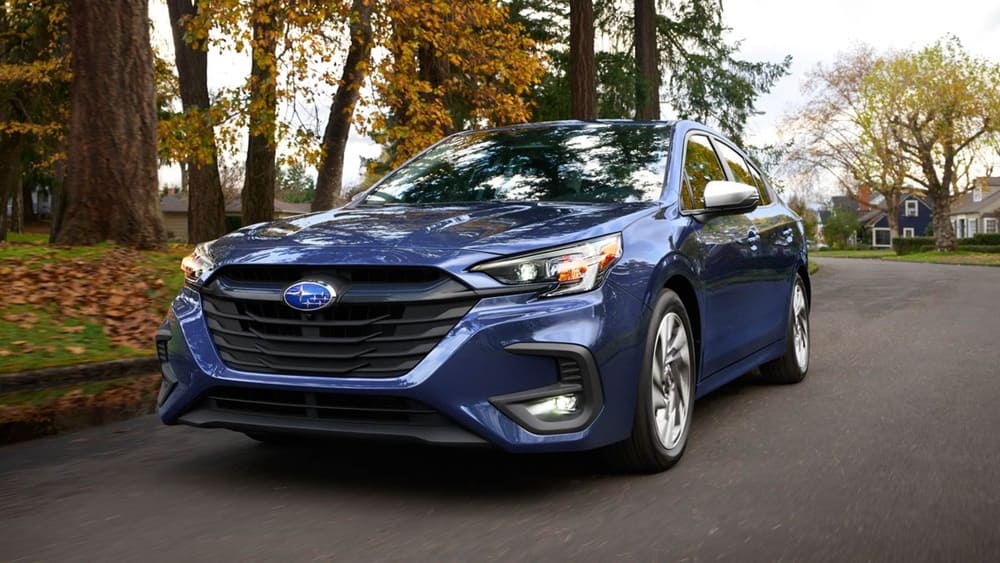 What We Liked
Standard AWD
Good value
Good interior space
What We Disliked
Unimpressive, problematic tech
We've previously covered the Legacy in our recent article, but Subaru knows how to make a great AWD sedan. The 182hp 2.5L flat-4 base engine might not be an incredible performer on the market with its 8-second straight-line acceleration from rest. Still, it makes for a compelling choice if you're looking for a roomy family sedan while saving on fuel costs (comparable to the Nissan Altima, even). If you want something perkier, the 2.4L turbo-4 on the Sport and Touring XT trims might be for you. Both engines pair to a decently shifting CVT, which is better than the Altima's in how it pairs nicely with the AWD system. Sadly, the steering feels a little light, but once you get behind the wheel, you'll quickly notice its great ride, with composed road mannerisms even over bumpy surfaces. It doesn't smooth everything out nicely, but it is still comfortable – more so than the Altima. And speaking of comfort, the interior has plenty of space for five folks, helped by great cushioning and nice design cues; higher trims add extra creature comforts like power adjustments and Nappa leather upholstery. The Legacy's major downside, though, is the problematic tech packaged with the car: most of it looks good, but when it comes to using it, there are a lot of problems to deal with. The infotainment system's tendency to crash is worrisome, too, but that's still not painting the entire picture. At the very least, the safety tech works as intended, though some of it seems too sensitive to our liking. Blind-spot monitors and the rear automatic emergency braking are also available for a reasonable price, a much better prospect compared to the Audi A4's tech paywall.
Review
Reliability
Performance
Appearance
Features
2023 Mazda3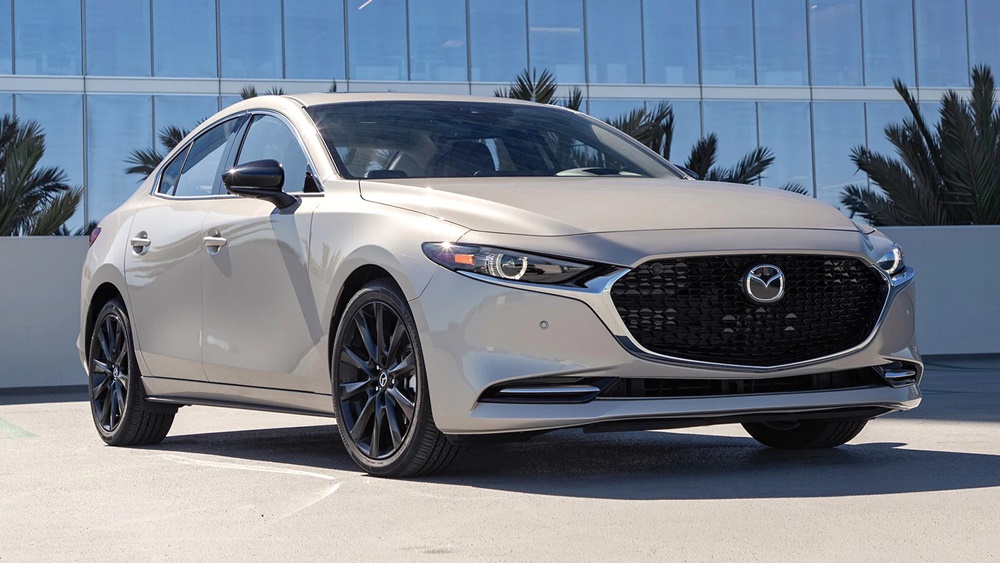 What We Liked
Decent base engine
Premium touches
Confident handling
The Mazda3 is a stylish yet affordable pick from the Japanese automaker and is available in sedan and hatchback forms. All-wheel drive is available for the Carbon Edition and Premium models, while the higher-end Turbo editions get it as standard. The AWD Mazda3s get the base 2.5L naturally aspirated four-cylinder with 191hp and 186 lb-ft of torque; it'll launch the car from 0 to 60 in a respectable 8 seconds. In tandem with the six-speed automatic transmission (manual is only on FWD models, sadly), the Mazda3 offers a composed ride that still measures up well in the fun factor. The brakes work very well, providing confidence during emergency braking, and the Mazda3 pleasantly cruises around corners, helped by a natural steering feel. It might not be thrilling, and the suspension could do a lot better smoothing out harsh bumps, but you won't be disappointed driving this. Inside, the cabin makes you feel like you're driving a luxury sedan, with plenty of premium trimmings at every corner. Its control layout is also simple, making it very intuitive even for first-time Mazda owners. Front seats are nicely padded and have eight-way power adjustment on higher trims. The rear has 35.1 inches of legroom, which is adequate, and a decent amount of headroom to boot; if you opted for the hatchback version, it'd feel much more cramped. Speaking of cramped, the sedan's one downside is the tiny 13.2 cubic feet of trunk storage, in contrast to the hatch's 20.1 cubes. Tech-wise, the Mazda3 comes with the usual standard equipment, such as automated emergency braking, lane-departure warning, and automatic high-beam headlights, while others, like adaptive cruise control, are optional.
Review
Reliability
Performance
Appearance
Features
2023 Lucid Air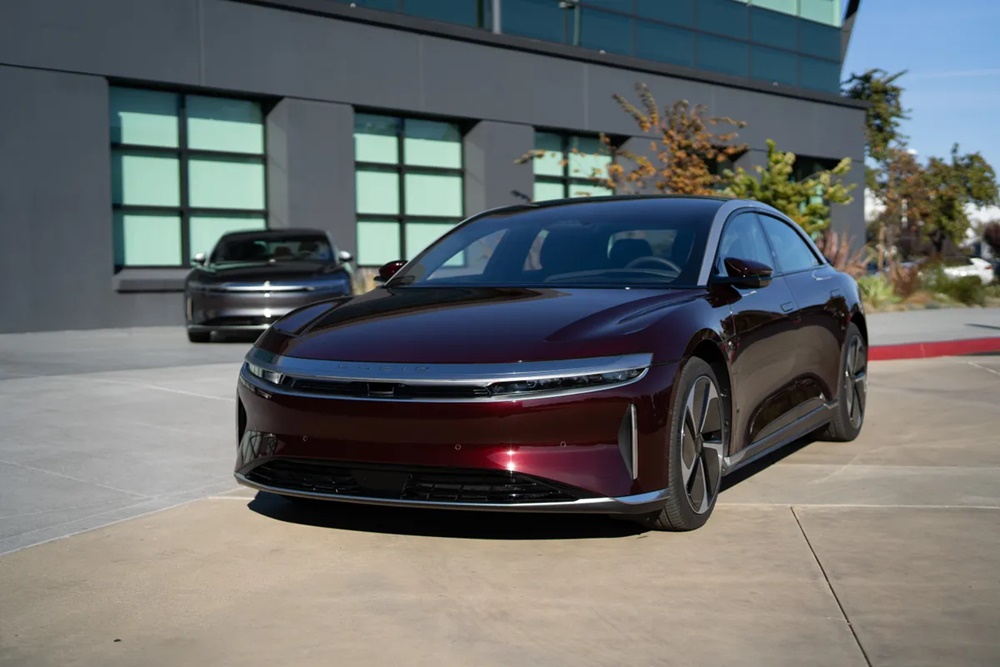 What We Liked
Futuristic appeal
Superb all-electric range
Top-tier performance
The Lucid Air turned heads when it first came out in 2022, a futuristic-looking sedan with a fantastic all-electric range that outpaces the best Tesla models. 2023 looks set to continue that trend thanks to the Air's impeccable engineering. The Touring trim, already at a whopping $100k pricetag, comes standard with all-wheel drive (as do the other higher trims) and is equipped with a 92-kWh battery pack and a pair of electric motors that makes a commendable 620hp. It's nowhere on par with the performance-grade Airs, but it still goes fast. Plus, 425 miles of range means you'll get more than your money's worth from a single charge. Variable drive modes help to tailor your driving experience, which is always a plus. The Air offers a calm, surefooted drive while you're cruising down city streets. Once you put your foot on the pedal, it soars with performance comparable to the mightiest of V-8 engines. How the Air effortlessly straddles between serene and sporty driving makes it stand out from the competition. The cabin is just as posh as the previous year's version, with some additional improvements made for the convenience and comfort of owners. The internal tech has undergone some much-needed upgrades, although it can still infrequently have some glitches. Front and rear seats are well-padded with a good deal of headroom and legroom; there's even an option for reclining seats in the back for that added level of comfort! Meanwhile, the DreamDrive suite of driver-assist features comes standard with adaptive cruise control, lane-keep assist, camera-based blind-spot monitoring, and front automatic emergency braking.
Review
Reliability
Performance
Appearance
Features
Where Do I Look?
AWD sedans aren't hard to find since their popularity has hardly waned over the years. Be sure to enquire about AWD availability at the dealership, as you need to remember it's not standard on every sedan out there. If you don't spend on splurging, past-year models are better if you know where to look. Some of them might be lacking some features, especially the older models, but a used AWD sedan still is a worthwhile investment if you're on a budget.
Of course, make sure you get a vehicle history report from VinFreeCheck first. You'll be able to find all you need to know about that used AWD car you're keen on purchasing. The report ensures you have an insurance policy to prevent you from falling victim to any of the many fraudulent deals out there. Protecting yourself doesn't get any easier than this, so don't delay: get a vehicle history report today!