Last Updated on January 16, 2023 by Calvyn Ee
It's a brand new year, and with it comes a new lineup of cars to choose from. With various automakers cranking out improved versions of their popular models, it's easy to feel rather overwhelmed with what you should spend your cash on. Despite SUVs' prominence, the sedan market still sees a great deal of activity, no matter what size they might be.
Are you looking for a midsize sedan of your own? Something that's a good daily driver while having additional utility, perhaps? Consider this list of the best midsize sedans you can get in 2023!
Rating the Sedans on Our List
Performance
Midsize sedans come in a variety of flavors. Some models emphasize power and agility, while others aim to provide a comfortable, composed driving experience.
Appearance
A sedan's exterior and interior design can help define it as being more than just a car.
Features
Even midsize sedans can challenge SUVs in terms of the features they can pack: safety tech, advanced infotainment, and more.
Reliability
Some of the sedans here are very dependable vehicles, helped by the manufacturer's sterling reputation over the years. Our reviews consider feedback from current and previous drivers and ratings from reliable sources like JD Power.
Here are the Best Midsize Sedans Available in 2023
2023 Honda Accord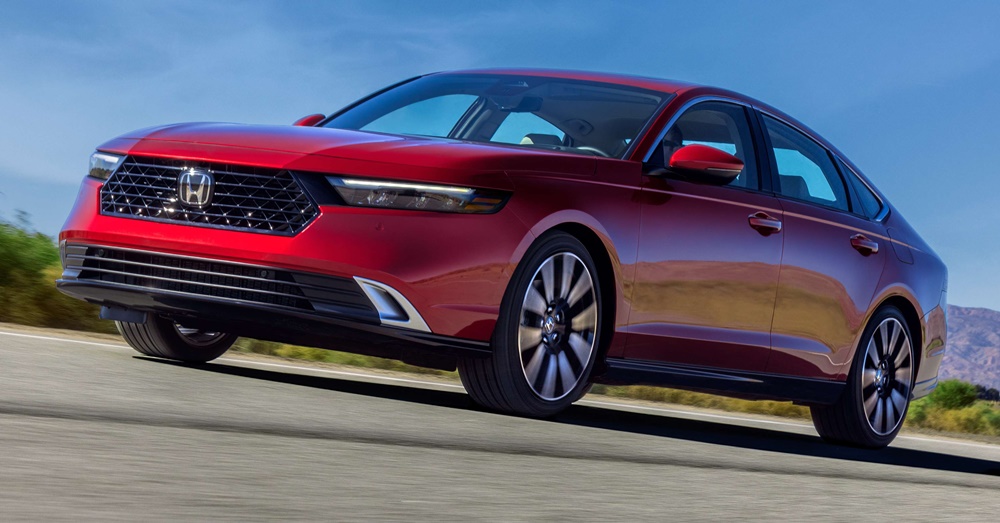 What We Liked
Full of tech
Hybrid powertrain available
Improves on the 2022 model
Releasing sometime this month, the new Honda Accord looks set to be a major hit this year. Base LX and EX trims mount the same 192hp 1.5L turbo-4 engine found in the 2022 edition and pair to a smooth-shifting CVT. A new hybrid powertrain is available on the upper trims, with a 2.0L inline-4 that works together with two electric motors, making a combined output of about 204hp. The beefy 252hp turbo-4 was sadly discontinued in favor of this new powertrain, and there's no AWD available at all. However, the hybrid system still managed to offer a composed yet fun drive that's comparable (in a good way) to its predecessor. Various upgrades help to make the ride quality excellent, thanks to a multilink rear suspension with newer front struts and damper mounts, to name a few. The exterior sports a new sleek look, with slim LED headlights and a more elegant frame, while the cabin is a great mix of modern Honda stylings that also offers plentiful room for rear passengers. An updated infotainment and audio system is also touted, with hybrid models getting a larger 12.3-inch touchscreen over the standard 7.0-inch in the base trims. As for cargo space, Honda claims the new Accord will have a cool 16.7 cubic feet to be filled with luggage and other stuff. It might seem that Honda will draw a strong crowd with this all-new Accord, and we're keen to put it to its paces when the time comes. Expect an updated review once the new Accord hits Honda showrooms this month.
Review
Reliability
Performance
Appearance
Features
2023 Toyota Camry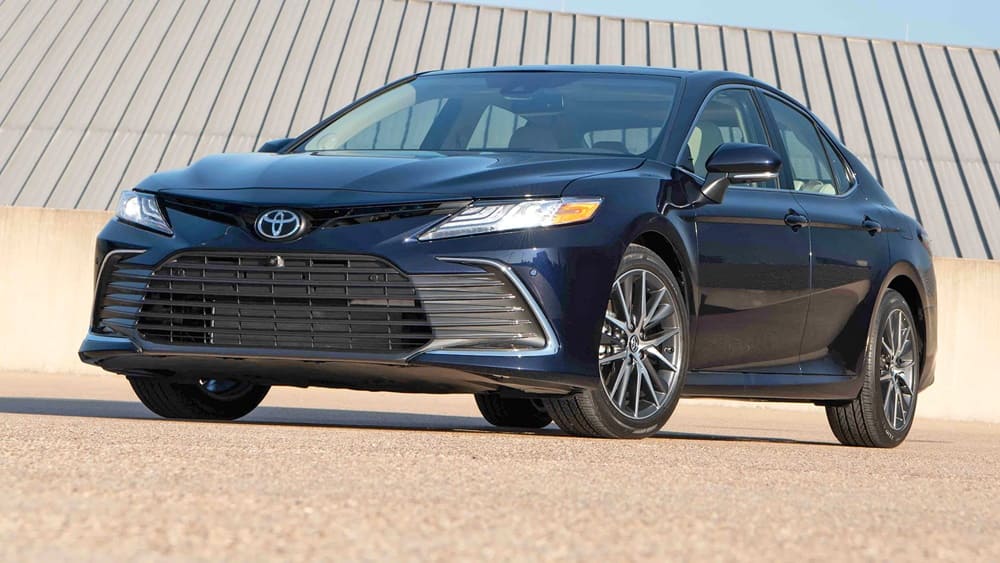 What We Liked
Full suite of tech goodies
Available hybrid powertrain
Lots of cabin storage
A rival to Honda's well-received Accord, the Toyota Camry is a competent midsize sedan with great sales figures and a proven reliability track record. In its 2023 rendition, the base models come equipped with a 203hp 2.5L inline-4 engine: a decent powertrain, but not for the thrill-seekers. For added zest, higher trims come with a 3.5L V-6 that makes 301hp, pairing well with the sportier XSE and TRD models. A hybrid option is also available in the form of a 2.5L inline-4 working in tandem with a small lithium-ion battery powering a 118hp motor; its combined output is 208hp. The hybrid offers great fuel economy and a relatively quiet ride (the cabin does let in quite a lot of external noise), and with the SE Nightshade option for a sportier look and suspension, you'd have quite a looker on the road. The cabin of the Camry does a good job in terms of comfort and space; the front seats are big and comfy, while the rear has 38 inches of legroom, that's welcome for taller passengers. Only higher trims offer heated front seats and leather upholstery, among other creature comforts, so be mindful of that. Storage scores well with a decent 15.1 cubic feet of trunk storage and many camouflaged cabin storage spaces for all your small items. Tech-wise, the Camry has plenty of things to like, such as the more refined Safety Sense 2.5+ driver assistance suite – offering cruise control and automatic emergency braking, among other aids – and an optional 9-inch infotainment touchscreen if you don't like the tiny 7-inch one. The Camry makes for a fine purchase with its various powertrains and plentiful tech features.
Review
Reliability
Performance
Appearance
Features
2023 Hyundai Sonata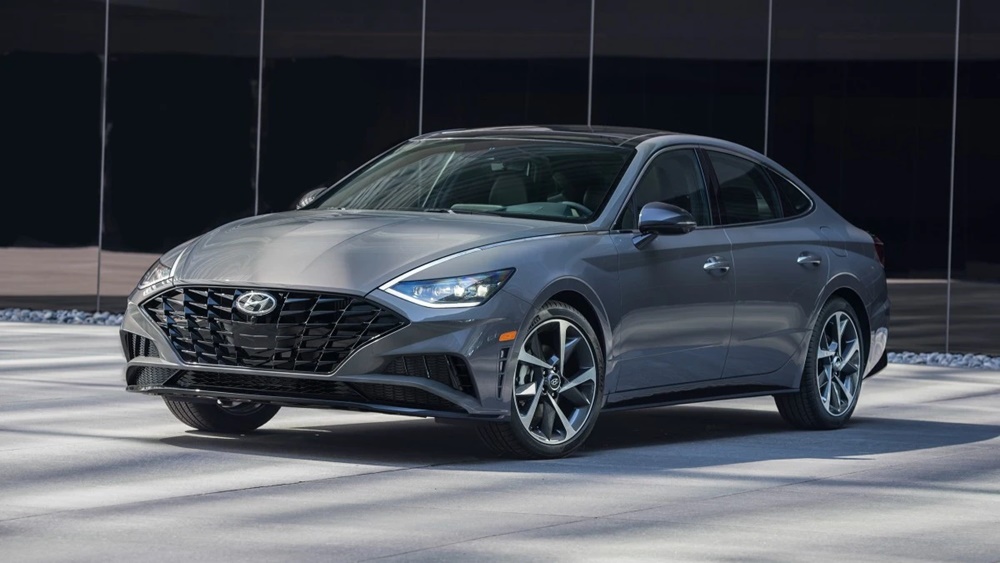 What We Liked
Great to drive
Lots of standard features
Impressive warranty coverage
Hyundai's affordable and stylish Sonata is yet another excellent choice for a midsize sedan with a bold exterior and great driving qualities. The base trims are not exciting with their bland 191hp inline-4 engine, while some higher trims have the 1.6L turbo-4 instead, which offers some slightly better performance. Then there's the Sonata's hybrid powertrain, pairing a turbo 2.0L four-cylinder with a electric motor and battery pack to make 192hp and provide good fuel efficiency. The Sonata definitely won't excite, either, but it manages to offer a decently comfy, though firm, ride from start to finish, as well as smooth transmission shifts and well-tuned steering and handling. It's only marred by the noticeable transitions between gas and electric power, as well as a finicky braking feel. As for its interior, the Sonata makes excellent use of whatever space it has to create a spacious cabin with a good amount of room for passengers to relax in; 34.8 inches of legroom is pretty neat, we think. The control layout is intuitive, and the infotainment works very nicely with its accurate voice control features, though some may find the gear layout to be less than ideal. Meanwhile, 16 cubic feet of trunk space is helped by a large trunk opening, making it easy to move stuff in and out. As for safety, you'll find standard automatic high-beam assist, adaptive cruise control, blind-spot monitors, and active lane control; a surround-view camera system is available. Coupled with an industry-leading warranty coverage of five years (or 36,000 miles) – and a powertrain warranty covering 10 years or 100,000 miles – makes the Sonata yet another midsize sedan worth the money.
Review
Reliability
Performance
Appearance
Features
2023 Kia K5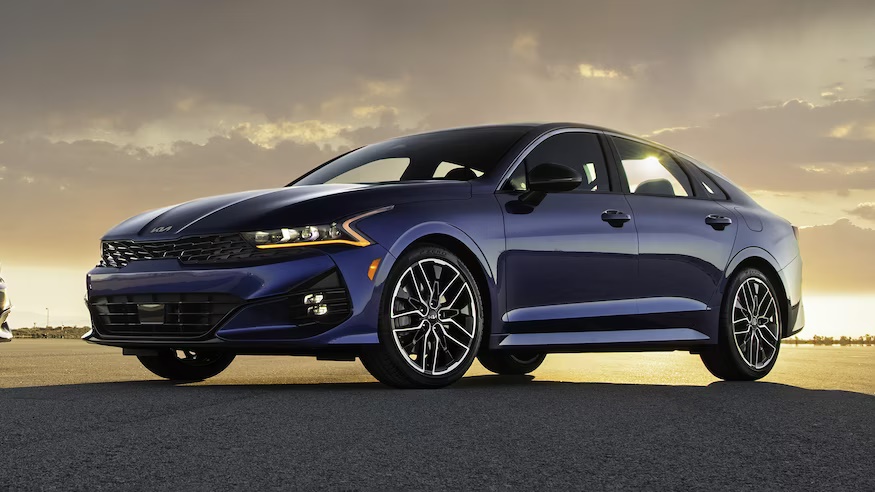 What We Liked
Good value for money
Comfy, quiet rides
Perky GT model
Kia's K5 was previously known as the Optima, which was replaced in the 2021 model year. Base K5s comes with a 180hp 1.6L turbo-4 that's a decent powertrain, though not an exciting one; sport sedan enthusiasts might like the GT-Line trim that adds a sporty-looking body kit and is available with all-wheel drive (all others are front-wheel only), but still uses the base engine. The base engine also pairs with an eight-speed automatic, shifting smoothly when you use the right driving modes. In fact, the available driving modes can help you tune your driving experience, like how Sport mode adds some steering precision to help with the car's handling. For better athleticism at the 32k mark, the top-tier GT model mounts a 2.5L turbo-4 that produces 290 hp and 311 lb-ft of torque, pushing 0-60 acceleration to below 6 seconds over the base engine's eight or so seconds. The aggressive styling definitely fits the GT's power better. On the inside, the K5 wins big with great space and maximum comfort. You might want to consider the 17-inch wheels over the 18-inch ones on higher trims, as the bigger wheels accentuate every bump and crack the car goes over. Beyond that, rear passengers get a cozy 35.2 inches of legroom, while drivers and the front passenger can enjoy nice cushioning on long drives. The 16 cubic feet of cargo space is also worth noting, and if you need the extra space, the seatback releases can be found in the trunk for convenient packing. Kia remains generous with standard safety techs like active lane control, automatic emergency braking, and driver attention warning, while a Premium package adds adaptive cruise control and advanced forward-collision warning. The K5 might be for you if you want something with more style, together with the speedier appeal of the GT model.
Review
Reliability
Performance
Appearance
Features
2023 Subaru Legacy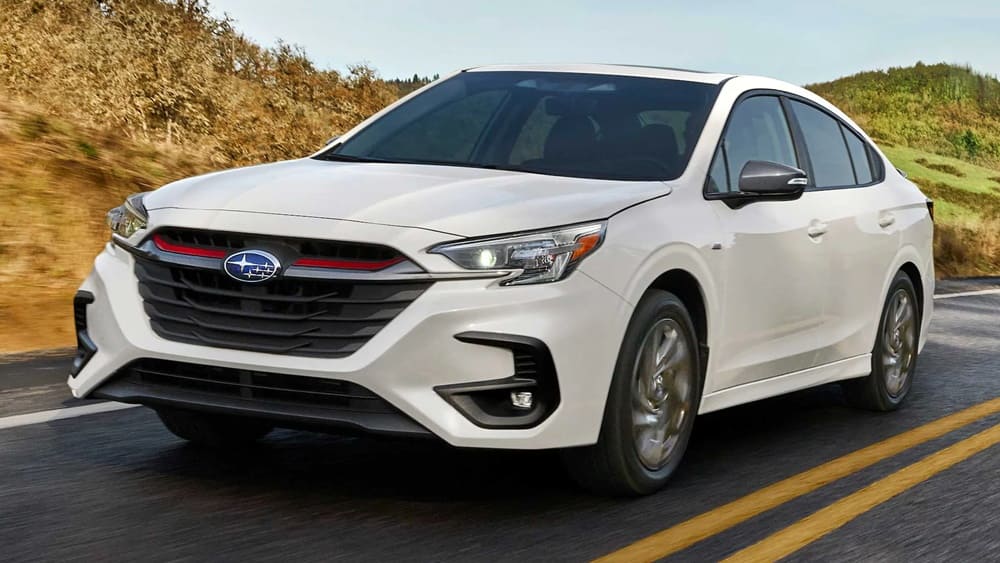 What We Liked
Impressive handling
Clean, comfy cabin
Standard AWD
Subaru's updated Legacy model continues to offer all-wheel drive excellence, with a choice of the base 182hp 2.5L flat-4 engine or a stout 2.4L turbo-4 on the Sport and Touring XT trims. The former is a flat performer, hitting acceleration from 0 to 60 in 8 seconds or so, so it's ideal for family sedans. The latter is for the enthusiasts, hitting 0 to 60 in 6.1 seconds, but fuel efficiency does take a dip. Whichever engine you choose, the Legacy itself performs very well with a stable, planted ride, a smooth-shifting standard CVT, and excellent responsiveness to steering inputs, even if the steering wheel might feel a little light. Both braking and the automatic engine stop-start system can get janky, but if you can look past these faults, the Legacy is a fairly decent daily driver. The interior is clean and has reasonably comfortable front and rear seats, but expect a lot of external noise seeping into the cabin. The rear gets a whopping 40 inches of legroom, exceeding what you can find in some crossovers, while available headroom isn't too bad. The internal tech, such as the infotainment system and central touchscreen, looks good but is mired with issues; the touchscreen, for one, has almost every single control you need stuck behind menu after menu, making it a pain to use. The navigation system looks neat but doesn't do a good job of navigating you to points of interest, while the infotainment system is not very responsive and occasionally crashes. Where safety is concerned, you get automatic emergency braking, active lane control, and adaptive cruise control standard, while blind-spot monitors and other driver assist aids are available. However, you might occasionally find the safety tech to be a bit extra sensitive. The Subaru Legacy might not be a class-leading midsize sedan, but in terms of overall handling, you can't go wrong with one.
Review
Reliability
Performance
Appearance
Features
Spoiled for Choice
Many of these midsize sedans are great value buys owing to their relatively affordable price tags. Who needs premium luxury when you can still get something equal to an Audi at a lower price point? And even if these new models may still be elusive for some, previous-year models make for equally competent vehicles to purchase. In some cases, these past-year models might even outdo their successors in a few ways. If you don't mind a few missing features, a used car is a worthwhile investment to get a great car at a low price without worrying about breaking the bank.
Before you race out of the house to buy a used car, make sure to get a vehicle history report from VinFreeCheck. With it, you'll be able to find out all you need to know about a particular used car you're eyeing. The report might lead you to find that the car was actually reported stolen a year ago! What are the odds? Protecting yourself from automotive fraud is as simple as taking a moment to get a lookup report. Don't let doubt and anxiety prevent you from buying a great used car while avoiding potential scams: get a vehicle history report today!