Last Updated on August 17, 2023 by Calvyn Ee
Summer is almost gone, and what better time to embark on a thrilling adventure with friends and family? If you're angling to get a beefy SUV for all kinds of road trips, we have a list of top picks that offer a combination of performance, versatility, and style – and all of which sport powerful V6 engines that are sure to excite. These would make ideal vehicles for your summer escapades, so here are five of the best V6 SUVs money can buy today.
How We Rate Cars
Reliability
Even a speedy SUV can be a dependable vehicle that lasts long. Our reviews consider feedback from current and previous drivers and ratings from reliable sources like Consumer Reports and CarMD.
Performance
Each of these SUVs brings power to the table on top of solid handling and braking performance.
Appearance
SUVs can still look enticing on the inside or the outside, and these ones are no exception.
Features
A healthy list of features adds to an SUV's overall value. You can find exquisite creature comforts, a suite of safety aids, and more!
Here are the Best V6 SUVs You Can Buy Today
2023 Audi Q7
What We Liked
Bold performance
Luxurious interior
Impressive tech features
The ultra-luxe Q7 is not only an elegant SUV to drive, but is also a powerful and versatile one. While the high price tag will put off some drivers, those who have the means to get one won't be disappointed. The optional turbocharged 3.0-liter V6 pairs with a 48-volt hybrid system to make a whopping 355hp. It easily hits the 0-60 mark in only 5.7 seconds or so, making it an exhilarating road runner to take for a spin. Balanced driving dynamics also make for some fun drives, while the optional air suspension makes for a smooth and quiet ride. Cabin space is generously spacious, though the third row is best for the kids, and interior quality is top-notch for an Audi. Some of its safety ratings are a little on the low side, while some driver assistance tech is lacking unless you get an optional package to go with your purchase. Overall, the Q7 is a thrilling SUV to get behind the wheel while still having great all-around utility.
Review
Reliability
Performance
Appearance
Features
2023 Kia Telluride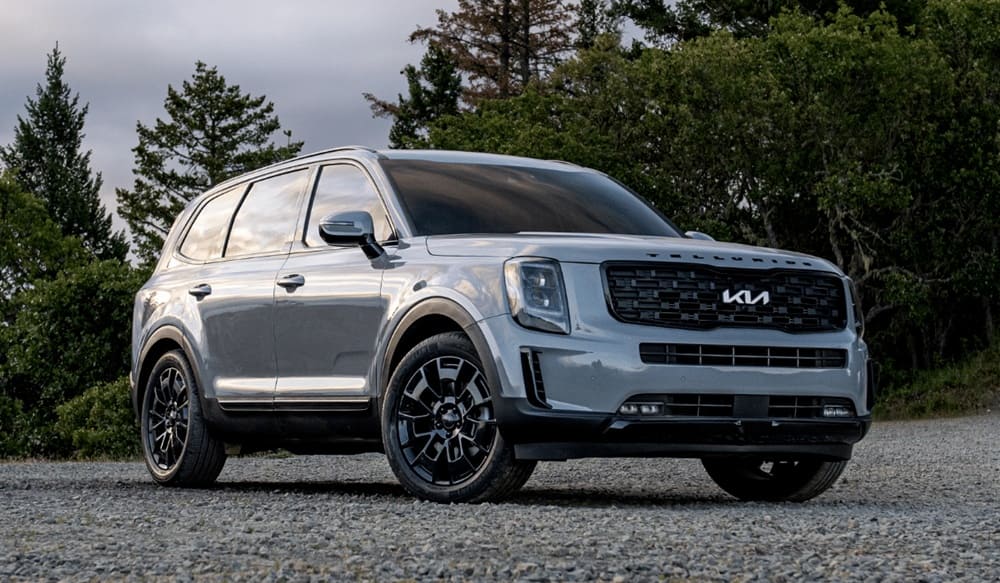 What We Liked
Decent performance
Sweet off-road upgrades
Big on the inside
Need something big but decently performant? The Kia Telluride might just be a great choice for you. With a returning 3.8-liter naturally aspirated V6, it has 291hp and 262 lb-ft of torque; it does lose some speed as a tradeoff for how big the Telluride is, but the engine nevertheless allows for up to 5,000 lbs of towing capability for your long haul travel needs. It also impresses with its strong brakes that are easy to control, stable ride quality, and a light and responsive steering wheel to help navigate city streets. All-wheel drive is an optional add-on and is standard with the X-Line or X-Pro upgrades for off-roading. Those are also worth considering: the X-Line increases ground clearance to 8.4 inches on top of useful off-roading upgrades; the X-Pro takes the X-Line and adds more goodies, like 500 lbs of extra towing capacity. Besides its superbly large and comfy cabin, generous cabin space, and impressive tech features, you can't go wrong with the Telluride.
Review
Reliability
Performance
Appearance
Features
2023 Ford Bronco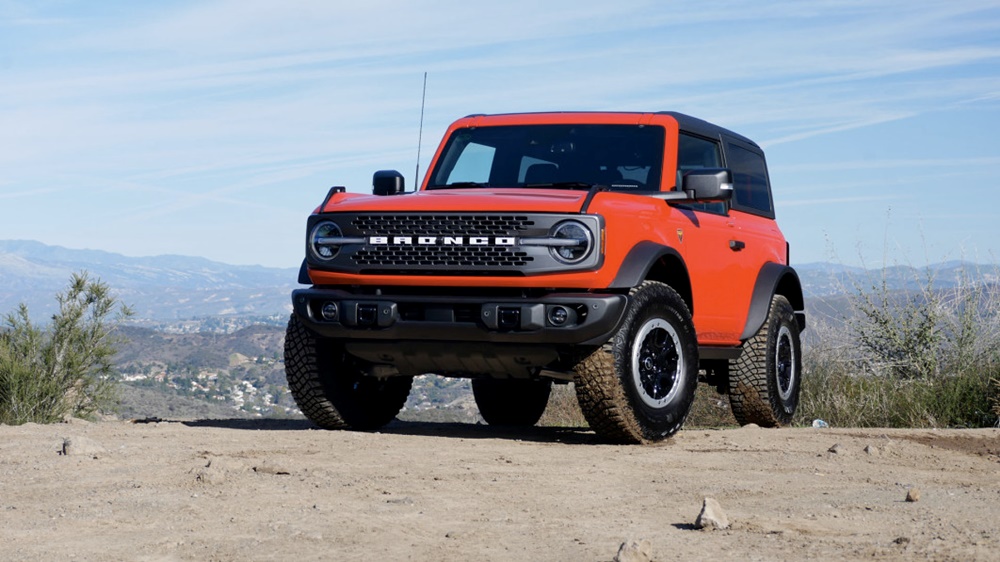 What We Liked
Solid drive quality
Off-road champ
A good amount of features
Want something more off-road ready? The Ford Bronco fits that bill with its off-road-ready engineering and optional 2.7-liter twin-turbocharged V6 with its beefy 315 hp and 410 lb-ft of torque with standard fuel. With its independent front suspension and electric-assisted steering system, driving the SUV is a delight with its confident accuracy and stability even on long hauls. While not well suited to driving over pavement, the Bronco is fairly well-built, allowing for decently comfortable rides until you turn the power up. Unfortunately, wind and road noise will be a constant in your daily drives, especially with the hard top. The Bronco shines off the beaten path, especially once you've fitted yours with the Sasquatch package's advanced 4WD system, impressive damping shocks, and more. You'll get plenty of fun taking it out on an adventure. Safety is also a highlight with Ford's Co-Pilot360 suite, which includes automatic emergency braking, automatic high beams, and hill start assist.
Review
Reliability
Performance
Appearance
Features
2023 Acura MDX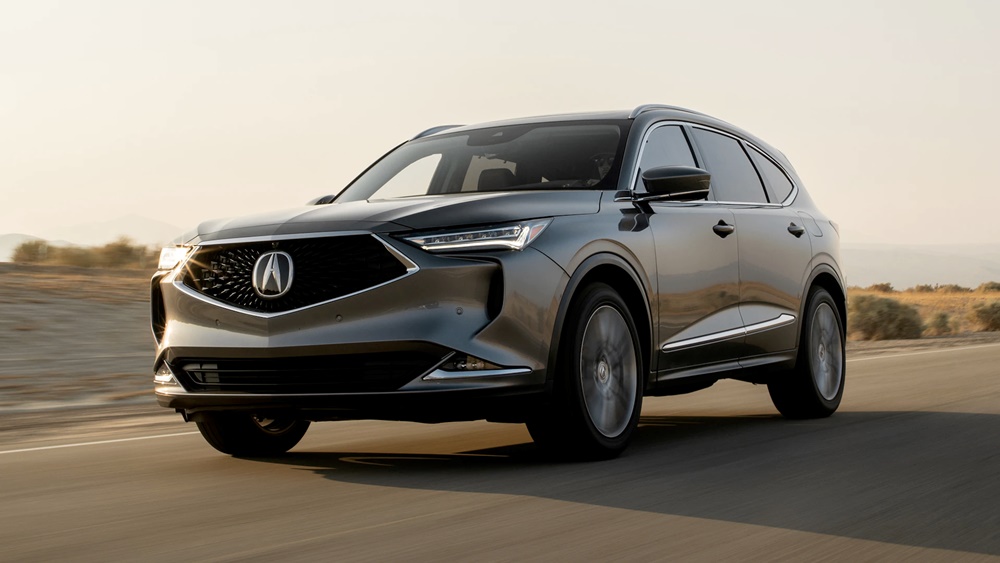 What We Liked
Impressive handling
Spacious cabin
Lots of tech
What We Disliked
Excellent Type S trim is above 70k
This midsize luxury SUV is no slouch with its refined interiors, advanced features, and exceptional performance via its 290hp 3.5-liter V6 with a 0-60 mph time clocking in below seven seconds. The base MDX's V6 isn't as refined as some other contenders, as it does lack some oomph, but the Type S does resolve this with a beefier 3.0-liter turbocharged V6 that makes 355 hp and 354 lb-ft of torque and then some. The MDX does earn praise for its dynamic suspension, which really does a good job of absorbing bumps and shocks you go over on the road. Standard AWD is only found on the pricier Type S, but the base model is still good for those unwilling to spend more than 70k. The MDX is also very comfy on the inside, though, like most midsize SUVs, third-row space is unsurprisingly lacking. Additionally, tech offerings are aplenty – especially standard safety aids, including automatic emergency braking, traffic-jam assist, adaptive cruise control, and even blind-spot monitors.
Review
Reliability
Performance
Appearance
Features
2023 Chevrolet Traverse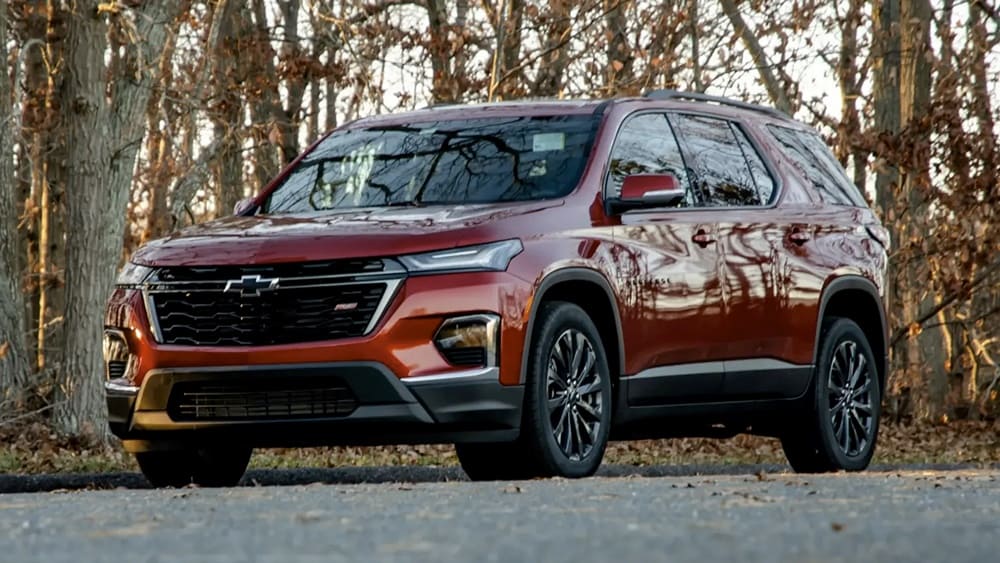 What We Liked
Refined powertrain
Spacious interior
Plenty of cargo room
What We Disliked
Some cheap interior materials
The Chevrolet Traverse is a good pick for a value-for-money SUV with a V6, as the base model is only $34,520 at MSRP. The 310hp 3.6-liter V6 pairs nicely with a 9-speed automatic transmission, with up to 5,000 lbs of towing capacity to go with it. The engine is a refined thing of beauty: smooth and powerful; meanwhile, the transmission makes for unassuming gear shifts when needed. The Traverse's substantial size also helps improve ride quality, though it's not all perfect. As a whole, driving this Chevy is a pleasant experience on top of the quiet ride quality that goes with it: the engine can barely be heard when you're waiting at a traffic light. The low price point does come at the cost of some cheap-looking interior design choices, but if you can look past that, the cabin is still sufficiently spacious with many creature comforts and a good amount of cargo space. We do wish advanced safety techs aren't limited to the pricier top trims. Nevertheless, the Traverse is a good pick for an American-made SUV.
Review
Reliability
Performance
Appearance
Features
V6 Power for a Good Price
When it comes to powerful SUVs for a summer adventure, these V6-powered vehicles are in a league of their own. These SUVs offer a thrilling combination of performance, versatility, and style even when tackling rugged trails, cruising on the open road, or navigating your hometown's streets. You can always pick an older model if you're on a tight budget; many previous-year models still have most of the useful functions you'll need at a lower price point. Just be careful before you start shopping for a used SUV: you might not realize a deal has red flags all over it until it's too late!
Keep yourself safe with a vehicle history report for whichever used car you see online. The report gives you comprehensive details about every aspect of the car's use – from odometer readings to accident records, maintenance history, and more. All of this can be handy in identifying potential red flags way before you even agree to meet the seller. Save yourself the hassle and stress of buying a used SUV with a vehicle history report in your hands!