Last Updated on July 24, 2023 by Calvyn Ee
Are you in the market for a subcompact SUV? Our comprehensive guide will give you a selection of the best subcompact SUVs available in 2023. These vehicles offer drivers plenty of value, practicality, and solid performance, making them an excellent choice for buyers who want the convenience of an SUV in a compact but comfortable package.
How We Rated This List
Reliability
Reliable SUVs can take you for miles, especially with frequent maintenance. Our reviews consider feedback from current and previous drivers and ratings from reliable sources like Consumer Reports and CarMD.
Performance
Subcompact SUVs are no slouches and can provide a solid balance of performance and handling to ensure excellent ride quality.
Appearance
Subcompact SUVs might seem small, but looks can be deceiving. Plus, modern aesthetics make even the most affordable option look superb.
Features
Even subcompact SUVs come with many useful standard features any driver would want, from driver assist aids to infotainment systems and more.
Here are the Best Sedans You Can Find in 2023
2023 Kia Niro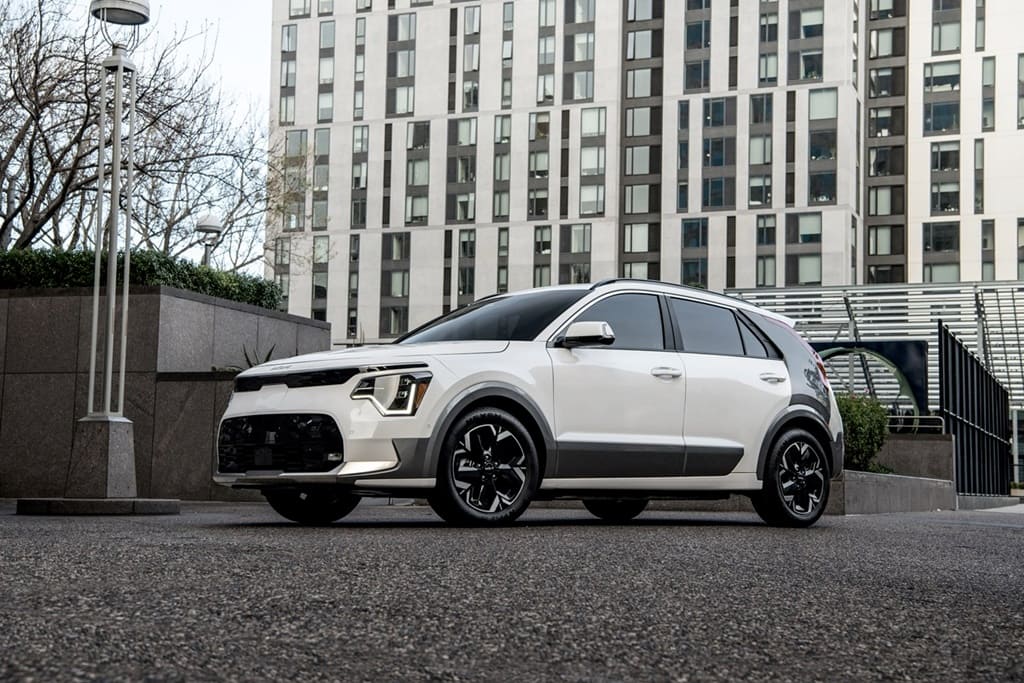 What We Liked
Hybrid options
Excellent drive quality
Very fuel efficient
Available in three hybrid options, the Kia Niro is a nimble SUV with plenty to like. Being a little larger than its previous model years, the Niro serves up more cabin and storage room, which is always a bonus: good headroom and legroom mean even taller passengers can sit comfortably, while 22.8 cubic feet means a good deal of items that can be stored. The three hybrid options available – a standard hybrid, plug-in hybrid, and a pure electric vehicle – are all very economical, though the PHEV does exceed the $40k mark. Fuel-efficient though they may be, they're not all that fast. Even the PHEV only goes from 0-60 mph in 7.8 seconds – not that slow, but still not fast enough as we'd like (your mileage may vary, of course). Round that up with various safety features, such as automatic emergency braking, blind-spot monitors, and very attractive warranty coverage, and you have yourself an awesome contender among its class.
Review
Reliability
Performance
Appearance
Features
2023 Mazda CX-30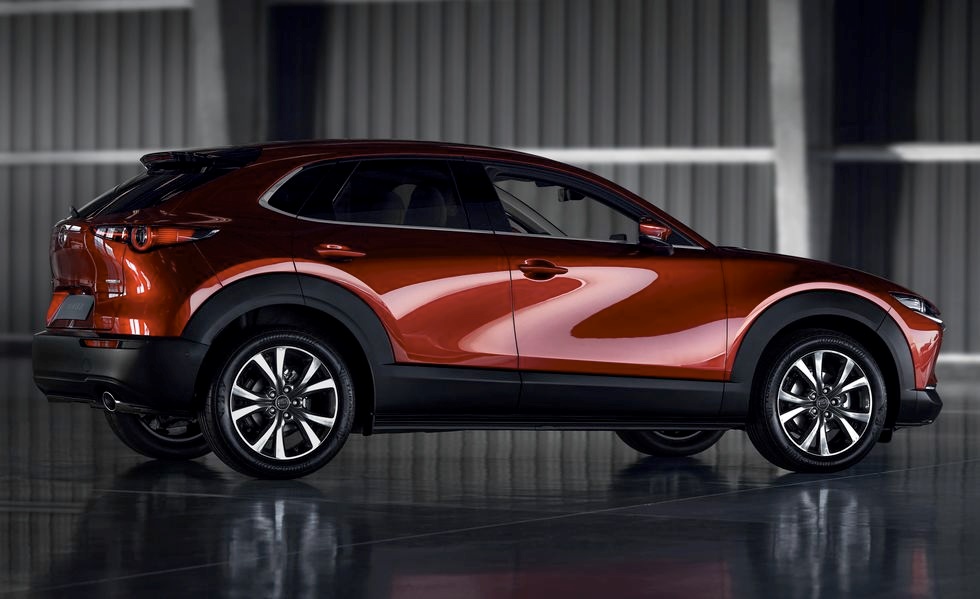 What We Liked
Classy appearance
Good safety suite
Top-notch handling
The Mazda CX-30 is a city-friendly subcompact SUV that's available with standard all-wheel drive starting last year. With its engaging charm and smaller footprint, the CX-30 really stands out with its classy exterior and impressive performance. The CX-30 boasts a base 2.5-liter inline-4 under its hood, with 191hp that delivers athletic performance without losing fuel economy. There's also an optional 2.5-liter turbo-4 for more power, but it's a rather expensive upgrade. Inside, the cabin boasts high-quality materials, well-padded front, and rear seats, and a well-designed interior layout. The rear seats can comfortably fit two adults, and some taller passengers may find the rear a little too small for their liking. 20.2 cubic feet of cargo space is also available, but it's smaller than what even the Niro has to offer. At least there are the advanced safety features that come standard with the CX-30, including blind-spot monitoring, active lane control, and adaptive cruise control, ensuring a safe and confident driving experience.
Review
Reliability
Performance
Appearance
Features
2023 Hyundai Venue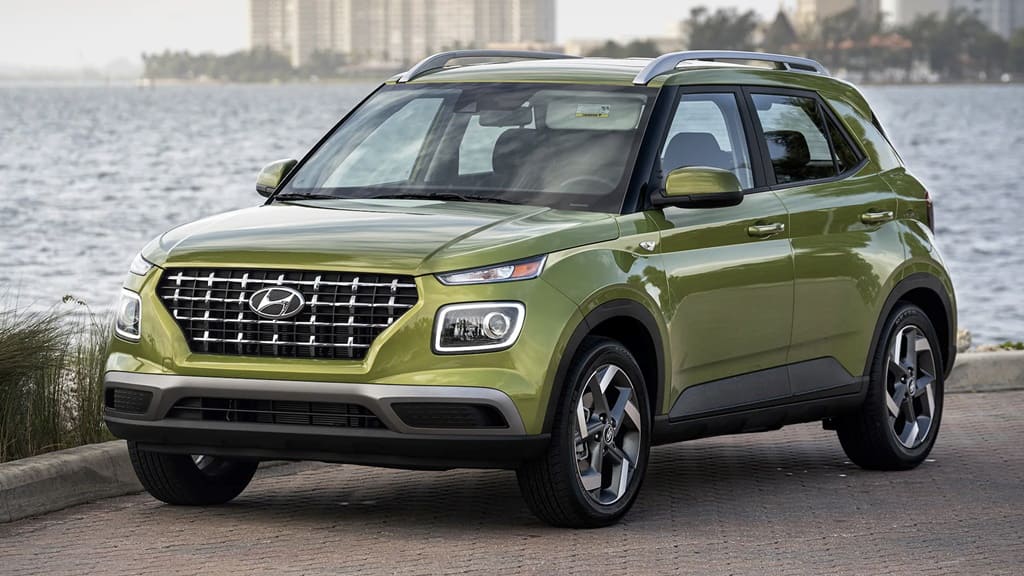 What We Liked
Great value for money
Good ride quality
Practical interior
The Hyundai Venue is a cheery, chirpy, subcompact SUV for city driving. Being the smallest and cheapest crossover currently on the market, it does have its share of pros and cons. Its base engine – a 121hp four-cylinder engine – is a mediocre performer with its leisurely acceleration. However, its ride quality is pretty good despite its small stature. However, you'll still need to deal with external noise screeching into the cabin. Speaking of which, the small size of the Venue does work against it, even with the high roof and 34.3 cubic feet of legroom in the rear. Not everyone will be comfortable sitting in the Venue. There are 19 cubic feet of trunk space, which grows to 32 cubes once the rear seats are folded; that's pretty good utility for a subcompact. Standard automatic emergency braking, lane-keeping assist, and driver attention monitors round up the Venue, making it a solid purchase for frugal buyers looking for something practical for their city commutes.
Review
Reliability
Performance
Appearance
Features
2023 Toyota Corolla Cross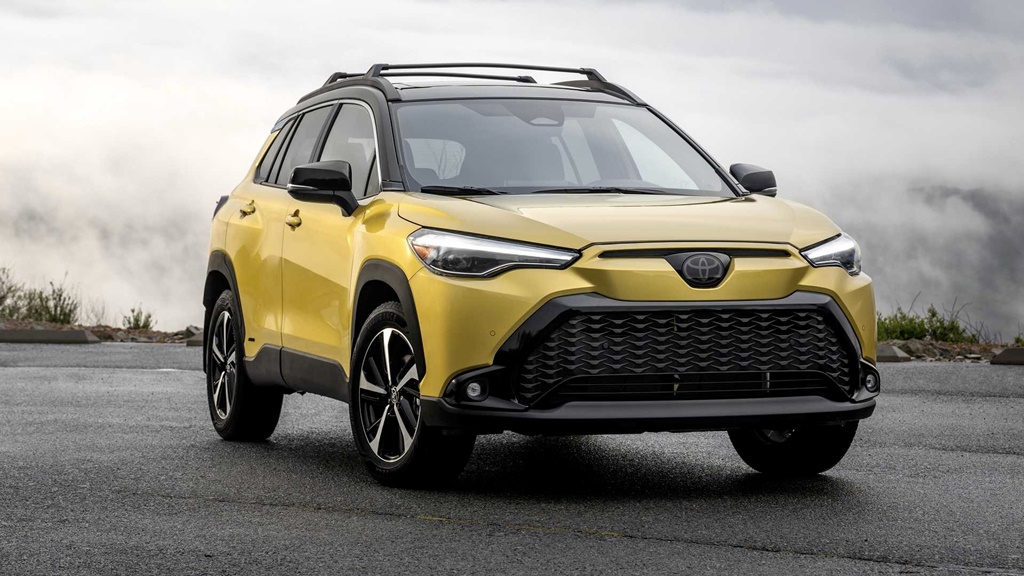 What We Liked
Excellent safety techs are available
Attractive price point
Impressive hybrid option
Just a touch more than a Hyundai Venue, the 2023 Toyota Corolla Cross is an entry-level subcompact SUV that boasts Toyota's trademark build quality at an affordable price point. It comes with a choice of engines, either the base 2.0-liter inline-4 that's a little sedate or the optional hybrid with its 2.0-liter inline-4, 0.9 kWh lithium-ion battery pack, and three electric motors. We'd recommend the hybrid's better performance stats and fuel economy. Its spacious interior and comfortable seating sweeten the deal, providing a pleasant driving experience for drivers and passengers. There's a good deal of headroom for taller passengers, though some may find legroom to be a little lacking. Cargo space is also aplenty (up to 24.6 cubic feet), though the hybrid version loses a little to accommodate the hybrid powertrain. The Corolla Cross also offers various advanced safety features, including adaptive cruise control, active lane control, and automatic emergency braking.
Review
Reliability
Performance
Appearance
Features
2023 Volkswagen Taos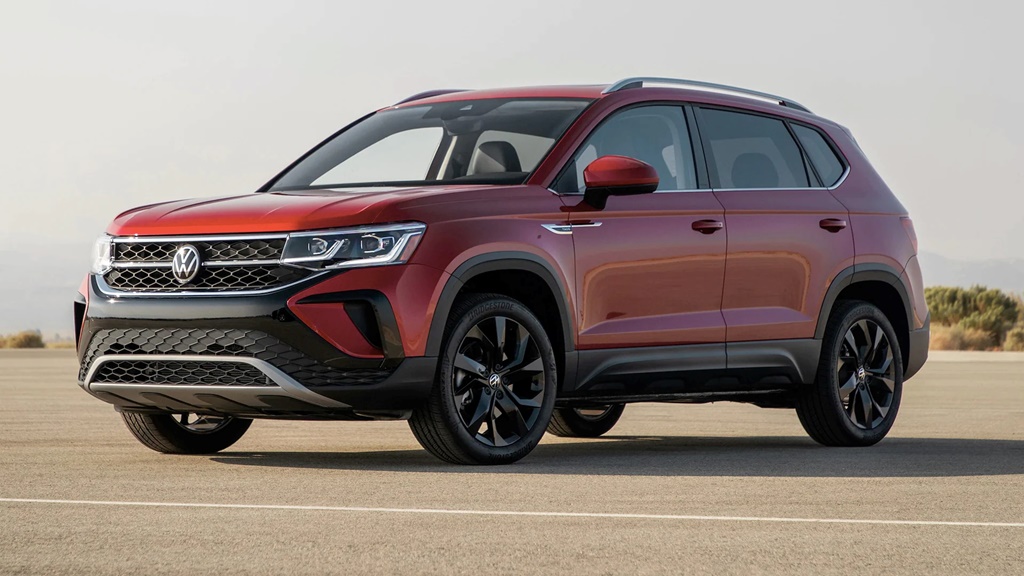 What We Liked
Plenty of cargo space
Decent performance
Comfortable cabin
Volkswagen's offering of value-oriented cars includes the Taos, a subcompact SUV full of heart. The Taos provides a solid SUV almost above its class, with a spacious cabin, strong fuel economy from its 158hp 1.5-liter turbo-4 engine, and class-leading ride quality. You also have a choice of front-wheel or all-wheel drive, with differences in the suspension they use with different ride qualities. The less-than-stellar transmission sometimes makes for some clunky driving dynamics, so keep that in mind. The Taos is impeccable inside with its good seat padding and spacious interior, though the rear can only comfortably fit two adults. Some plastic materials feel a little cheap, but that's a price for a slightly more affordable Volkswagen. Cargo space is a big plus point for the Taos, thanks to its 28 cubic feet of trunk room, which goes up to 66 cubic feet once the rear seats are folded. The Taos also has standard automatic emergency braking, blind-spot monitors, and rear cross-traffic alerts, with optional adaptive cruise control available; however, IIHS and NHTSA safety ratings aren't as stellar.
Review
Reliability
Performance
Appearance
Features
2023 Subaru Crosstrek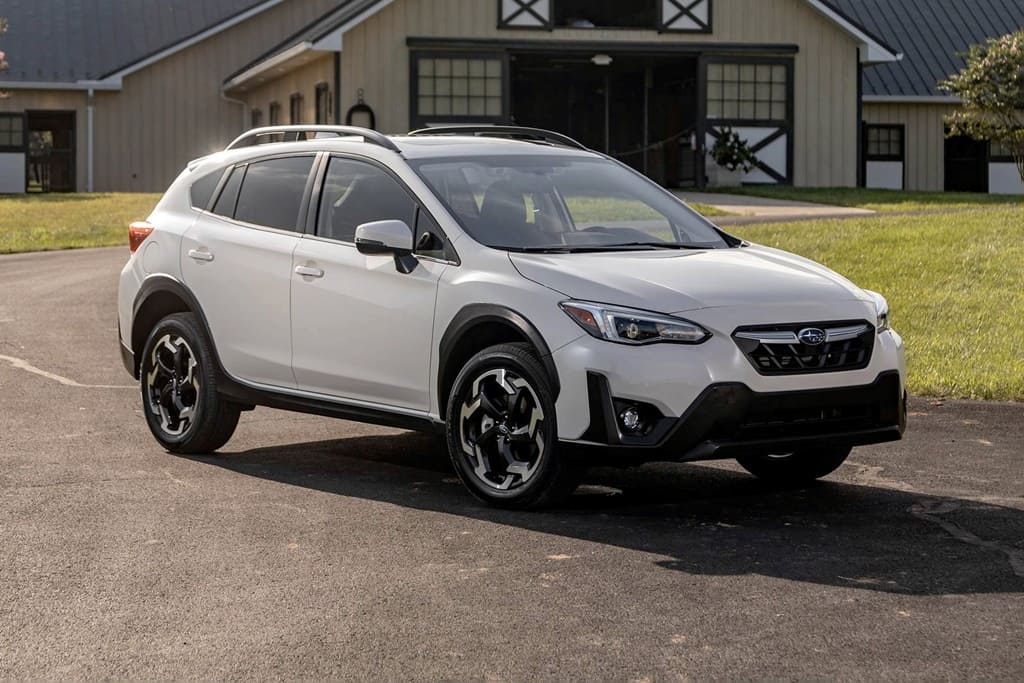 What We Liked
Standard AWD
Excellent handling
Good drive quality
The Subaru Crosstrek is a versatile, adventure-ready subcompact SUV with standard all-wheel drive and 8.7 inches of ground clearance. Its ability to go off-road does make it a great choice for outdoor enthusiasts, even if it's nowhere as adept as something like the Jeep Wrangler. The base 2.0-liter flat-4 is really underpowered, so you'd best go with the zestier 2.5-liter flat-4 instead. We'd also recommend the smooth-shifting and more efficient CVT over the manual transmission. The Crosstrek's spacious cabin and comfortable seating add extra points to giving drivers and passengers a pleasant ride from start to finish. Unfortunately, baseline cargo space is rather wanting at 20.8 cubic feet, but it goes up to 55.3 cubes when the rear seats are folded. Subaru's commitment to safety is evident in the advanced safety features on the Crosstrek, like automatic emergency braking and lane departure warning. With its practicality, capability, and safety combination, the Crosstrek is a great choice for those wanting to go on a short adventure of their own.
Review
Reliability
Performance
Appearance
Features
Getting the Right Subcompact SUV
When it comes to choosing the best subcompact SUV, it's essential to consider your specific needs and preferences. Whether you prioritize performance, fuel efficiency, cargo space, or safety, there is a subcompact SUV that suits your requirements. You can still consider past-year models with most of the features you'll need in your car while being a little more affordable than the current model. You could also go with a used car for a better deal, but you'll need to make sure you do your research beforehand. If you're not careful, you might just walk into a scam.
If you're buying used, you'll need the vehicle history report of whichever car you want. It tells you everything you need to know about its use, including technical specifications, accident records, odometer readings, etc. This detailed breakdown will help you identify potential red flags that may indicate a lemon is being sold or something fishy in the deal. Pay attention to every record you can find and look for possible red flags; you'll save yourself a lot of trouble getting a good used car by doing so.