Last Updated on August 28, 2023 by Calvyn Ee
As hybrid and electric cars continue to gain popularity, the iconic V8 engine remains a symbol of power, performance, and the thrill of the open road. While the automotive industry evolves, manufacturers are still eager to incorporate V8 engines into various vehicles, from sedans to sports cars, luxury vehicles to SUVs. This comprehensive guide will explore the best V8 cars available in 2023, highlighting the unique features that make them stand out from the crowd.
How We Rate Cars
Reliability
Even a powerful vehicle can still be a dependable one. Our reviews consider feedback from current and previous drivers and ratings from reliable sources like Consumer Reports and CarMD.
Performance
The V8 is a veritable powerhouse that pushes a vehicle to top speeds in no time. Varied driving dynamics between vehicles also help offer a unique ride from start to finish.
Appearance
Each of these cars has extraordinary looks that put the competition to shame.
Features
A healthy list of features adds to any vehicle's overall value. You can find exquisite creature comforts, a suite of safety aids, and more!
Behold the Best V8 Cars In Today's Auto Market
2023 Cadillac CT5-V Blackwing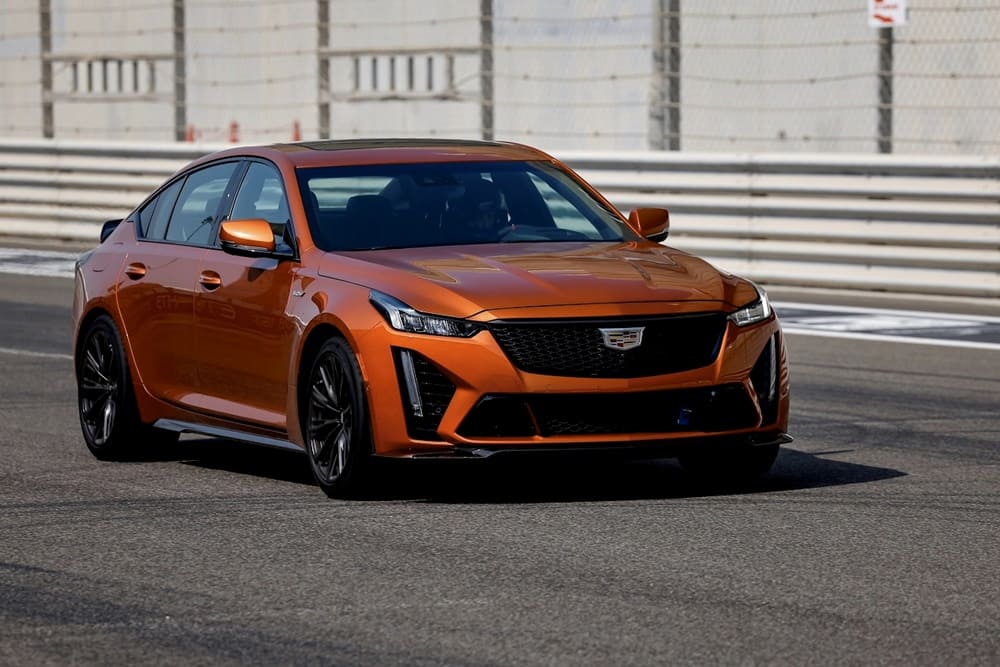 What We Liked
Superb performance
Precise handling
AWD capability
The Cadillac CT5-V Blackwing is a shining example of American luxury and performance. Under its hood lies a supercharged 6.2-liter V8 engine, generating a staggering 668hp and a 0-60 time of just under 4 seconds. With its top speed surpassing 200 mph, the CT5-V Blackwing embodies the spirit of the V8 engine and delivers an exhilarating driving experience while still offering exquisite driving manners, especially when equipped with the available magnetic dampers. The Blackwing's cabin also offers a lovely amount of comfort for those in the front and back (but more so the driver). Its main drawbacks are its tiny 11.9 cubic feet trunk and the confusing lack of driver-assistance techs when you pick the manual transmission – oh, and of course, the exorbitant price tag for the whole package.
Review
Reliability
Performance
Appearance
Features
2023 Chevrolet Camaro 1SS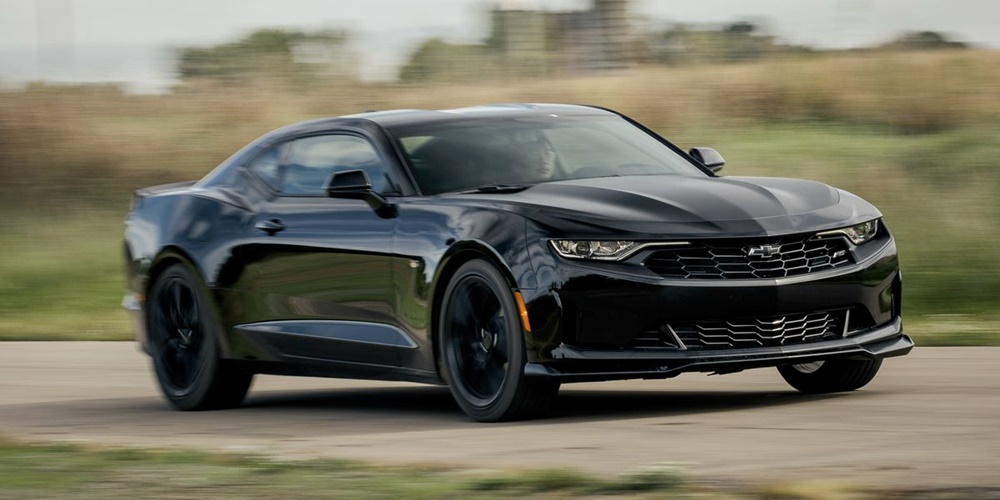 What We Liked
Really fast
Comfy for two
Decent price
What We Disliked
Tiny cabin and rear seat area
The Chevy Camaro is one of the unparalleled muscle cars of America, and its legacy continues to shine to this day. While the ZL1 is a ludicrously powerful V8 sports car, its hefty price tag is a major detractor. Luckily, the 1SS – available for $41,295 – offers a 6.2-liter V-8 that makes 455 hp and 455 lb-ft of torque while having a dreamy 0-60 time of under 4 seconds, much like the Blackwing. The Camaro also flawlessly channels that power with its refined ride, confident grip, and accurate steering – together with the 1LE Track Performance package, the Camaro's overall experience is nearly divine. As with previous iterations, the Camaro is a two-person-only pony car, so expect a small trunk (far smaller than what the Blackwing offers) and an equally tiny rear seat area. But the sheer kick you get from driving this metal beast is truly unrivaled.
Review
Reliability
Performance
Appearance
Features
2023 Ford F-150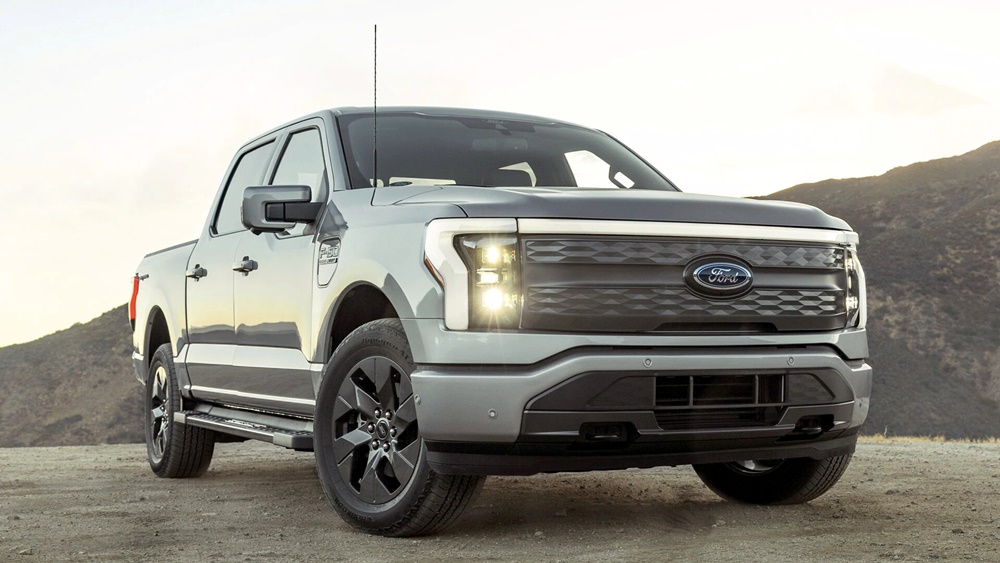 What We Liked
Bold performance
Plenty of utility
Good ride quality
Need something for work? The Ford F-150 equipped with a 5.0-liter V8 might just be what you need. You can afford the base trim with the V8 for around $38,000, making it a decent proposition for utility and power in one rugged package. The engine's 400hp and 410 lb-ft of torque are a force not to be trifled with, adding some much-needed towing power while still providing just enough zest for some zooming on rough terrain (more so on the F-150's higher trims). Deft steering and stable handling also help to make for comfortable rides, whether commuting to work or on a stately drive around town. Crew cabs are our pick if you have folks to hop in the F-150, especially with its 44 inches of legroom and decently spacious cabin. Pickup beds come in three flavors, but it depends on the cab of your choice.
Review
Reliability
Performance
Appearance
Features
2023 Dodge Challenger R/T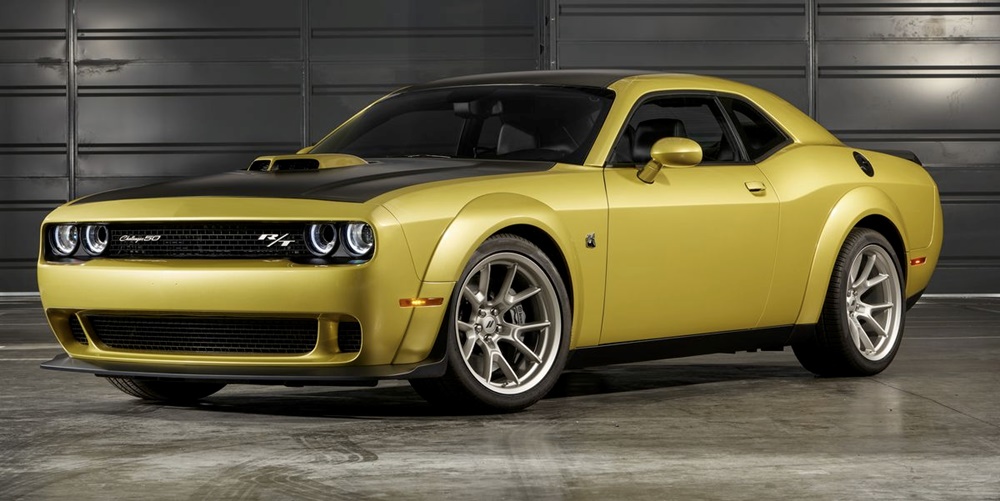 What We Liked
Stunning engine
Strong handling traits
Big on the inside
What We Disliked
Lacking some safety features
If you're looking for a V8-powered car that's all attitude, the Dodge Challenger R/T is the perfect choice. With a starting price of $43,035, the Challenger R/T offers a classic yet aggressive exterior design and exhilarating performance from its 5.7-liter Hemi V8 engine. Delivering an impressive 375hp, the Challenger R/T easily hits 0 to 60 mph in just 5.1 seconds. Want more power? The Scat Pack brings a mighty 6.4-liter V-8 to the fore at an additional cost, which also means 485 hp and 475 lb-ft of torque to bring to heel. It goes without saying that the Challenger is a potent muscle car with its loud, brash exhaust roar, its balanced cruising capability, and stunning tuning that makes it a very comfortable vehicle to drive around. And we haven't even mentioned the sizable space in the cabin! With its muscular stance and unmistakable presence, the Dodge Challenger R/T is a true American icon on the road.
Review
Reliability
Performance
Appearance
Features
2023 Chevrolet Tahoe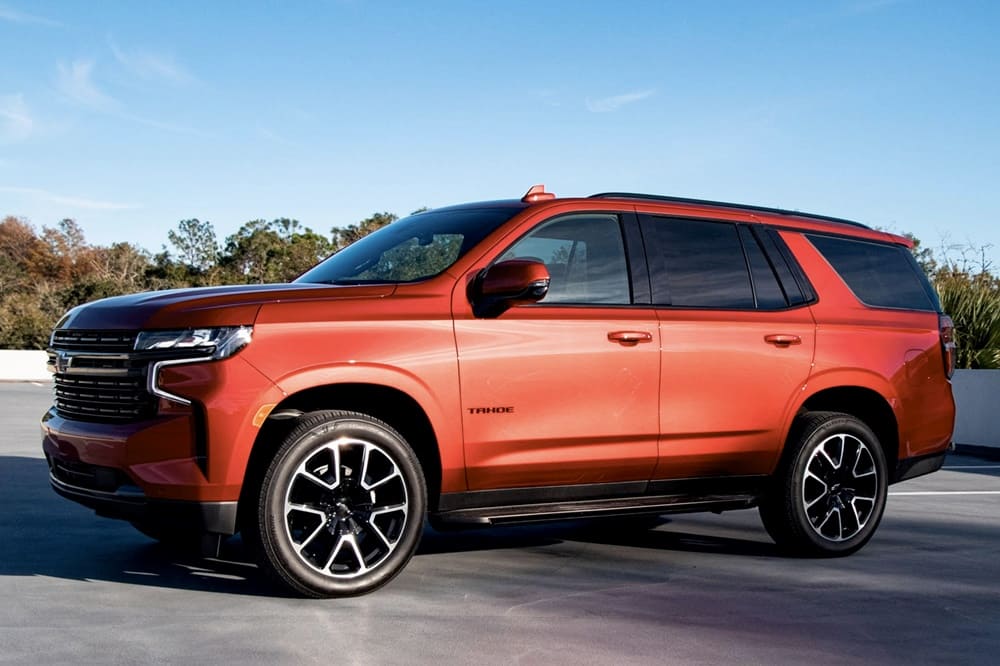 What We Liked
Strong towing capability
Incredibly comfy cabin
Luxury-grade stylings
You can't go wrong with the Chevrolet Tahoe if you need a V8-powered SUV that offers both power and versatility. While it has a hefty price tag of over 50k, the Tahoe proudly offers a spacious interior and impressive towing capacity as some of its fine points. The base 5.3-liter V8 engine hustles with 355hp and 383 lb-ft of torque, allowing the Tahoe to tow up to 8,400 pounds depending on the configuration. Add the optional magnetic dampers, and you'll be blessed with a superbly cozy ride that absorbs every road imperfection to the point you won't even notice (until you hit a deep pothole). Steering and braking are also equally impressive, making it a solid daily driver and road trip hauler. With its luxurious features and a cavernous, near-luxury-grade cabin full of creature comforts, the Chevrolet Tahoe is the ideal SUV for those who value power and practicality.
Review
Reliability
Performance
Appearance
Features
Planning to Buy a V8 Car?
The V8 engine continues to captivate automotive enthusiasts with its power, performance, and distinctive sound. From sedans to sports cars and even SUVs, manufacturers have embraced the V8 engine, delivering a range of vehicles that combine exhilarating performance with luxurious comfort. Whether you crave a sports car's thrill or an SUV's versatility, there is a V8-powered vehicle to suit your desires. The only downside is that many V8-equipped vehicles tend to be on the higher side of pricing, but at least you can always consider a used car that's great on value while still having the desirable features you want.
Worried about a possible scam waiting to pounce on you? Keep yourself safe with a vehicle history report. The report provides everything you need to know about a particular used car you're eyeing. This includes vehicle maintenance records, odometer readings, and even accident records or whether it was stolen previously. All of this can be handy in identifying potential red flags long before you even contact the seller for a price. Save yourself the hassle and stress of buying a used SUV with a vehicle history report in your hands!