Last Updated on June 14, 2022 by Calvyn Ee
Turbo cars have come a long way since they were introduced in the 1960s. Today's examples are much quieter and way more fuel-efficient than those made before the turn of the century. Government-imposed fuel economy regulations and global clean air standards that automakers must comply with have helped in this regard. However, their engines are also punchier and more refined than ever before, delivering a larger boost with less turbo lag.
Thankfully, because automakers are making more of them, turbo cars are also becoming more affordable. They are featured in all car market segments, from subcompact cars to full-size trucks and vans, so you can opt for a smaller or less powerful turbo car if you are on a tight budget. Many high-quality used turbo cars on the market cost much less today than they cost several years ago.
If you're currently looking for a turbo car with a factory-installed turbocharger (without breaking your bank), here are 5 of the cheapest turbo cars available to you in 2022.
Criteria in this guide
Price
The lower the price, the easier it is for you to make the monthly payments required (if you intend to take a car loan). A $20,000 car loan with a 60-month payment period, for example, can afford you monthly payments of just $365 (assuming an interest rate of 3.54%).
Performance
One of the benefits of turbo cars is the turbo boost; the power increments they deliver after their turbochargers spool up to make them worth the extra cost. This guide classifies these turbo cars according to their performance levels.
Fuel Economy
Thanks to constantly evolving engine technologies, turbo cars are also becoming more fuel-efficient. This guide also considers the turbo cars that do the best job of leveraging fuel economy with their pricing and performance.
For Your Consideration: 5 of the Cheapest Turbo Cars in 2022
2022 Volkswagen Jetta S – $22,165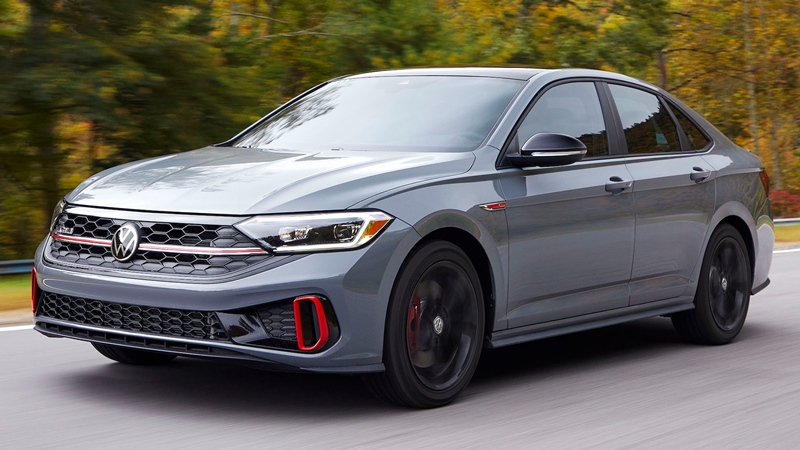 What We Liked
Roomy interior
Good fuel economy
Excellent safety features
What We Disliked
Less than stellar interior materials
The Jetta compact sedan is well regarded for its above-average build quality and refinement. Together with its noteworthy practicality and peppy engine, it remains a very popular Volkswagen offering. The 2022 Jetta S model is also available for an impressively low starting price of $22,165.
For 2022, the Jetta gets a facelift that includes a more prominent grille, slightly reshaped headlights, and sharper rear fascia lines. At the same time, it flaunts an understated yet classy look. All models also get a new 1.5L turbo 4-cylinder engine that makes 158hp – 11hp more than its previous engine. This engine delivers a healthy 184 lb.-ft. of torque at just 1,750 rpm, making for spritely driving even at lower RPMs. This engine pairs with a delightful 6-speed manual transmission in the S model, allowing the Jetta S to hit 0-60mph sprints in less than 8 seconds. The S model also scores highly in the fuel economy department, boasting a rating of up to 29 mpg in the city and 43 mpg on the highway.
On the inside, the 2022 Jetta S offers a comfortable and well-kitted cabin with surprisingly roomy back seats. It also offers a trunk with over 14 cubic feet of luggage space.
Rating
Price
Performance
Fuel Economy
2022 Mini Cooper – $23,400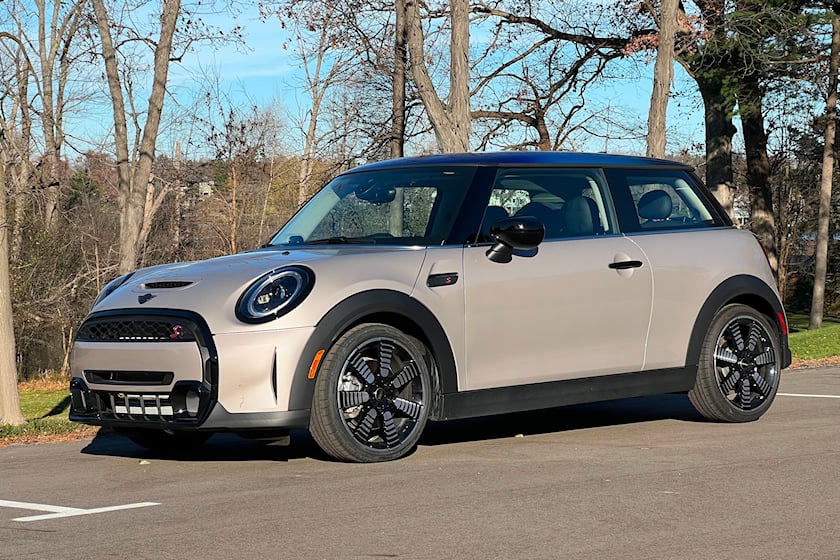 What We Liked
Impressive engine
Various customization options
Good handling
What We Disliked
Relatively small interior
The 2022 Mini Cooper offers loads of driving fun packaged in a compact, retro-styled hatchback for four. While the S, SE, and JCW models come with more potent engines and sportier features, the base model is the real bargain, starting at only $23,400 while still having much to offer. Under its hood, a 1.5L twin-turbo inline 3-cylinder engine puts out 134 hp at 4500 rpm and 162 lb.-ft. of torque at 1480 RPM. That may not sound like much, but it feels sufficiently potent in a car with a curb weight of 2,769 lbs. This engine, available with either 6-speed manual or automatic transmissions, delivers a 0-60mph sprint time of 7.6 seconds and returns a fuel economy of 29 mpg city / 38 mpg highway.
Being a 2-door Mini Cooper, this car doesn't do very well where practicality is concerned. It offers a small cabin with few storage points and just 8.7 cubic feet of cargo space behind its rear seats. However, you can fold down its rear seats to create more cargo space.
Rating
Price
Performance
Fuel Economy
2022 Kia Forte GT – $23,490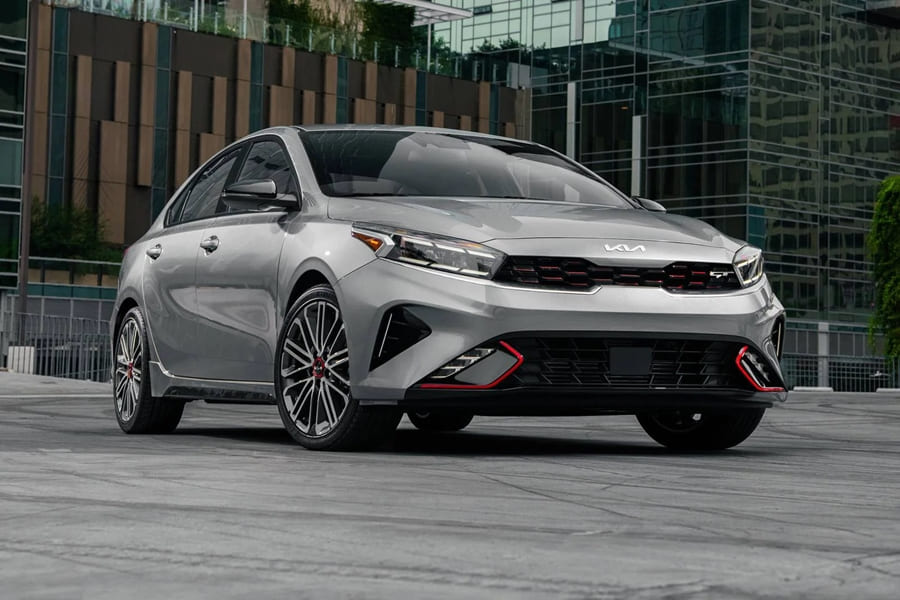 What We Liked
Pleasant to drive
Good fuel economy
Impressive interior space
What We Disliked
NHTSA 4-star rating for safety
With its sharp, aggressive styling, red accents, large dual exhaust tips, and standard 18-inch wheels, the 2022 Kia Forte GT looks like a thoroughbred sports sedan. Beyond its sporty exterior and minimalist features, it packs a hefty punch on the inside. It's built with a stiffer sport suspension, a sport-tuned dual exhaust that produces V8-like sounds, and an uprated 201-hp 1.6L turbo engine that pairs with a performance-inspired seven-speed dual-clutch transmission. You can count on it to sprint from a standstill to 60 mph in less than 7 seconds and still return a fuel economy of 27 mpg in the city and 35 mpg on the highway.
The 2022 Kia Forte GT is a roomy and practical car, offering up to 96 cubic feet of passenger space and 15.3 cubic feet of trunk space at the back. Its cabin is decked with premium-quality Syntex and cloth seat trim, making for a luxurious ride. Other high-end features include dual-zone automatic temperature control; a 10.25-inch Color Touchscreen infotainment system with Navigation & Kia Connect; a Harman/Kardon® premium audio system; and much more. This car's cabin is also well insulated from road and wind noise.
Rating
Price
Performance
Fuel Economy
2022 Hyundai Elantra N-Line – $24,350
What We Liked
Cool sporty look
Potent driving performance
Numerous safety features
If you are looking for a far more aggressive-looking car within the same price range, consider the 2022 Hyundai Elantra N-Line. It sits lower and has a wider stance than the 2022 Forte GT. It also boasts an angrier front fascia and more dramatic styling cues bound to draw attention wherever it goes. It also comes standard with track-inspired 18-inch alloys, a chrome twin-tip exhaust, and a racing-inspired interior with a lot of N-Line badging. Driving it feels very smooth and responsive, a testament to Hyundai's top-notch engineering work.
The 2022 Hyundai Elantra N-Line shares the 2022 Forte GT's 201-hp 1.6L turbo engine, so expect it to deliver similar performance and fuel economy. However, unlike the Forte GT, it comes standard with a 6-speed manual transmission; the seven-speed dual-clutch transmission is optional. In terms of roominess and utility, this car offers 99.4 cubic feet of total passenger space and 14.2 cubic feet of trunk space.
Rating
Price
Performance
Fuel Economy
2022 Honda Civic EX – $25,550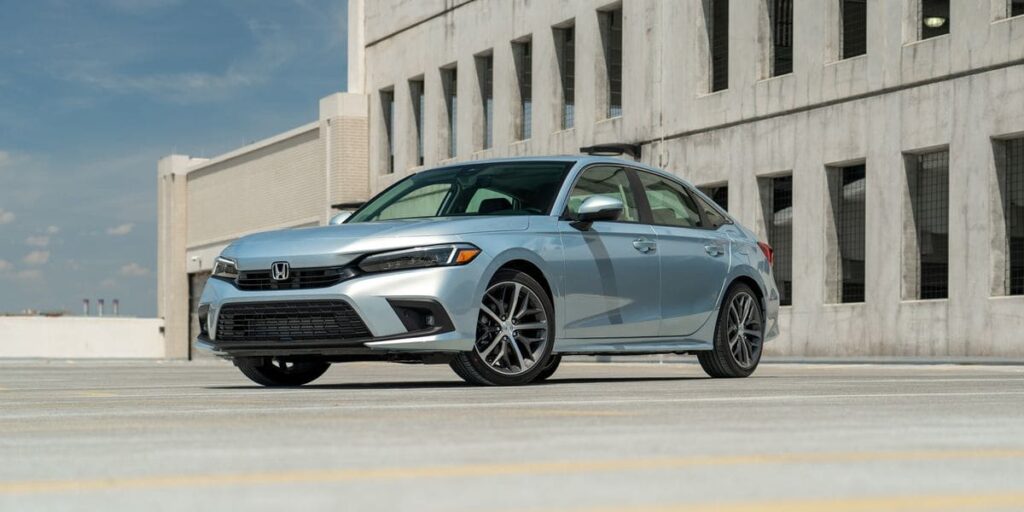 What We Liked
Modern, mature design
Strong, efficient engines
User-friendly features
What We Disliked
So-so comfort on the road
The Honda Civic has always excelled as a reliable and fuel-efficient car for your daily drives to work or grocery shopping; the 2022 edition is no different. This eleventh-generation Civic has been fully redesigned with new exterior and interior stylings; an improved powertrain; and innovative safety and convenience features. Its EX trim level comes equipped with a more enhanced version of the optional 1.5L turbo engine found in 10th-generation Civic models. It now puts out 180 horsepower and 177 lb.-ft. of torque, enough to motivate the Civic to a 7.3-second zero-to-60mph sprint. It doesn't get there as dramatically as the Hyundai Elantra N-Line or Kia Forte GT, though. This Civic is a calmer and more laid-back commuter car choice.
This car boasts an impressive rating of 33 mpg in the city and 42 mpg on the highway in terms of fuel economy. It also offers a roomy and practical cabin and plenty of cargo space at the back.
Rating
Price
Performance
Fuel Economy
Something to Note
The turbo cars in this price range feature the smallest and least potent turbo-engine versions on the market. If you might be looking for the best turbo engines on the market, you'll need a higher car-buying budget. It's worth noting that turbo engines generally require more attention (maintenance-wise) than naturally aspirated engines, as the former functions under higher heat and pressure levels. You will need to inspect it frequently, give it regular engine oil changes, and use the correct fuel/engine oil type to keep it functioning at optimal levels.
You should be able to find any of these turbo cars at your nearest authorized dealer. Otherwise, you can also visit a reputable online car dealer for more options. Be sure to equip yourself with tips and tricks to help you navigate buying a car online.