Last Updated on October 12, 2023 by Calvyn Ee
Even with the shift toward sustainability and fuel efficiency, the popularity of the formidable V6 engine has remained relatively untouched. For car enthusiasts who appreciate the superb performance a V6 offers, there are various options available to you that are both performant and affordable. You'll be plenty satisfied with our list of the cheapest V6 cars you can buy in 2023.
How We Rate Cars
Reliability
We make a point to get feedback from current and previous drivers and ratings from reliable sources like Consumer Reports and CarMD for each car we feature.
Appearance
Both new and used cars can sport some great looks on the inside and outside, helping it to stand out from the competition.
Performance
V6 engines are no slouches when it comes to a fun, fantastic drive. Stable, solid handling also helps accentuate the car's power and take it to new heights.
Features
You'll find plenty of value and utility in what a car has to offer, from various creature comforts to important safety suites and more.
Launch Yourself to Top Speed with the Cheapest V6 Cars
2016 Cadillac ATS-V (from $32,000)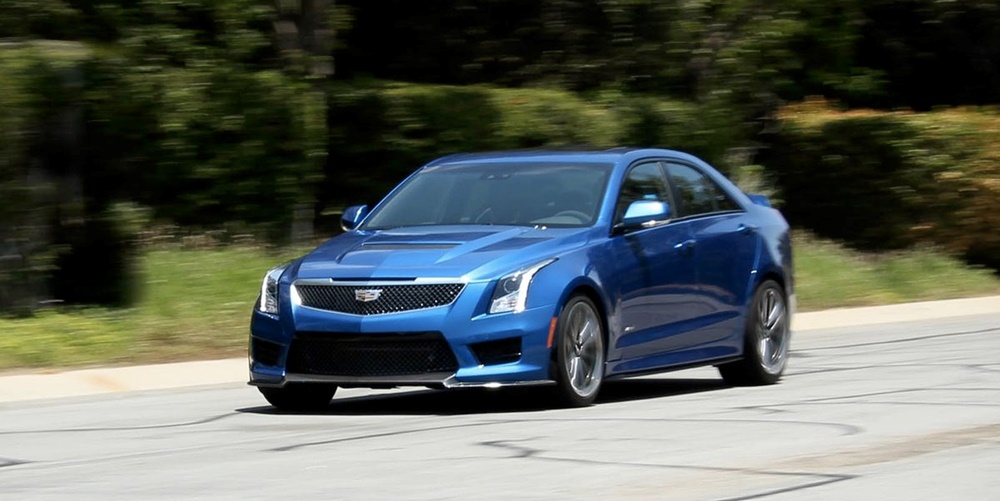 What We Liked
Superb performance
Impressive handling
Stylish looks, even on the inside
For something with plenty of power under the hood, you can't go wrong with the 2016 Cadillac ATS-V, a powerful contender to the vaunted BMW M3. The ATS-V is powered by a mighty 3.6-liter, twin-turbo V6 that packs a whopping 464 hp and 445 lb-ft of torque; it pairs with either a six-speed manual or a quick-shifting eight-speed automatic. Once you put your foot down on the pedal, the ATS-V will quickly launch you to full speed in under 4 seconds. Even then, its impressive engineering significantly enhances your driving experience with a smooth ride and confident responsiveness. If you find an ATS-V with the added Premium package, the Magnetic Ride Control (MRC) makes for even more wonderful drives. The interior of the ATS-V is also classy and comfortable, with plenty of premium finishings to accentuate its looks. The trunk is the one downside, with a measly 10.4 cubic feet available; finding an ATS-V at a bargain price is also another challenge, as most are priced above the 30k mark. If you're willing to splurge, it's a definite recommendation.
Review
Reliability
Appearance
Performance
Features
2021 Kia Telluride (from $30,000)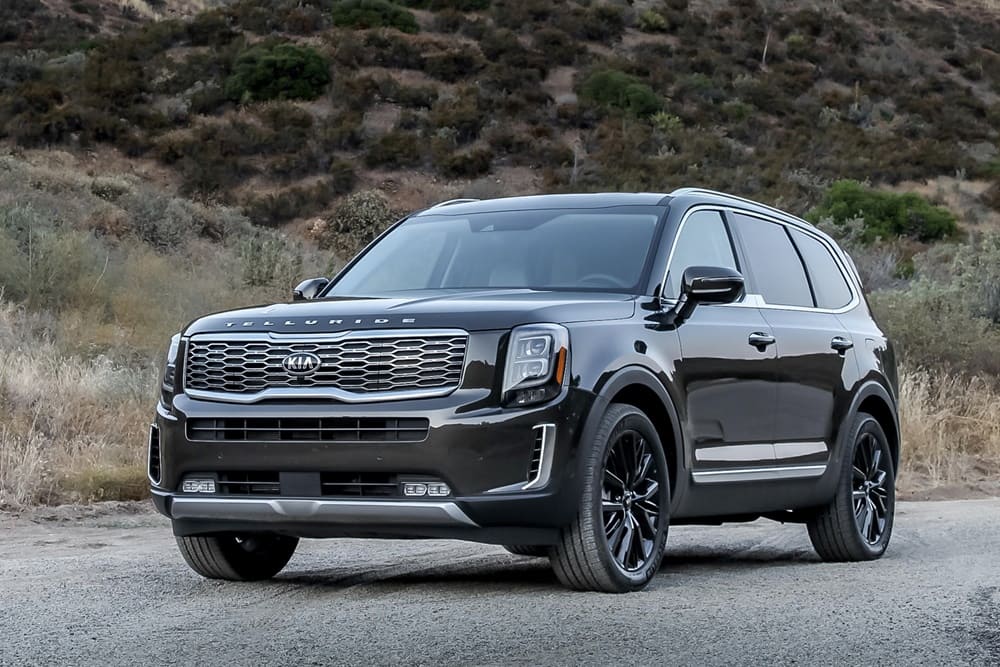 What We Liked
Stable, quiet ride
Very spacious
Decent towing capacity
The stylish and robust Kia Telluride is another great option for those seeking a V6 engine and an impressive SUV. This massive SUV is powered by a 3.8-liter V6 engine that produces 291 hp and 262 lb-ft of torque. Considering its hefty weight, it isn't very sprightly, but it still impresses with decent highway passes, strong towing up to 5,000 lbs, and optional all-wheel drive to help with traction. Ride quality is also top-notch as its suspension easily absorbs road imperfections with ease. Where the Telluride really shines, though, is its posh cabin and its cavernous amount of space. In fact, it's so big that the third row is also practical for adults. There's also plenty of small-item storage within the interior, on top of the cargo space going up to 87 cubic feet with the back rows folded. And, of course, Kia ensures that safety is a priority with a hefty number of standard driver assistance features. As it stands, the Telluride is easily one of the most value-centric V6-powered cars on the market.
Review
Reliability
Appearance
Performance
Features
2020 Toyota Avalon XLE (from $28,000)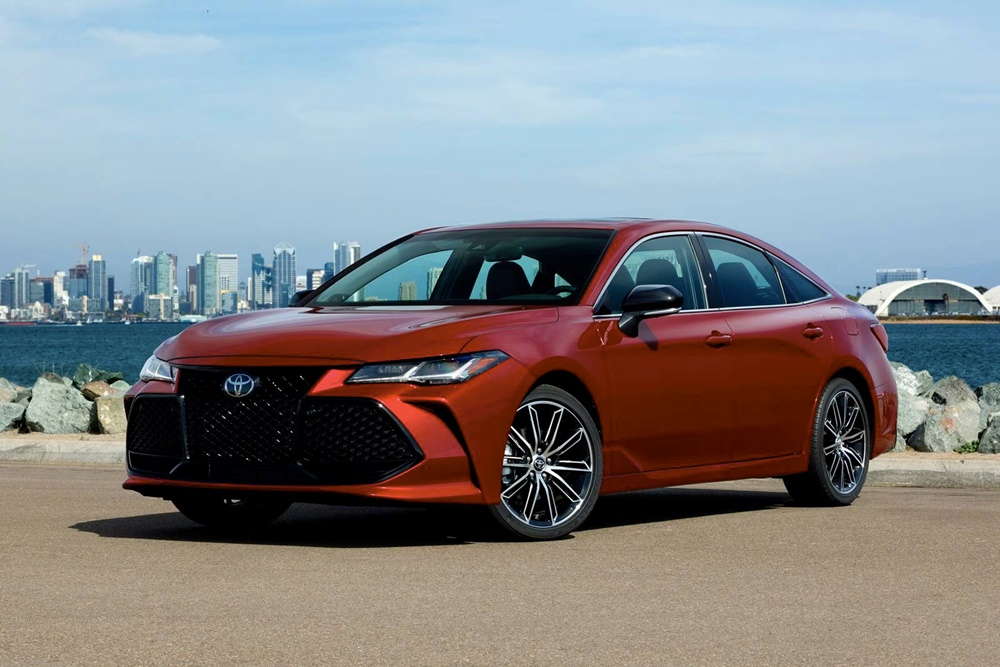 What We Liked
Decently performant powertrain
Premium styling
Great safety records
What We Disliked
V6 fuel efficiency isn't great
The Toyota Avalon is a more luxurious Toyota option for V6 enthusiasts, and you can find a decent deal for the 2020 model year. It shares the same 3.5-liter V6 engine found in the Camry, making 301 hp and 267 lb-ft of torque while paired with an eight-speed automatic transmission. This does turn the Avalon into a stately daily driver with a decent amount of zest, and while it might not be exciting, it makes up for this with elegance, good steering, and a delightfully comfortable ride. With its elegant design, the Avalon definitely appeals as a non-luxury car, on top of its impressively roomy cabin. Even back-seat passengers can lounge comfortably with the 40 inches of legroom available. The convincing premium finishes, including synthetic leather, also help accentuate the richness of the interior. And you're also getting Toyota's highly-rated safety standards with the sheer amount of techs available to you. Unfortunately, Toyota has announced that it will cease production of this full-size sedan after 2023, so getting one before prices inevitably go up would be a good idea.
Review
Reliability
Appearance
Performance
Features
2017 Ford F-150 Lariat (from $27,000)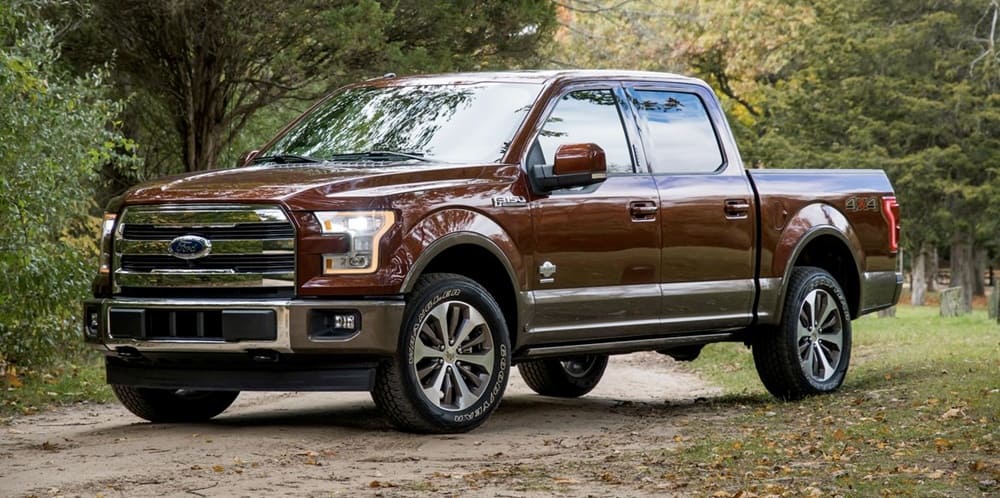 What We Liked
Diverse V6 options
Good utility
Drives well
The Ford F-150 is a great pickup truck for its valuable utility, especially with the SuperCrew model that gives decent room for rear passengers. You get three V6 options: the base 3.5-liter V6 that produces 282 hp and 253 lb-ft of torque; the twin-turbo 2.7-liter Ecoboost V6 with its 325 hp and 375 lb-ft of torque; and the 3.5-liter turbocharged Ecoboost V6 with its beefy 375 hp and 470 lb-ft of torque. We'd pick the Lariat trim since it gets the 3.5-liter turbo V6 and the power it offers, but you'd have to go with less fuel economy than the base V6. At least you'll have plenty of power on tap as well as confident towing capacity going up to 12,200 lbs. The F-150 drives well, too, with reasonable handling in and out of towns. The SuperCrew model is definitely your pick if you're carrying passengers around, with under-seat storage that can be handy in a pinch. Be sure to look for models equipped with Ford's various tech packages available at the time; only Lariats and above get the standard safety features – and even then, it's still lacking a few things without some of these add-ons.
Review
Reliability
Appearance
Performance
Features
2018 Dodge Charger SXT (from $21,000)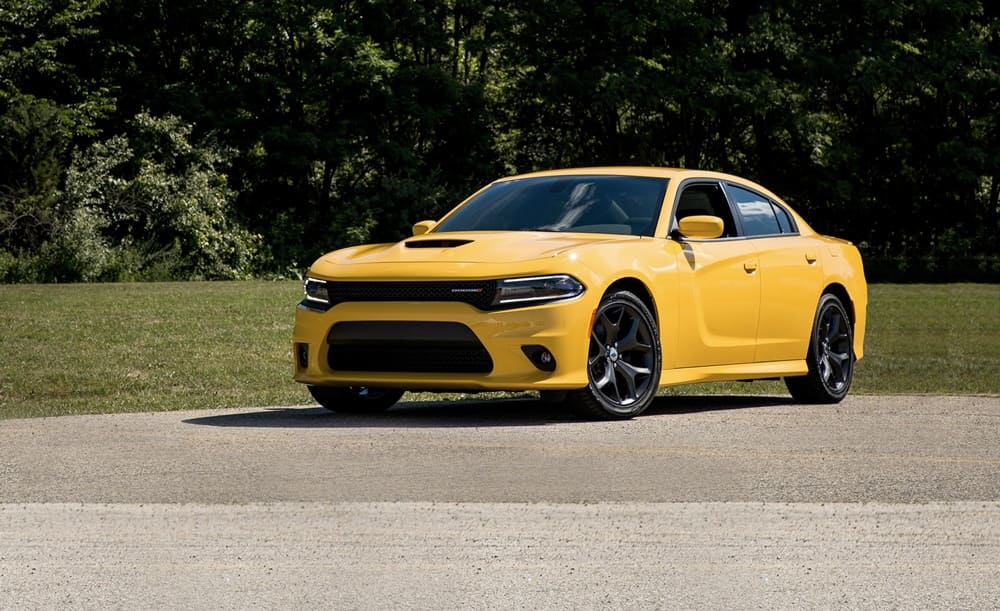 What We Liked
Strong V6 performance
Exhilarating speeds
Decent cabin comfort
The Dodge Charger is yet another great pick for an affordable V6 car, offering a stoic 3.6-liter V6 with 292 hp and 260 lb-feet of torque; if you get one with the Rallye Group package, you pump those numbers to 300 hp and 264 lb-ft. Even without the V8, you're still getting respectable agility with the V6, as the Charger can serve up a fast, fiery (though less comfortable) ride from start to finish. This is greatly helped by accurate steering and confident handling characteristics. Outside of the harsh but quiet ride, the interior is quite comfortable, with plenty of space for passengers in the front and back. It's nowhere as roomy as a Challenger, but it's still solid nonetheless. The rear seat is a bit more subjective, but we do agree taller passengers won't have a good time seated in the back. Rear visibility is a bit of an issue that's plagued Chargers for a long time, but your mileage may vary; at the very least, the rearview camera is helpful. Safety is also a good part of the Charger, with pretty good scores from the NHTSA and IIHS (except for one point in the latter's tests) on top of its available safety features.
Review
Reliability
Appearance
Performance
Features
The V6 Isn't Going Away So Easily
With the rapid rise of the electric vehicle, the V6 continues to remain a competitive powertrain option owing to its longstanding roots in American automotive history. Besides, with the plethora of options available to you, choosing the cheapest V6 car doesn't mean you have to compromise on power, comfort, or even safety features. There are still plenty of other aspects that you'll need to consider, including fuel efficiency, power delivery, reliability, and more. Just be mindful if you plan on making a used car purchase because you'll never know if you might be walking into a scam without realizing it.
Before you start the buying process, ensure you get a vehicle history report for whatever used vehicle catches your eye. With it, you'll be able to get comprehensive records of a car's usage for each of its previous owners and even that of its current driver. You can find vehicle specifications, odometer readings, and even accident records and salvage titles. With the report, you can look out for possible red flags in a deal – say, mismatched odometer readings – and lodge a report to the authorities. Buying a used car shouldn't have to feel draining on you and your family, so get a vehicle history report today for that extra peace of mind!