Last Updated on July 24, 2023 by Calvyn Ee
What makes a good SUV? For some folks, it's the utility that counts, whether it's the need to haul cargo across dirt roads or uneven terrain or safely ferry family members in and around the city (or out of the state). For others, it's the thrill of the drive: exploring hilly forests or vast dunes solo or even just going fast on and off the road. There's no right or wrong answer, but all of them still hinges on one important point: how long will the SUV last?
Automakers like Honda and Toyota have long held an upstanding reputation for long-term reliability, but many others are beginning to offer strong contenders in that department. If you're looking for a used SUV that you know will serve you a long time, then this list of the most reliable used SUVs might be what you need to narrow your choices down.
What We're Looking For
Reliability
This article aims to point you towards reliable SUVs, so all our picks are based on popular SUVs as rated by previous owners and listed on sites such as JD Power and other reputable sources.
Performance
We focus on SUVs with good performance characteristics, ideal for both on- and/or off-road requirements where applicable.
Appearance
A stunning exterior and cabin can make a huge difference in an SUV's overall looks, even for older models.
Features
Even used SUVs can still provide good value in what they offer. Most of them also offer a decent variety of tech features, even if some are a little dated.
Our Selection of the Most Reliable Used SUVs Available
2017-2019 Honda HR-V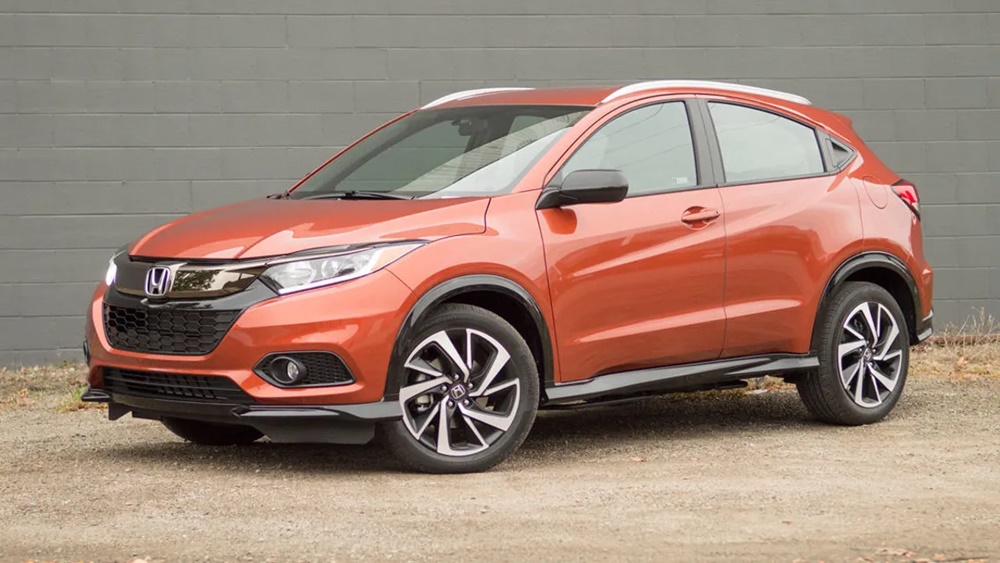 What We Liked
Good safety tech
Comfy interior
Very fuel efficient
If you want an unassuming daily driver for the family that is good on both comfort and space, the HR-V is a worthwhile value-for-money pick. Its 1.8L four-cylinder engine isn't going to win any prizes where acceleration is concerned, but it's a serviceable engine that gets you places. The HR-V handles itself reasonably well on the road but expect to deal with a noisy engine as you hit the highway and some ride choppiness on slightly uneven paths. Still, for the most part, city running with the HR-V is pleasant enough, and external noise won't be a problem. Good steering and a well-tuned suspension help with most of one's handling requirements, but this is not meant to be an exciting drive. At least the fuel economy is strong, with combined estimates reaching up to 30 mpg and higher.
Once you step inside, the HR-V's other strengths come into play. The cabin is roomy enough to fit up to five passengers comfortably, and taller folks won't have too much of an issue thanks to plentiful headroom and legroom. Small item storage somehow took a hit, but at least the cargo space in the trunk is a generous 23.2 cubic feet or 55.9 cubes when the rear seats are folded. The overall quality of the cabin is good, accentuated by fewer plastics and more cloth or vinyl trimmings here and there. Meanwhile, Honda doesn't skimp on safety and tech, so you'll be pretty happy with an updated (though occasionally finicky) infotainment system and a slew of driver-assist aids such as automatic emergency braking, adaptive cruise control, and active lane control, among others. The HR-V is a good pick for small families looking for something affordable to meet their daily needs.
Review
Reliability
Performance
Appearance
Features
2018-2019 Kia Sorento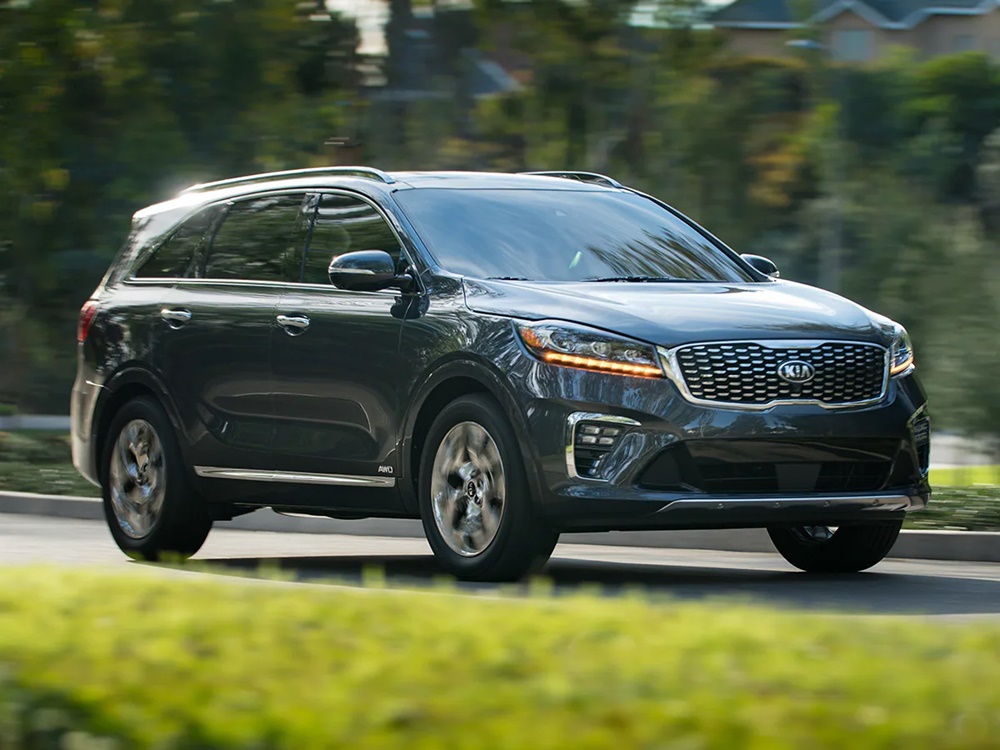 What We Liked
Ample size
Competent handling
Great value
The Kia Sorento is an excellent crossover choice that's bigger than the automaker's compact Sportage but smaller than their massive Telluride. Two powertrains are available depending on the trim: the base 2.4L inline-4 is a modest engine paired with a six-speed automatic. For better performance, consider the LX trim or higher's V-6 that puts out 290 hp and 252 lb-ft of torque and pairs with a new eight-speed automatic. That and the availability of three driving modes and confident handling traits offer a well-balanced driving experience that emphasizes ride comfort and little noise from outside from start to finish. All-wheel drive is also available if you're keen on it, and with 7.3 inches of ground clearance, the Sorento has some light off-road capability but be sure not to push its capabilities; it's still not meant to take on the wilderness.
In terms of comfort, the Sorento's higher trims may be pretty enticing, especially if they're affordable. You can get heated and ventilated front seats, power-extendable thigh support for the driver's seat, and even leather upholstery. Rear seats are nice and cozy, but some may find them relatively low. Higher trims have the unfortunate issue with rear headroom, no thanks to the panoramic moonroof. Meanwhile, if you don't have small children at home, consider folding the cramped third row to make way for more cargo space. Doing that nets you 38 cubic feet for luggage or various other items. At this juncture, we'd recommend that you look out for a higher trim used Sorento at an excellent price to enjoy many features, such as forward-collision warnings with automatic emergency braking, adaptive cruise control, active lane control, and more besides driver assistance tech. A max tow capacity of 5,000 lbs also helps sweeten the deal if you are considering a road trip across states with your loved ones.
Review
Reliability
Performance
Appearance
Features
2019-2020 Hyundai Tucson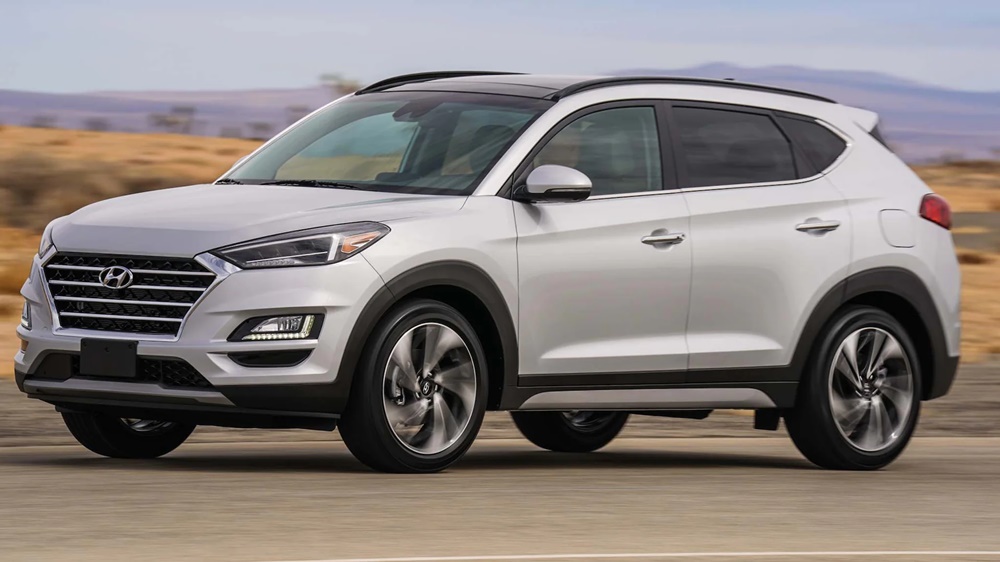 What We Liked
Packed with features
Good-looking interior
Excellent ride quality
Another crossover worth your time is Hyundai's Tucson. You can choose either a 2.0L inline-4 that's rather lethargic or a slightly beefier 2.4L inline-4 that's making 181 hp and 175 lb-ft of torque. Either way, they're paired with a six-speed automatic and provide a decent but uninspired drive around the city; power is something it lacks. Fuel economy also sits in the mid-20s, which isn't particularly inspiring. Still, it makes up for its underperforming engine performance with its surprisingly strong handling: well-balanced steering, confident braking, reasonable body roll control, and a smooth ride that absorbs a lot of road irregularities, giving it excellent marks for long drives. There's also a drive mode selector to cater to different ride qualities, which would no doubt be a welcome addition for some drivers.
At least its interior is striking enough to warrant your attention. The Tucson offers a very cozy cabin, helped by six-way adjustable front seats for maximum driver comfort, generous headroom (taller passengers might disagree), and a relatively quiet cabin even when moving. Cargo space is one weak point, trailing behind its rivals with only 31 cubic feet (61.9 cubes with the rear seats folded). Luckily, the control layout is easy to get used to, while the infotainment system is also straightforward in terms of functionality. Speaking of tech, safety is also a vital aspect of the Tucson, with the driver assistance suite containing standard automatic emergency braking and active lane control on base models. At the same time, higher trims offer pedestrian detection, adaptive cruise control, and blind-spot monitors. This is yet another SUV we'd suggest getting in a higher trim for all the extra comfort you'll get in this excellent package.
Review
Reliability
Performance
Appearance
Features
2019 Chevrolet Tahoe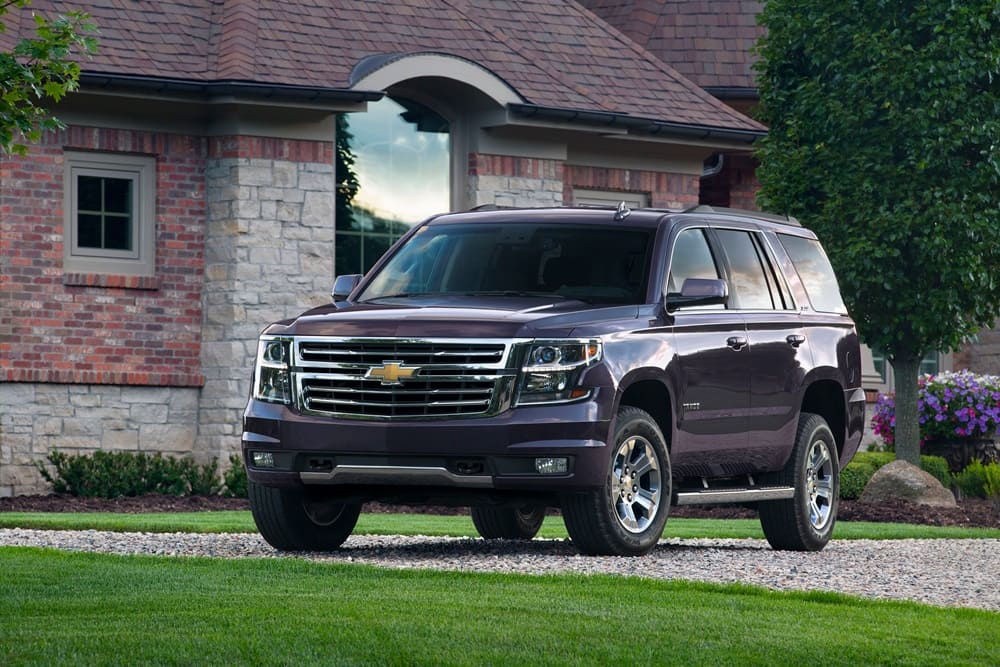 What We Liked
A great amount of space
Strong towing capability
Luxurious cabin
If you need more space to work with, why not look for a Chevrolet Tahoe? A big SUV like this is bound to provide you with ample cargo room for various reasons. Plus, with two V-8 engines to choose from, it's just a matter of picking the standard 5.3L engine or the stronger 6.2L one for additional speed to carry its sizable bulk. Despite the engines' power, the size of the Tahoe suffers from a performance and handling perspective. The Tahoe's imposing stature and 5,700 lbs weight can be a little tricky to maneuver in the city, further exacerbated by slow brake response (but braking is still confidence-inspiring), average handling, and bland acceleration. Sharing a frame with the Chevrolet Silverado does mean that you'll quickly notice the pickup truck-like qualities of the Tahoe, but you're not opting for a full-size SUV like this for the classiest of rides. The main draw, after all, is the space.
And space is what it has copious amounts of – that's hyperbole, we know, but when you can comfortably seat up to seven passengers in it, with hardly any complaints over headroom or legroom, that's a big plus point to consider. The third row is obviously best for kids, but if you don't need it, fold the seats and open up more cargo room for luggage and other goods. With the third row up, you're only getting 15.3 cubic feet; with them tucked away, it expands to 52 cubic feet. Your only gripe would be the high floor, so you might need to adjust everything you need to fit inside the trunk. The cabin also has a premium feel, even on the mid-tier LT trim, and the infotainment system is functional and classy. Look out for used Tahoes with the Max Trailering package, which allows the Tahoe to tow more (up to 8,600 lbs for FWD models), and the Enhanced Driver Alert package for helpful driver assistance techs such as low-speed forward automated emergency braking and lane-keeping assist.
Review
Reliability
Performance
Appearance
Features
2020 Toyota Highlander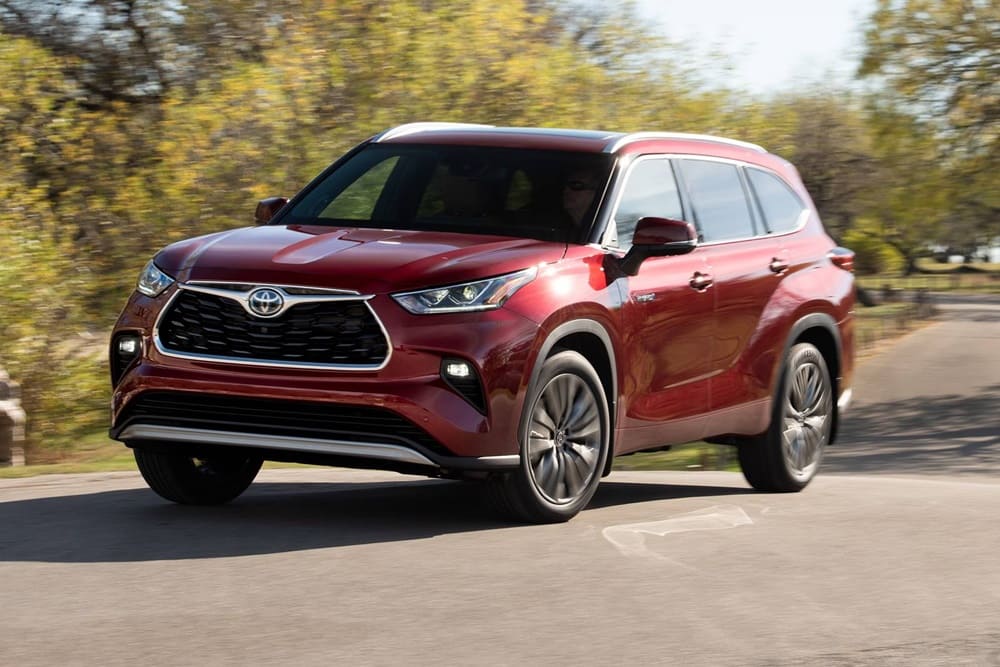 What We Liked
Sporty handling
Available hybrid
Spacious cabin
What We Disliked
Below-average trunk space
Yet another strong contender where reliability is concerned, Toyota's 2020 Highlander is a well-loved model that comes in two flavors: regular Highlanders have a 3.5L V-6 rated at 295 hp and 263 lb-feet of torque (paired to an eight-speed automatic), while the new Hybrid model has a 2.5L inline-4 paired with a nickel-metal hydride battery and a CVT. The V-6 is a strong engine that lends itself to performance, while the hybrid powertrain ramps fuel economy up to the mid-30s (combined mpg). Whichever you choose, the Highlander delivers confident handling from the moment you press the pedal. The improvements over the previous year's model mean it has better body roll control, stable ride quality that smooths over most uneven paths, and an available torque-vectoring AWD system for better grip. Braking distance isn't industry-leading, but everything else about it is well-built with both agility and comfort in mind.
The comfort levels of the Highlander are a highlight, thanks to comfortable seats for all rows. Higher trims offer creature comforts like second-row captain's chairs and heated and cooled seats. Third-row space is, much like the others, dismal at only 27.7 inches of legroom; again, it's best reserved for young children. If you don't need it, you can fold it up for 48.4 cubic feet of cargo room; otherwise, it's only 16 cubes available. The build quality is excellent, even on standard trims, while the higher trim levels have leather upholstery and various other touches for a classy-looking cabin. The cabin also manages to eliminate external noise from filtering in beyond a bit of wind and road noise. Still, it's better than nothing. Overall, the Highlander might fit the bill if you want a performant SUV ideal for road trips and the occasional off-road journey.
Review
Reliability
Performance
Appearance
Features
Utility and Reliability at Low Prices?
The used car market can be viewed as a treasure trove of low-priced cars of any shape, size, and make. You might find the vehicle of your dreams amidst the many used car dealerships all over the country, but there are still risks associated with used car hunting. If you don't make it a point to protect yourself from potential scammers who want to make a quick buck at your expense, you might lose a great deal of money, as well as your peace of mind, if you fall for a fraudulent deal that's just too good to be true.
The first thing you should always do before starting your used car search is to obtain a vehicle history report. With it, you'll be able to protect yourself from falling victim to automotive scams. Here at VinFreeCheck, we provide a free license plate lookup system to quickly get your hands on a comprehensive report on a used car's particulars. You might find that the SUV you've been eyeing had its odometer readings tampered with somewhere down the line or had a history of unaddressed mechanical failures. Protect yourself today and get peace of mind when looking for that elusive used car you want.