Last Updated on January 29, 2023 by Calvyn Ee
Luxury cars symbolize opulence and exquisiteness, both on and off the road, combining premium features, performant systems, and a stunning aesthetic design into one beautiful package. With more people holding on to their beloved cars for longer, reliability becomes a crucial factor in decision-making when buying a new car. According to J.D. Power's 2022 U.S. Vehicle Dependability StudySM (VDS) findings, premium vehicle owners tend to deal with more car issues, owing to various technologies incorporated in these vehicles.
Owners would much rather avoid dealing with frequent technical or mechanical faults, so automakers that can build a sturdy, dependable car packed with the latest features will quickly gain the advantage. With so many luxury choices to pick from, let our article help you choose the most reliable luxury SUV on the market.
What We Look At
Reliability
It's no secret that luxury SUVs are costly, and their maintenance costs are considerably higher than those of regular sedans and hatchbacks. Their reliability statistics are worth looking into if you're planning to hold on to one for a long time.
Appearance
It's always the first impression that counts. In the case of luxury SUVs, looks do matter. Luxury automakers don't just sell cars; they sell a visual appeal of grandeur and elegance in aesthetics and design.
Performance
From the engine's power to the SUV's overall handling on the road, we'll cover all your bases. We picked a balance of luxury SUVs for all kinds of drivers.
Features
Fancy interiors? Comfortable seats? Sweet infotainment systems? Advanced safety measures? All these are covered in this rating score.
Here's Our List of the 6 Most Reliable Luxury SUVs
New Vehicles
2023 Volvo XC90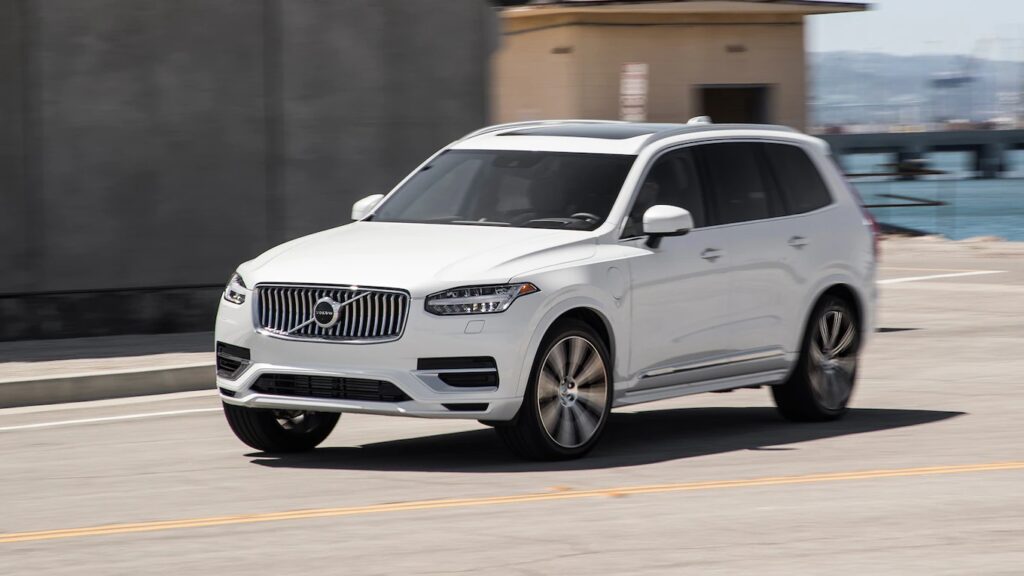 What We Liked
A premium-looking SUV
Exceptionally comfy interiors
Excellent safety record
Starting at a retail price range of about $50,000, the Volvo XC90 is a head-turner as it passes by crowds. The roomy three-row SUV sports a T5 powertrain, which comprises a 2.0L turbo-4 engine with an 8-speed automatic, boasting 250 hp and 258 lb-ft of torque and a 0-60 time of about 7.5 seconds. Not too shabby, if you ask us. You're also getting Volvo's exceptional safety features as part of the package and a complimentary scheduled maintenance plan for three years, or 36,000 miles. Talk about good after-sales service!
The XC90 might not be the most excellent daily driver (the engine can be pretty noisy when you're on the road) money can buy, but you'll undoubtedly be riding in style. The fancy, premium interior sells the point that you're riding in a luxury SUV, and with sufficient space for up to 8 folks coupled with decent handling on highways and in urban areas, the XC90'll easily sway you.
If you're willing to spend a little extra, the plug-in-hybrid model offers a more robust ride performance, with a 455hp turbocharged four-cylinder mated with two electric motors. You'll be hitting 60mph in about 4.5 seconds with this model.
Review
Reliability
Appearance
Performance
Features
2022 Buick Enclave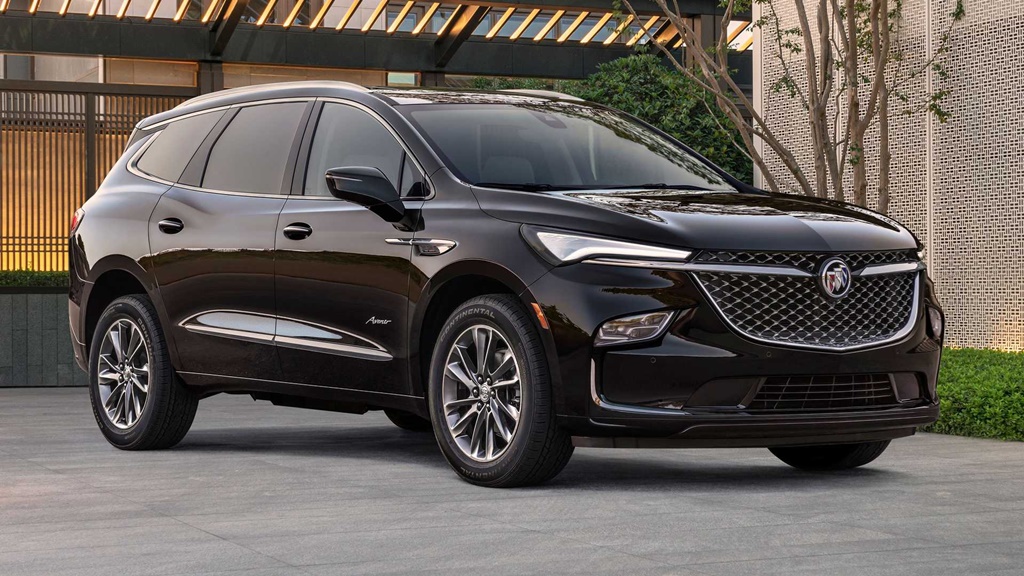 What We Liked
Stylish looks
Smooth ride
Lots of space inside
While a Buick might initially seem like an odd choice, the 2022 Enclave model is stunning. Many people don't think Buick is an exciting name, but they might change their minds once they see the stylishly curvy Enclave hit the streets. The Buick Enclave sports a 3.6L V6 delivering 310hp and 266 lb-ft of torque, coupled with a 9-speed automatic transmission, giving it a decent swagger on the move without compromising comfort on any journey. It might not offer a lot of athleticism, but it makes up for quiet, peaceful rides with the family on a long trip to the beach.
Interior space is where the Buick shines, giving you and your passengers a good amount of legroom without making everyone feel squished. It also has many standard features, including a comprehensive driver assistance suite, a remarkable cargo space, and a fun, easy-to-use infotainment system. Buick also offers excellent warranty coverage for the powertrain, but sadly first-time owners only get complimentary maintenance for their first year of ownership. Still, something's better than nothing.
You don't need to spend more on higher-end trims; you won't miss out on much! However, the Sport Touring upgrade package would be worth splurging on for a cooler, sportier look and 20-inch wheels.
Review
Reliability
Appearance
Performance
Features
2023 Genesis GV80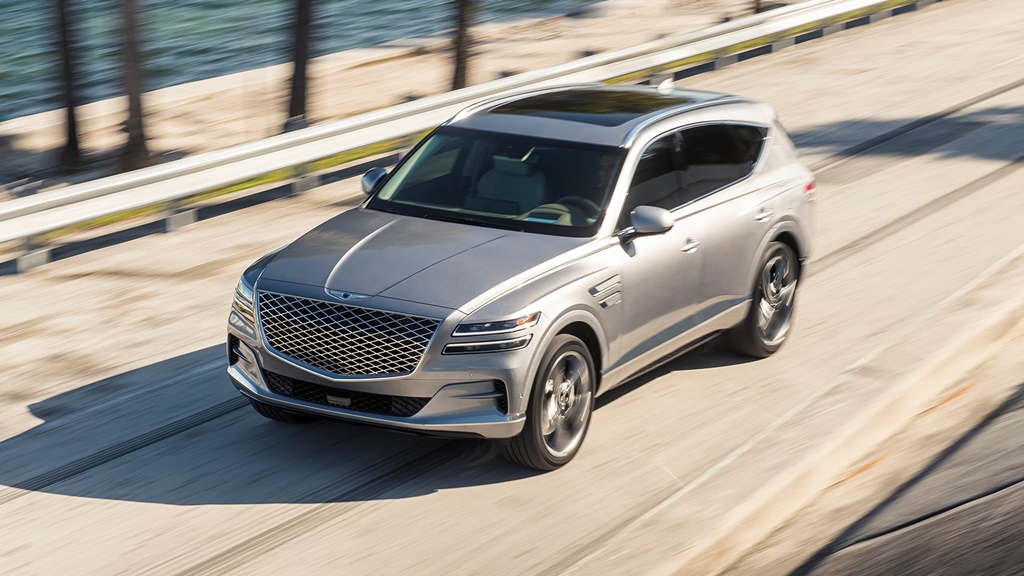 What We Liked
Premium cabin
Impressive ride quality
Modern aesthetics
What We Disliked
Less than impressive fuel economy
Genesis' flagship SUV is another worthwhile pick for a luxuriant ride. Armed with a 2.5L turbo-4 squeezing out 300hp and 311 lb-ft of torque, you can expect the base GV80 to hit 60mph in about 6 seconds. In addition to such impressive outputs, you're also getting an opulent-looking and very spacious cabin and cargo space. Even with the seats, you get at least 34.9 cubic feet of cargo space. As for passengers, you can enjoy as much as 38.7 inches of legroom in the back seat.
The value you're getting from a base model GV80 is enough to give Genesis' competition a run for their money. You also get generous warranty coverage and complimentary maintenance for three years or 36,000 miles, possibly the best among its peers. While Genesis' top-tier trims will set your budget back significantly, if you've got the means for it, it's definitely worth your time and money over even a 2022 BMW X5.
If you're looking for more power, the GV80's premium trims offer a 3.5L twin-turbo VG engine, muscling out a whopping 375hp and 391 lb-ft of torque. Premium trims also come with an assortment of extra goodies that make the ride much more extravagant, such as standard all-wheel drive capability, larger wheels, leather upholstery, and more.
Review
Reliability
Appearance
Performance
Features
Reliable Used Cars
2017 BMW X1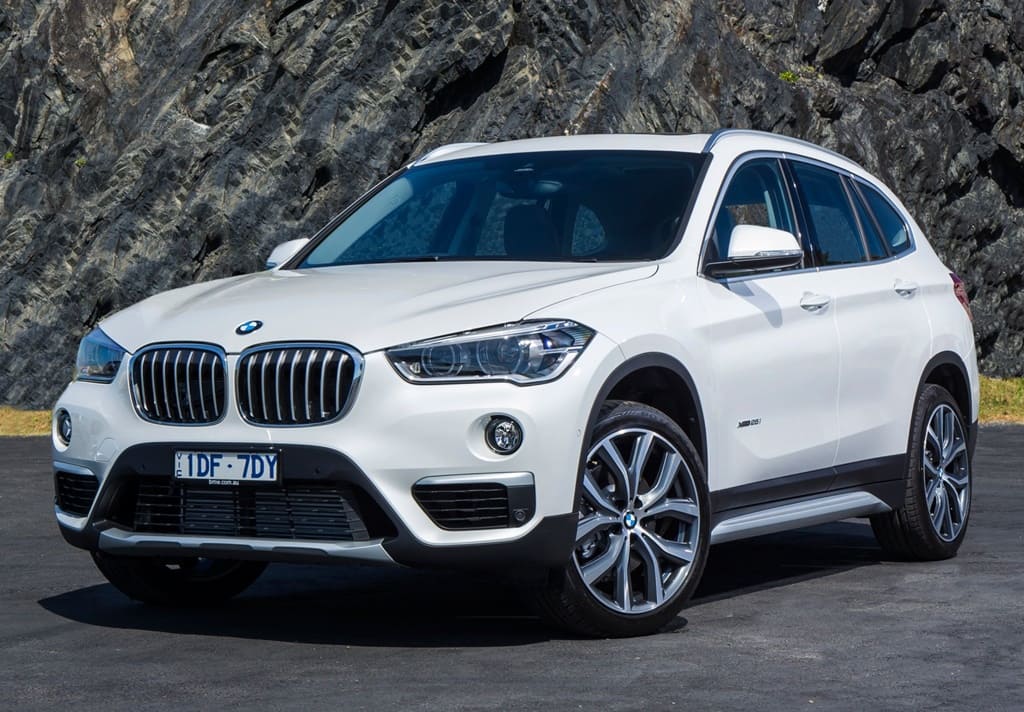 What We Liked
Classy appearance
Excellent handling
Lots of interior room
What We Disliked
Some cheap interior pieces
Why spend more than $70,000 or so for a new BMW when you can get one used at a lower price? You might not be getting the latest and greatest in automotive technology, but the 2017 BMW X1 still finds exciting ways to grab attention. You're getting a sleek turbocharged 2.0L four-cylinder engine, mated to an eight-speed automatic transmission, and delivering 228hp and 258 lb-ft of torque. Though it might be BMW's smallest utility vehicle, it still provides a wallop with its roomy interiors, premium touches, and all-around indulgence.
On top of that, you also get many appealing features ranging from driver assistance, such as adaptive cruise control and more. Shame about some of its cons, mainly around the somewhat uncomfortable seats (try to get an X1 with the optional sport seats, if you can) and cheap interior choices here and there. Still, if you're OK with these gripes, the X1 is a great choice – and with luck, you might be able to snag one for under $30k.
The 2017 model only has one engine option and a few optional upgrade choices, such as the aforementioned sports seats. These choices are really a matter of taste, although the sports seats would be a suitable replacement for the standard, less-than-cozy seats you get.
Review
Reliability
Appearance
Performance
Features
2019 Acura MDX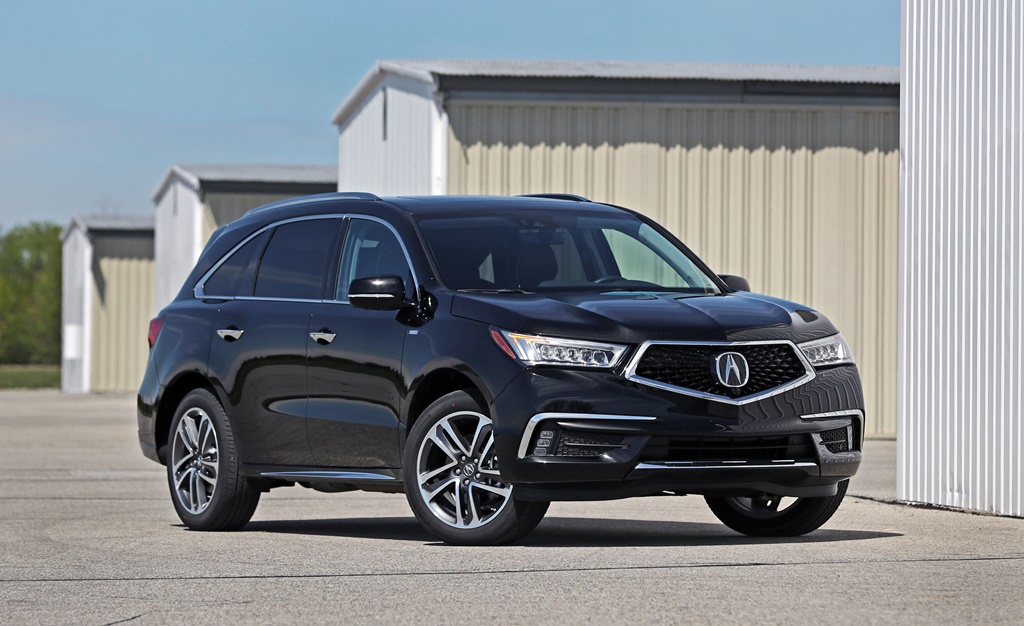 What We Liked
Excellent handling
Performant engine
Quiet, comfy cabin
Acura is no slouch with its MDX lineup of SUVs, and the 2019 edition is one such SUV worthy of your time and money. It's by no means the most luxurious among the competition, but the 3.5L V6 engine hits a decent 290hp and 267 lb-ft of torque and goes from 0 to 60 in about 6 seconds. Moreover, you're paying a lower premium to get yourself an SUV with standard driver assistance tech, adaptive dampers, and the optional Super Handling All-Wheel Drive (SH-AWD) that imbues the MDX with incredible handling and traction on almost any type of road or surface.
The main trade-offs of this MDX come from the surprisingly small amount of cabin and cargo room (it's OK, but it could be better), the frustrating infotainment system, and lackluster braking ability. Even so, you're getting a decent package of comfort and style for around $30k. It's not the most exciting ride, but it's a good fit offering a smooth, silky journey for a family of five on a shopping trip or even a long haul to another state.
Look out for deals on used 2019 Acura MDX Sport Hybrids. It comes with a gasoline-electric hybrid 3.0L V6 engine in place of the 3.5L V6, giving you much better fuel economy and faster acceleration.
Review
Reliability
Appearance
Performance
Features
2018 Audi Q7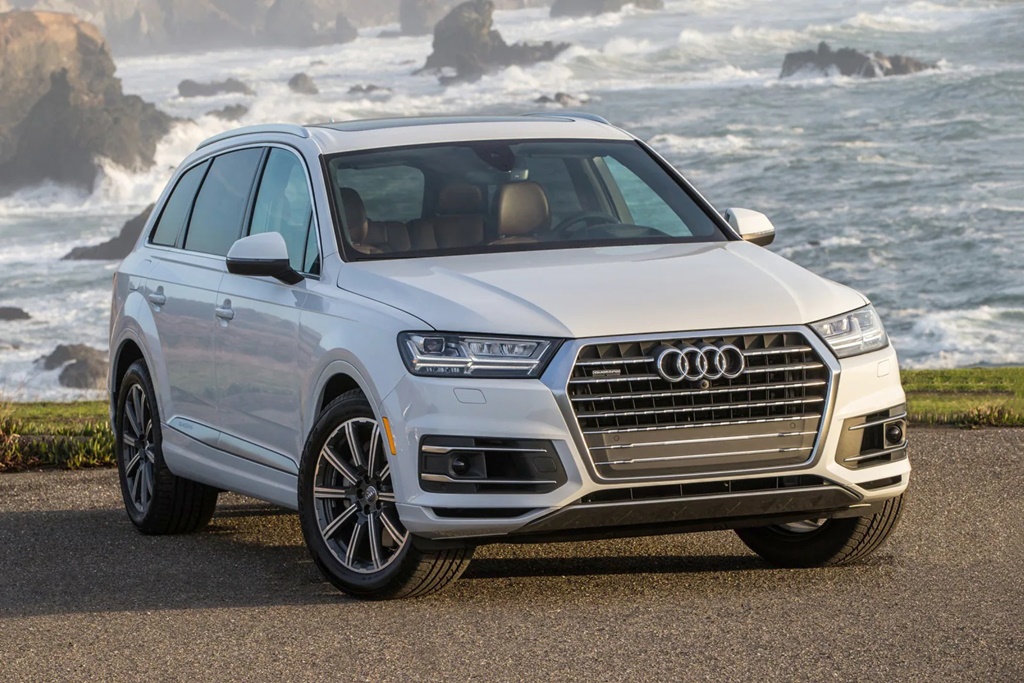 What We Liked
Exceptionally designed
Superb ride quality
Premium interiors
What We Disliked
Base trim lacks various options
Audi's luxury crossover presents a sublime package that balances excellent handling on any road surface and a high-quality build on the inside and outside. Its base engine is a 2.0L turbo I4 that pumps out 252hp and 273 lb-ft of torque, offering a spritely, agile ride that goes well with the SUV's dimensions and weight. Some may prefer the supercharged V6 with 333hp, but that does come at a higher price point. Nevertheless, the Q7 is potent when on the move, complimented by Audi's clever engineering choices.
Look inside, and you'll be left in awe of the attractive interior choices of the Q7. You feel you're driving, or riding in, a luxury branded car with all the associated bells and whistles. Cargo space won't blow you away, nor will the cramped third-row seats, but everything else – from the comprehensive infotainment suite to the variety of standard features that comes with the Q7 (like memory settings for driver's seat adjustments) – definitely will.
If you're still interested, the Prestige class offers not only the supercharged V6 but also comes with LED headlights, ventilated 12-way front seats, and other goodies.
Review
Reliability
Appearance
Performance
Features
Looking Around for Great Deals
You should be able to find some good deals if you know where to look. Consider looking up online listings and comparing what offers you can find. Look around your local dealerships, too, and take those into account. Be sure you also find out more about the car's condition before proceeding with a deal. The last thing you want is to be caught unprepared and then end up regretting spending so much on a less-than-stellar vehicle. Worse still is if you end up falling victim to odometer fraud or some other scam.
Get the VIN of the car you're interested in, and look up the vehicle's history report. You'll be able to see various information related to the car's use, thus protecting you from potential scam deals. Do also consider getting a professional vehicle inspection conducted for the car you're considering. Take it out for a test drive and see how it performs. Do everything you can to safeguard yourself!