Last Updated on July 24, 2023 by Calvyn Ee
The utility of a pickup truck can't simply be understated. Need to carry a lot of stuff, be it for work or leisure? Want to be able to tow a trailer to carry more stuff? Do you like having ample room for passengers and small items in the cabin? It's no wonder why more Americans are buying trucks these days. Still, pickup trucks can be very thirsty where fuel is concerned, and given how the economy is still in flux, getting a truck might not be ideal in the long run.
Thankfully, automakers are making a point of emphasizing fuel efficiency in their newest models, with efficient hybrid powertrains available to buyers. Here's a list of the best gas mileage trucks you can find on the market today.
What We Look At
Fuel Economy
Fuel efficiency is measured in miles per gallon, or mpg for short. The higher the car's mpg rating, the better its fuel efficiency. Mpg ratings can be inconsistent due to various factors, so getting an accurate reading is challenging. The U.S. Environmental Protection Agency (EPA) handles the certification of all mpg ratings, so they will run a set of standardized tests to determine the official mpg rating of a car.
You can find the mpg ratings of various cars on the market via this site.
Performance
Trucks can still deliver strong performance while offering different handling characteristics catering to different types of drivers.
Appearance
Modern trucks maintain their rugged appearance with a mix of angular features, prominent front grills, and their large, imposing size.
Features
Many trucks will have many useful standard features any driver would want, from driver assist aids to onboard navigation and more.
The Best Gas Mileage Trucks Available Today
2023 Ford Maverick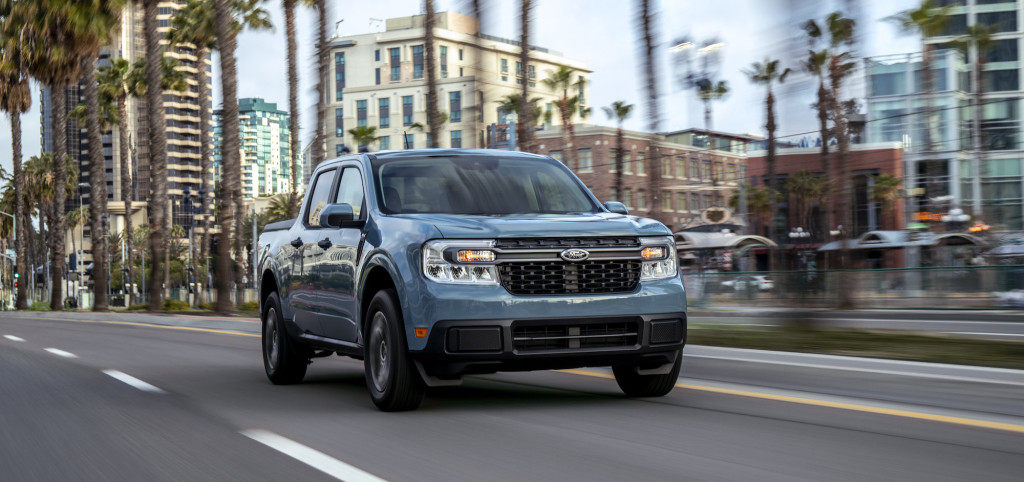 What We Liked
Great fuel efficiency
Very good utility
Fairly low price tag
Ratings based on the 2023 Ford Maverick hybrid, 2.5L Automatic
City: 40 mpg
Highway: 33 mpg
Combined: 37 mpg
Starting off with the most fuel-efficient truck on our list, the Ford Maverick is a reliable utility vehicle available for a decent price point. The base engine is a hybrid powertrain, a 2.5-liter inline-4 paired with an electric motor and a battery pack. With it, you get a decent 191hp net and 155 lb-ft of torque. It's not as performant as the optional 2.0-liter turbo-4, but it'll still get you around while helping you save on fuel costs over time. It's a frugal and decently performing utility truck around town, although it does have some body roll and doesn't smooth out bumps on the road. Nevertheless, for 30k, you're still getting a pretty good truck to drive and use for various purposes. Cabin comfort is also not a slouch, though the seats could do with a bit more padding. Moreover, the rear seats are also a bit of a squeeze for taller passengers. Storage space is a plus with all the compartments available for small items, water bottles, and other gadgets and gizmos you might need. The bed is also a great value addition thanks to its two covered bins, as many as 10 tie-downs, a power outlet, and an integrated trailer brake controller that makes it trailer-ready. The hybrid engine does keep its towing limited to 2,000 lbs (payload rating is 1,500 lbs max), but it's more than enough for general-purpose use. Safety is one area the Maverick could do better, as many advanced safety techs are only available in optional packages.
Review
Fuel Economy
Performance
Appearance
Features
2023 Ford F-150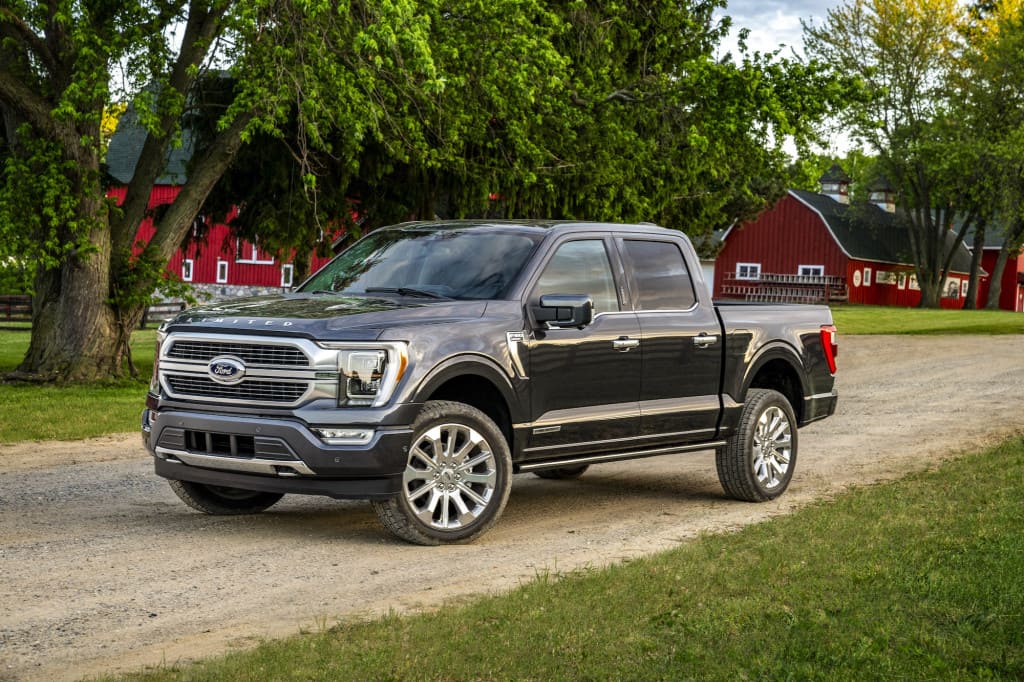 What We Liked
Decent fuel economy
Great cabin quality
Strong handling
Ratings based on the 2023 Ford F-150 hybrid (2WD), 1.5L Automatic
City: 25 mpg
Highway: 25 mpg
Combined: 25 mpg
A slightly more expensive option for those who want a bigger truck is the Ford F-150. Its hybrid powertrain consists of a 3.5-liter twin-turbo V-6, a 35 kW electric motor, and a 10-speed automatic transmission. It might be heavier, but it does offer 430hp and 570 lb-ft of torque, even if it does cut 1,000 lbs from its max tow rating. That's no issue since the F-150 can still tow up to 12,700 lbs with little trouble. The F-150 impresses with a composed ride quality, responsive steering, and potent (though occasionally wooden-feeling) brakes, despite being a full-size truck. The engine can be grating as it charges the battery, but otherwise, the cabin doesn't let in much external noise. Speaking of which, the cabin is the highlight of the F-150: it's a practical and highly functional one, with well-padded seats and lots of rear space in the crew cab configuration. Higher trims have extra creature comforts that make them much cozier, but that means you'll need to spend more: the hybrid version doesn't come cheap anyway on top of the extra packages you might want or need, so you'll need to weigh your options carefully. At least you get automatic emergency braking and active lane control standard, while other safety options are available, such as blind-spot monitors, parking sensors, a surround-view camera system, and adaptive cruise control.
Review
Fuel Economy
Performance
Appearance
Features
2023 Ram 1500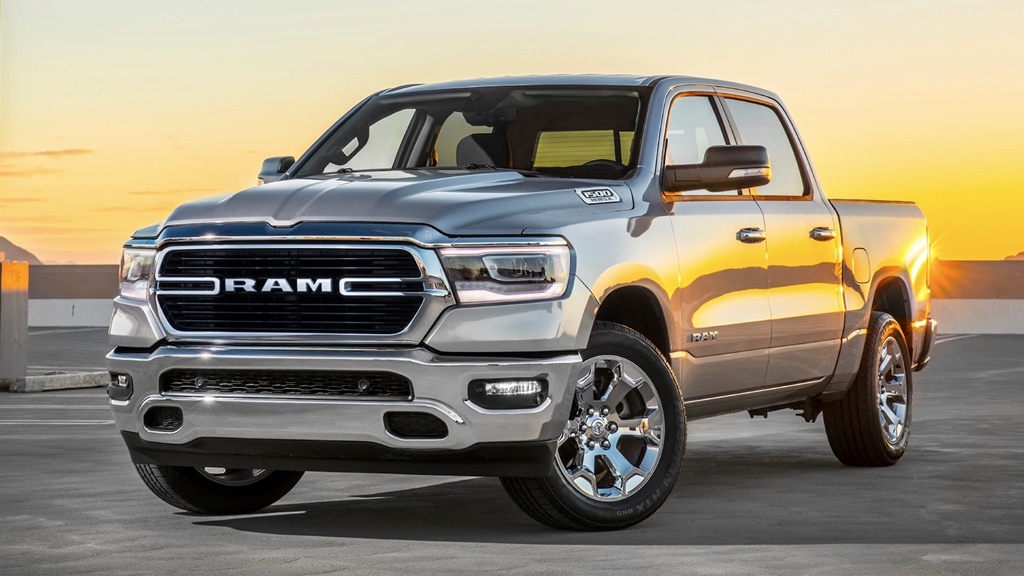 What We Liked
Good fuel savings
Comfortable interior
Decent handling
Ratings based on the 2023 Ram 1500 (4WD), 3.0L Diesel, Automatic
City: 21 mpg
Highway: 29 mpg
Combined: 24 mpg
The Ram 1500 is a lavish truck that spares no expense on a luxurious interior, and while the fuel-efficient 3.0-liter turbodiesel V-6 does offer a formidable 260 hp and 480 lb-ft of torque, it's also very expensive to own. It does handle like a champ, helped by a smooth-shifting eight-speed transmission, steady performance, confident braking, and impressive ride quality thanks to standard coil springs (or optional air springs). Despite their massive size, they feel surprisingly nimble to control. It can tow up to 12,750 lbs depending on the configuration, and while it trails behind the F-150, it's still a solid amount of towing power. Get into the cabin, and you'll be riding in luxury: front and rear seats have good amounts of padding and are comfortable even on long trips. Rear passengers can also freely stretch their legs with its large amount of headroom and legroom. You can consider adding optional RamBox locking bins to the side of the bed, giving you even more room to keep your equipment. Ram's tech offerings are relatively good, with a solid infotainment system to replace the standard one and available Apple CarPlay and Android Auto compatibility. Safety features, however, are lacking: some models do have automatic emergency braking, while adaptive cruise control, lane keep assist, blind-spot monitoring, and rear cross-traffic alert are either limited to specific trims or are available only as options. Given the hefty price tag for even the most needed features on a mid-range trim, this might not appeal to everyone.
Review
Fuel Economy
Performance
Appearance
Features
2023 Jeep Gladiator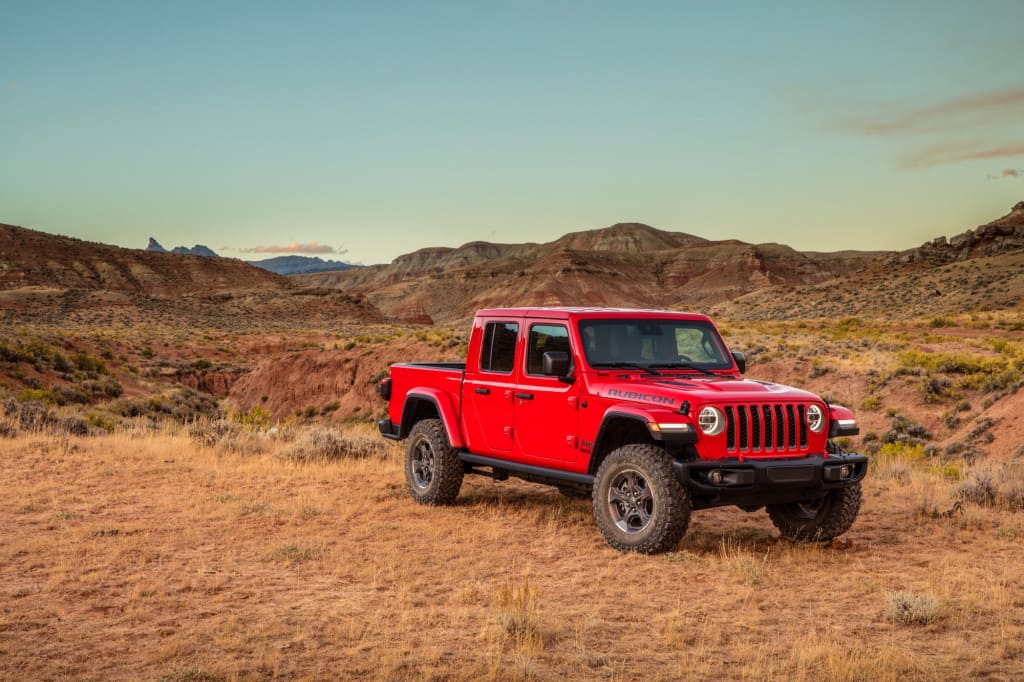 What We Liked
Good fuel efficiency
Decent cargo space
Value-for-money features
Ratings based on the 2023 Jeep Gladiator EcoDiesel, 3.0L Automatic
City: 22 mpg
Highway: 28 mpg
Combined: 24 mpg
You could easily consider the Gladiator to be a Wrangler converted into a pickup truck, and honestly, you're not wrong. It has similar underpinnings to the Wrangler beyond its stretched appearance, making it a fun off-road explorer that's more at home out in the wild than in the city. The 3.0-liter turbodiesel V-6 offers a healthy 260hp and 442 lb-ft of torque, but much like the Ram 1500, it's a costly add-on. If you can afford it, the Gladiator shares many similarities to its Wrangler sibling: impressive off-roading thanks to its ground clearance and available off-road equipment. On-road performance is less-than-stellar, but that's also a lot like the Wrangler. This is ideal for those who need both utility and strong off-road capability. The cabin is serviceable, but if you don't want a noisy ride, you'd want to go for the hard top; it doesn't fully eliminate external noise. The cabin can reliably fit four, and both front and rear seats have a good amount of legroom and headroom (less so with the hard top for the latter). Surprisingly, the Gladiator's tech is most impressive: the infotainment system is easy to use, while the optional Alpine stereo produces crisp sound quality that isn't entirely drowned out by external noise. Meanwhile, front automatic emergency braking, blind-spot monitoring, rear cross-traffic alert, and adaptive cruise control are available, but not on every trim level, which is a bummer if you're looking for a more affordable option: even a mid-range Gladiator can go for between 40k to 50k.
Review
Reliability
Performance
Appearance
Features
2023 Hyundai Santa Cruz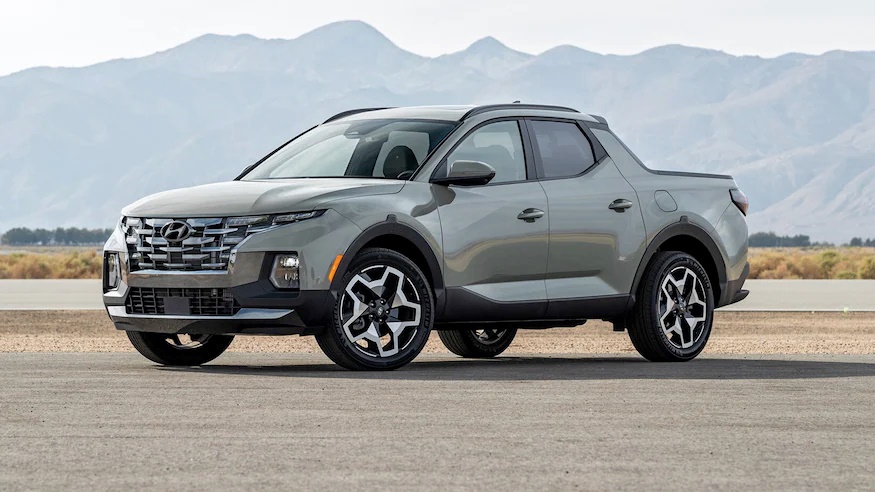 What We Liked
Decent fuel savings
Premium styling
Plenty of safety tech
What We Disliked
Less utility than some rivals
Ratings based on the 2023 Hyundai Santa Cruz (FWD), 2.5L Automatic
City: 22 mpg
Highway: 26 mpg
Combined: 23 mpg
Say what you will about the Hyundai Santa Cruz's appearance or its position as a pickup truck, but this mid-size truck is a worthy contender to the Ford Maverick. The base engine is a 2.5-liter inline-4 with 191hp and 181 lb-ft of torque, offering a decent daily driver with less-than-stellar acceleration. For added zest, there's the optional 2.5-liter turbo-four with 281hp and 311 pound-feet. It drops combined mpg to 22, but if you want the speed and relatively decent fuel savings, the turbo-4 might fit your needs. Base engines pair with a standard 8-speed automatic, while the turbo-4 pairs with a dual-clutch 8-speed auto: both are serviceable transmissions. 8.6 inches of ground clearance do help give it some light off-road capability, which can be handy in snowy terrain. The overall ride is good, well-balanced, and smooth enough that passengers can sit in relative comfort. The cabin offers decent space, while the bed is on the smaller side but remains useful. Though shorter than the Maverick's, its folding tailgate can still accommodate 4×8 plywood sheets. You also get an in-bed trunk with a drain and up to 5,000 lbs of towing capacity. It's perfect for those needing utility without a large pickup. The good news is that Hyundai sweetens the deal with standard safety techs, including automatic emergency braking and forward-collision warning, optional adaptive cruise control, surround-view camera system, and blind-spot monitors. It's a lot more than what other trucks have to offer.
Review
Fuel Economy
Performance
Appearance
Features
Finding Good Value from Trucks
The Ford Maverick and Hyundai Santa Cruz are good choices if you need compact utility in a truck, but if you're looking for something bigger, the other choices are solid picks. You could always look to previous year models as well for even more savings – specifically on the initial purchase – and you'll still get most of the useful, convenient features found on modern releases. You can even find a great top-of-the-line truck that fulfills your needs while staying within your budget. Be sure you take the time to do your homework first before you settle on the first deal you encounter: scammers are more than willing to take your money if you're not careful.
The best way to protect yourself would be to get a hold of a truck's vehicle history report, giving you access to a lot of very useful information ahead of time. Maybe it was involved in a serious crash, or maybe the VIN points to a completely different car (which might be a lemon). Protecting yourself from financial loss and a lot of stress should always be a priority when buying a car, so make sure you do your homework to be aware of the signs of a scam.